Laurel Park picks and ponderings October 21, 2021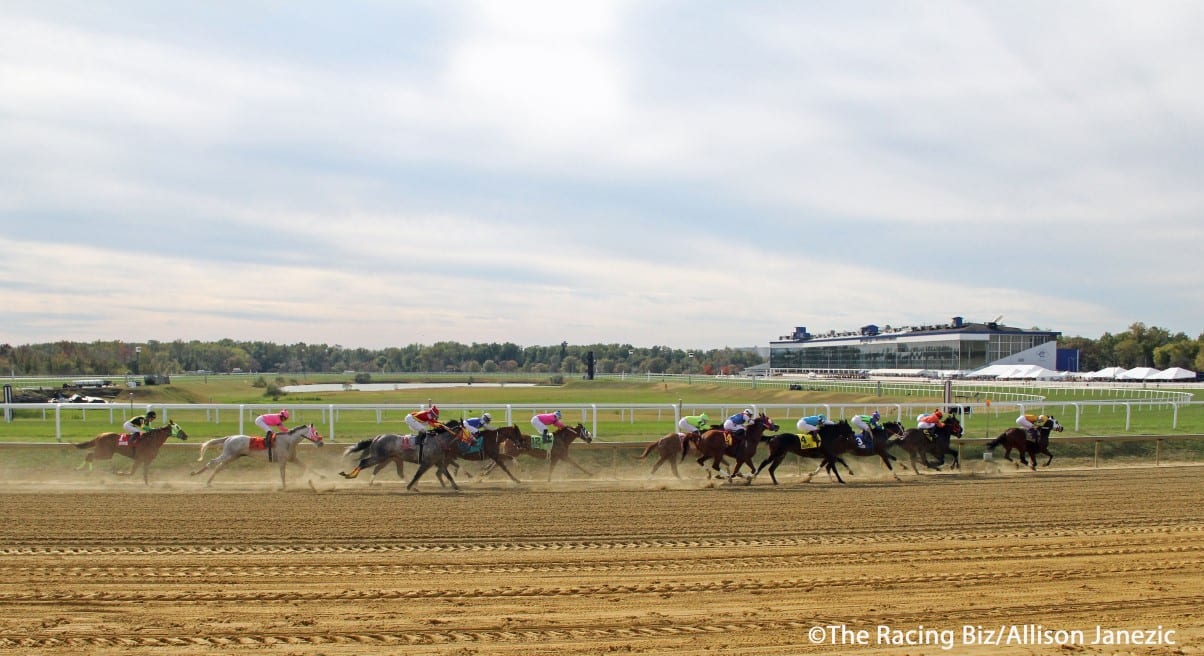 Horses round the turn at Laurel Park. Photo: Allison Janezic.
In which we pick the races from Laurel Park each day…
Post time: 12:40 p.m.
Carryovers: Rainbow Jackpot Pick 6 — $16,075 Super High 5 — $1,222 Late Pick 5 — $0
ANALYSIS
RACE 1: MAIDEN SPECIAL WEIGHT, 2-YEAR-OLDS, FILLIES, 5 1/2 FURLONGS (GRASS)
1-3-13-11
Happy Maryland Million week! We'll start today's 9-race card with a full field of 2-year-old maidens, always an exciting puzzle. #1 Whiteknuckleflyer (5/2) was a fast-closing second in the Small Wonder Stakes at Delaware Park last out and also closed impressively in her lone grass start. Expecting a serious punch towards the end. #3 Candy Arcade (3/1) has several recent bullet workouts, including a very sharp drill on grass on October 6. That day, she went five furlongs in 1:06, the fastest of four times that day. Trainer Justin Nixon is a strong 21% with first-time starters. #13 Quality Control (8/1) fell far behind on debut but closed well despite not changing leads, losing by less than four lengths. Should improve second time out for Trombetta. 
RACE 2: CLAIMING $40,000 (N/W2L), 3-YEAR-OLDS AND UP, 1 MILE
5-1-3-4
Both #5 Demo Doctor (9/5) and #1 Jackie A (2/1) exit the same Maryland-bred allowance race on September 17. Demo Doctor showed speed and faded, while Jackie A came storming from behind for second. Giving the edge to Demo Doctor, as he's more lightly-raced, makes his second dirt start off the layoff, and is the most dangerous speed horse in the race. Jackie A has run a brisnet figure of 79 three times in his last four starts and always closes well. Wouldn't be surprising at all to see these two comprise the exacta. #3 Erawan (9/2) has also been steadily improving since returning off a long break and drops from the open n/w1x level. He'll also be heard from late. 
RACE 3: MAIDEN CLAIMING $10,000, 3, 4, AND 5-YEAR-OLDS, 5 1/2 FURLONGS
6-7-9-1
#6 Cosa Mas Linda (3/1) races in a sprint at this level for the first time. He ran well in each of his first two sprint starts, including a 67 second time out, but declined just a bit when stretched out. He now cuts back around one turn and makes his first start since July 16 for new trainer Jose Corrales. #7 Francis X (6/1) also drops for a career-low tag and switches back to dirt. He ran a solid fifth at the level at Timonium in late August, with a much-improved figure of 65. #9 Miracle Bobbie (9/2) has been in declining form as of late, but he gets to drop, switches back to Horacio Karamanos, and has tactical speed from the outside. 
ANALYSIS
RACE 4: STARTER OPTIONAL CLAIMING $25,000, 3-YEAR-OLDS AND UP, FILLIES AND MARES, 7 FURLONGS
4-1-8-5
#4 Love in Her Eyes (5/2) does her best running around one turn, and Jamie Ness will cut her back after a disappointing try around two turns last out. Her steady mid-80s marks in sprints make her a serious contender. Jaime Rodriguez, usually Ness's top-call jockey, isn't here today. Angel Suarez gets the mount in his place. #1 A Girl Named Jac (5/1) finished with interested last out to get second behind Princess Kokachin. That one came back to beat a Maryland-bred allowance field as the odds-on choice last out. #8 Lucre (7/2) is 2-for-3 over this track and makes just her second start since early July. She'll likely lag behind early and roll in the stretch. 
RACE 5 – CLAIMING $16,000 (N/W2L), 3-YEAR-OLDS AND UP, 1 1/16 MILES (GRASS)
8-2-12-11
Many of these are exiting a race at the same condition on October 1. One of those, #8 Strolled on By (8/1), was dropping to this level for the first time after a recent maiden win, and closed ground strongly in the stretch after sitting last early. Gets a jockey switch to Jevian Toledo. Has a shot to turn the tables on some of her rivals at a price. #2 Samui Senset (5/1) ran a career-best figure of 81 with a fast-closing second-place finish in that October 1 contest. She's hit the board in two of her three, but still can't quite break through. #12 Especiallea (3/1) drops to this level for the first time. In her last start, he made decent ground against better gong one, now drops to this level for the first time and should keep improving.
RACE 6: CLAIMING $5,000 (CONDITIONED), 3-YEAR-OLDS AND UP, 5 1/2 FURLONGS
8-10-11-2
#8 Josef is Real (5/2) cleared his n/w2L condition in his last dirt start impressively, now returns to this surface after a dull performance on grass. Gets a rider upgrade to Jevian Toledo. John Hiraldo, who rode him in his previous few starts, settles aboard #10 Kickstarter (9/2), who got parked very wide and showed little in his most recent start. Prior to that race, he got up to win a n/w2L race two starts back and ran in the 80s on a few occasions. #11 Gator Fifty Two (8/1) has improved in each of his last three races and closed stoutly for second last out. He's been second in three of his last four starts, and could shake up the exotics at a decent price once again. 
ANALYSIS
RACE 7: MAIDEN SPECIAL WEIGHT, 2-YEAR-OLDS, FILLIES, 7 FURLONGS
4-8-5-6
#4 Middle Island (3/1) debuts for Brittany Russell, which automatically makes her a contender. She gets a pretty soft field on debut, as not many of these have shown ability, if they've raced at all. Watching the board. #8 Preparefortakeoff (7/2) has shown some ability, with three consecutive second-place finishes. She ran a 78 last out after battling on the lead throughout. She'll be tough if she can duplicate that performance. #5 Estate (5/1) has been working well at Fair Hill for Mike Trombetta and could also run big on debut.
RACE 8: STARTER OPTIONAL CLAIMING $25,000, 3-YEAR-OLDS AND UP, 1 1/16 MILES
8-5-6-3
#8 Weather Wiz (7/2) showed heart last out, fighting down the stretch to prevail in a 1 1/2-mile n/w2x allowance at Delaware. He's won his last two with figures in the 90s and will likely be prominent on the early pace. #5 Universal Payday (6/1) has steadily improved since returning from a long layoff three starts back. He ran an 89 last out at this level after a wide trip. Could put it together at the right time at a price. #6 Contraflow (7/2) hasn't run worse than an 88 in his last three races and the primary early speed. 
RACE 9: MAIDEN CLAIMING $40,000, 3, 4, AND 5-YEAR-OLDS, 5 1/2 FURLONGS (GRASS)
5-4-2-7
#5 Fomo (7/2) rallied boldly and just missed in his last two races. On paper, he's taking a class hike, but this field is not much different than the ones he saw at the $25,000 level. #4 Ever Clear (4/1) made his debut in the same race that Fomo is exiting, and finished a fast-closing third behind that rival. He'll seek to improve second time out. #2 Dance On the Moon (15/1) ran a giant race at long odds in his last grass race, dueling for the lead and holding on to third with a figure of 67. Should show speed again and will be a great value play.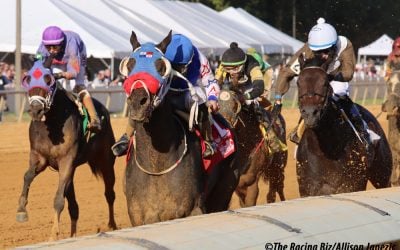 We provide full-card picks and analysis for this afternoon's races at Laurel Park.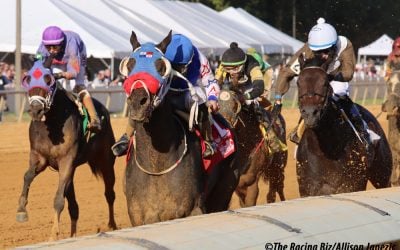 We provide full-card picks and analysis for this afternoon's races at Laurel Park.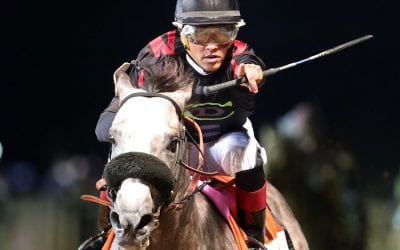 We've got Charles Town picks and preview today as the track presents its Friday card!