MARIO PINO EARNS 7000TH WIN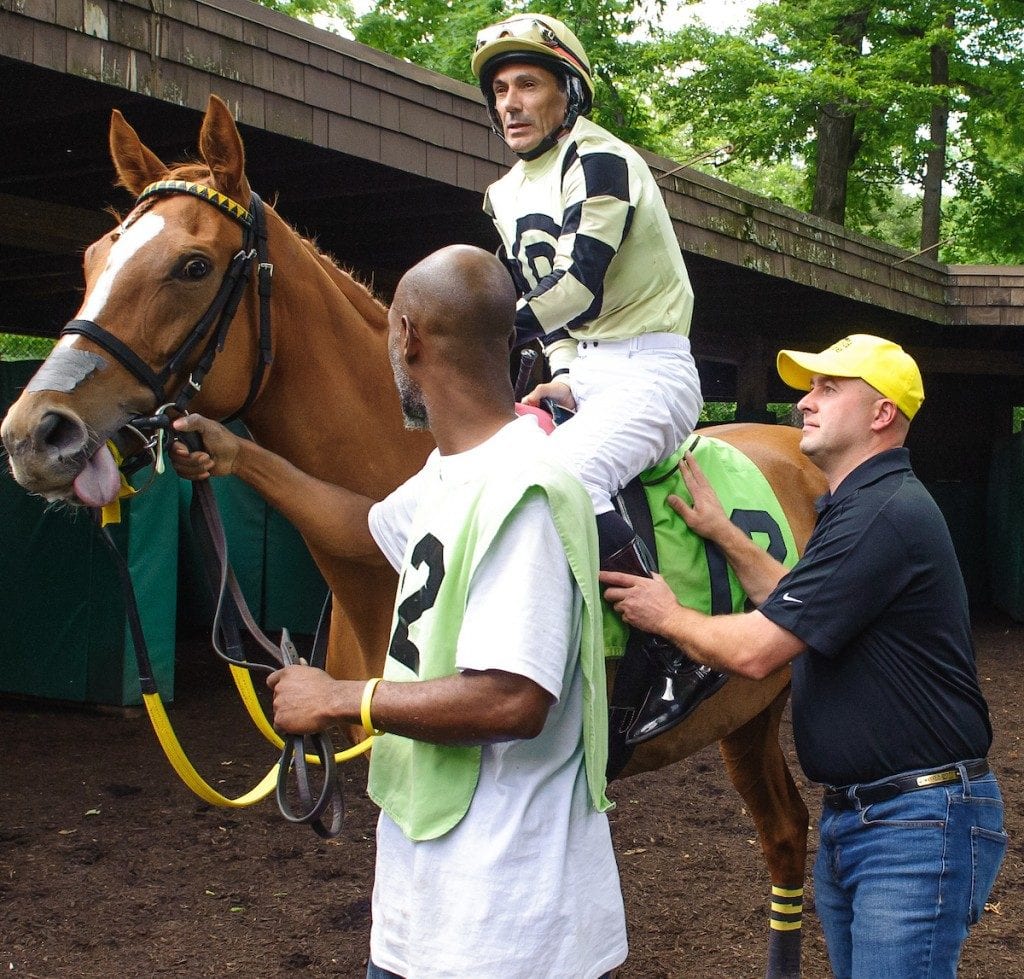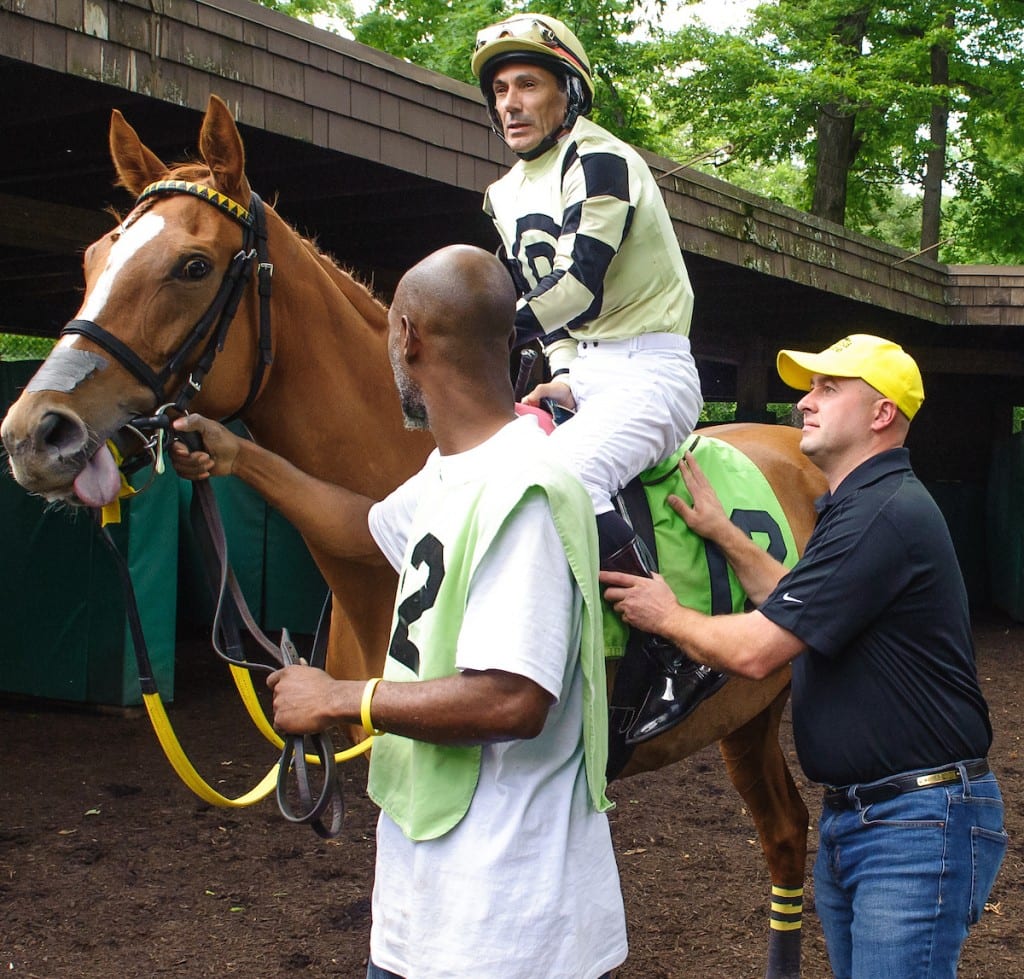 Pino said he would ride Thursday's finale at Presque Isle, retire and leave with wife Cristina Friday morning for home in Delray Beach, Fla., stopping in Maryland and North Carolina to visit daughters Danielle, Victoria and Evana along the way.
The milestone triumph ended days of taut expectancy for Pino, who'd engaged his 45th pro-riding year 39 wins short of 7,000. Given all Presque Isle management had done to promote the impending feat, Pino felt compelled to mark the moment there.
As the meet waned, however, that commitment became increasingly tenuous. Starting Wednesday's twilight program with 6,998 victories, Pino finished seventh in the opener, then engaged a three-way scramble to the wire in race 2. As the front-running Runaway Phyllis grew weary on the rail and favored Cherokee Chatter rallied three-wide, Pino boldly threaded Gucci Gal between them and won a head-bob. (He'd capped Tuesday's program in another hairsplitter, managing a dead heat for first.)
Come race 4, 60-year-old Mario Pino slipped into pink silks with a chested black-and-white diamond and rode a 1-mile 70-yard gem. Before the grandstand, he broke Enjoy the Music cleanly from the rail, advanced him past a three-horse cluster under a comfortable hold and took aim about a half-dozen lengths behind Explosive Humour along the backstretch.
Before the far turn, Pino's run to glory vivified: Reins taut, the yellow-blinkered Enjoy the Music moved easily past Honorable into second and kept gaining inside. Even before his mount angled out and reached the front-runner's right flank midway on the turn, Pino was peeking back to gauge late-gaining spoilers. Come midstretch, the lead his alone and widening, Pino glanced back anew, whacked his mount left-handed, then right-, and finished the job. The three-length lead shrank to three-quarters at the line through a closing outside rush by longshot Lebasi, but Enjoy the Music and Pino had delivered comfortably at 7-10 odds.
Typically understated, Pino raised his right arm for a single tip of the whip after crossing the wire first for friend and trainer Matt Kintz, who co-owns Enjoy the Music with James Fisher.
By the time the dark bay 4-year-old cantered toward the winner's circle, a crowd had gathered, notably, a horde of jockeys who applauded Pino's extraordinary doing. Pino dismounted, stood alongside Cristina and Kintz, and admired a banner that both commemorated the feat and offered a cheeky nod to his pending retirement: OFFICIALLY OUT TO PASTURE.
"I feel real excited and real happy that I got it done tonight," Pino said later. "Everything worked out perfectly. I won it for a friend of mine, on his horse. So you really couldn't ask for a better script."
Pino's ride to glory on a $6,250 claimer well reflected his durable workaday ethic. In his first full year of riding, 1979, he guided 1,475 mounts, claimers mostly, and won with 275 as a finalist for the national apprentice-award title that went to Cash Asmussen. That season launched a run of uncommon consistency, Pino finishing among the top five in Maryland riding victories 25 straight years and totaling more than a thousand mounts in each of them.
All along, Pino plied his trade with a distinctive mix of quiet professionalism and competitive hunger. He won the George Woolf Award (2013) and Mike Venezia Award (2016) for character and sportsmanship. He let his riding do the talking.
During his salad days in Maryland, he attended some graded-stakes horses — Wood So, Bishop's Ring, Sportin' Life — but didn't find the national spotlight until his 47th year astride Hard Spun. Less of a Pimlico/Laurel Park staple by then, Pino took Foxfield Farms' Hard Spun into the 2007 Kentucky Derby for Delaware-based trainer Larry Jones and led until Street Sense collared him a furlong out. Hard Spun and Pino followed that second-place Derby run by finishing third in the Preakness, second in the Haskell, first in the King's Bishop and Kentucky Cup Classic (avenging the Derby loss to Street Sense) and second in the Breeders' Cup Classic.
If more a cameo, Wednesday's doings at Presque Isle put Pino back in the public eye. TVG and local news outlets televised the achievement as the cordial, blue-collar jockey made the ritzy 7,000-win club, joining Russell Baze (12,842), Laffit Pincay Jr. (9,530), Bill Shoemaker (8,833), Pat Day (8,803), Dave Gall (7,396), Perry Ouzts (7,241), Chris McCarron (7,141), Edgar Prado (7,105) and Angel Cordero Jr. (7,057). Ouzts and Prado are still riding.
Pino had pledged to retire once he reached the magic number but said he would honor at least some of his Presque Isle riding assignments Thursday.
"I feel like I've got a couple people I owe it to and don't want to turn my back on them," he said by phone Thursday morning. "This'll be the last day of riding in my career, so I want to enjoy it."
Pino will make his fond farewell in fulfillment's afterglow and, if forecasters have it right, bursts of rain and wind.
LATEST NEWS