DELAWARE PARK HANDICAPPERS' NOTEBOOK 2021 VOL.20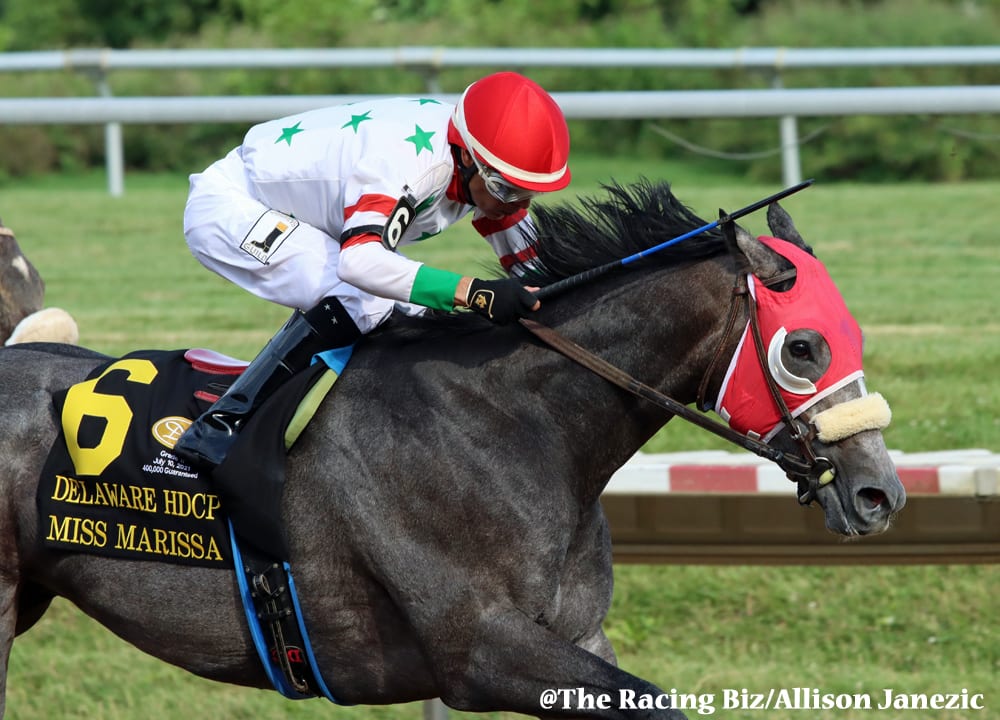 Notable races and trips
OCTOBER 13 – OCTOBER 16
As noted in last week's column, the two minor stakes races offered value while many other races generally did not. In the Handicappers' Toolbox below, a recent trend is highlighted that you may find useful when you handicap the last six days of the meet.
OCTOBER 13
Race 7: The featured White Clay Creek Stakes for two-year-old fillies included a number of runners with just a maiden win to their credit. The favorite Joyrunner came in from Indiana Grand off of a last race Beyer that was over 20 points higher than any of its competitors but the filly never looked comfortable and was vanned off after finishing 3rd. The rest of the field had modest PPs, and the winner Red Hot Mess was smartly ridden by jockey John Hiraldo to give trainer Chelsey Moysey her first stakes victory. As any handicapper knows, it is not unusual for a horse to show improvement second-time out, but bettors should tread carefully before betting back any of the participants from this contest.
OCTOBER 16
Race 7: Unlike the White Clay Creek on Wednesday, Saturday's featured Rocky Run for two-year-olds did consist of a few horses that in my opinion could be future minor stakes winners or tough allowance types. The connections of Forty Stripes thought enough of him to run in the Smoke Glacken at Monmouth where he was competitive. He was very unruly in the paddock on Saturday and then threw his jockey at the beginning of this race. If trainer Jerry Hollendorfer can get him to calm down, the horse has potential. Bold Leader was bothered by the incident with Forty Stripes, so you should just draw a line through this race when analyzing him next time out. No Sabe Nada is perhaps more suited to shorter distances and failed to switch leads in the lane but has ability. The winner Cooke Creek is also a horse with future potential under the tutelage of trainer Jerry O'Dwyer.
Jockey and Trainer of the Week
Jockey Jaime Rodriguez won on five of his 11 mounts this past week. He will be campaigning mainly in Maryland over the winter, and he will get his fair share of winners. It helps that he rides for trainer Jamie Ness, but in watching him all year at Delaware I feel he continues to grow as a jockey. He makes few tactical errors and is as tough as they come when battling opponents down the stretch. His agent John Weilbacher says that Jaime is a hard worker, so continued improvement is likely.
Trainer Jerry Hollendorfer had two winners and one 2nd place finisher with his four starters. His only non-ITM runner was the aforementioned Forty Stripes, who as noted threw his jockey at the start of the race.
Handicappers' Toolbox
With only six days remaining in the meet, trainers are making preparations to move their stock to other locations. This should give shippers the chance to come in and earn money. Last week in the 15 races that had both horses whose previous starts were at Delaware and some shippers, you should take note of the following: Of the 37 shippers, 23 (62%) finished ITM. Of the 49 horses whose previous race was at Delaware, 20 (42%) finished ITM. Shippers won nine of the 15 races. Thus, 43% of the starters accounted for 60% of the wins.
LATEST NEWS