THE RACING JOURNEY OF CHELSEY MOYSEY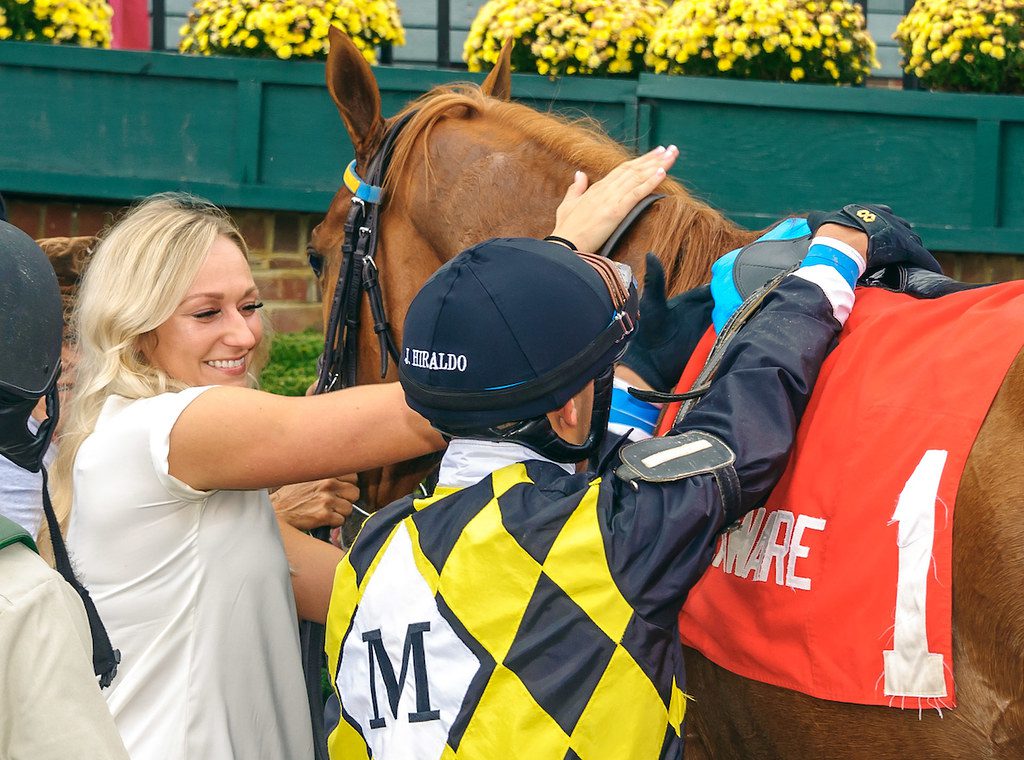 Red Hot Mess, a daughter of Shackleford who cost owner Lewis Mathews, Jr. $20,000 at the Fasig-Tipton Midlantic two-year-olds in training sale this past May, was 9-1 when she won at first asking at Delaware Sept. 6.
The betting public wasn't impressed. They made her 12-1 in the one-mile White Clay Creek.
But Moysey and rider John Hiraldo — the two are also in a relationship — knew something that the betting public did not.
"I got on her last week for her final work [before the stake]," said Moysey, who routinely exercises her runners. "I was extremely confident because the filly that I felt underneath me that work was way better than going into her first race."
"I told [Moysey], 'I think she'll be all right going long,'" Hiraldo said. "I think she would be tough first time going a mile."
But while trying Red Hot Mess in the White Clay Creek made abundant sense, if circumstances had played out a little bit differently, the horse might not have ended up in Moysey's barn. Or she might not have taken her string to Delaware. Or might not even be training on her own, not yet, at least.
Moysey grew up in Ocala, fated from the first jump to find a career in racing. Dad Chuck Moysey and mom Dawn Coffman both trained at one time or another, mostly quarter horses, before finding home in Florida.
"They kind of planted roots in Ocala and started doing more of the sales and whatnot," Moysey said. "From as young as I can remember, horses were always involved, and there was no doubt horses were in my future."
Moysey began galloping horses for the late Don Rice, eight-time leading trainer at Tampa Bay Downs, as a 13-year-old on Rice's farm.
"I would actually ride — couldn't drive [at 13] — one of our pony horses from our place to their place, which was about a mile down the road," Moysey remembered. "I would gallop horses, then ride the pony back home, change, get ready, and walk to the bus stop [for school].
"That's how it started," she added. "I was happy with it."
At 19 she took out an assistant trainer's license and went to work for Buff Bradley. The now-retired-from-training Bradley's stable was then at its strongest, topping $1 million in purse earnings six times in seven years, led by luminaries like Brass Hat, two-time Breeders' Cup winner Groupie Doll, Divisidero, and The Player.
"There's two things that I took out of that partnership," she said of her time with Bradley. "The way he treats his horses and the way he treats his help are the two main things I learned."
The way Bradley treated his horses, Moysey said, was with great patience. Groupie Doll's somewhat up-and-down 2013 campaign, Moysey's first year with the team, began with a defeat, at 1-5, in the Grade 3 Gardenia but reached its apex three months later with a second Breeders' Cup triumph. Through it all, Bradley kept his eyes on the prize: defending her Breeders' Cup title.
And when Divisidero arrived in the barn as a two-year-old, the trainer sensed there was more than he had demonstrated.
"He wasn't showing as much as we thought because he had gone through a growth spurt," Moysey said.
Bradley sent him back to the farm for 60 days, and when Divisidero returned as a three-year-old, he was raring to go. He won at first asking in February, and two starts later he earned the first graded tally of his career.
But after five years, with Bradley's once-powerful stable dwindling, Moysey decided to strike out on her own.
"The decision was really kind of made for me," Moysey said. "I didn't open the doors with a 20-horse stable and an owner that was right there waiting to back me up. At that point, Buff had shut down the Florida operation, which is the string that I would always go to, and he was taking everything to New Orleans."
She decided instead to head to Oaklawn, maybe train a horse or two on her own.
"The way the road was gonna branch, I had to pick left or right," she said. "I picked left."
Left turned out to be a good choice. She won her first race as trainer of record in August 2019 with Fish Trappe Road in a $5,000 claiming event at Belterra Park. More important, she connected with trainer Al Stall, handling some horses he sent to Oaklawn, which, she said, opened "many, many doors," introducing her to potential owners and providing the chance to work with millionaire Tom's d'Etat.
"It put me out there a little bit more," Moysey said. "Some of the owners I've got now I got because of him."
She won two races in 2019 and 11 in 2020, spending part of the year at Oaklawn and part at Churchill Downs. But with Churchill Downs redoing its turf course this year, and space on the backside tight, Moysey had another decision to make. She'd gotten to know Jed Doro, the Vice President of Racing at Oaklawn who also serves as racing secretary at Delaware Park, and he pitched Delaware to her as a potential landing spot.
Its long meet, proximity to other tracks, and of course availability of sufficient stall space for her growing operation all attracted. The move has paid dividends, as Moysey has won with 10 of 56 starters at the track to help propel her to the best season of her young career.
"Delaware's been extremely good to me this year, so I've been very fortunate," Moysey said. "We've won a bunch of races. I've met a lot of people that I would have never met, and it gave me the opportunity to buy these two-year-olds."
One of her owners, Lewis Mathews, Jr., picked up three at the Fasig-Tipton Midlantic two-year-old sale this past May. That group includes Red Hot Mess; Pistol or Shotgun, a Tourist colt who ran second on debut before being sold privately; and Ain't She a Pistol, who's 8-5 on the morning line in a Charles Town maiden race October 20.
"Everybody's end goal is to have a three-year-old," Moysey said. "Lewis gave me a push in a direction I needed, to start purchasing for him."
At the recently completed Keeneland yearling sale, Moysey added five more, with Mathews buying two and John Conforti picking up three youngsters. All five are headed to Delaware to become Delaware certified. The plan is to return to Stanton in 2022.
"My horses love it here," Moysey said. "It's like a Saratoga-meets-Tampa vibe. The horses do really well here."
Funny the twists and turns in a racing journey.
You choose left instead of right; you zig rather than zagging. Sometimes the move blows up in your face. Other times you find yourself in the winner's circle, crying joyfully as your first stakes winner returns for the picture.
"It was a dream come true," said John Hiraldo of the stakes win, his first as a rider. "I dreamed about that moment since I was a little kid. As a bug boy, it makes it more exciting. Me and Chelsey, we worked really hard on her, tried our best to get her as ready as we can for the race. She trusted me a lot, and that takes us far."
"We've been talking about this, as the filly broke her maiden, how cool would it be for us both to win our first stake together," Moysey said. "As good as we've been doing, and being in a relationship with each other, it was a lot. It was very emotional for us."
LATEST NEWS