Laurel Park picks and ponderings October 15, 2021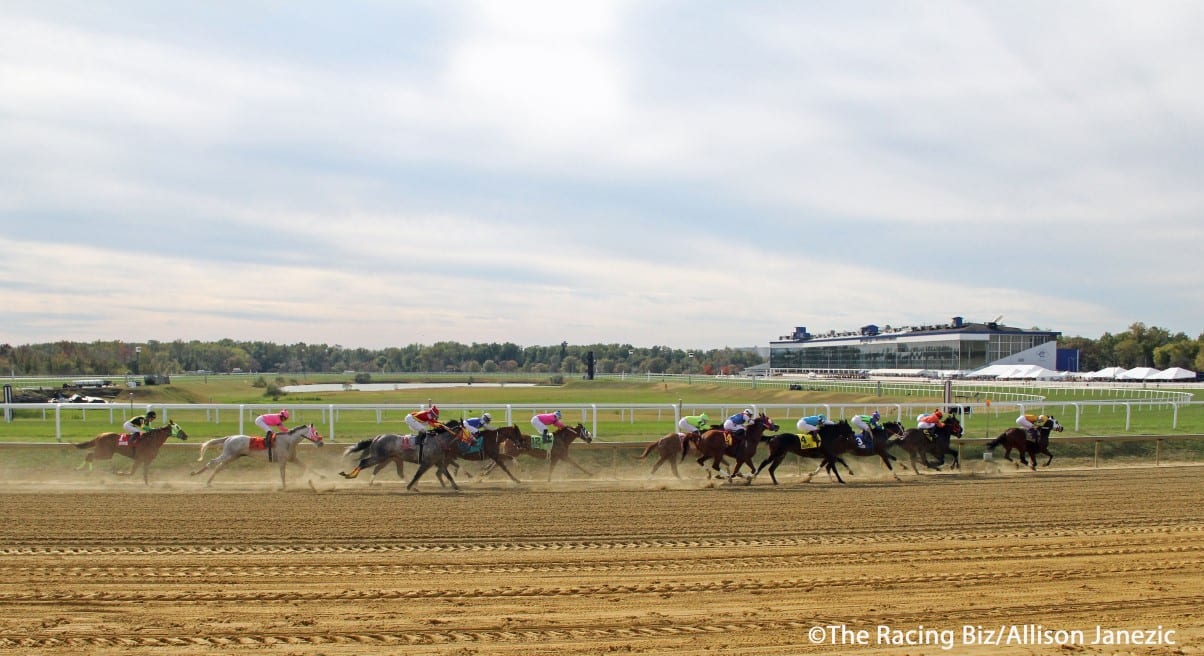 Horses round the turn at Laurel Park. Photo: Allison Janezic.
In which we pick the races from Laurel Park each day…
Post time: 12:40 p.m.
Carryovers: Rainbow Jackpot Pick 6 — $9,797.50 Super High 5 — $0 Late Pick 5 — $0
ANALYSIS
RACE 1: ALLOWANCE OPTIONAL CLAIMING (N/W1X), 2-YEAR-OLDS, 1 MILE (GRASS)
3-4-8-10
#3 Shimmering Leroid (5/1) has rapidly improved, running a brisnet figure of 87 last out when fourth in the Nownownow Stakes at Monmouth Park. He sat the trip and broke his maiden going away two races back, will try to work out a similar trip here. #4 Wish Me Home (2/1) had a tough trip in the Laurel Futurity, but rallied for third at 26/1 once he got clear. He has not won around two turns, but that last effort is more than enough reason to believe he can get it done. #8 Midnight Chrome (9/2) ran a career-best mark in the Nownownow, although he faded in the stretch. He's another one who should enjoy the class relief. He broke his maiden on the lead two starts back, and it'll be interesting to see if Jaime Rodriguez decides to send him. 
RACE 2: CLAIMING $16,000, 2-YEAR-OLDS, FILLIES, 6 FURLONGS
4-6-7-5
 #4 Moody Woman (3/1) lived up to odds-on expectations when she broke her maiden last out at Charles Town. She won with a very respectable 69, despite being carried out in the stretch. Cuts back slightly from 6 1/2 furlongs. #6 Hicktown (7/5) got hung wide throughout at Timonium last out, never a good thing. She ran a 74 when breaking her maiden on debut at Pimlico; that mark might be closer to her actual ability. #7 Cabra Chica (9/2) has had her tries against winners, but hasn't been able to break through lately. She might not have enough early speed to seriously compete for a win at this level, but is still an exotics contender.
RACE 3: MAIDEN CLAIMING $25,000, 3, 4, AND 5-YEAR-OLDS, FILLIES AND MARES, 5 1/2 FURLONGS (GRASS)
4-7-9-1
#4 Tak E Lady (6/1) has run into various forms of trouble in her last few, not all of which were her fault. She closed well for second at Delaware Park last out, with a career-best mark of 67. She made what looked like a big move in the stretch before flattening late; will try to time it better here. #7 El Bochinche (6/1) was claimed for $16,000 by Jerry Robb last out, and he immediately hikes her in class. She made up lots of ground last out before tiring. New jockey Xavier Perez will try to keep her closer to the pace. #9 I Love Magel (3/1) set the pace over a not-so-speed-favoring track last out, but still held on gamely until late. Goes second off a five-month break here. 
ANALYSIS
RACE 4: CLAIMING $10,000 (CONDITIONED), 3-YEAR-OLDS AND UP, FILLIES AND MARES, 6 FURLONGS
3-2-6-1
#3 Marvella Nasty (7/5) drops in class from the Maryland-bred allowance level and races second off the layoff. Her upper-70s figures weren't that competitive at that level, but they should prove good enough to win against these. #2 Miss Old Bay (2/1) crushed a n/w2L field in her last dirt start, back in July. She wasn't a factor on grass last out, but now gets back to dirt and looms as one of the main early speeds. #6 Mi Cleopatra and I (5/2) makes her first start off the claim for Kieron Magee and won three in a row earlier in the year at Monmouth Park. She'll press Miss Old Bay from the outside. If those two wear each other out, it'll play right into the hands of Marvella Nasty. 
RACE 5- CLAIMING $12,500, 3-YEAR-OLDS AND UP, FILLIES AND MARES, 5 1/2 FURLONGS (GRASS)
6-12-14-10
#6 Nellysford (2/1) won at this level last out, sitting the perfect stalking trip and drawing off. She was claimed out of that race by Kieron Magee. She steadily runs great figures in the upper-70s and will likely sit another winning trip. #12 Bath and Tennis (6/1) drops back to the $12,500 level and cuts back around turn. The last time she was under these circumstances, she was making her first start off a long break. In spite of that, she ran gamely and was beaten just 3 3/4 lengths. Her figures have improved since then, and she's primed to run a big one here. #14 Lady Magica (3/1) has potent early speed for Jamie Ness and Jaime Rodriguez. The only question mark is if she can last at 5 1/2 furlongs. She hasn't been able to last going five furlongs lately, but at least hangs around for a piece of the exotics. 
RACE 6: ALLOWANCE (N/W1X), 3-YEAR-OLDS AND UP, 5 1/2 FURLONGS (GRASS)
8-13-2-7
#8 By the Sey Shore (3/1) flew from nowhere and just missed at this level last out. He earned a figure of 93 in that race, far and away a lifetime top. The winner of that race, Fair Catch, came back to win a starter optional claiming race. #13 Montauk Daddy (5/2) ships down here for Rob Atras, who has not had a starter in Maryland this year. He won gate-to-wire two starts back at Saratoga, and hung in gamely at Monmouth after a wide trip last out. He'll likely get a similar one here, unless Charlie Marquez is very aggressive. #2 Flash is Back (12/1) crushed  a maiden claiming field last out with a solid figure of 86. Lots of potential to crash the party at a price. 
ANALYSIS
RACE 7: MAIDEN CLAIMING $40,000, 2-YEAR-OLDS, 6 FURLONGS
6-9-2-1
#6 Rhumjar (4/1) got hung wide in a duel on debut but held well until the last eighth. Drops for a tag for the first time for Tim Hills. #9 Yo Nessroundonkern (6/1) races first out for the Ness/Rodriguez duo. Has only five workouts between here and Delaware, but they've all been respectable drills. Interested to see what kind of action he takes. In contrast, #2 Slaats (3/1) has plenty of experience. He's making his sixth career start for Claudio Gonzalez, who won his 1,000th race yesterday. This one has run at least a 72 in three of his last five starts. The ability's there, he's just looking for a field where he can break through. 
RACE 8: ALLOWANCE (N/W1X), 3-YEAR-OLDS AND UP, FILLIES AND MARES, 1 1/8 MILES (GRASS)
12-3-15-4
This race begins the Stronach 5. #12 Treasure Tails (5/1) made a solid bid off a mild pace last out at Colonial Downs last out and held on for second. Her recent figures, which are consistently in the low 80s, puts herself squarely in the mix with these. #3 Mo Normal (9/2) has raced against winners just once, holding on for third last out at Delaware despite a wide trip. Her figure of 75 wasn't that great, but she has room to improve. #15 L'Indiscret (2/1) ships down from New York for Jeremiah Englehart off a game second-place finish at Monmouth. She was a bit closer to the pace than usual in that race; usually she comes from well behind. 
RACE 9: MAIDEN CLAIMING $40,000, 2-YEAR-OLDS, 6 FURLONGS
5-2-9-10
#5 Bust 'Em Kurt (7/5) drops for a tag for the first time for Gonzalez and has a five-point edge over all his rivals. Will be very tough to beat as long as he runs his race. #2 Natagar (8/1) dueled and faded last out, but still showed speed for the first time and improved sharply from his debut, to a 69. Damon Dilodovico is 3-for-10 as of late when dropping horses in for a tag for the first time. #9 Divining Stone (4/1) goes first out for Arnaud Delacour and gets to waive the claiming price. Has some solid workouts at Fair Hill but might need a race first.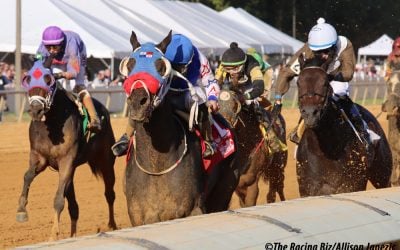 We provide full-card picks and analysis for this afternoon's races at Laurel Park.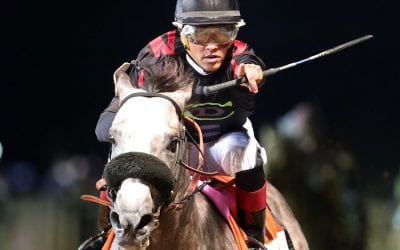 We've got Charles Town picks and preview today as the track presents its Friday card!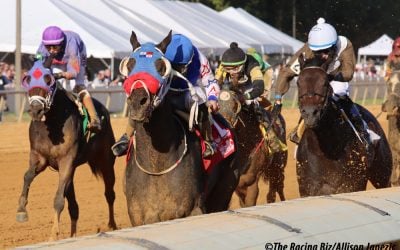 We provide full-card picks and analysis for this afternoon's races at Laurel Park.