Laurel Park picks and ponderings September 25, 2021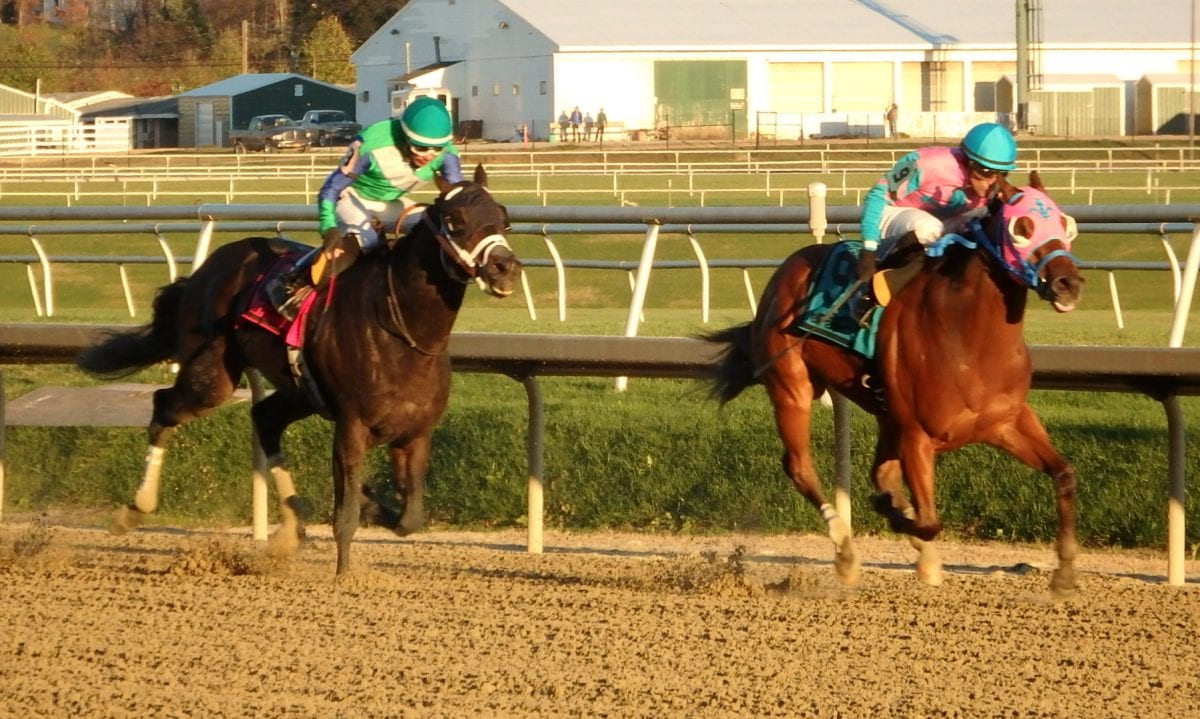 Horses race down the stretch at Laurel Park. Photo: The Racing Biz.
In which we pick the races from Laurel Park each day…
Post time: 12:40 p.m.
Carryovers: Rainbow Jackpot Pick 6 — $633 Super High 5 — $1,080.37 Late Pick 5 — $0
ANALYSIS
RACE 1: STARTER OPTIONAL CLAIMING $25,000, 3-YEAR-OLDS AND UP, 1 MILE (GRASS)
2-8-4-12 (DIRT: 8-9-7-10)
There's plenty of mid-Atlantic action today at Parx and Delaware Park, but Laurel Park's got a great 10-race card of their own. #2 King Bubble (7/2) races off a six-day layoff. Most recently, he was a strong-closing third against a tough n/w2x allowance optional claiming field. He won two in a row at Pimlico and Monmouth Park against similar with great late rallies. That closing kick should play well here. #8 Weather Wiz (8/1) has been in great form on dirt lately, but ran back-to-back brisnet figures of 83 on grass earlier in the year. Those figures put him right in the mix with these. Could sneak away from the betting public and go off at a good price. He'll likely do his best running on the front end. #4 Just Whistle (6/1) got hung wide against better at Colonial Downs last out, but closed decently and lost by just two lengths. Gets much-needed class relief after facing tough company all year long. 
RACE 2: CLAIMING $5,000 (CONDITIONED), 3-YEAR-OLDS AND UP, 6 FURLONGS
4-3-5-7
 #4 Championship Alley (9/5) has won two of his last three, and almost made it three in a row last out. He opened up a long early lead against similar, but wilted in the last eighth. If he can establish early control and slow down the tempo, he'll be tough to catch. #3 D C Fireman (5/2) races third off the layoff and comes off a gate-to-wire win at Timonium last out. That was just a four-furlong race, but it was a good demonstration of his early speed, and represented a fourteen-point improvement from his prior start. #5 Victory Element (4/1) goes second off a long break and continues to drop in class. He was hung wide in his comeback race at Timonium and didn't stand much of a chance. He ran some huge races last fall, including some numbers in the 90s. Can he find that form, or something like it, again? 
RACE 3: CLAIMING $16,000 (N/W2L), 3-YEAR-OLDS AND UP, FILLIES AND MARES, 7 FURLONGS
5-2-1-7
#5 Roo La La (7/2) broke her maiden impressively on debut at Timonium last out, making her the only one in the field who has never lost against winners. She'll try to run away and hide with this one. #2 Tuff But Fair (7/2) also has plenty of early speed and gets a much-needed cutback to a sprint. This'll be her first start since June 26; wouldn't surprise me if she needed a race. #1 Prinecess Doir (2/1) ran figures in the mid-80s earlier this year, then was second twice against similar at Charles Town despite reduced figures. She's shown speed in the past but has come from behind in her last two, to great effect. 
ANALYSIS
RACE 4: ALLOWANCE (N/W1X), 3-YEAR-OLDS AND UP, 1 1/16 MILES (GRASS)
2-5-7-3 (DIRT: 1-8-6-7)
#2 Torres del Paine (4/1) has won two of his last three races, cruising on the front end to win both times. This is class test for him, as those wins came against softer foes. However, if he can control the pace, he'll leave the rest of them reeling. #5 Willing to Speed (6/1) returned from a ten-week break last out and showed guts to get up and win at Colonial. He rated off the leader, then battled in the stretch and won. Ran figures in the 80s pretty steadily over the winter in Florida. Might have to work out a similar trip as last time to win this one. #7 English Tavern (5/1) has run third in his last four starts, and has shown just enough closing speed each time to get that exotics spot. Don't know if it can translate into a victory. 
RACE 5 – MAIDEN CLAIMING $25,000, 3, 4, AND 5-YEAR-OLDS, 1 1/16 MILES
2-7-1-3
#2 Corkman (3/1) faced better maidens in New York and at Monmouth last year, now races for the first time in 2021. Don't know how he'll be first off the long break, but he's run figures as high as 87, and doesn't have to be at his best to beat this group. #7 Souper Houdini (5/1) was pace-compromised last out at Timonium, and has run good figures while not seriously threatening for the win pretty consistently at this level. A good horse to use underneath in exactas. #1 Award Nominated (5/1) appears better at sprinting than at routing, but he's only raced three times and broke a bit awkwardly in his first route start. I'll allow him some room to improve. 
RACE 6- MAIDEN CLAIMING $40,000, 3, 4, AND 5-YEAR-OLDS, 1 MILE (GRASS)
5-9-6-2 (DIRT: 1-6-7-10)
#5 Lacco Ameno (4/1) has finished runner-up in all three of his grass races, and just missed against slightly better last out with a career-top figure of 77. He's dangerously close to sucker-horse territory for me, but the price should still be right. #9 Welshman (6/1) makes his first start for the Jack Fisher barn and ran three figures in the 70s in a row earlier in the year in New York. Ran on better than usual in his last grass start, which is an encouraging sign. #6 Tipyourhattothat (6/1) just missed two back in his grass debut, but showed little when stretching out and getting a wide trip at Colonial. Will try to bounce back here. 
ANALYSIS
RACE 7– STARTER OPTIONAL CLAIMING $32,000, 3-YEAR-OLDS AND UP, 1 MILE 
3-5-7-1
#3 Galatians (3/1) had no chance last out the way the pace played out last out, but he still closed well to get third, with a season's-best mark of 85. He has great late pace figures and should enjoy the long stretch of the one-turn mile. #5 Ink (6/1) lasted through a pace duel to win a n/w2L race going away last out at Monmouth. He does his best running when he's on the pace, and has the potential to leave them reeling. #7 Armando R (8/1) got a fast pace to run into in his last dirt start and took full advantage, winning going away with a career-best mark of 87. Don't know if you can count on him getting that kind of trip again, but he should at least close well and get a piece of the exotics at a decent price. 
RACE 8 — ALLOWANCE (N/W1X), 3-YEAR-OLDS AND UP, 1 1/16 MILES
5-2-1-3
#5 Brutus (2/1) cruised to a gate-to-wire win against similar at Timonium last out, and has finished in the top two in his last seven races. Usually, he rates just off the pace, rather than staying on it. Either way, he should get a great trip here. It looked like #2 Dream Big Dreams (5/2) finally found a spot that fit him last out, when he ran in a Maryland-bred allowance going long. He finished third, albeit with a decent figure of 86, after a wide trip. Should save more ground and will try to take some steps forward here. He made an impressive rally to break his maiden here earlier in the year. #1 Celtic Treasure (7/2) looks like the slightly stronger half of the Jamie Ness entry here. He steadily runs figures in the mid/upper 80s and was a sharp second behind Brutus last out. 
RACE 9, ALLOWANCE OPTIONAL CLAIMING (N/W2X), 3-YEAR-OLDS AND UP, FILLIES AND MARES, 1 1/8 MILES (GRASS)
8-3-2-1 (DIRT: 3-5-7-8)
#8 Elke de Jaguarete (7/2) ran a career-best figure of 88, narrowly missing against similar at Colonial with a game closing rally. It looks like she's turned a corner in her 5-year-old season, and will be a major factor if she can maintain her current form. #3 Positive Danger (5/1) exits the same race as Elke de Jaguarete. She set the early pace and led most of the way before tiring late. That was her first start in ten months, and should improve second off the bench. #2 Deciding Vote (9/2) won a n/w1x going away at Monmouth last out, and ran huge at Colonial two back to lose by a nose after rating behind a slow pace. 
RACE 10, CLAIMING $5,000 (N/W2L), 3-YEAR-OLDS AND UP, 5 1/2 FURLONGS
2-5-1-4
#2 Count the Shells (5/2) made his first start off a long layoff last out, earning a solid 66 in a third-place finish. Broke his maiden impressively over this track in January. #5 Bayano (3/1) also ran big first off the bench in his most recent start, and looms as the main early speed. #1 Pet's Night (4/1) steadily runs figures in the mid/upper-60s and faces winners for only the second time. Should get a good trip rating on the rail.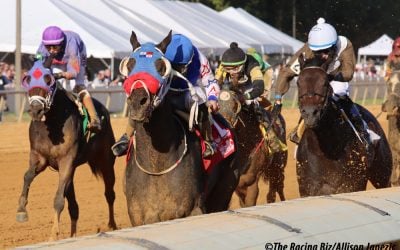 We provide full-card picks and analysis for this afternoon's races at Laurel Park.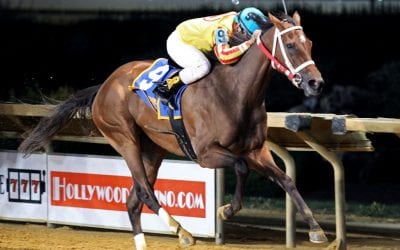 We provide picks and analysis for this evening's card at Charles Town Races.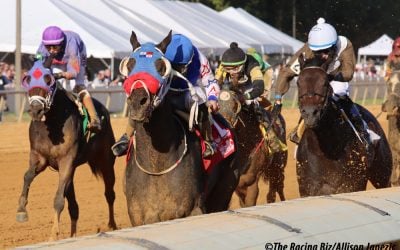 We provide full-card picks and analysis for this afternoon's races at Laurel Park.