Timonium picks and ponderings August 28, 2021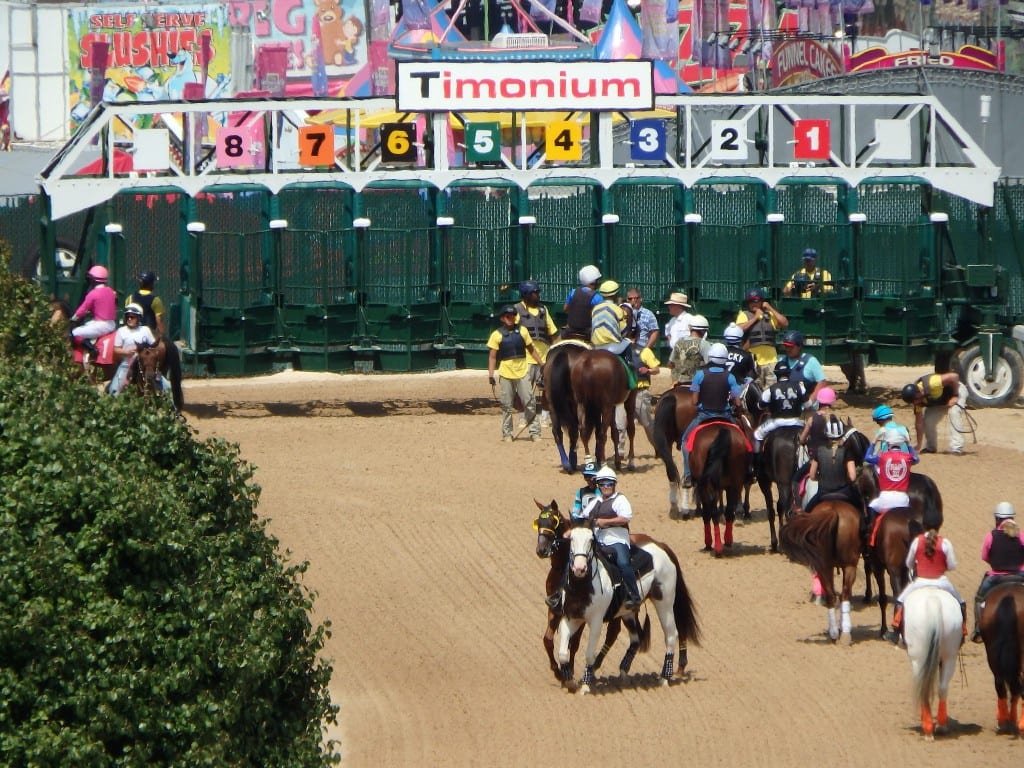 Horses approach the gate at Timonium. Photo: The Racing Biz
In which we pick the races from Timonium each day…
Post time: 12:40 p.m.
Carryovers: Rainbow Jackpot Pick 6 — $0 Super High 5 — $0 Late Pick 5 — $0
ANALYSIS
RACE 1: CLAIMING $5,000, 3-YEAR-OLDS AND UP, 6 1/2 FURLONGS
5-1-6-3
Yesterday's card was scuttled two races early due to thunderstorms. There's a chance of rain today, but we should be good to get all nine in. #5 Company Clown (2/1) goes second off the claim for David Walters, and looks for a rebound off a flat performance last out. He won three in a row at Pimlico earlier in the meet, showing speed every time. #1 Day the Music Died (8/5) has taken a downturn in his last two races. He's run a brisnet figure of 78 in his last two starts, after consistently running in the 80s and 90s earlier in the year. Takes a big drop from the starter allowance level here, has a chance despite those red-flag figures. #6 Extra Medium (3/1) won at this level last out but doesn't have much early speed. Can close for exotics, but might be up against it on this track. 
RACE 2: MAIDEN CLAIMING $5,000, 3, 4, AND 5-YEAR-OLDS, FILLIES AND MARES, 6 1/2 FURLONGS
6-7-5-2
 This race is a matter of who doesn't want it the least. No one in here has much speed, which makes it a bit tricky to handicap. #6 Joyce G (5/2) has run on well to hit the board in her last three starts at Delaware Park. She's pressed the pace in some of her races in the past. If Angel Cruz is aggressive enough, she could prove tough to catch. #7 Coral Summer (3/1) showed some mild kick on grass, now gets back to the dirt. Although she didn't do much in her one start on this surface, she's lightly-raced and has room to improve. #5 Hickory Made (3/1) has been in relatively good form on grass at Colonial Downs lately, but the 0-for-41 mark is not pleasant to look at. 
RACE 3: CLAIMING $5,000 (CONDITIONED), 3-YEAR-OLDS AND UP, 1 MILE
5-4-3-1
This looks like a two-horse race on paper. #5 Clever and Great (7/5) dominated a n/w2L field on the front end last out, and is a serious threat to take them all the way around again for Claudio Gonzalez and Kevin Gomez. #4 Gallinipper (1/1) is also coming off a n/w2L win, and while he also has early speed, he had many more chances than Clever and Great and struggled to come through. We'll see if he has enough to hang on here. #3 Where's the Ben's (8/1) has good late pace figures and will likely close to round out the trifecta. 
ANALYSIS
RACE 4: MAIDEN CLAIMING $5,000, 3, 4, AND 5-YEAR-OLDS, FILLIES AND MARES, 4 FURLONGS
5-6-3-7
#5 Egg Nog (2/1) ships to Timonium for her Charles Town-based connections, and profiles as the dominant early speed. Two back, she was game in battle on the front end, last out, she couldn't get to the front. If she gets her trip here, she'll be tough to catch. #6 Fudge Cake (3/1) goes first out for trainer Dale Capuano, and has been working very well in four drills since returning to the worktab in late July. #3 Square Penny (5/2) takes a drop from the $16,000 level and switches back to dirt. She got hung wide last out and couldn't get to the lead, but that shouldn't be a big issue here.
RACE 5 – CLAIMING $5,000 (N/W2L), 3-YEAR-OLDS AND UP,  4 FURLONGS
8-2-6-7
#8 Pepe and Heywood (3/1) goes second time against winners on dirt and looks like the perfect type for a 4-furlong race. He has loads of early speed, but he can only use it in short bursts. #2 Moonzano (5/1) got the trip in his last dirt start, and just got up to break his maiden in his eleventh career start. He's improved sharply in his last few dirt races, and will likely get another good trip. #6 Count the Shells (6/1) goes first off the layoff for John Salzman Jr, and broke his maiden two back in a gate-to-wire performance with a figure of 81. 
RACE 6: MAIDEN CLAIMING $25,000, 2-YEAR-OLDS, FILLIES, 4 FURLONGS
3-6-1-7
#3 I B Nasty (5/1) switches from maiden special weights at Charles Town to maiden claimers here, which is probably about the equivalent class. She briefly took the lead last out, and will look to wrestle firm control here. #6 Moody Woman (9/2) has been working steadily at Laurel Park, and now ships here for her debut for Anthony Farrior, who puts Arnaldo Bocachica aboard. She also had some works over the Timonium track earlier in the year. #1 Lady Zeta (4/1) ships down from Monmouth Park for the Gonzalez/Angel Cruz combo, which has been hitting at 20% as of late. 
ANALYSIS
RACE 7, ALLOWANCE OPTIONAL CLAIMING (N/W1X), 3-YEAR-OLDS AND UP, 6 1/2 FURLONGS
2-1-4-8
#2 Going to the Lead (7/5) won twice at the Pimlico meet, and lost photos in his last two races. He had won those two races gate-to-wire, and has just missed in prior races when he tried to rate. #1 Spitball (6/1) has run in the 80s in his last two starts while displaying good tactical speed. He's got some of the best late pace figures in the race. #4 Degas (9/2) got caught after setting the pace in his last two. Not sure if he'll try to challenge Going to the Lead here; he might want to rate off him instead. 
RACE 8: ALLOWANCE OPTIONAL CLAIMING (N/W1X), 3-YEAR-OLDS AND UP, 4 FURLONGS
5-2-4-1
#5 Primal Destiny (8/5) saw his win streak snapped against stakes company at Mountaineer last out, but now gets back on a bullring and may prove impossible to catch. However, it is worth noting that Kevin Patterson is willing to risk him for a $16,000 tag, a bit of an unusual move for a horse of this caliber. Still, he's so fast, it may not matter. #2 Inspiring Justice (4/1) got a bit tired in the stretch last out at Charles Town, but managed to hold on, after getting caught in his prior two races. He's got plenty of early speed and an advantageous post. #4 Dialing Dixie (12/1) has good tactical speed and could sneak into the exotics at a good price if he gets his trip. 
RACE 9: CLAIMING $5,000 (N/W2L), 3-YEAR-OLDS AND UP, 6 1/2 FURLONGS
2-1-4-7
#2 Don't Dare Me (2/1) is the only one in the field who has not lost against winners, having gone gate-to-wire against maiden claimers last out. Will be very tough to catch on the front end. #1 Lifespan (5/2) has steadily been earning figures in the low 70s, but also has an unsightly 1-for-20 lifetime record. Will close and try to pick up some pieces. #4 Zip the Lip (6/1) has shown some mild speed in his last few and will likely try to press the pace.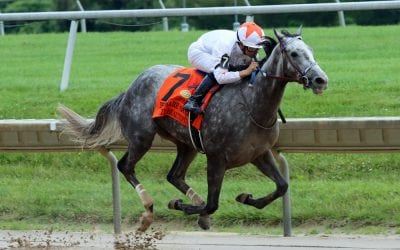 We've got Delaware Park picks and horses to watch for this afternoon's racing program.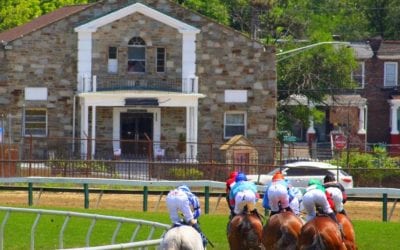 We provide full-card picks and analysis for this afternoon's races at Pimlico.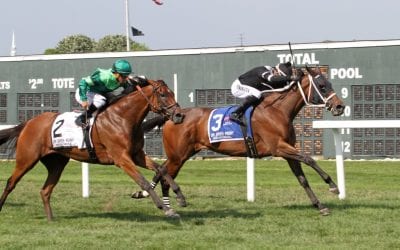 We've got Parx Racing picks today as the track presents another midweek card!