Spa selections 2021: Saratoga picks August 28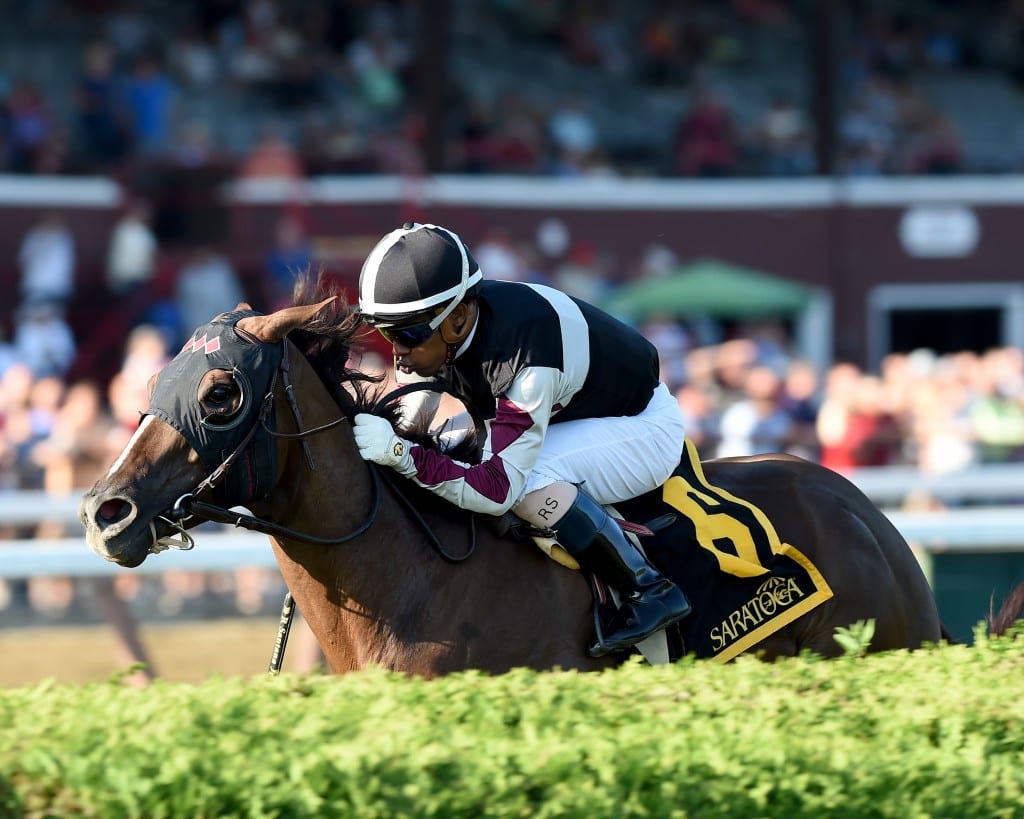 Ginger N Rye won the 2017 Smart N Fancy Stakes at Saratoga. Photo by Chelsea Durand/NYRA.
by Joseph Aiello
In Spa Selections, Saratoga on-site correspondent Joseph Aiello provides Saratoga picks for a handful of key races at Saratoga, including all of the exciting stakes action!
Race 4 – Grade II Ballston Spa Stakes
1. #3 Viadera (8-5) – Of the three Chad Brown runners, this is the most likely even after a disappointing fourth in the De La Rose, and she should win if she isn't too far back
2. #6 Kalifornia Queen (2-1) – The 'second' of the Brown trainees, this filly gets a plus for winning both her tries at this distance
3. #4 New York Girl (6-1) – Interesting filly who has made some big moves in her career, and could take advantage of a scenario where the pace heats up
Race 7 – Grade I Ketel One Ballerina Handicap
1. #1 Gamine (3-5) – In a field full of stalkers and closers, this lone speed filly by Into Mischief is the most likely winner, but won't be great value and faces an underrated group here
2. #7 Ce Ce (4-1) – Possesses some good speed figures and is best suited for seven furlongs, plus Espinoza comes in to ride this mare as his only mount
3. #2 Lake Avenue (12-1) – Sconsin has improved this year and finished a close second to Gamine two back, but this filly by Tapit is peaking at the right time here for a big effort
Race 8 – Grade I Forego Stakes
1. #7 Yaupon (5-2) – Won both tries last year at Saratoga, and could be dangerous in his first try at seven furlongs if he gets away with the early lead
2. #2 Whitmore (4-1) – Probably better at six furlongs, but this eight year old keeps showing up, finishing in the money in over half of his forty-two career tries
3. #8 Firenze Fire (6-1) – Didn't have the best of efforts in the Vanderbilt, but since struggling in the sloppy Forego last year, this horse has stayed consistent and is primed for a breakthrough
Race 9 – Grade I H. Allen Jerkens Memorial Handicap
1. #1 Drain the Clock (6-1) – Might not be the ideal spot breaking from the rail, but if this colt can settle into third and let Jackie's Warrior and Life Is Good go at it early, he can win late
2. #6 Life Is Good (8-5) – If this colt returns to form after a lengthy layoff, he may be best suited to go at Jackie's Warrior early and may have the most upside of this group
3. #2 Jackie's Warrior (1-1) – Has been incredibly impressive at the Spa especially last time in the Amsterdam, and even though he can win here, this speedy field makes this a tough spot
Race 10 – Grade I Personal Ensign Stakes
1. #5 Royal Flag (10-1) – With Miss Marissa likely to press Letruska and As Time Goes By, there is upset potential for a closer and this mare with Rosario seems to be in top form
2. #6 Letruska (6-5) – If she gets her race and goes out in a forty seven half or slower, it would be tough to see this mare by Super Saver getting beat in the stretch
3. #2 As Time Goes By (6-1) – Swiss Skydiver might not be in as sharp of form as last year, so take this speedy filly who looks to bounce back after missing the break in her last try
Race 11 – Grade I Resorts World Casino Sword Dancer Stakes
1. #2 Gufo (3-1) – Keeps Rosario and seems to have improved with more distance, this colt has improved since a near loss in the Saratoga derby Invitational last year and is ready here
2. #1 Tribhuvan (2-1) – Winner of three of his last four, this Chad Brown trainee is the only one entering off a grade I try and win, and has proven that distance and class aren't issues
3. #7 Cross Border (4-1) – Rockemperor is an interesting play here, but this seven year old ridgling has been too good at Saratoga and should be fine with the distance if he sits mid pack
Race 12 – 152nd Grade I Runhappy Travers Stakes
1. #2 Essential Quality (4-5) – Despite looking vulnerable in the Jim Dandy, this Brad Cox trainee just seems a cut above this field, and will improve adding an extra furlong; he should be aiming at the probable leader Midnight Bourbon who doesn't seem to like going this far
2. #7 King Fury (15-1) – This chestnut colt by Curlin switches back to dirt after a try in the Saratoga Derby Invitational, and is sneaky here at a good price being one that should be well suited for his first crack at the classic distance after scratching out of the Derby in May
3. #3 Keepmeinmind (6-1) – Seemed like he had his chance to take down Essential Quality in the Jim Dandy, but Rosario keeping this colt mid pack gives him a chance at another strong stretch run as he continues to work well over the Saratoga track
4. #6 Masqueparade (8-1) – With only Midnight Bourbon typically showing speed, this Ohio Derby winner can be dangerous sitting in second on a slow pace, and although the distance isn't ideal after fading in the Jim Dandy, hitting the stretch with a lead gives him a chance
Race 13 – MC 40000
1. #10 Home for Christmas (6-1) – Her two races on the turf were better than her dirt tries, but keeping Rosario and closing from the back gives her a chance to improve here
2. #1 Dancing Firefly (9-5) – Not particularly a standout despite the morning line odds, but with others who have poor speed figures on the turf, take this one who ran well first time out
3. #6 Constitutionalrage (8-1) – The last two races leave much to be desired, but this is another filly who will benefit from switching back to her preferred surface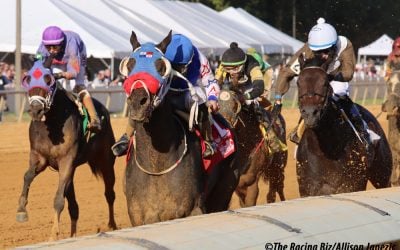 We provide full-card picks and analysis for this afternoon's races at Laurel Park.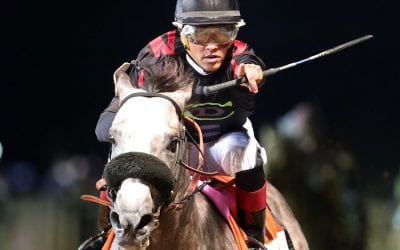 We've got Charles Town picks and preview today as the track presents its Friday card!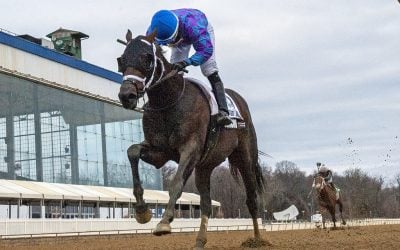 Which Laurel Park jockeys are off to hot starts? Asking for a friend; no, wait, actually asking for the betting public. Answers within…