CHARLES TOWN CLASSIC: FIVE THINGS TO WATCH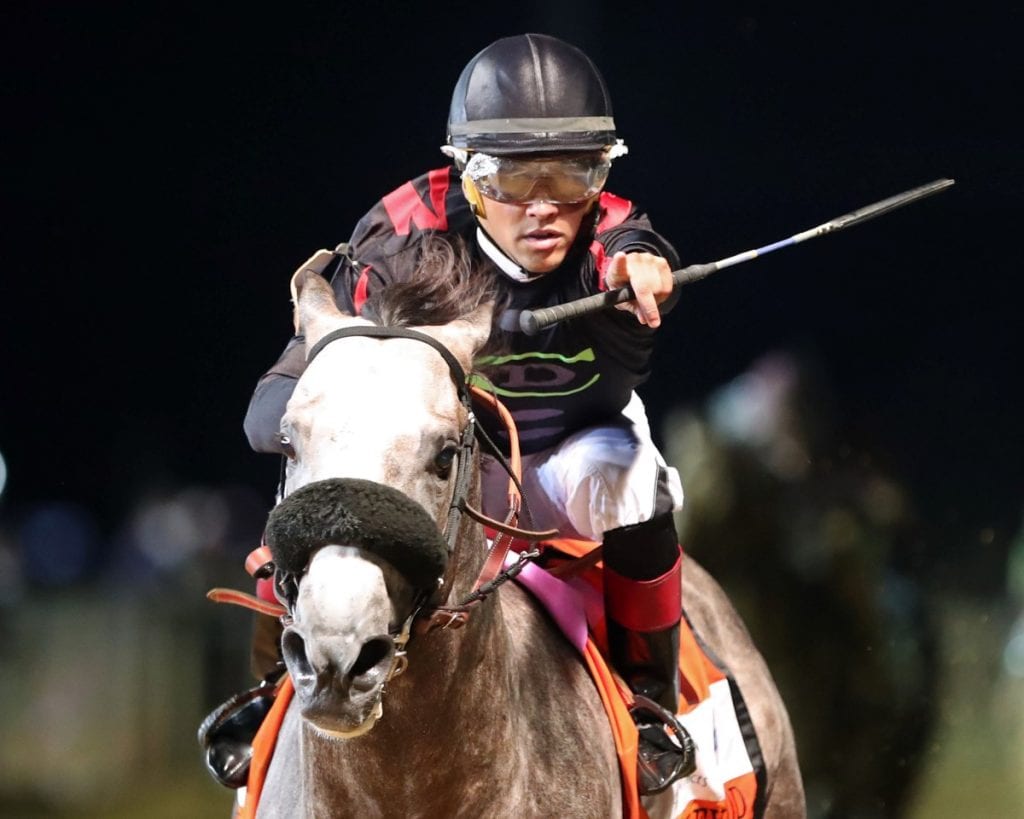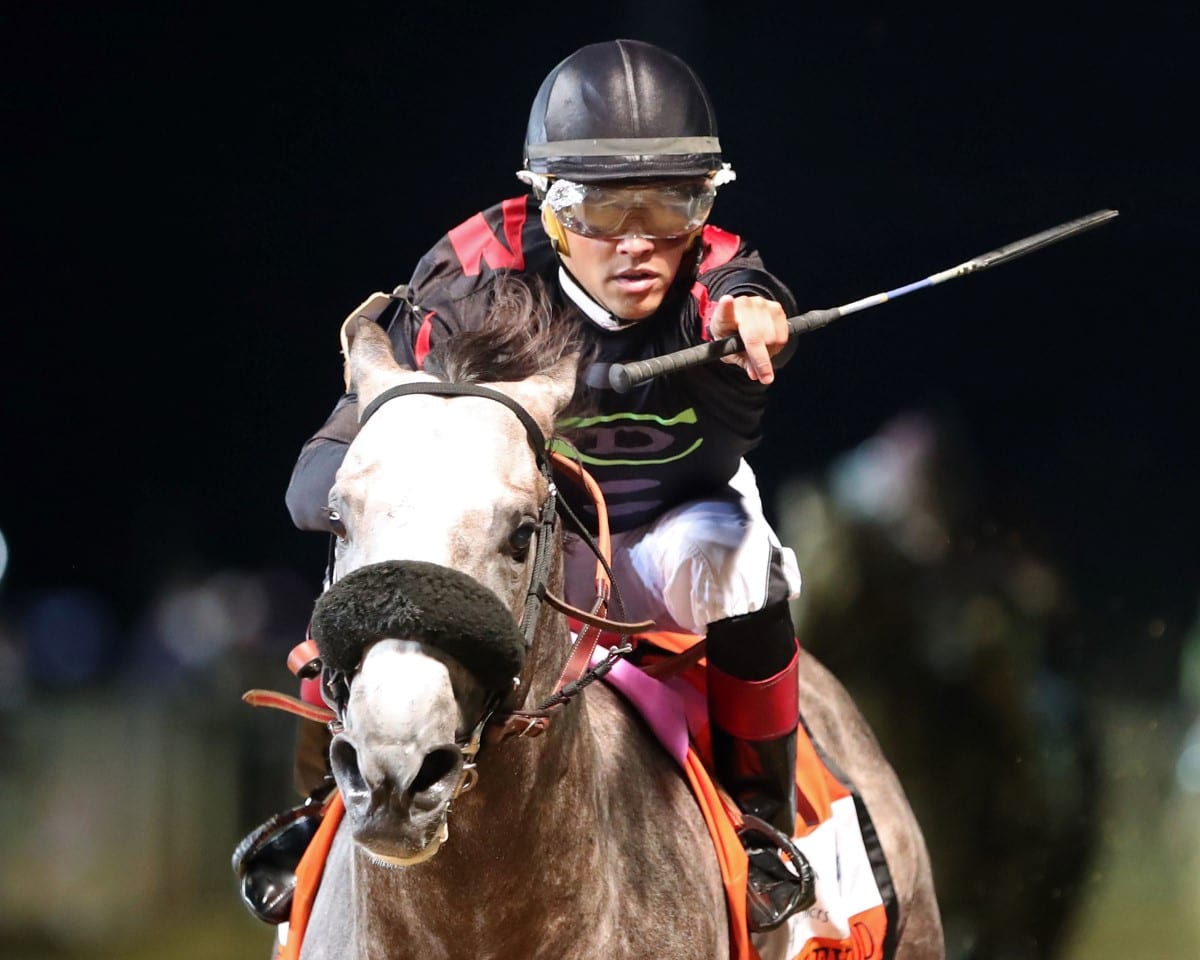 The Biz

August 27, 2021
It's Charles Town Classic night. Here's what we're watching for, plus expert picks for the key races.
Saffie, Brad, and Bill
Three trainers with major national profiles – Saffie Joseph, Brad Cox, and Bill Mott – all figure to play significant roles in Friday's Charles Town Classic card festivities. Joseph has a starter in each of the five open stakes – the Misty Bennett Pink Ribbon, Robert Hilton Memorial, Russell Road, Grade 3 Charles Town Oaks, and Grade 2 Charles Town Classic. That number includes Queen Nekia, 7-5 in the Pink Ribbon, and Winds of Change, 5-2 in the Russell Road. Cox has starters in four of the five, and all are second or third choice. And Mott will send out the morning line favorites in both the Charles Town Oaks (Caramel Swirl) and Charles Town Classic (Art Collector).
Tampa Bay Derby 2.0
The $150,000 Hilton Memorial brings together the horses that ran first and third in the March 6 Tampa Bay Derby (G2). Helium, who won that day, is the 5-2 morning line favorite for Hall of Fame trainer Mark Casse, while Joseph will send out Tampa Bay Derby show horse Moonlite Strike (5-1), who since then has been doing his work at sprint distances.
Undefeated, and under the radar
Florida-bred R Adios Jersey didn't cost much at auction – just $12,000 as a two-year-old in training – and didn't get much love on Charles Town's morning line, getting tabbed at 12-1. But the Georgina Baxter trainee is 4-for-4 in her brief career, and after making her debut in maiden claiming ranks, she's been making her way up the ladder, last out scoring easily in a stake for Florida-breds. She's been away since March 28 but sure is an intriguing price play in the Grade 3 Oaks.
Pace makes the race
In last year's edition of the Charles Town Classic, Sleepy Eyes Todd led throughout en route to a dominant victory. He's back, set to make his first start since he was the beaten favorite in a minor stake at Fonner Park April 24. But his road to victory could be more complicated today; rivals like Warrior's Charge, Rushie, Ny Traffic, and Art Collector all could have something to say about the early pace. That could work to the advantage of longer shots like Noble Drama (8-1), Bourbon Calling (15-1), Informative (20-1), and Restrainedvengeance (20-1).
Undefeated, and not under the radar
The nightcap, the $75,000 Frank Gall Memorial for West Virginia-breds, has brought together such a deep and contentious field that trainer Tim Grams called it the toughest WV-bred group he can remember. The morning line fave in here is Muad'dib, who's 7-2. The Jeff Runco trainee has begun his career with six consecutive victories but will be trying stakes company for the very first time. Muad'dib is following nicely in the footsteps of his older full sister, multiple graded stakes winner Late Night Pow Wow.
EXPERT PICKS
RACE
DERBY BILL WATSON
TED BLACK
R8 Pink Ribbon
2 – Lady Rocket
8 – Queen Nekia
4 – Ava's Charm
2 – Lady Rocket
8 – Queen Nekia
5 – Landing Zone
R9 Robert Hilton
1 – Swill
6 – Helium
9 – Awesome Gerry
2 – Exculpatory
1 – Swill
6 – Helium
R10 Russell Road
1 – Letmeno
7 – Wind of Change
6 – Vertical Threat
7 – Wind of Change
6 – Vertical Threat
2 – Savvy
R11 Charles Town Oaks
6 – Inject
1 – Caramel Swirl
3 – Pauline's Pearl
2 – Street Lute
3 – Pauline's Pearl
1 – Caramel Swirl
R12 Charles Town Classic
3 – Rushie
7 – Sleepy Eyes Todd
8 – Art Collector
1 – Warrior's Charge
6 – Ny Traffic
8 – Art Collector
LATEST NEWS