Pimlico picks and ponderings August 8, 2021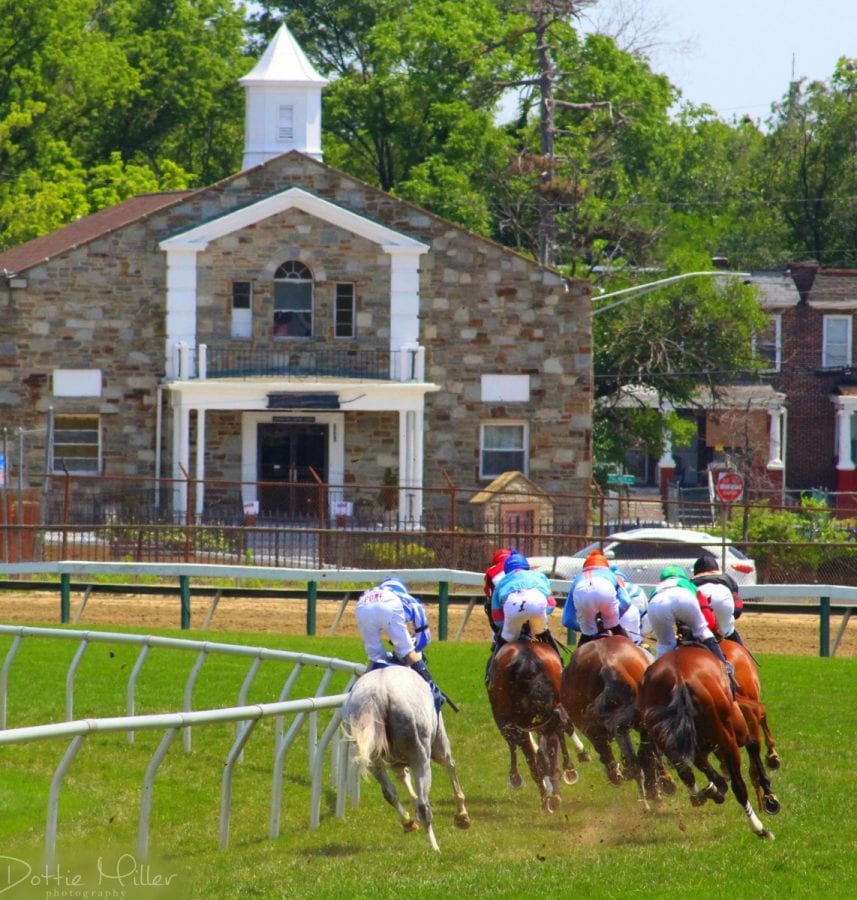 Horses round the first turn at Pimlico. Photo: Dottie Miller
In which we pick the races from Pimlico each day…
Post time: 12:40 p.m.
Carryovers: Rainbow Jackpot Pick 6 -$0 Super High 5 — $636 Late Pick 5 — $0
ANALYSIS
RACE 1: CLAIMING $5,000 (N/W2L), 3-YEAR-OLDS AND UP, 6 FURLONGS
4-6-5-1
The outside three in this race are all lightly-raced, and as such merit serious consideration. #4 Golden G (5/2) has run two brisnet figures in the 70s within his last three starts, and just missed second after a wide rally in his first n/w2L start last out. #6 Bob Man (7/2) broke his maiden impressively at Delaware Park two races back, and looks for improvement after an even effort in his first try against winners. He just missed fourth, after the top three ran away from the others in the stretch. #5 Where U B (2/1) has speed for the Jamie Ness/Jaime Rodriguez combination, and is a serious threat to take them gate-to-wire.
RACE 2: CLAIMING $5,000 (CONDITIONED), 3-YEAR-OLDS AND UP, FILLIES AND MARES, 1 1/16 MILES
1-3-7-2
#1 Misdriven (2/1) is another Ness/Rodriguez entry, who hit the board in his last two starts with strong closing rallies. Rodriguez didn't have the mount in those last two starts, but now gets the call. That's an encouraging sign. She was sharp towards the end of last year at Parx, but hasn't won in seven tries this year. #3 Life in Flash (8/1) is another Delaware invader with a strong late punch. She ran her best race in a long time last out, making up lots of ground to lose by 1 1/2 lengths, with a figure of 73. Has a chance to round out the exacta or trifecta at big odds. #7 Letmeslidebyyou (10/1) showed speed, in a notable change of pace, in her seasonal debut last out. She faded late, but still ran a respectable figure of 65. Has to be considered an upset candidate. 
RACE 3: ALLOWANCE (N/W1X), 3-YEAR-OLDS AND UP, 1 1/16 MILES
1/1A-2-3-4
Both halves of the Jamie Ness entry look very tough. It's likely only one of them will run, but I would take either one without the aid of their stablemate. #1 Celtic Treasure (8/5) has won three in a row on dirt and is a serious threat to take them gate-to-wire. #1A Bouncing Around (8/5) has been in steadily good form lately, and was impressive in victory at Parx three dirt races back. #2 Contraflow (2/1) went gate-to-wire on this track last out, and is also a serious threat to pull off a front-running victory. He's run his best races when afforded a loose lead. If Ness decides to run Bouncing Around and not Celtic Treasure, it's all the better. #3 Galatians (5/2) races for the Mary Eppler barn for the first time. He showed good heart in his last two tries at the level, and should enjoy a comfortable trip just off the leaders. 
ANALYSIS
RACE 4: CLAIMING $16,000 (N/W2L), 3-YEAR-OLDS AND UP, 1 1/8 MILES (GRASS)
2-8-7-5
#2 Curlee Fox (2/1) broke his maiden on the Tampa Bay Downs grass course three races back, then put in good closing rallies in his first try against winners. Last out, he was hung wide throughout and flattened out; that's not likely to happen here with the inside draw. #8 Seville Row (7/2) is a strong closer who has gotten better in each of his three starts this year. Daniel Centeno, who had been riding him at Delaware, keeps the mount. #7 Striking It Lucky (4/1) took up sharply in his last start and lost lots of position. He put in a strong rally with a cleaner trip two races back. 
RACE 5: STARTER OPTIONAL CLAIMING $32,000, 3-YEAR-OLDS AND UP, 1 1/16 MILES
7-8-1-5
#7 Law of the Land (3/1) has crossed the wire first in his last two dirt races. In his most recent try on this surface, he won an off-the-grass race at Delaware by eleven lengths. That was his maiden-breaking score; he crossed the line first last October at Gulfstream Park West, but was disqualified. #8 Ink (6/1) has run in the 80s in his last three races, but declined a bit when he more out and raced wide last out. When he got to the lead three races back, he broke his maiden in impressive fashion. #1 Shanghaied Astoria (9/2), a stablemate of Ink, just missed second in his first try at this level after a wide trip. He's got plenty of room for improvement. 
RACE 6: MAIDEN CLAIMING $40,000, 3, 4, AND 5-YEAR-OLDS, 5 FURLONGS (GRASS)
5-8-4-2
#5 American d'Oro (6/1) switches to grass and drops in for a tag for the first time. He's shown speed and faded in his last two races; perhaps the grass will help him carry his speed a bit more. Worth a shot in an uneven field. #8 Premiere Choice (6/1) goes second off a year-plus layoff. He made his debut on grass last June, and earned a 63 in a tougher field than he'll see today. He almost wired them on dirt in his return to the races; we'll see if he can build on that race. #4 Hello Amigo (7/2) is one of the few in here with positive grass experience, having run second at this level two races back. However, he also has an unsightly 0-for-15 career mark. 
ANALYSIS
RACE 7 – ALLOWANCE OPTIONAL CLAIMING (N/W2X), 3-YEAR-OLDS AND UP, 1 1/16 MILES
1/1A-4-6-5
Much like in race 3, whichever half of the entry Ness decides to run will have a big shot. #1 Big Beautiful Wall (7/5) has been sharp in two races since the Ness claim back in June, most recently earning a 93 at Delaware when closing off a slow pace. #1A Super Dude (7/5) just missed after a long duel at Parx that might have taken something out of him, as he hasn't raced since that May 10 effort. Still, he's been working strongly and merits respect. #4 McElmore Avenue (8/5) had a nice winning streak earlier in the year, but lately he hasn't shown the closing punch needed to win these types. A better exacta candidate than win proposition. #6 Coal Truth (6/1) hasn't run worse than an 87 in his last three starts and has a strong closing kick.
RACE 8: STARTER OPTIONAL CLAIMING $25,000, 3-YEAR-OLDS AND UP, 1 1/16 MILES (GRASS)
3-4-1-8
#3 Posterity (9/2) ran huge in back-to-back races against open $12,500 claimers, then wasn't a factor in the Baltimore-Washington Turf Cup. Now he drops back to a more comfortable level, where he should thrive. #4 Captain Thunder (7/2) has just missed in each of his last two, and will be prominent on the early pace. #1 Tusk (2/1) gets back to the grass after two straight dirt tries. He was in declining form from his mid-80s peak towards the end of the Gulfstream Park meet, but having two preps should've gotten him good shape for this spot.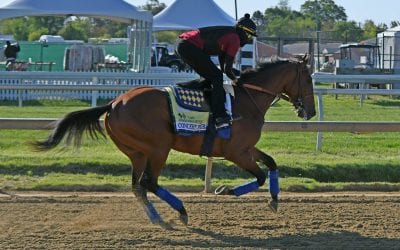 The fourth Kentucky Derby future wagering pool will kick off Friday, and 2yo champ Forte is the top individual choice on the morning line.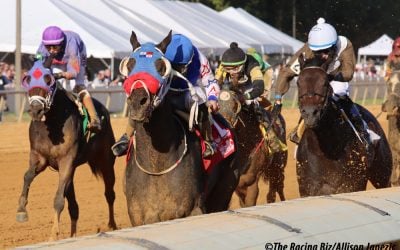 We provide full-card picks and analysis for this afternoon's races at Laurel Park.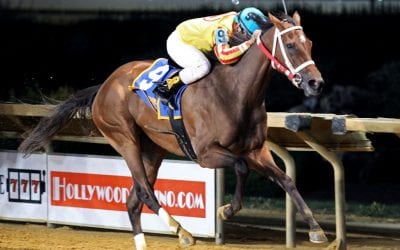 We provide picks and analysis for this evening's card at Charles Town Races.