Pimlico picks and ponderings August 7, 2021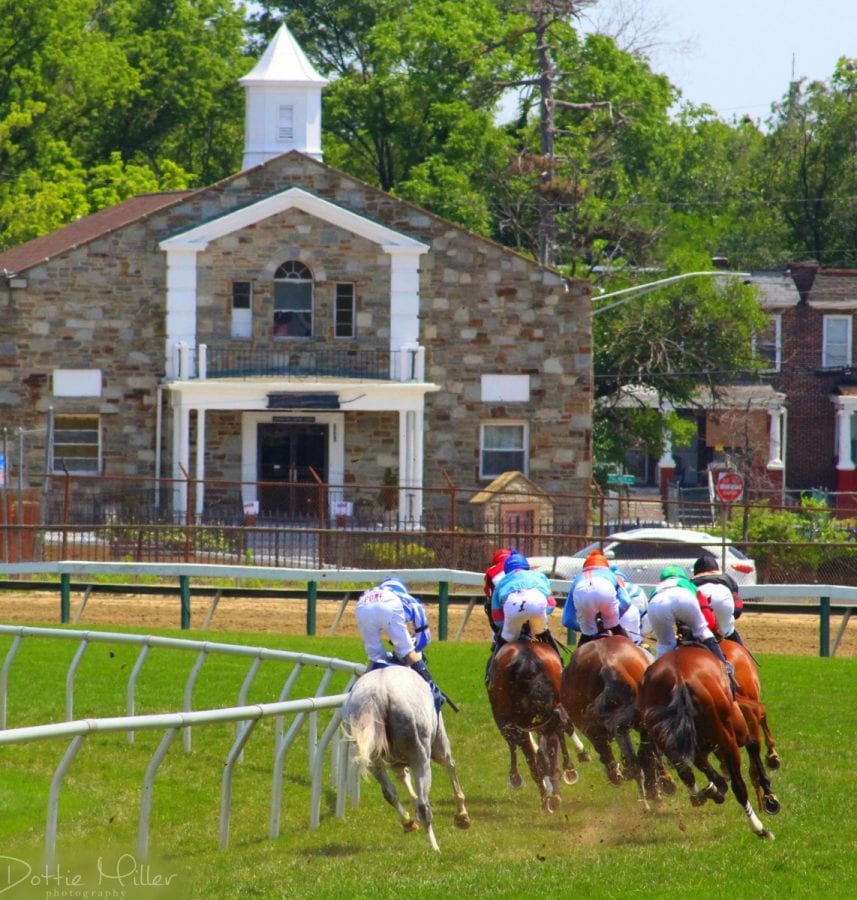 Horses round the first turn at Pimlico. Photo: Dottie Miller
In which we pick the races from Pimlico each day…
Post time: 12:40 p.m.
Carryovers: Rainbow Jackpot Pick 6 — $4,719 Super High 5 — $0 Late Pick 5 — $0
ANALYSIS
RACE 1: CLAIMING $10,000 (CONDITIONED), 3-YEAR-OLDS AND UP, FILLIES AND MARES, 5 1/2 FURLONGS
1-5-6-7
#1 Lambeau Lady (5/2) looked much the best on paper last out against n/w2L foes, and ran like it. She won by 1 3/4 lengths, making a strong move to the front on the turn and drawing away to earn a brisnet figure of 76. She's steadily improved since returning from a few months' vacation, and should fire a big one here. She was claimed last out, going from Brittany Russell to Saul Ramirez. #5 Congress Hall (8/1) has also been showing slow improvement in recent starts, and has the best late pace figures in the race. She has a recent bullet workout, and while Victor Rosales's stats at this meet aren't great, he's been doing well at Colonial Downs and gave her a good ride in a runner-up finish last out. #6 Golden Lassie (2/1) has won two in a row between here and Colonial, rapidly rising through her conditions. She probably should've won her last race a bit easier, but still got the job done, and she's got the most early speed today. 
RACE 2: MAIDEN CLAIMING $40,000, 3, 4, AND 5-YEAR-OLDS, FILLIES AND MARES, 1 1/16 MILES (GRASS)
4-8-1-2
#4 Fire in the Hole (7/5) was impressive in her grass debut, closing from behind to get second, missing by a neck, despite some traffic. The winner, Fool Yourself, came back to win a starter optional claiming race on dirt. Feargal Lynch gets the mount for the first time. #8 Pounding Music (3/1) has never run worse than a 72 in three grass starts, and hit the board at big odds in her two races this year. She should get a good trip stalking the pace. #1 Self Assured (9/2) battled on the lead last out and led in the stretch, only to get caught in the last few jumps. She was scheduled to make her return last Sunday, but a sudden thunderstorm scuttled those plans. 
RACE 3: ALLOWANCE (N/W1X), 3-YEAR-OLDS AND UP, 6 FURLONGS
5-6-1-2
This race marks the 3-year-old debut of #5 Miss Nondescript (2/1), who chased down Street Lute to win the Maryland Million Lassie last October. She was disappointing in the Maryland Juvenile Fillies last out, but something may have gone amiss in that race, as she hasn't been seen since that December effort. She's had some steady works since then, and faces an uneven field in her 3-year-old bow. #6 Pretty Edge (3/1) was competitive against better n/w1x fields earlier in the Pimlico meet, but stopped badly in her most recent dirt start, at Parx. A try on grass at Colonial wasn't very productive, either. Can she spring back to life here? #1 Blushable (3/1) has run between a 75 and a 78 in her three dirt races, and though she broke her maiden in sharp fashion two dirt races ago, she couldn't keep up at this level last out. If she gets the trip on the inside, she could improve to a career-best race. 
ANALYSIS
RACE 4: MAIDEN CLAIMING $25,000, 2-YEAR-OLDS, 5 1/2 FURLONGS
7-8-6-1
#7 BB Bad (3/1) went off as the favorite in his career debut, for Jamie Ness and Jaime Rodriguez at Delaware Park. He was visually unimpressive, but he still has the best last-out figure in the race, with a 54. He adds blinkers and gets a jockey switch to Carlos Lopez. #8 Prince of Portland (5/2) is a Brittany Russell firster with less-than-impressive works, which likely explains why he's debuting for a $25,000 tag. However, he's caught a soft group for his first start, so if he has any ability at all, he has a big chance. #6 Rustys Gfivefifty (5/1) goes out for the Claudio Gonzalez/Angel Cruz combo and has the second-best last-out figure in the race, with a 52.
RACE 5 – CLAIMING $16,000 (CONDITIONED), 3-YEAR-OLDS AND UP, 5 FURLONGS (GRASS)
4-5-6-2
You don't see many horses who are stakes-placed at this level, but that's the case with #4 Fair Catch (5/2) who was third in the King Leatherbury Stakes two races back. He dropped to a starter optional claiming race last out, and showed speed before fading late. His primary competition on the lead will come from #5 So Dialed In (9/2), who was claimed out of a grass sprint three races back by Kieron Magee, who stretched him out twice without success. He finally cuts back to five furlongs, which should serve him very well. He finished a strong second in similar circumstances in his last sprint, despite jumping the tracks in the stretch. #6 Marsac (5/1) steps up to this level for the first time after a sharp n/w2L win last out, and will also be a factor on the early pace. 
RACE 6- MAIDEN CLAIMING $10,000, 3, 4, AND 5-YEAR-OLDS, 6 FURLONGS
2-4-5-10
#2 We're From Bristol (8/1) faced a field of mostly experienced horses in his debut, and finished fourth while showing speed and hanging on well in the stretch. Adds lasix for his second start and draws a great post. #4 Charlie Potatoes (2/1) put in some great performances in sprints earlier in the season, but didn't show much in his routing tries. Cutting back should help. #5 Pet's Night (5/1) has finished third in all three of his races. Oftentimes, he rates near the pace, but lacks the closing punch needed to win. That's what's likely to happen again here. 
ANALYSIS
RACE 7 – MAIDEN CLAIMING $16,000, 3, 4, AND 5-YEAR-OLDS, FILLIES AND MARES, 5 FURLONGS (GRASS)
9-6-10-2
#9 Square Penny (3/1) ran a career-best race last out. She led almost the whole way around, but got caught in the last sixteenth. Still, it resulted in a career-best figure of 72. She once again looks like the main early speed in the race. She was 3/5 in her last race, and while I don't think she'll go off that low again, she'll take plenty of action. The same is true for #6 Likely Choice (2/1), who takes a career-low drop in class and cuts back around one turn for Kelly Rubley. She'll likely rate just off the leaders. #10 Dew Dat (5/1) races first off the claim for Dale Capuano and adds blinkers. Should take a big step forward in her second start off the layoff and her first race on grass. 
RACE 8: ALLOWANCE OPTIONAL CLAIMING (N/W2X), 3-YEAR-OLDS AND UP, 6 FURLONGS
8-7-6-4
#8 Cry No More (5/2) is very fast out of the gate, and that speed has propelled him to three wins in his last five starts. Last out, he won a n/w1x allowance with a figure of 96. Runner-up Indian Lake won the Bald Eagle Derby on grass, while third-place finisher Baby Yoda came back to win his next start. This one doesn't have an ideal draw, but if he's on his game, he'll still be very tough. #7 Tommy Shelby (12/1) has great late pace figures, and has hit the board in his last two starts with strong rallies each time. He was 18/1 and 21/1 in those two races, and he could once again round out the exotics at a big price here. #6 Baptize the Boy (9/2) has run at least an 84 in four of his last five starts, and easily handled a n/w1x field last out. This will be his first start since June 5. Look for him to rate just off the lead and move on the turn. 
RACE 9 – CLAIMING $10,000 (CONDITIONED), 3-YEAR-OLDS AND UP, 1 1/16 MILES
1-6-4-2
#1 Twitty City (5/2) made a good four-wide move to get second last out, with a career-best figure of 80. Usually, he shows speed, but he tried to come form off the pace last time. We'll see what strategy John Hiraldo employs here. #6 Bobby Two Times (2/1) goes first off the claim for Kieron Magee. He won the race from which he was claimed impressively in a gate-to-wire effort, with a figure of 77. #4 Big Venezuela (7/2) gets back to the dirt and was impressive on the front end in his last try on this surface.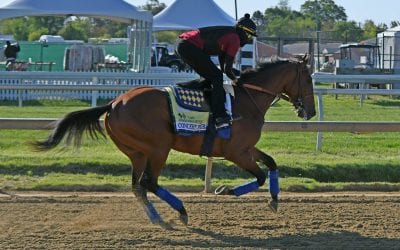 The fourth Kentucky Derby future wagering pool will kick off Friday, and 2yo champ Forte is the top individual choice on the morning line.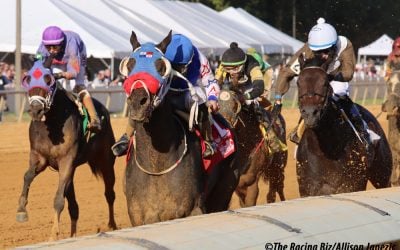 We provide full-card picks and analysis for this afternoon's races at Laurel Park.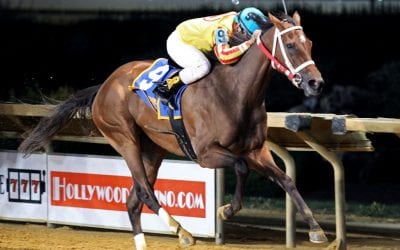 We provide picks and analysis for this evening's card at Charles Town Races.