DELAWARE PARK HANDICAPPERS' NOTEBOOK 2021 VOL. 9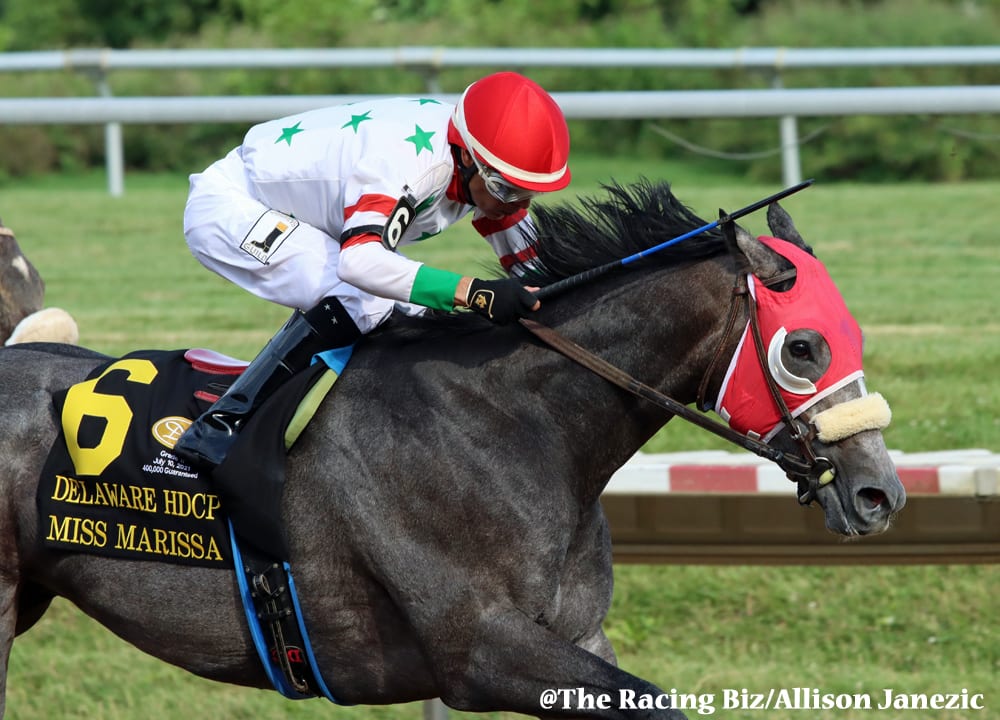 Notable races and trips
JULY 21-26
No overwhelming biases for the week, but if I were a jockey riding on the dirt this year I would prefer to make my move on the outside paths coming down the lane as opposed to the rail.
JULY 21
Race 3: Alayla came into this ALW $40,000 N2L off of a visually impressive 9 ¾ length victory. She had to work a little harder in getting the win against this tougher company but still looked like there was something in reserve. Generally I am not a proponent of betting on thoroughbreds to get three straight victories, but if she stays healthy this horse should chalk up a number of wins before the year is out.
Race 6: After scratches this OC $75,000 N2L was made up of five horses who were each victorious in their previous race.  The first three finishers, Stand Up Comic, Mr. Mox and A Dangerous Guy had won at the maiden special weight level and finished close to each other in this race.  All three should be watched closely in their next start.
JULY 22
Race 5: A slight bobble at the quarter poll cost Mahkato more than the half-length she ultimately lost by.  Although she is consistent on the turf at this lower claiming level, she otherwise got a perfect trip and still could not win. Now 1-for-18 she has the look of a horse whose best efforts cap out at the mid-60 Beyer range.
Race 8: Every maiden $5,000 race is weak but this one was very weak. The six starters were a combined 0-for-64. The favorite Grandmary (who won) was 0-for-23. Every quarter-mile in this 1 1/16-mile race took at least 25.50 seconds, and the fourth took 28.11, during which Grandmary actually extended her lead by a couple of lengths. A great example of a non-key race.
JULY 24
Race 6: Maestria's original MSW effort on 7/5 came up only a neck short and the chart indicated that she had steadied once in the race. Her return effort and victory against largely first-time starters was visually impressive. Chart comment "never asked, easily" was spot on.
JULY 26
Race 6: If you want an example of "pace making the race," watch the replay of this contest. My Candy Biz, at 51 to 1, made the favorite Ohio Class work to get the lead and re-broke to take another run at Ohio Class on the far turn. Although it does not show in the chart, Lucky Britches also came after Ohio Class and briefly took the lead in the race.  The beneficiary of all this was Hibachi who won the race at 8-1 odds from the back of the pack with Carol Cedeno astride.  Ohio Class only lost by a head despite doing all the work and clearly was the best horse in the race.
Jockey and Trainer of the Week
Jockey Jaime Rodriguez had 5 wins on July 22 and was an amazing 10 for 22 (45% win percentage) in the 3 days he rode at Delaware this week. Carol Cedeno was 6 for 19, and the two jockeys combined to win half of the 32 races run during the week. This included eight consecutive races over two days.  The Notebook alerted readers that the flow of jocks to Colonial would lead to dominance by these two riders, but this was truly incredible. Note: Both of these jockeys have upcoming three-day suspensions.
Trainer Jaime Ness was 6-for-11 for the week, which included winning with five of the six favorites he saddled. Ness is leading trainer locally with 25 wins from 96 starters; no other trainer has more than nine victories so far.
Handicappers' Toolbox
Delaware Park's betting pools get supported with a significant amount of late ADW bets, especially on Mondays and Tuesdays. The pools are not what you see at a larger circuit such as the NYRA tracks, so this out-of-town money can really change the win odds on the last click.  This is a common complaint from bettors, but it seems to be more evident this year. Although experienced bettors will not need the following tip, a reminder to the more casual player: the "will pay" totals, particularly in the double, are the perfect source to determine who will be the ultimate favorite in a race and how close the odds will be among competitors.  If a horse was pounded to close out a very low-paying double, it is not going to go off at 3 to 1 in the win pool no matter what shows on the tote board with one minute to post.
LATEST NEWS