DELAWARE PARK HANDICAPPERS' NOTEBOOK 2021 VOL. 8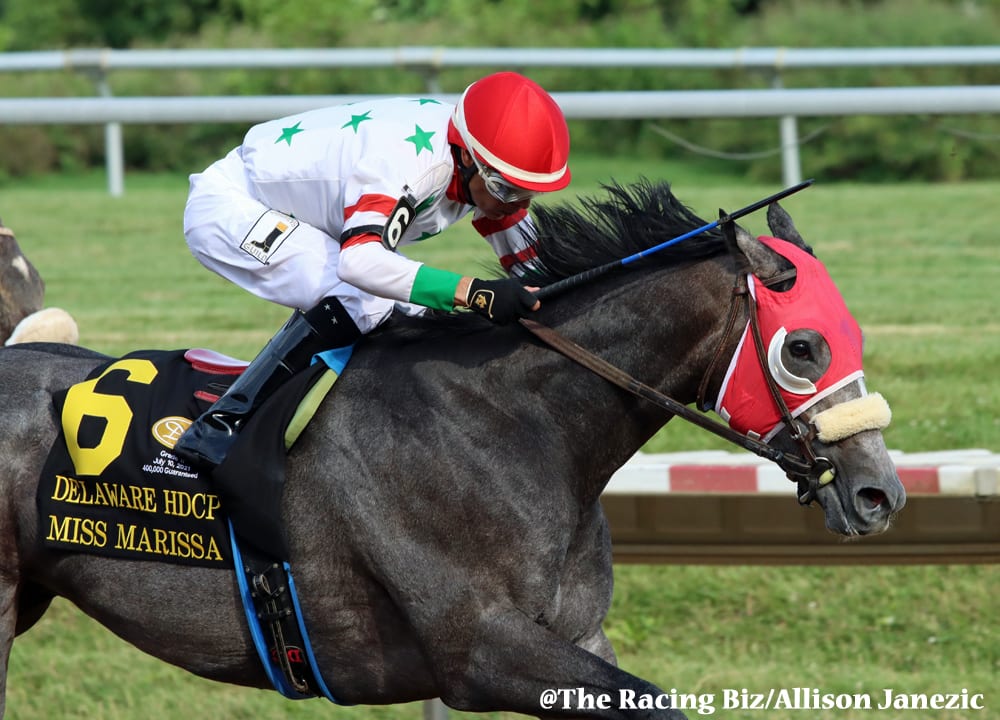 Notable races and trips
JULY 14-19
Racing was canceled on July 17 following the second race because of excessive heat. The dirt track played relatively fairly over the four racing days, but the turf course had a strong speed bias on both July 14 and July 15.
JULY 14
Race 7: D' Craziness closed on a turf course that was very kind to speed on both Wednesday and Thursday. He was the public choice but gets extra points for defeating the bias.
JULY 15
Races 3, 5, and 7: The front was definitely the place to be on the turf and the riders of the winners (The Big K, Damir and Big Polo) wisely took advantage. Suggest considering these wins as slightly biased when you evaluate their next races, particularly for The Big K and Damir who ran much better than their odds.
JULY 19
Race 2: Winterthur contested a quick 23.3 first quarter in this two turn race, then held the lead to the last few steps despite taking an inward step at the top of the stretch which forced the jockey to steady and lose momentum. Play back if runs against a comparable level.
Race 8: All for Love threw the jockey prior to the start, balked while loading, and then stumbled coming out of the gate. Crabs N Beer and Rustys Gfivefifty also loaded reluctantly.  This race was a complete toss for all three of these first-time starters who brought up the rear of this eight-horse field.
Jockey and Trainer of the Week
Jockey Roberto Alvarado, Jr. had 3 wins, a second, and three thirds in just 10 starts with an average win payoff of $11.30. That gaudy 70% in-the-money rate and positive ROI make him our top jock this week. Alvarado has seven wins from 49 starts at the meet.
Only one trainer produced multiple winners. That was Victor Carrasco, Jr., who produced two victories in just three starts. His other runner finished second. Carrasco is 3-for-20 at the meet.
Handicappers' Toolbox
The Colonial Downs meet will likely draw both jockeys and turf horses away from Delaware, particularly on Monday and Wednesdays. For the better horses and jocks that do stay, expect them to be heavily bet to the point where their win price and horizontal value will be diminished. Conversely this may enable you to more easily key your vertical plays when you look for a single in the Pick-4 or Pick-5. The Pick-5 at Delaware has regularly paid well over the last two seasons and for those with deeper pockets is a good play.
LATEST NEWS