Mid-Atlantic Three Stars: July 28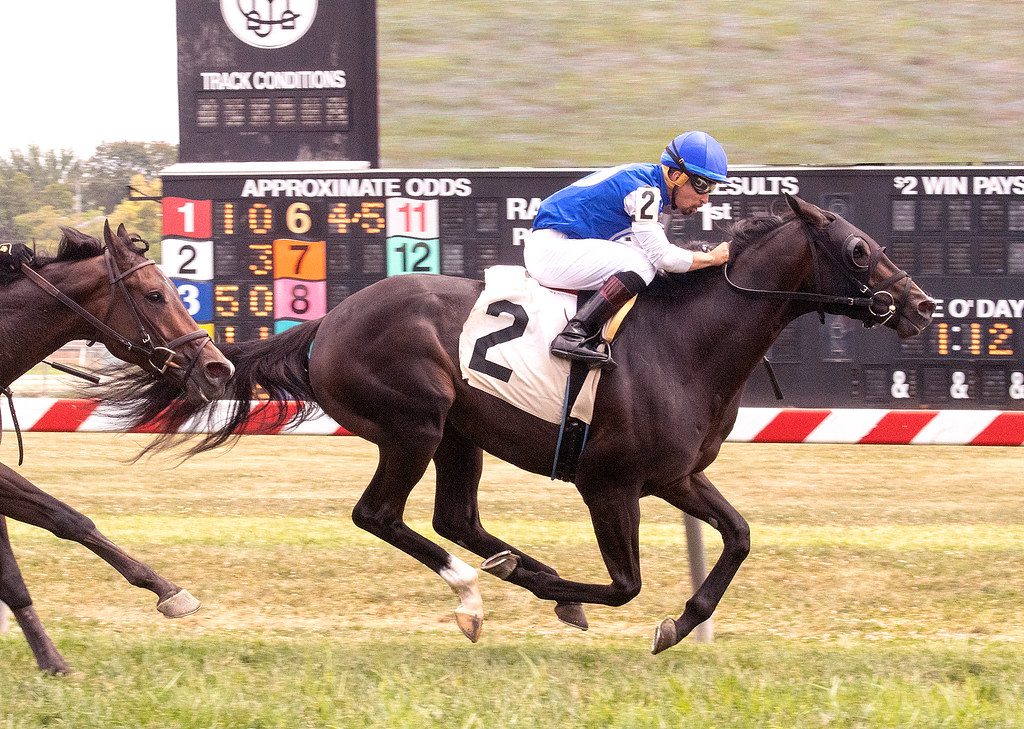 Indian Lake won the Bald Eagle Derby at Pimlico on Saturday. Photo: Jim McCue/MJC
Plenty of racing action took place throughout the Mid-Atlantic this past week.
Here's a look at the "three stars" of each track:
PIMLICO
FIRST STAR: FIELD PASS. This Maryland-bred star had a very impressive 3-year-old season last year, with five stakes wins. He won his first stakes race this year on Saturday, winning the Baltimore-Washington International Turf Cup by a neck. Ramsey Solution set the early pace, and remained clear as they entered the stretch run in the one-mile contest. After hugging the rail the whole way, Victor Carrasco found an opening on the inside with Field Pass, and shot through in the last eighth. Ramsey Solution was game, but Field Pass surged for the victory. It was his first win in his home state. He's owned by Three Diamonds Farm and trained by Mike Maker. 
SECOND STAR: VICTOR CARRASCO. Carrasco had a solid day on Saturday's stakes-packed card. Not only did he win with Field Pass, for his second career graded stakes win, but he also prevailed with Can the Queen in the Sensible Lady Turf Dash in a 8-1 upset. He rated her just off the pace on the outside, and drew away in the stretch for a 1 3/4-length win. In his two other stakes mounts, he was third in the Bald Eagle Derby with Wootton Asset, and fifth in the Big Dreyfus Stakes with Sister Hanan, behind upset winner Tightly Twisted.
 THIRD STAR: INDIAN LAKE. The 1 1/2-mile Bald Eagle Derby went to Indian Lake in a gate-to-wire performance. Ruben Silvera put him on the early lead, and set very moderate fractions, including 3/4 of a mile in 1:17.51. Although favored Experienced surged at him late, Indian Lake's early speed was too much to overcome, and he held on for a 3/4-length victory, going the distance in 2:32.08. The winner is owned by Gap View Stables and Jagger Inc and trained by Jamie Ness. 
CHARLES TOWN RACES
FIRST STAR: STAR OF NIGHT. This West Virginia-bred star made it six wins in a row on Friday night, as she won an allowance race by 4 3/4 lengths. Her virtues were no secret; bettors made her the 1-10 favorite in the five-horse field. 3-year-old fillies Shutupn'kissme and Boundtobeok battled each other on the lead, while 4-year-old Star of Night rated right off them. As they rounded the final turn, Star of Night engulfed her rivals, and drew off to an emphatic win. She was a two-time stakes winner last year, and it's likely that more stakes appearances are in her future. Arnaldo Bocachica had the winning ride for Huntertown Farm LLC and Jeff Runco. 
SECOND STAR: CANTAKEITANYMORE. Saturday's feature, a n/w1x allowance optional claiming race at 1 1/16 miles, went to the New York-bred Cantakeitanymore, for his fourth win of the year and his third win in a row. After rating  just off the leaders, he made a three-wide move to challenge them on the third and final turn. Entering the stretch, he drew alongside front-running favorite Kadesh, then pulled away from him for a 3 3/4-length victory. He's been based at Charles Town since late 2018, but has found his best form in recent times. He's owned and trained by Christopher Keller and ridden by Denis Araujo. 
THIRD STAR: FU MAN SUE. A n/w2x allowance optional claiming race served as the Friday night feature, and went to Fu Man Sue in a 14-1 upset. Favored Noble Commander opened up a long lead heading up the backstretch, and as they rounded the final turn, it looked like he was still clear. However, Fu Man Sue got the trip rating off the pace, and surged to the front as they came towards the wire. Another Victory was also closing strongly, but the wire came in time for Fu Man Sue, who won by half a length in 1:25.58 for seven furlongs. Darius Thorpe, who recently won his 300th career race, had the winning mount, for owners Stephen and Debbie Jackson and trainer Flint Stites. 
  MONMOUTH PARK
FIRST STAR: HE'SPUREGOLD. Some top Jersey-breds squared off in Saturday's feature, the Irish War Cry Handicap at one mile on the grass. Off a maiden win on that surface last out, He'spuregold was the 8-5 second choice. Under vigorous handling from Nik Juarez on the inside, he won a three-horse stretch battle and crossed the line a length in front, for his first career stakes win. He's owned by Roseland Farm Stable, and trained by Kelly Breen. 
SECOND STAR: MUCH BETTER. Earlier on Saturday's card, Much Better improved to 2-for-2 on the year with a n/w2x allowance optional claiming win. He won it impressively, going gate-to-wire in the six-furlong contest to win by 6 1/4 lengths. The final time was a very impressive 1:08.49. Steve Asmussen, who is closing in on the all-time North American training win record, is the winning owner and trainer. Gerardo Corrales had the winning mount. 
THIRD STARS: JUST LEO. Perhaps the most impressive 2-year-old of the Monmouth meet raced last Sunday. Sent off as the slight 2-1 favorite in a maiden claiming contest, Just Leo opened up a clear early lead, and drew away in the stretch while in hand under Nik Juarez. He won by 11 1/2 lengths, going 5 1/2 furlongs in a very solid 1:04.82. He's owned by Mr. Amore Stable, and also trained by Kelly Breen. 
DELAWARE PARK
FIRST STAR: JAIME RODRIGUEZ. Rodriguez had a huge day on Thursday, with five wins. Three of those wins on horses trained by Jamie Ness. They teamed up to win race 2 with Oldfashioned Club, race 4 with Melodious Singer, and race 7 with Other Things Equal. Rodriguez also won race 5 on Antonio Machado-trained Beautiful Tiz, along with race 8 on Grandmary, for trainer Gerald Bennett. Rodriguez has opened up a commanding lead in the jockey standings, with 43 wins going into Wednesday's card. 
SECOND STARS: KING LEATHERBURY. Leatherbury continued his incredible winning streak last Monday. He sent out Auchincruive to victory in a maiden claiming race on the grass, winning by 3 1/2 lengths at 7-1. That was Leatherbury's first win of the year, which means he has now saddled at least one winner for 63 years in a row. One of the dominant trainers in the mid-Atlantic for decades, Leatherbury has 6,507 career winners, good for fifth on the all-time list. 
THIRD STAR: HOPEFUL TREASURE. The Monday feature went to Hopeful Treasure, who won a n/w2x allowance optional claiming race in a stretch battle. He dueled early with Redeem Eddie early on, then dropped back to fourth as they rounded the turn. However, he came back again on the inside, and got up over wide-rallying Jeopardy James in a blanket finish. That's his first win of the year, and his fourth victory from ten starts. Isaac Castillo had the mount for owner Just In Time Racing LLC and trainer Michael Catalano Jr.
PARX RACING
FIRST STAR: SEVIER. This gelding continued an excellent Parx meet last Tuesday, as he won his third race in a row, and his fifth race on the year from six starts. Sent off at 1-10 in a starter allowance field, he popped right out of the gate and opened up a clear lead. From there, he never looked back, and drew away to win by 6 3/4 lengths, stopping the clock in an impressive 1:08.70. He won his first two starts of the year at Oaklawn Park, then after a defeat, went to Parx and resumed his winning ways. Last Tuesday's win, pushed his earnings on the year past the $100,000 mark. He's owned by Morris Kernan Jr, Yo Berbs, and Jagger Inc, and trained by Jamie Ness.
SECOND STAR: OXANA. One race later, this Pennsylvania-bred filly destroyed an open n/w1x field by 10 1/4 lengths, for her second career win in her third lifetime start. She battled for the lead on the outside, then took charge in the stretch and powered away for an impressive score. Carlos Hernandez had the winning mount, for Tee-N-Jay Farm and Tim Hills. 
THIRD STAR: RUBEN SILVERA. Parx's leading jockey had another three-win afternoon on Wednesday. He won race 3 with Unbridled John, for trainer Howard Brown Jr, then won back-to-back races with a pair of Ness trainees: race 7 on Irish Riviera, race 8 with Start Meee.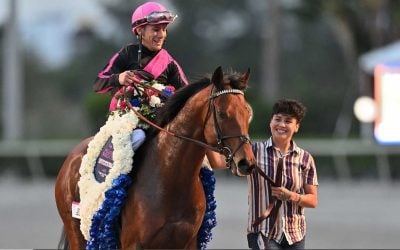 Art Collector drew off in the stretch for a dominant win at long odds in Saturday's G1 Pegasus World Cup at Gulfstream Park.