Pimlico picks and ponderings July 11, 2021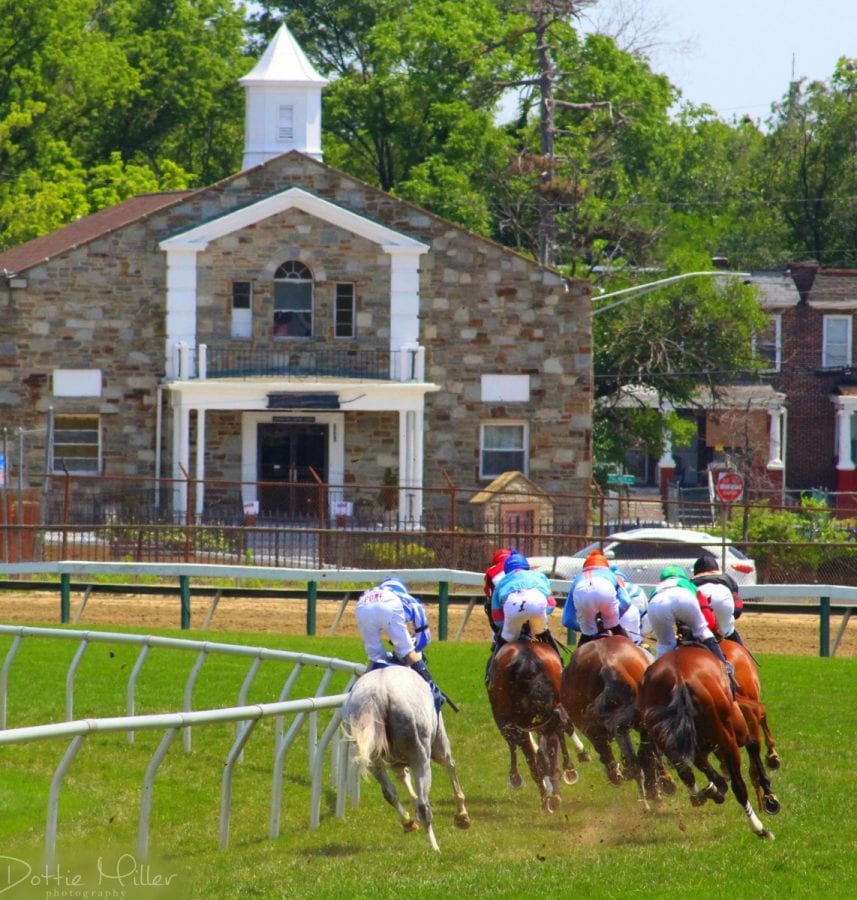 Horses round the first turn at Pimlico. Photo: Dottie Miller
In which we pick the races from Pimlico each day…
Post time: 12:40 p.m.
Carryovers: Rainbow Jackpot Pick 6 -$5,972 Super High 5 — $1,110 Late Pick 5 — $0
ANALYSIS
RACE 1: CLAIMING $10,000 (CONDITIONED), 3-YEAR-OLDS AND UP, 6 FURLONGS
1-6-2-3
#1 Sam and Sy (3/1) swooped the field to win going away in an impressive effort last out, his first start off the claim for trainer Donald Barr. He's young and lightly-raced, should keep moving forward. #6 Doctor K (2/1) earned figures as high as 101 over the winter at Aqueduct. However, he backed up badly in his last start, which was on grass, after trying to get to the front and fading. This is an easier spot than that last race, but he'll still have to be used early to clear to the lead from the outside. #2 Doobiedoobiedoobie (3/1) has some great figures in his recent lines, but he tends to run the same kind of race every time. He likes to sit just off the pace and suck up for a piece, without displaying the closing kick needed to win. He's a great underneath choice. 
RACE 2: MAIDEN SPECIAL WEIGHT, 2-YEAR-OLDS, 5 FURLONGS
5-3-2-1
As noted before, Graham Motion isn't so great with first-time starters. He hits at a better clip with second-timers, winning at about a 17% rate. He'll send one of those out here, in #5 Powerful Force (8/5). This one got bet last out at Belmont Park, going off at 4/1 in a grass race. He raced wide throughout and faded, but at least got some experience into him. He's had a good workout since then, and should fire a big one here. #3 Buff Hello (7/2) is one of two in here for Claudio Gonzalez. He did not want to go in last out at Monmouth Park, and raced evenly. Gonzalez is 33% second time out, and he's named his first-call jockey, Angel Cruz, on this one. #2 Mr. Box (5/1) has been working sharply in the mornings at Delaware Park for Jamie Ness.
RACE 3: CLAIMING $16,000 (N/W2L), 3-YEAR-OLDS AND UP, FILLIES AND MARES, 1 MILE (GRASS)
10-6-9-4
#10 Sweet Talking Girl (3/1) is another dangerous Motion trainee, who adds blinkers and Feargal Lynch for this spot. She ran a big race at Monmouth last out, closing off a very slow pace to lose by 2 1/4 lengths. #6 Alleria (5/2) is usually a speedster, but she came from off the pace last out at Parx and just missed. It'll be interesting to see which strategy Victor Carrasco employs here. #9 Bourbon Gal (3/1) stretches back out after a sprinting try in her most recent race. She just missed in two tries at this level earlier in the meet. Will also be on or near the lead. 
ANALYSIS
RACE 4: CLAIMING $5,000 (CONDITIONED), 3-YEAR-OLDS AND UP, 1 1/16 MILES
4-6-3-2
#4 Always Forgiven (8/5) takes a big drop in class from the starter allowance level, after a dull race that saw him snap a long streak of figures of at least 76. If he's able to get back to his best self here, he'll be almost impossible to beat. #6 Find Your Boaz (6/1) pulled off the upset in a n/w3L claiming race last out, earning a career-best figure of 71 when closing off a slow pace. He's had some time off since then, and has improved in each of his last three starts. #3 Shaka Style (4/1) has won his last two starts on the front end, and looms as the main speed once again. 
RACE 5: ALLOWANCE (N/W1X), 3-YEAR-OLDS AND UP, 1 1/16 MILES (GRASS)
9-5-10-2
#9 Johng (4/1) has won two in a row, both in extremely dramatic fashion. He has no early speed whatsoever, and makes huge closing rallies. Last out, he was twenty lengths back in the early stages, but stormed on to win 3/4 of a length. This is a better field than he's faced lately, but he's still got some of the best late pace figures in the race. #5 Artistic Endeavor (6/1) shipped to Penn National last out and dropped to a much easier n/w1x spot than he saw in the race prior. He enjoyed a great stalking trip and got caught in the last few strides. Trainer Edward Graham is 29% third off the layoff. #10 Beltway Bob (12/1) won last year's Maryland Million Turf Starter Handicap with a strong late kick. He hasn't raced since then, but he has the back-class to be worth a wager at a decent price.
RACE 6: CLAIMING $5,000 (CONDITIONED), 3-YEAR-OLDS AND UP, 1 1/16 MILES
1-8-3-6
While the figures will tell you that #1 Bobby Two Times (2/1) took a big step backwards in victory last out, I don't believe that number. He got stuck behind a very slow pace, and it was a miracle he was able to grind out a victory at all. His prior numbers, which were as high as 79, are a truer reflection of his abilities, in my opinion. In contrast, #8 Ghost on a Mission (5/2) was on a very fast pace last out, but held on to miss by a neck. It was a game effort, and he can improve even further if he can slow down the pace a little bit. #3 Gottaway (6/1) had a pretty steady string of figures in the upper 60s over the winter, and cleared his n/w2L condition at Penn National two dirt races back. Will look to grind on and get a piece.
ANALYSIS
RACE 7 – ALLOWANCE OPTIONAL CLAIMING (N/W3X), 3-YEAR-OLDS AND UP, 1 1/16 MILES (GRASS)
12-6-5-11
#12 Cannon's Roar (7/2) had an excellent season last year that culminated in a second-place finish in the Maryland Million Turf. He just missed in his first two starts of the year, including an appearance just a few days ago in the Sussex Stakes at Delaware, but those two races were at distances shorter than he might like. 1 1/16 miles is much more in his wheelhouse. #6 Gunnison (6/1) surged and just missed in each of his last two starts. He has the advantage of recent grass experience, which can't be said for many of his rivals. For example, #5 Vanzzy (5/2) was a two-time stakes winner last year, and ran figures in the 80s pretty consistently, but hasn't been seen since November. He might need a race first off the bench, but has loads of back-class. 
RACE 8: MAIDEN CLAIMING $40,000, 3, 4, AND 5-YEAR-OLDS, 6 FURLONGS
5-3-1-2
#5 Voltamour (2/1) improved second off the layoff last out, running on with interest in the stretch to get second. It's technically a class drop, but this is a very similar field to the one he saw last time. #3 Jackie A (8/5) has been a close second in each of his three starts. He might need to show more speed to be a contender. #1 Uncommon Valor (6/1) goes first off the claim for Jose Corrales, who hits at 18% with that angle. He's been grinding along in routes, now returns to a sprint for the first time since early spring.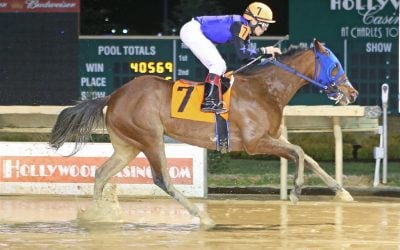 Which Charles Town trainers are off to hot starts? Asking for a friend; no, wait, actually asking for the betting public. Answers within…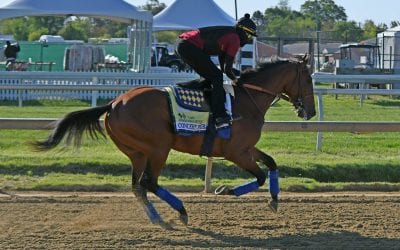 The fourth Kentucky Derby future wagering pool will kick off Friday, and 2yo champ Forte is the top individual choice on the morning line.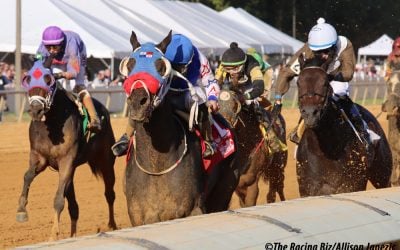 We provide full-card picks and analysis for this afternoon's races at Laurel Park.