Mid-Atlantic Three Stars: June 30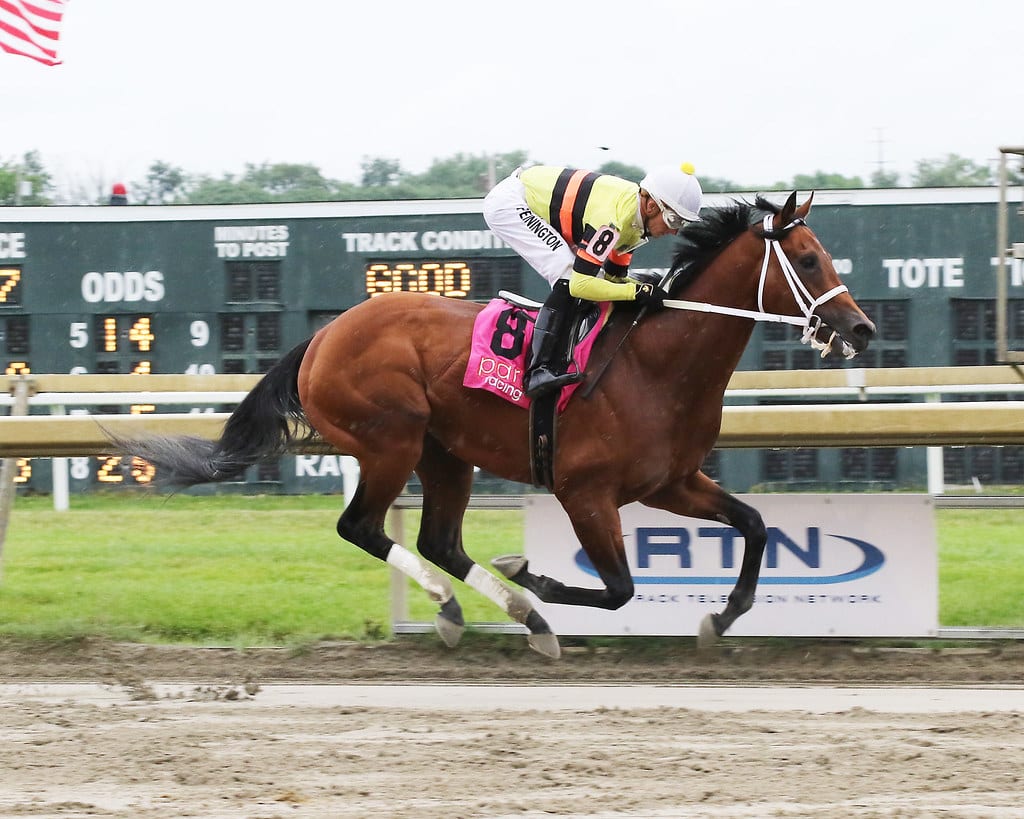 Beren won the Crowd Pleaser Stakes at Parx last Tuesday. Photo: Barbara Weidl/EQUI-Photo
Plenty of racing action took place throughout the Mid-Atlantic this past week.
Here's a look at the "three stars" of each track:
PIMLICO
FIRST STAR: HARPERS FIRST RIDE. A force to be reckoned with in Maryland last fall, Harpers First Ride returned to the Claudio Gonzalez barn on Sunday, after a sojourn for Robertino Diodoro. He made his comeback a winning one, as he took a n/w3x allowance optional claiming race by 1 1/4 lengths. It was an effortless trip, as Angel Cruz rated him right off the lead, then moved him wide in the stretch and drew off late. He covered 1 1/16 miles in 1:43.45. In his last five starts of 2020, he won four stakes races, including a win in the Pimlico Special. This was his first win of the year. GMP Stables LLC, Arnold Bennewith, and Cypress Creek Equine are the winning owners. 
SECOND STARS: CLAUDIO GONZALEZ AND ANGEL CRUZ. Harpers First Ride wasn't the only winner for Gonzalez and Cruz on Sunday. In addition to their win with Harpers First Ride, they teamed up to win race 2 with Mit Mazel and race 3 on Ink. Cruz is fourth in the current jockey standings, with 17 wins. Gonzalez's 25 training wins are more than twice as many as John Robb and Kieron Magee, who are tied for second with 12 victories each. 
 THIRD STAR: FOREST FIRE. This John Servis-trained gelding won Friday's feature, a n/w2x allowance optional claiming race, in a front-running effort. Sheldon Russell put him on the lead early, but he was constantly hounded. As they turned for home, favored McElmore Avenue made a bold, wide move, and briefly poked a head in front of Forest Fire. However, Forest Fire dug in and retook control in the stretch. He prevailed by 3/4 of a length, going 1 1/16 miles in 1:44.55. Shirley Lojeski is the winning owner. 
CHARLES TOWN RACES
FIRST STAR: MUAD'DIB. The younger brother of West Virginia-bred champion Late Night Pow Wow improved to a perfect 6-for-6 lifetime in Thursday's second race. Sent off as the 0.20-1 favorite in a field of six allowance horses, he encountered pressure on the lead, but dismissed all challenges and drew off for a 1 3/4-length win. He stopped the clock in 1:26.25 in the seven-furlong contest. Arnaldo Bocachica had the winning ride, for owner David Raim and trainer Jeff Runco.
SECOND STAR: LARIMAR. Saturday's feature race, a n/w2x allowance optional claiming race for fillies and mares, drew a competitive field of seven. Favored Larimar, shipping from Maryland, got the job done by 2 1/2 lengths. Longshot Anazara went out winging in the early stages, opening up a three-length lead. Meanwhile, Larimar rated in second, right off this runaway leader. When the pacesetter began to tire, Larimar was there to take advantage. She's owned by DARRS Inc, trained by Jerry O'Dwyer, and ridden by J.D. Acosta.  
THIRD STAR: GOLDEN KEY. The winner of the Coin Collector Stakes earlier in the season, Golden Key made it three in a row on Saturday, when he held on for an allowance win in a photo finish. He had a clear lead early in a 4 1/2-furlong allowance race, but got desperate late when Rocket Appeal surged at him. In the end, the wire came just in time for Golden Key, who won by a nose. He's now won five times on the year from seven starts, for owner/trainer Ronney Brown and jockey Luis Batista. 
  MONMOUTH PARK
FIRST STAR: CARAVEL. Friday's twilight card featured a stakes race, the Goldwood Stakes for fillies and mares at five furlongs on the grass. Off a win in The Very One Stakes last out at Pimlico, Caravel was the 1.90-1 second choice in the eight-horse field. She maintained her good form, winning by 4 1/4 lengths. She sat in fifth early, then rallied wide on the turn and drew away for an emphatic win. She's now won four stakes in her 12-month career so far. Pablo Morales had the winning mount for owner/trainer Elizabeth Merryman. 
SECOND STAR: PACO LOPEZ. One of Monmouth's leading jockeys won four races on the Sunday card. He won race 1 on Todd Pletcher trainee Meet the Beauty, then took race 3 aboard She Broke My Heart, for trainer Susan Crowell. After a few defeats, he completed the hat trick in race 7, guiding home Odramark, trained by Kathleen O'Connell. One race later, Lopez got his grand slam with Don't Losemymoney, trained by Pat McBurney. Lopez has 20 wins on the season, right behind Jose Ferrer, with 21 victories. 
THIRD STAR: POR QUE NO. Saturday's feature was the Boiling Springs Stakes, for 3-year-old fillies going long on the grass. Por Que No, under Ferrin Peterson, went gate-to-wire for a 4 1/2-length victory. She's now won five times on the year, with this being her first stakes win. She's owned by Fano Racing and trained by Kent Sweezey. 
DELAWARE PARK
FIRST STAR: MAI TY ONE ON. Last Monday's feature, a n/w3x allowance optional claiming sprint at five furlongs on the grass, went to the 7-year-old veteran Mai Ty One On, in an upset. He broke on top from the inside post and immediately established firm control. He was still clear turning for home, and although heavy favorite Completed Pass rallied strongly in the stretch, Mai Ty One On had enough left to hold him off and win. He's now won twice on the year, and four times in his last seven starts. He's owned by George Vires, trained by Jane Cibelli, and ridden by Mychel Sanchez.
SECOND STAR: JAIME RODRIGUEZ. Not only did Rodriguez win three races last Thursday, he did it in the form of a natural hat trick. He won race 4 on Ohio Class, for trainer Ben Perkins Jr, the fifth race aboard Be Yourself, for trainer Amber Cobb, and race 6 on Chargin Storm, for trainer Jamie Ness. Rodriguez is currently the leading jockey at the Delaware meet, with 23 wins.
THIRD STAR: JOHN'S PROMISE. This 5-year-old gelding was impressive in victory on Thursday, winning a n/w1x allowance by 2 1/4 lengths. Under Raul Mena, he rated right off the pace, then moved wide in the stretch and drew off to win, covering 5 1/2 furlongs in 1:05.04. That was his first win of the year, and his fifth victory lifetime. He's owned by Old Coach Farm, trained by Michael Gorham, and ridden by Raul Mena. 
PARX RACING
FIRST STAR: BEREN. Both Pennsylvania-bred stakes last Tuesday were taken off the grass and moved to the dirt. This rising star won his third stakes in a row, taking the Crowd Pleaser Stakes by 9 1/2 lengths. As they rounded the far turn, Beren established control, and drew away to an impressive win as the odds-on favorite. He went 1 1/16 miles over a GOOD track in 1:44.89. In his previous races, he beat open company, winning the Paradise Creek Stakes at Belmont Park and the Gold Fever Stakes at Aqueduct. Frankie Pennington had the winning mount, for owners St. Omer's Farm and Chris Feifarek and trainer Robert Reid Jr.
SECOND STAR: HEY MAMALUKE. A few races later, Hey Mamaluke won the Power by Far Stakes in her season debut. Sent off as the 3.50-1 second choice, she battled on the pace early on, then dismissed her dueling partner and pulled clear in the stretch. She won by 1 3/4 lengths in 57.66 seconds for five furlongs. She won five races in 2019, but went winless in 2020. She's owned by Joe Capriglione, trained by Patricia Farro, and ridden by Silvestre Gonzalez. 
THIRD STAR: ADMIRAL ABE. Last Wednesday, this Pennsylvania-bred won his fourth race of the year, taking an open allowance by 2 1/2 lengths. There was little drama, as he seized control early on in the 5 1/2-furlong affair, and never looked back. Gonzalez had the winning mount on this one as well, for owner Stefcon Racing and trainer Robert Mosco.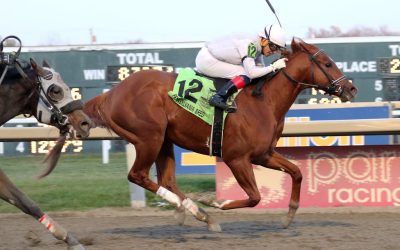 Debut winner Winning Time handled the step up to stakes company with aplomb, winning Tuesday's $200,000 Pennsylvania Nursery Stakes at Parx.