DELAWARE PARK HANDICAPPERS' NOTEBOOK 2021 VOL. 5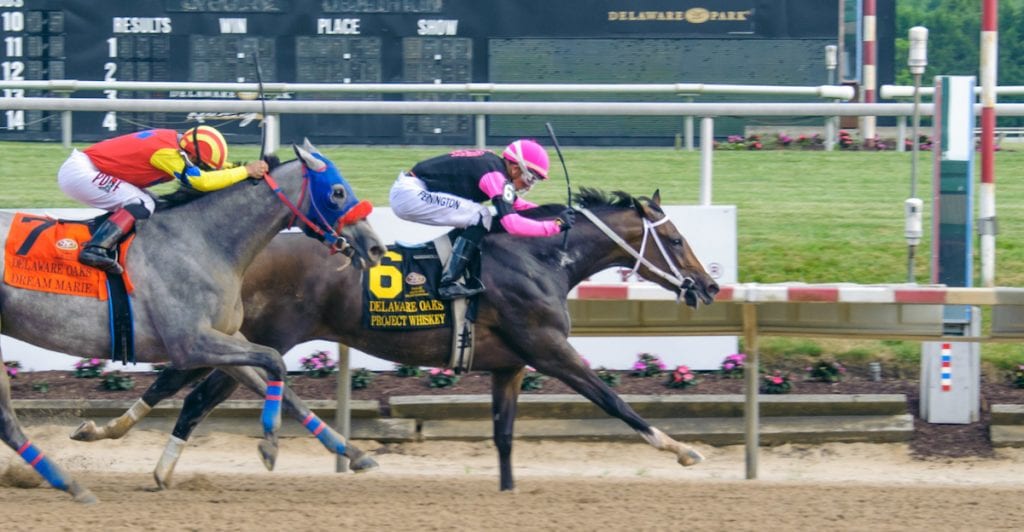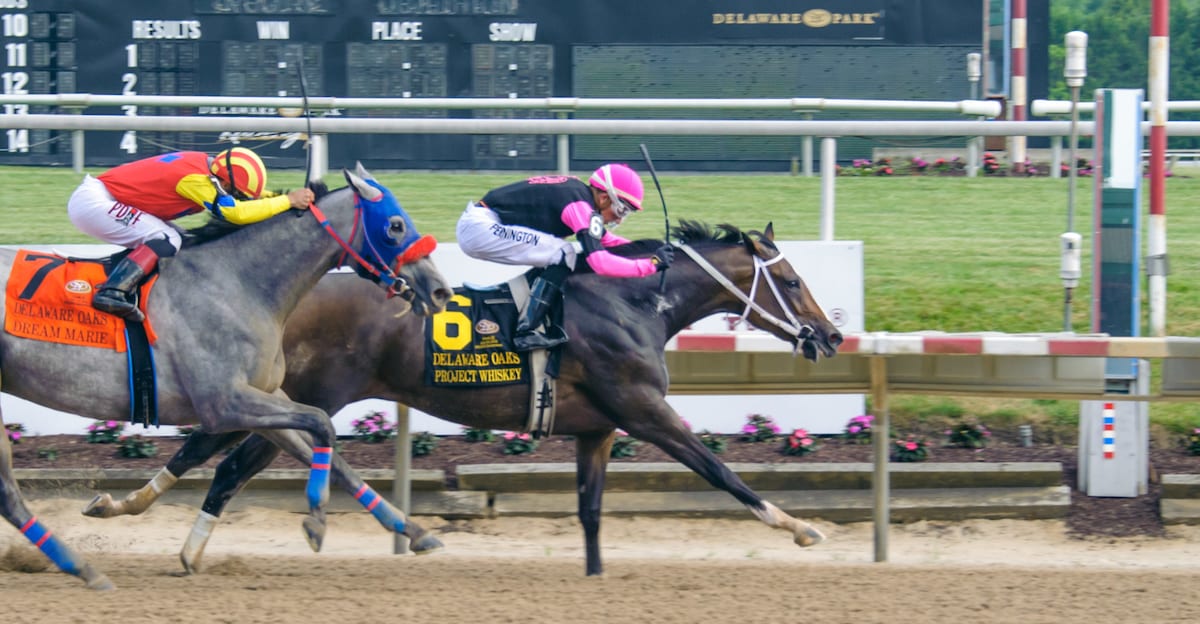 Notable races and trips
JUNE 23, 24, 26, 28
Early speed on the dirt was poisonous all four racing days. Of the 27 dirt races run during this time period, only two were won by a horse that had the lead after the first quarter mile — one of those being a 7-10 favorite in a three-horse field. By contrast, nine of the winners were no better than fifth after the first quarter mile.  Keep this in mind when analyzing the past performances of horses who ran on these days next time out and more importantly factor that into your handicapping over the next few days if you see this pattern continue.
JUNE 23
Race 4: One of the two horses to lead at every call in a dirt race came in this contest in the form of Alayla. The Cal Lynch-trained Malibu Moon filly simply buried her six rivals in this maiden special weight contest, leading throughout en route to a 9 3/4-length victory. Off as the second choice under jockey Charlie Marquez, she zipped the distance on a fast main track in a sharp 1:10.95.
JUNE 28
Race 6: The most visually impressive race of the week to me was the performance of Glory Dia.  Two races prior she had obtained a Beyer number of 93 at Parx. (See Handicappers' Toolbox below for more about this particular race). This was 25 points higher than any other dirt Beyer that appeared in her form. Following this monster performance she competed on the turf at Belmont where she came last in a field of six and reverted to a Beyer of 64.  This time out at Delaware she won easily on the dirt in a never-won-three allowance, despite being taken in hand for the last sixteenth of a mile.
Jockey and Trainer of the Week
Despite being shut out on two of four days, jockey Jaime Rodriguez nevertheless had five wins from 18 starts over the four days. His five wins came for five different trainers. Notably, the other 28 races run were won by 17 different jockeys.
Ben Perkins, Jr. was the top trainer of the week with three wins from just four starters. One of those wins came with Rodriguez in the irons, and two of them – with Ohio Class on June 24 and Stir Crazy on June 26 – came in maiden special weight company.
Handicappers' Toolbox
As noted above Glory Dia had an impressive Beyer number on April 19 at Parx. Yet while Beyer numbers are a powerful tool, they're also popular enough that relying on them alone gives you no edge over the other bettors who also use them.
If you want to go old school, consider using the Speed Rating and Track Variant that are also in the DRF. The Speed Rating and Track Variant are the pair of numbers that are directly to the right of the odds in the past performance running line(s) for each horse. The speed rating represents how fast the horse ran relative to the fastest time at the track and distance in the last three years, where the fastest time is set to 100. The variant is an average of how much faster or slower all races on the day were compared to the fastest in the last three years.
So, for example: if a horse runs seven lengths slower than fastest time recorded at that distance in the last three years, he will get a speed rating of 93 (arrived at by subtracting 7 from 100). If it's one of three races at the distance that day, and the others are 10 lengths slower and 13 lengths slower, then the track variant will be 10 (the average of 7, 10, and 13). In this example, the speed rating and track vairant would look like this: 93-10.
If you add those two numbers together and they exceed 107, that is often a sign of extreme sharpness. If a horse has achieved a sum like that in either of their last two races, and those races are recent, and were run on the same surface, give that horse a good look. In Gloria Dia's case, the race at Parx had a sum of 108 and confirmed for me that the Beyer was legit. This angle often provides overlays when the Beyer is not so impressive or when the horse finishes out of the money in the race where a high sum of Speed Rating and Track Variant is achieved.
LATEST NEWS