Pimlico picks and ponderings June 19, 2021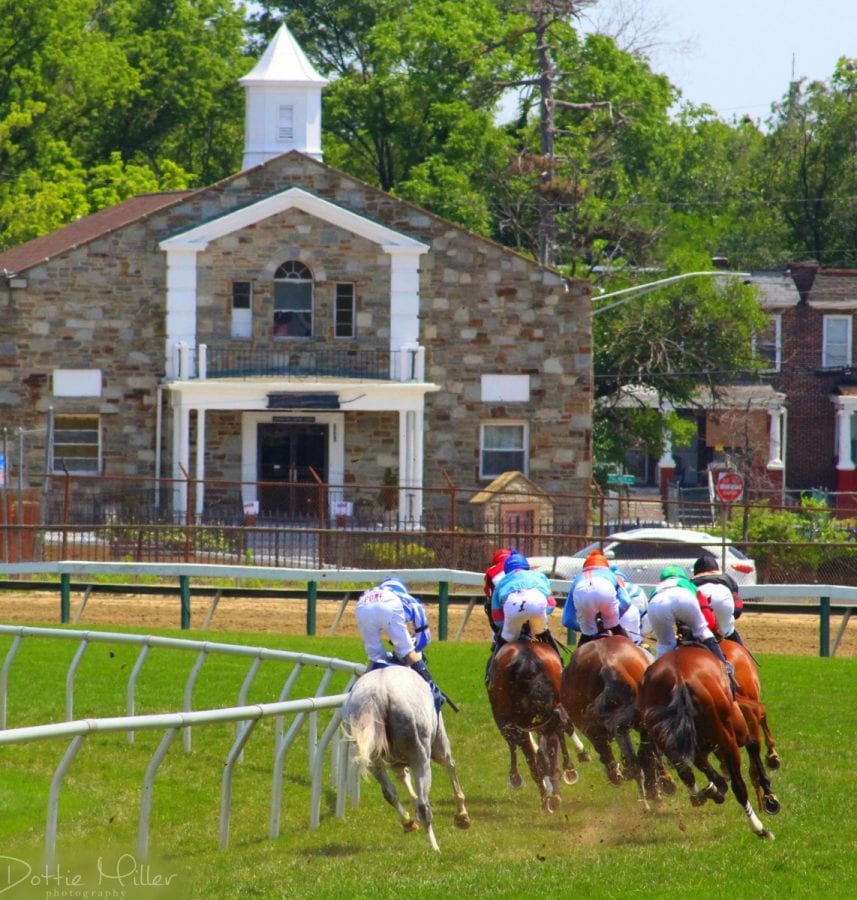 Horses round the first turn at Pimlico. Photo: Dottie Miller
In which we pick the races from Pimlico each day…
Post time: 12:40 p.m.
Carryovers: Rainbow Jackpot Pick 6 — $1,140,044 Super High 5 — $0 Late Pick 5 — $0
ANALYSIS
RACE 1: CLAIMING $16,000 (CONDITIONED), 3-YEAR-OLDS AND UP, 6 FURLONGS
2-3-1-5
We've got ten races on the Saturday card, the first time there's been that many on a Saturday since Preakness day.  #2 Commanding General (7/2) has earned a brisnet figure of 75 in each of his last five starts, the only horse in the race to do that. He got knocked a bit out of position at the start last out, then moved up into a fast second quarter and didn't have much of a kick in the end. Usually, he's more forwardly placed. #3 Our Hoisted Mast (7/2) steps up against older horses for the first time, after a sharp win against 3-year-olds last out. He ran a career-best figure of 80 in that race, battling in the stretch and holding on for the win. Two back, he came from way out of it to beat another field of 3-year-old claimers. Which dimension will he show here? #1 New Frontier (5/2) races first off the claim for Kieron Magee, a 23% winning angle, and has speed from the inside.
RACE 2: STARTER ALLOWANCE $5,000, 3-YEAR-OLDS AND UP, 1 1/16 MILES
6-4-2-1
 #6 Souper Catch (7/5) has been one of the stars of Penn National this season, winning three straight races there by a combined 12 3/4 lengths. He does his best running when he's near the pace. However, he is not necessarily a need-the-lead type. He earned his best figure, a 100, two races back when he went gate-to-wire, but his other two victories came from just off the pace. #4 Charging Lion (8/1) won two straight at Laurel Park earlier in the year, and just miss finishing in front of #2 Glengar (8/1) in each of his last two races. Both times, Glengar set the pace and repelled his rival. The main test for Glengar will be if Souper Catch can soften him up on the lead. If he can, that would bode well for Charging Lion's chances.
RACE 3: CLAIMING $16,000 (N/W2L), 3-YEAR-OLDS AND UP, 5 FURLONGS (GRASS)
14-9-1-2 (DIRT: 1-14-5-2)
#14 Pay the Kid (9/2) was impressive in his grass debut last out. He finished third, beaten less than a length, with a strong, wide move. He's had several chances against winners and hasn't capitalized, but perhaps staying on the grass will wake him up. #9 Mosby's Ranger (5/1) dueled through a fast tempo last out, and held on for second, while his dueling partner lost by six lengths. J.D. Acosta, who has had an excellent season thus far, keeps the mount. #1 Contraflow (5/2) would have made his grass debut in his last start, but the race was washed off the grass. He stayed close to the pace and finished third. He has speed from the inside post and solid breeding for this surface.
ANALYSIS
RACE 4: ALLOWANCE (N/W1X), 3-YEAR-OLDS AND UP, MD-BRED, 6 FURLONGS
5-3-4-2
#5 Exculpatory (5/2) crushed a field of 3-year-olds last out with a big sweeping move on the turn, earning a career-best figure of 90 in the process. It was easily the best middle move he's made in his career. If he can keep it up, he'll be tough to beat in this field of older allowance horses. #3 The Wolfman (2/1) showed little in the Gold Fever Stakes at Belmont Park last out, but now takes a drop in class second off the layoff. He ran big races in his two starts over the winter, including a 1 1/4-length win against 3-year-olds in February with a figure of 91. #4 Band On Tour (4/1), a 4-year-old, battled gamely last out at Delaware Park against tougher and won by a head, for his second straight figure of at least 89. At this level two back, he made a big move for the lead and might have won had he not lugged in late.
RACE 5 – STARTER OPTIONAL CLAIMING $32,000, 3-YEAR-OLDS AND UP, 5 FURLONGS (GRASS)
2-10-4-11 (DIRT: 3-10-7-8)
The rainbow pick 6, whose jackpot grows bigger and bigger, starts here. #2 HRH Jellybean (3/1) gamely stayed in the race last out when it was washed away to the dirt, but he was hung very wide early on and lost all chance. He ran some good races on the grass last year, including a very impressive 6 1/2-length maiden win at Laurel in July. He'll make his third start of the season here, and will be a factor on the early pace. He'll be challenged on the lead by the #10 Hartel (2/1), a recent California import. He tended to show speed and fade in numerous tries in southern California, and did the same thing in his east coast debut last out. It's interesting to see Charles Town stalwart Jeff Runco race a horse here. Of course, there's no grass at his home track, and it looks like he wanted to get him back on his preferred surface while taking a massive drop in class. #4 Golden Can (4/1) faces the boys here. Against her own sex two races ago, she opened up a long early lead before getting tired late. She's another one who is looking for improvement in her third race of the year.
RACE 6: MAIDEN CLAIMING $10,000, 3, 4, AND 5-YEAR-OLDS, FILLIES AND MARES, 5 1/2 FURLONGS
4-2-3-1
#4 Mick'sbestyet (9/2) was a complete non-factor in her first three career starts. Last out, she took a massive step forward, rallying strongly on the outside to finish second at 65/1. She earned a career-best figure of 59, seventeen points better than her previous best dirt race. #2 Nine Mast (7/2) caught an extremely wet track last out in her first start off a nine-week break. She opened up a long lead before tiring. Looks to show early speed again and try to wire them. She's also pretty lightly-raced; this is just her sixth career start. #3 Egg Nog (5/2) got a great trip and made a big move to the front last out, but got caught in the last few strides and lost in a photo. If she times her move a bit better, she'll have a big chance.
ANALYSIS
RACE 7 – ALLOWANCE (N/W1X), 3-YEAR-OLDS AND UP, MD-BRED, 5 FURLONGS (GRASS)
9-8-2-11 (DIRT: 7-3-6-4)
#9 Grateful Bred (5/2) found himself last fall. He went gate-to-wire to beat an open n/w1x field here at Pimlico last fall, then led most of the way in the Maryland Million Turf Sprint before getting overwhelmed late. He earned a 97 in that  last out race, and a 91 in his big win. He has a rough post for a horse with his running style, but if he's back to his old self first off the long layoff, he'll be tough. #8 Matta (8/5) was entered in the Ben's Cat Stakes on Sunday, but was scratched when it was washed off the grass. He'll get another shot to make his season debut here. He's earned a figure of at least 89 in three straight grass races. #2 Prince Pere (12/1) broke his maiden with a sharp closing bid last out, albeit against a much weaker group. Still, he's the only one in the main body with a win on grass this year.
RACE 8: MAIDEN CLAIMING $40,000, 3, 4, AND 5-YEAR-OLDS, FILLIES AND MARES, 6 FURLONGS
5-8-7-6
#5 No Chance Given (5/2) makes her second start off the claim for Claudio Gonzalez. Unlike her prior starts, she was sent to the lead, was pressed, and faded late. She was soundly beaten by Wicked Hot, who is much better than anyone she'll see here. She's shown a wide variety of running styles in her career thus far; it'll be interesting to see what style Angel Cruz employs here. #8 Sizzling Hot (2/1) has raced just twice thus far. In her debut on dirt, she showed speed and faded to fourth, in a race where the top two finishers came back to win. She has lots of room to improve. #7 Mosler's Touch (6/1) goes first off the claim for Jonathan Maldonado and also has loads of early speed. 
RACE 9 – ALLOWANCE OPTIONAL CLAIMING (N/W2X), 3-YEAR-OLDS AND UP, 1 1/16 MILES (GRASS)
3-10-1-4 (DIRT: 9-8-7-2)
Edilberto Rodriguez comes from Penn National for the mount on #3 Papal Law (4/1). He wired the field at this level at Laurel last July, and set the pace in the Henry Clark Stakes last out in his first start of the year. If he wins, it'll likely be in gate-to-wire style. #10 Rejected Again (9/2) ships in from New York after trying to wire the field in two starts in a row at Belmont Park. Last out, he was pressed on a very fast pace and backed up badly. He was beaten just a neck two races back. He can make waves if Horacio Karamanos is aggressive enough. In contrast, #1 Gunnison (7/2) will do his running from the back of the pack. In his first start of the meet last out, he surged in the last eighth and lost in a three-horse photo. He beat better last fall at Laurel.
RACE 10 – CLAIMING $5,000 (CONDITIONED), 3-YEAR-OLDS AND UP, 6 FURLONGS
1-7-9-4
#1 Cooke Brothers (9/5) has finished second three times in a row against similar. That's frustrating, but his figures are far superior to his rivals in this spot. It's now or never. #7 Outside the Box (6/1) loomed boldly in his last start, but flattened out turning for home. He has the figures to contend for an exotic spot, but will need to show more late punch. #9 Confusion Baby Boy (5/2) was a strong-closing third in his first try at the level, but the 2-for-26 record is a bit disconcerting.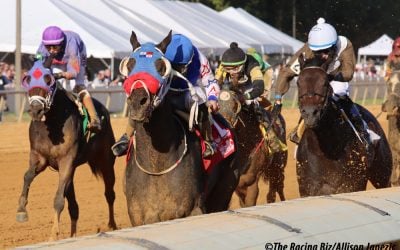 We provide full-card picks and analysis for this afternoon's races at Laurel Park.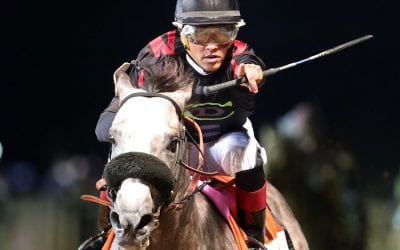 We've got Charles Town picks and preview today as the track presents its Friday card!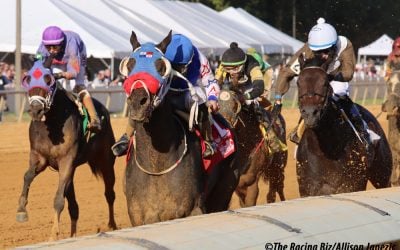 We provide full-card picks and analysis for this afternoon's races at Laurel Park.