TIMONIUM WELCOMES HUNDREDS OF LAUREL HORSES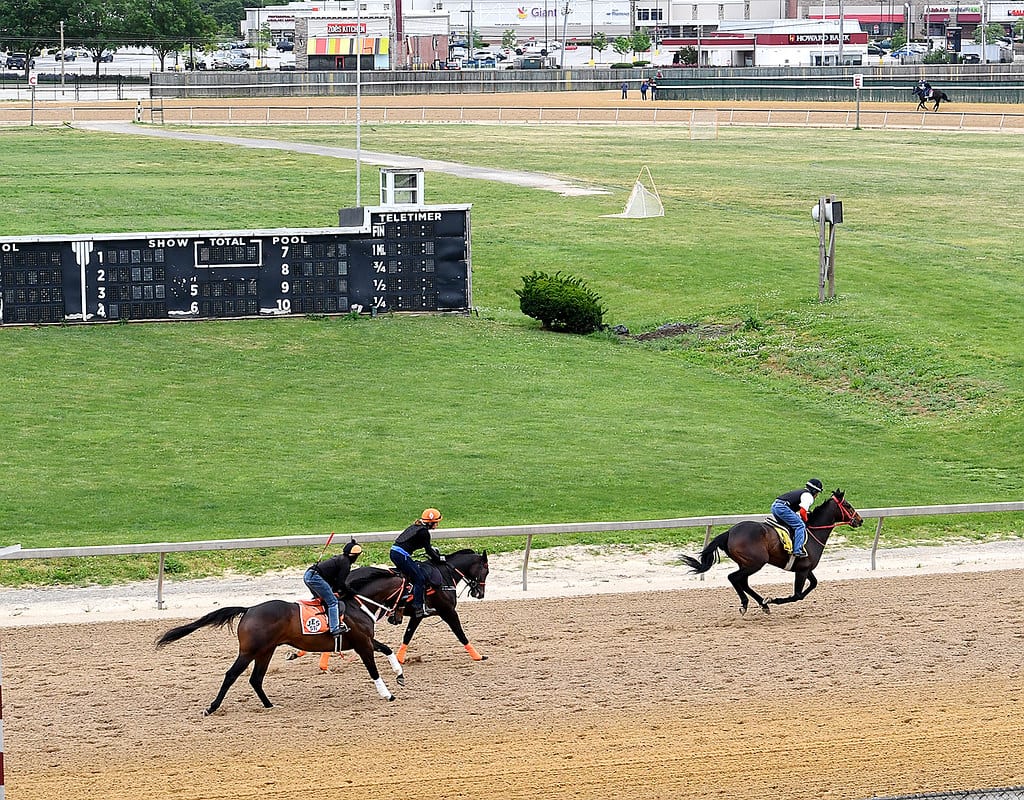 Press Release

May 27, 2021
While work continues on a complete resurfacing of the main track, some Laurel Park-based horsemen are settling into their new temporary surroundings at the Maryland State Fairgrounds in Timonium.
Hamilton Smith, a winner of more than 2,000 races over four and a half decades training Thoroughbreds, had 27 horses make the roughly 40-mile trip north from Laurel to Timonium, with more on the way.
On Wednesday, Smith became the first trainer with timed breezes since the move to Timonium, with only three posted workouts. Smith breezed four more horses among a total of 16 workers Thursday.
"As far as making the move and all, we handled all that pretty smoothly. We got them all over here and everything seems to be going all right so far," Smith said. "It's all part of it. Things happen, and you have to adjust. You just have to get organized and get it done. That's what it takes, and we got it done pretty smooth."
Laurel had allowed training but no breezing over the main track until Monday, with all horses required to leave the grounds by Thursday. Many relocated to Timonium or historic Pimlico Race Course, where the Preakness Meet has been extended through June 27.
"Everything went smoothly. We got everything over on Monday and everyone trained [Tuesday]. The track was riding really well and all the horses settled in and seem to like it," trainer Jerry O'Dwyer said.
O'Dwyer, who will have between 15 and 20 horses at Timonium, has two horses entered on Saturday's card at Pimlico – Blushable in a maiden special weight on turf and Doubleoseven in a Maryland-bred/sired allowance on the dirt.
"It's part of the game; you've just got to roll with the punches," he said. "But, I'm very happy with how the track is over there. The stalls are nice and the stable area is very relaxed for them there. All my horses are happy and relaxed, and I'm happy that they're happy."
Smith has three horses entered on Friday's nine-race program and one in Saturday's opener. He finished with the fourth-most points among trainers in non-stakes races over Preakness weekend May 14-15, earning a $4,000 bonus.
"Everything looks fine. It looks like everybody pretty much moved in and settled down by now," Smith said. "So far the racetrack hasn't been that crowded and everybody's getting along well."
Timonium plays host to the Maryland State Fair Meet each summer, which in recent years has been a short stand over two weekends that runs through Labor Day and this year is scheduled for Aug. 26-Sept. 6. The 2020 meet was canceled amid the coronavirus pandemic.
The fairgrounds is also home for Thoroughbred auctions. A 60-stall tent that was used for Fasig-Tipton's Midlantic 2-year-old in training sale May 17-18 remains on the grounds to increase capacity to nearly 600.
Along with the change in scenery, trainers also have to account for Timonium's smaller  racing surface which, at five furlongs, is a half-mile shorter than Laurel's 1 1/8-mile circumference.
Training at Timonium is held Monday through Saturday from 5:30 to 10:30 a.m. with breaks at 7 and 9 a.m. Gate schooling is available Tuesday through Saturday from 7:30 to 10 a.m.
"Some of them you may have to make a little adjustment for, but I've stabled here before and I've had horses run good after training here at Timonium and I look for them to run well again," Smith said. "I don't change a whole lot. I have my schedule set to what I do on a normal basis and I basically do the same thing here. They just have to go around more turns."
LATEST NEWS