Pimlico picks and ponderings May 20, 2021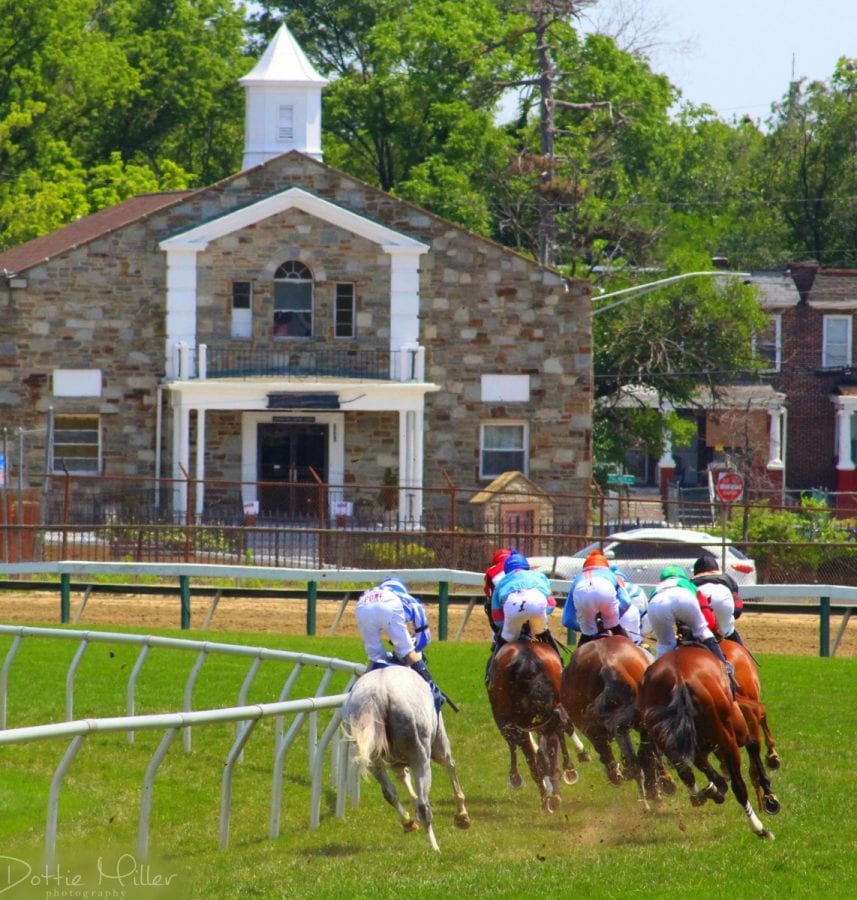 Horses round the first turn at Pimlico. Photo: Dottie Miller
In which we pick the races from Pimlico each day…
Post time: 12:40 p.m.
Carryovers: Rainbow Jackpot Pick 6 — $562,931  Super High 5 — $0 Late Pick 5 — $0
ANALYSIS
RACE 1: CLAIMING $5,000 (CONDITIONED), 3-YEAR-OLDS AND UP, 6 FURLONGS
3-5-7-6
We've got a field of seven for the first race of the new week here at Pimlico. It's that rare week in between Preakness day and Memorial Day weekend. #3 Holy Saint (2/1) has shown speed and faded when facing either better horses or going longer, or in some cases, both. Now, he drops in class and cuts back to a distance he hasn't raveled in a while. The stars are aligning. #5 Booyakasha (5/2) made his second start back from a winter sojourn at Tampa Bay Downs last out, and it was a sharp one. He soundly beat a n/w2L claiming field by six lengths, earning a brisnet figure of 72. That's not exceptional compared to the other contenders, but it's a 12-point improvement from his first start back on the circuit. Over the winter, he steadily ran figures in the upper 70s. #7 Seven Plus Seven (3/1) has a very apropos post position. He endured a brutal trip last out, which I can't hold against him. Two back, he cleared his n/w2L condition with a season's best figure of 76, closing strongly in the stretch for the win. 
RACE 2: MAIDEN CLAIMING $40,000, 3, 4, AND 5-YEAR-OLDS, FILLIES AND MARES, 1 1/8 MILES (GRASS)
5-9-11-4
#5 Baffle Em (6/5) ran huge in her last race on grass, at Tampa Bay. She recovered from a slow break and a disadvantageous pace setup to challenge for the lead in the stretch, ultimately finishing second by half a length. Returns to her favorite surface and drops for a tag for the first time. Clearly the one to beat. #9 Bella Bettina (6/1) gets lasix for the first time as she makes her 3-year-old debut. She showed speed in her last two grass starts of the year, almost wiring them at Delaware Park three races back. Might need a race first time back, but will still be dangerous if she gets the lead by herself. #11 Laugh It Off (7/2) gets some class relief after facing better at Aqueduct and Fair Grounds. She's been working well since a dull April 8 try, and will try to work out a good trip from midpack.
RACE 3: STARTER ALLOWANCE $5,000, 3-YEAR-OLDS AND UP, FILLIES AND MARES, 1 1/16 MILES
1-7-5-2
The rainbow pick 6 starts here, and that carryover isn't a misprint: that's what having it go unscooped on Preakness weekend will do. #1 Wicked Solution (5/1) was not used as aggressively as she probably should've been in her last dirt race. Instead, Johan Rosado decided to stalk the pace with this speedy filly. She got hung wide and stopped. Usually, she's at least vying for the front end, or just off the leader's flank. She has the chance to establish control here from the inside post. #7 Sundrenched (8/1) will likely challenge Wicked Solution on the lead early. She has excellent early speed, and is two photo finishes away from having a four-race wining streak on dirt. The outside post is the only deterrent. If you get something like her morning line, she's worth a bet. #5 Sammie Sunshine (9/5) was an impressive winner at seven furlongs and a mile earlier in the year, but this is the first time she's been around two turns on a big track in a while. She'll likely be a close attendant to the early pace.
ANALYSIS
RACE 4: CLAIMING $16,000 (N/W2L), 3-YEAR-OLDS AND UP, 5 FURLONGS (GRASS)
6-5-10-14
#6 So Dialed In (9/2) makes his grass debut, but has early speed and has raced consistently recently. It's also not a field overloaded with quality grass experience. #5 Belmullet (5/2) has the best grass experience of anyone in here, having run no worse than a 73 in his last four grass races. He hasn't been seen at all since November 7. Trainer Mark Reid, who has been off to a strong start at the meet, is 11% with horses off a 90+ day layoff. He'll be right off the pace, and we'll see how much of a kick he has in the stretch. #10 Mosby's Ranger (5/1) goes second off the layoff and makes his first start on grass since September 25. This is his third start against winners, and his first start on this surface against winners. He had no chance last out after a bad start first off a break, will look to break cleanly here.
RACE 5 – MAIDEN CLAIMING $10,000, 3, 4, AND 5-YEAR-OLDS, 1 1/16 MILES
8-1-2-4
#8 Orbonthebayou (7/2) ran a big race on the lead last out. He dueled his pace-setting partner into sound defeat, then held on to cross the wire second, later disqualified to third. His figure of 65 in that race is far and away a career-high. Will be tough on the lead once again. #1 Transfer the Funds (4/1) makes his third career start and drops for a career-low tag. He's never gone two turns before, but has earned two solid numbers in the 50s, and goes second off a brief break. Interested to see what happens. #2 Flash Lightening (5/2) has a very similar profile as Transfer the Funds, with slightly better figures. He adds blinkers and stretches out to a route for the first time for trainer Kieron Magee, who is 16% with that angle.
RACE 6: CLAIMING $16,000 (CONDITIONED), 3-YEAR-OLDS AND UP, 1 MILE (GRASS)
13-7-3-2
#13 Beach Traffic (7/2) will need some help to get in, as he's a few spots in on the also-eligible list, but he'll be tough if he gets in the field. He's been competing on grass against better at Gulfstream Park recently, and has earned a 77 in each of his last six grass races. His start three back was probably his best recent race, as he closed strong in the stretch to lose by just two lengths after encountering traffic trouble. Last out, he made a premature move into a hot pace after racing wide and tired. #7 Captain Thunder (7/2) gets class relief for his first start since January 1, after racing against n/w2x allowance company most of last year. Earned a strong figure of 90 while chasing against tougher in his last grass race, at Delaware Park in October. Adds Feargal Lynch in the saddle. #3 Ludicrous Mode (12/1) lived up to his name a few times this winter, making some gigantic rallies from way, way behind. He's likely to leave himself with too much to do once again, but he has every right to sneak into the exotics at a good price. 
ANALYSIS
RACE 7 – ALLOWANCE (N/W1X), 3-YEAR-OLDS AND UP, FILLIES AND MARES, 6 FURLONGS
1-2-3-5
Even though it's a tough field to make your debut against winners in, it's hard to look past #1 Sousa (1/1). She dueled on the lead on debut at Tampa Bay, then drew off to a smashing 12-length win, earning a figure of 85 in the process. Her workouts for Arnaud Delacour since then have been very strong, including two recent bullets. If she can control the pace from the inside, the rest of them are up against it. #2 Be Present (7/2) came close at this level several times last year, now makes her 4-year-old debut in her first start since November 21. Will be a pest to Sousa on the early lead. #3 Map of America (4/1) improved twelve points, up to a 78, in her second start off the layoff last out. She outfinished her dueling partner in that race, losing only to a rival who sat a perfect trip and ran a monster race.
RACE 8: CLAIMING $5,000 (CONDITIONED), 3-YEAR-OLDS AND UP, 6 FURLONGS
4-2-6-7
Conditioned claimers close the show. #4 Confusion Baby Boy (4/1) battled on the lead to clear his n/w2L condition in his last dirt start. His figures have been rapidly improving. #2 Company Clown (9/5) had an awkward break last out, which usually spells trouble for a front-runner like him. He recovered to finish second, and will be tough if he can get his trip on the front end. #6 Cooke Brothers (3/1) has very good closing speed, but goes out for a barn that struggles with horses first off the bench. This is his first start of the year.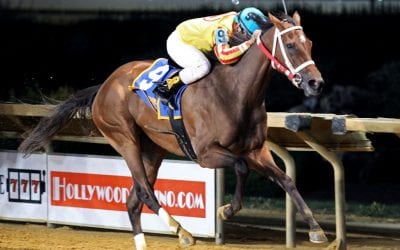 We provide picks and analysis for this evening's card at Charles Town Races.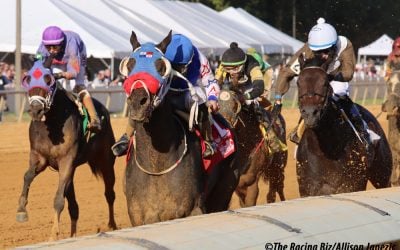 We provide full-card picks and analysis for this afternoon's races at Laurel Park.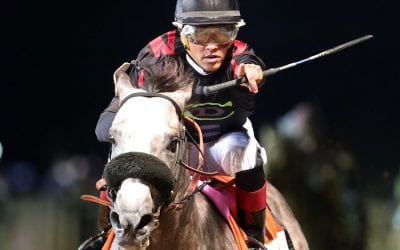 We've got Charles Town picks and preview today as the track presents its Friday card!