BACKTRACKS: CHOMPION'S DIXIE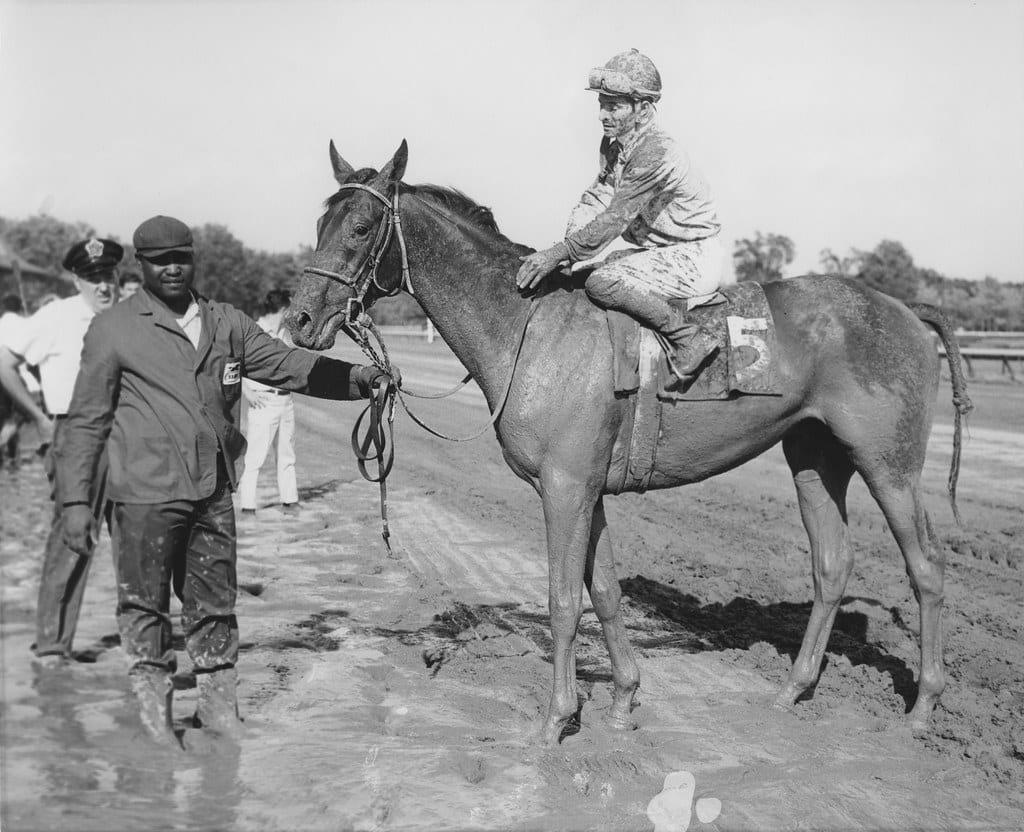 In 1971, three years after his Travers win, Chompion was still racing, this time in new colors, and on a new surface, turf. That year, he met a Horse of the Year in his second try at the Dixie Handicap (now known as the Dinner Party Stakes) and found himself the beneficiary of an unexpected outcome.
A Purple Pedigree
At first glance, Chompion's success in the Travers is no surprise: he was sired by a Travers winner, his grandsire was the great Tom Fool, the New York Handicap Triple Crown winner, and his damsire Mahmoud was an Epsom Derby winner. Running in the Whitney Eton blue and brown, Chompion made his debut at Delaware Park at age two and then broke his maiden in his sixth start.
His preferred running style often found him toward the back of the pack throughout most of his races, making a late run in the stretch, with longer races more of his specialty than sprints. After winning only twice at age two, Chompion's Travers win was only the fourth victory of his career, a surprise win over classic winner Forward Pass on a muddy track.
At age four, Chompion made his Pimlico debut in the 1969 Dixie Handicap, which was then run at a mile and a half on the turf. In the Whitney colt's first race on turf, he finished fourth behind winner Czar Alexander, but finally notched his first turf win in September at Belmont Park. After winning the Brighton Beach Handicap on the grass, Chompion then won the Stymie Handicap on the dirt, showing that this son of Tompion had the versatility to excel on both surfaces.
Chompion spent most of 1970, his five-year-old season, running on the grass, winning the Getaway Day Handicap at Suffolk Downs in a dead heat with Gaybrook Swan. While this son of Tompion had his share of victories on both turf and dirt, Whitney was reluctant to retire his Travers winner to stud. But, since Whitney already had several stallions standing at his Kentucky breeding operation, keeping Chompion, who was completely sound and still competitive at age five, did not make sense, either.
In November, Chompion was the highest price horse sold at a Belmont Park auction, just three days after finishing a close second in the Gallant Fox Handicap at Aqueduct. The winning bid of $107,000 for the son of Tompion was Colonial Farms, the nom-de-course for New Jersey owner and breeder, John Fieramosca.
Businessman Turned Breeder
Fieramosca bought Colonial Farms in 1950, seeking a quiet place to ride horses and enjoy life away from the hustle of his garment manufacturing business. Raised in Sicily, Fieramosca spent summers on his uncle's breeding farm there. When he came to the United States, he started working in clothing factories, eventually guiding his own in New Jersey, where his company supplied pea coats, bomber jackets, and field jackets for the military in World War II.
By 1950, Fieramosca was ready to retire and had no designs on even racing horses until one of his first purchases, a mare named Midi's Mom, foaled a filly he named Hello Mom. Trained by Joe Kulina, Hello Mom won eleven of her seventy-one starts, including the Pawtucket Handicap. Hello Mom, who raced primarily in New Jersey, started Colonial Farms on the road toward decades of racing and breeding in the Garden State.
By 1970, when Fieramosca purchased Chompion from Whitney, Colonial Farms was seeking another stallion prospect, but the five-year-old was in such good racing shape that he remained in training for one last season, this time in the silks of his new owner. He won his first race for Colonial Farms in February 1971, taking the Quaker Handicap at Liberty Bell. Chompion also won the Pan American Handicap at Gulfstream Park before returning to Pimlico for his second go at the Dixie Handicap. This time, he would be facing a formidable foe, future Hall of Famer Fort Marcy.
Fort Marcy's 1970 season had been a stellar one, with the honor of Horse of the Year his reward for wins in races like the Man o' War, the DC International, and the Dixie Handicap. In the 1971 Dixie, Fort Marcy was seeking a second win in the mile-and-a-half turf stake, but needed to get through a field of five others, including Chompion, to do it. For his part, Chompion had pleased trainer Kulina with his form over his last few races, so it made sense to give the son of Tompion another go at the Dixie and a chance to face Fort Marcy at Old Hilltop.
Foul Trouble
In the Dixie, Fort Marcy sat toward the middle of the small field, with Chompion a length and a half behind him. North Flight, carrying ten pounds less than Fort Marcy, held on to the lead for ten of the twelve furlongs, but had to check when Fort Marcy passed him going into the final turn. The 1970 Horse of the Year took the lead entering the stretch, with Chompion moving easily into second, trying to challenge the flying Fort Marcy. However, Fort Marcy was too much for the son of Tompion and won easily by six lengths.
But the Pimlico stewards had seen Ron Turcotte on Fort Marcy bother North Flight on that last turn and immediately lit up the Inquiry sign as soon as the field crossed the wire. Jockey Tommy Lee on North Flight claimed foul as well, and, after reviewing film of the race, Fort Marcy was disqualified and placed last. Chompion was moved up to first place, taking home the winner's share of the $50,000 purse and finally notching a victory in the Dixie, which we now know by its original name, the Dinner Party Stakes.
After the Dixie, Chompion would win the Massachusetts Handicap at Suffolk and then finish in the money in the DC International, the United Nations Handicap, and the Gallant Fox Handicap before calling it a career. He retired to Colonial Farms, siring five crops with sixty-seven winners from his ninety-two registered foals.
A Pimlico Original
With the example of names like Fort Marcy and Chompion in the 1971 edition of the former Dixie Handicap, the Dinner Party Stakes continues its long history as a contest of import on Pimlico's long roster of stakes races. Its past winners include horses like the illustrious Preakness and Triple Crown winners Whirlaway and Assault, names that signify the place that Old Hilltop occupies in the story of American racing, another step down the path to immortality. More recently, in 2019, Catholic Boy repeated Chompion's Travers-Dixie double. Who will add their name to the list of champions of the Dinner Party Stakes in 2021?
Sources
"$600 Grows, GROWS." Miami News. May 18, 1959.
Austin, Dale. "Chompion Wins Dixie After Foul." Baltimore Sun. May 9, 1971.
Austin, Dale. "Czar Alexander Wins Dixie 'Cap." Baltimore Sun. May 11, 1969.
"Chompion Finally Wins Mass Cap at Suffolk." The Transcript (North Adams, MA). June 24, 1971.
"Colonial Farms Buys Racing Ace Chompion." Clarion Ledger (Jackson, MS). November 25, 1970.
"Chompion Wins Dixie; Fort Marcy Placed Fourth." Daily News (New York, NY). May 9, 1971.
"Howard Davis Farm-Estate to Be Sold." Daily Register (Red Bank, NJ). March 16, 1950.
Kinsley, Bob. "Suffolk Features Ends in Dead Heat." Boston Globe. July 19, 1970.
Klessel, Steve. "Backing a Chompion." Philadelphia Daily News. February 6, 1971.
Klessel, Steve. "Chompion Vies in the Camden 'Cap." Philadelphia Daily News. May 15, 1971.
Oakley, John. "Colonial Farms Booms." Central New Jersey Home News. February 19, 1975.
Phelps, Frank T. "Leanin' on the Rail." Lexington Leader. December 7, 1970.
Phelps, Frank T. "Leanin' on the Rail." Lexington Leader. February 8, 1971.
Placek, Bill. "Sports Angles." Asbury Park Press (Neptune, NJ). March 23, 1955.
Trimble, Joe. "Chompion Is Sold for 107G." Daily News (New York, NY). November 24, 1970.
LATEST NEWS