EVENTFUL MORNING FOR FRANCE GO DE INA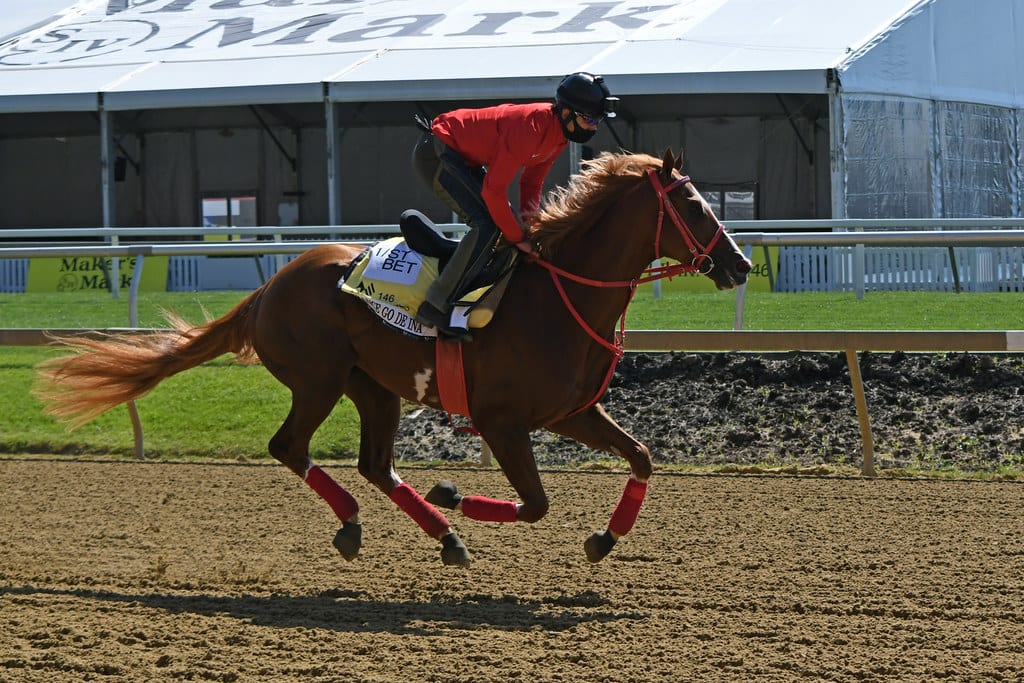 Frank Vespe

May 12, 2021
A quiet morning at Pimlico — just the one that Maryland racing was hoping for after the hoopla of the last few days — turned eventful when Preakness contender France Go de Ina ditched exercise rider Masaki Takano at the conclusion of his breeze.
Horse and rider came out of the briefly scary situation in good order.
France Go de Ina was the final horse on the track after a morning in which a bevy of horses pointed at the Preakness, Black-Eyed Susan, and other weekend stakes stretched their legs. The Japan-based, Kentucky-bred runner trained by Hideyuki Mori came on the track at about 10:10 by himself, as had been planned as he acclimates to new surroundings following lengthy journeys to Dubai and now Baltimore.
France Go de Ina, a son of Will Take Charge who was sixth in the UAE Derby, went clockwise around the track to about the three-quarter pole before turning around to head towards the finish line. He breezed an easy half-mile in 49 2/5 seconds. That was the fastest of three half-mile workers on the day at Old Hilltop.
However, as the duo passed the wire, Takano's left foot came out of the stirrup, and he fell off the horse to the left side. Takano looked groggy getting up but quickly righted himself. And, while he did run off halfway around the turn, France Go de Ina was quickly corralled by the outriders.
Takano got back aboard his mount, who then paddock schooled for several minutes before walking back to the barn in which he is the only horse.
"He slipped a little bit from the stirrup on the left side and lost his balance," said Kate Hunter, the Triple Crown field rep for the Japan Racing Association who is accompanying the horse and his connections. "The horse is fine."
LATEST NEWS