GLOBETROTTING FRANCE GO DE INA HOPING PREAKNESS A PERFECT FIT
Based now in Japan, trainer Hideyuki Mori had purchased him for $100,000 at the 2019 Keeneland yearling sale. Trained by Mori for Yuji Inaida, France Go de Ina made his three two-year-old starts in his now-home country. But the only start of his sophomore season, that came in Dubai, in the UAE Derby.
"The Preakness I thought would fit him perfectly," said Kate Hunter, the Triple Crown field rep for the Japan Racing Association. "My biggest worry is just the fact that, you know, he went from Japan to Dubai, back to Japan, now back to America, but because of COVID and changes to the shipping routes, we had to stop in Los Angeles and do our quarantine here."
That, coupled with a delayed flight in LA, meant that France Go de Ina didn't arrive until Saturday evening for the Preakness, leaving him just a week to acclimate and train.
"That's my main worry, but if you look at his past results. the Preakness was basically made for him," Hunter said.
France Go de Ina has won two of four career starts, both at nine furlongs. He finished sixth in the UAE Derby after a troubled trip; he was last away at the break and uncomfortable early but rallied willingly.
Mori had nominated France Go de Ina to the Triple Crown series with the intention – ideally – of running in all three races, Hunter said. He needed a good result in the UAE Derby to secure the points necessary for a Kentucky Derby start. Sixth, which netted him zero points, wasn't what they were looking for.
"The worst part was the start. It was the moment the gates opened and he popped out last and you're like, well, there goes Kentucky," she said with a rueful chuckle.
France Go de Ina is a horse who likes to be involved early, Hunter said, and if he can break alertly, she expects to see him on or near the lead in the Preakness. That might put him eyeball-to-eyeball with Kentucky Derby winner Medina Spirit, but as any trainer will tell you, you've got to let your horse run his race.
France Go de Ina isn't the only world traveler in his entourage. In fact, both the 62-year-old Mori and Hunter herself are accomplished globetrotters.
Take Hunter. A native of Nashville, TN, she describes the factors that led to her living now mostly in Japan as "a weird mixture of Sailor Moon and Silver Charm."
As a teen, she stumbled on VHS tapes of the anime series of Sailor Moon in the original Japanese with English subtitles. "And I just fell in love with the language," she said. "I just thought it was the most beautiful thing I'd ever heard."
At the same time, she was falling in love with horse racing, mesmerized by the gray Silver Charm, winner of the '97 Kentucky Derby and Preakness, the latter of which has to be on the short list of greatest horse races ever run. In a frantic finish, Silver Charm held off both Free House and Captain Bodgit by a head, with Touch Gold, who'd gone to his knees at the start, just a length farther back.
"When I was doing my study abroad, Silver Charm got sold in Japan," Hunter recalled. "And that's when I found out that Japan had horse racing."
Soon enough, after a couple of years in various capacities in the racing industry, Hunter, who describes herself as "bad at normal jobs," had managed to create quite an unusual job for herself.
Having gotten to know people at Keeneland and at the Breeders' Cup, she said, "Look, if you're looking for anyone to help you recruit horses or help with the Keeneland sales, I'm available. And the answer was yes."
Now, in addition to the work with Keeneland and Breeders' Cup, she fills similar roles with the Triple Crown, NYRA, and the Pegasus World Cup.
Beyond the recruitment, she also travels with the horses and their connections, serving as an all-purpose minder.
"Someone's called me at nine o'clock at night saying I need socks. And we went and got socks," she said. "So when I'm here in the country with these people, it's like 24 hours a day, seven days a week: anything they need, they call me and I make sure they get it."
All of which has put her in contact with Mori, the trainer, who has quite a history of his own. Now nearing retirement – 70 is the mandatory retirement age in Japan — he blazed quite a trail in the early part of his career, Hunter said.
"He's kind of on that final stretch, but earlier in his career, especially in the early to mid-'90s, he was a true pioneer," she explained. "He loved to travel and take his horses around back in a time when traveling Japanese-trained racehorses was not a big thing."
He was the first Japanese trainer to win a Hong Kong International race, she said, "and now the Japanese go over there… for their two big events and win all of the races."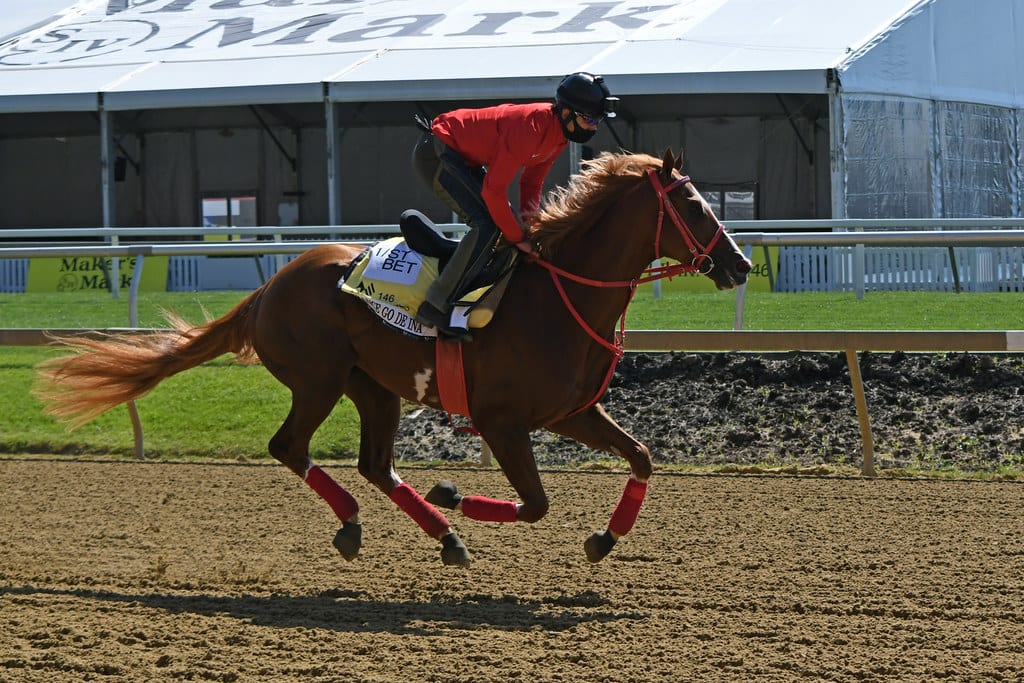 He was the first Japanese trainer to win a Group 1 race abroad, that with Seeking the Pearl in a 1998 French Group 1 contest. And he was the first Japanese trainer to saddle a Kentucky Derby starter. His Ski Captain ran 14th – albeit less than 10 lengths behind winner Thunder Gulch – in the 1995 Run for the Roses. He's also had Breeders' Cup runners the last two years.
"Probably the height of his career has passed, and the flashiness of his winners," Hunter said. "But he's still going to produce a unique experience for his owners where they're not just owning racehorses and watching them run around the circle, they're getting to travel the world, go to Saudi Arabia, Dubai, over to Europe."
Saturday he'll aim to make history yet again as the first Japanese trainer to win a Triple Crown event. Joel Rosario, who had the mount in the UAE Derby, will do the honors once again.
It's a heavy lift for a horse who's already been around the world, but Hunter said her charge is doing well, and she's looking forward to Saturday. And a Preakness win sure would be a feather in the cap for this globetrotting trio.
First day out on the track at @PimlicoRC! France Go De Ina seems to like the track a lot. pic.twitter.com/IvYYzWTk5u

— Kate Hunter • Marugai Racing • ケイト ハンター• まるがいレーシング (@KeibaKate) May 10, 2021
LATEST NEWS