Captain Bodgit, Maryland's near-miss star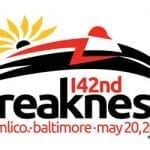 by Ted Black
This coming Saturday may mark the 142nd edition of the Preakness Stakes, the middle jewel of thoroughbred racing's Triple Crown for three-year-olds, but it also marks the 20-year anniversary of perhaps the greatest renewal of that event when Kentucky Derby winner Silver Charm edged Free House and favored Captain Bodgit in a stirring three-horse finish that still leaves connections and onlookers flabbergasted.
Though Captain Bodgit was a local horse, training at Bowie with Gary Capuano, he had much more than an outsider's chance. After finishing third in his career debut at age two, Captain Bodgit concluded his juvenile campaign by winning his last five starts, three of them stakes including the Grade 3, nine-furlong Laurel Futurity over Concerto in a race that had connections of both juveniles thinking about the spring classics.
"When he beat Concerto in the Laurel Futurity, he was able to chase down a really nice colt and he probably ran his last eighth of a mile in under 12 seconds," Capuano said. "We always knew that he was a good horse. But after he won the Laurel Futurity, which has a rich history, we knew that Captain Bodgit was a really, really good horse. He always liked it at Bowie and he got used to shipping to Laurel, Pimlico, Delaware, anywhere. He was used to shipping."
Capuano promptly sent Captain Bodgit south from the Bowie Training Center for the winter and the sophomore son of Saint Ballado finished third in both the Holy Bull Stakes and the Fountain Of Youth Stakes at Gulfstream Park in the first two starts of his three-year-old campaign. Following his third-place finish in the Fountain of Youth, Captain Bodgit was purchased privately by Team Valor from owner Phyllis Susini, although that syndicate opted to retain the conditioner at that point and left Captain Bodgit with Capuano to steer through the major three-year-old stakes ahead.
"Really the only change they made was at jockey because they really wanted Alex Solis to ride him," Capuano said. "That was really the only change they made, so it wasn't good for Frankie [Douglas]. But they made money off the horse, Phyllis made money and I got to keep training the horse. Even in Florida we trained at Hialeah and shipped to Gulfstream. Hialeah was quiet like Bowie, so it was ideal for him and he was already accustomed to shipping. For me, it was really meaningful to be able to have a horse like him in the Derby."
Captain Bodgit justified Team Valor's faith in Capuano when he rallied from well off the pace to overhaul Fountain of Youth winner Pulpit to capture the Grade 1 Florida Derby. In recent years the Florida Derby has been the final prep for the Kentucky Derby for many talented three-year-olds, including 2017 Derby winner Always Dreaming who will be favored in the Preakness, but 20 years ago it was still far enough out from the run for the roses that Capuano shipped the colt back north to Bowie to prepare for the Grade I, $750,000 Wood Memorial where the Saint Ballado colt overcame a speed-favoring sloppy track to win the nine-furlong prep in sharp fashion.
"Nowadays, the Florida Derby and Wood Memorial are only a week apart, so trainers have to pick one or the other," Capuano said. "But back then I was able to win both of them with him and still have time between the Wood and the Derby to get him ready. In the Florida Derby he ran a tremendous race and went by Pulpit, and in the Wood he overcame the sloppy track to win from off the pace. He came out of those races in great shape and we were going to Kentucky with one of the favorites. He had earned his ticket to Louisville."
By post time for the run for the roses, Captain Bodgit was the 3.10-1 favorite in a race that included Pulpit and California shippers Free House and Silver Charm, the one-two finishers in the Grade I Santa Anita Derby. In Louisville, Silver Charm overhauled Free House in midstretch then just withstood the furious late rally from Captain Bodgit to prevail by a head.
Despite the gritty, narrow defeat as the public choice in the Derby, Captain Bodgit would again assume the role of post time favorite in his rematch against Silver Charm and Free House, although Silver Charm's personable trainer, Bob Baffert, had insisted backers could "bet the farm on the Charm" in the middle jewel of racing's Triple Crown. Baffert proved to be prescient in his confidence when Silver Charm prevailed between horses to edge Free House and Captain Bodgit to move within one victory of racing immortality.
"Back then the Pimlico surface was very speed favoring," Capuano said. "'Bodgit' always did his best running from well off the pace. He launched his move on the far turn and then he seemed to find another gear in deep stretch. It looked like [Silver Charm and Free House] were well clear turning for home, but 'Bodgit' came running late and made things interesting. All things considered, I thought he ran tremendously."
While Silver Charm would taste a narrow defeat at the hands of Touch Gold in the Belmont Stakes, being overhauled in the late stages by a colt who had stumbled at the break of the Preakness and nearly unseated jockey Chris McCarron and then rallied to finish fourth, and that Baffert trainee would eventually go on to much greater acclaim with victories in the Dubai World Cup and Stephen Foster during a stellar career in which he won 12 of 24 starts and earned nearly $7 million, Captain Bodgit would never race again following his third-place finish in the Preakness. Twenty years later the race still resonates highly with longtime Maryland Jockey Club announcer Dave Rodman, who will call his 27th Preakness this Saturday.
"That was only my seventh Preakness call, but it was great having a really good local horse in the race," Rodman said. "The week of the race I even went to Bowie to see him. Last week, I went back and listened to my call of that race and remembered how much more energetic and enthusiastic that I was back then, perhaps because of youthful exuberance. I guess I started to get excited late because it looked like Silver Charm and Free House were basically going to battle to the wire and then Captain Bodgit seemed to find another gear inside the sixteenth pole and really came flying late."
After being retired from racing, Captain Bodgit stood stud at Margaux Farm in Kentucky for an initial $10,000 stud fee but later was transferred to Questroyal Farm in New York where he stood for $5,000. Several years later the Kentucky Derby runner-up was sold again and sent to Canada to stand at Highfield Farm for a modest $2,000 fee.