MJC: NO DECISION YET ON MEDINA SPIRIT'S PREAKNESS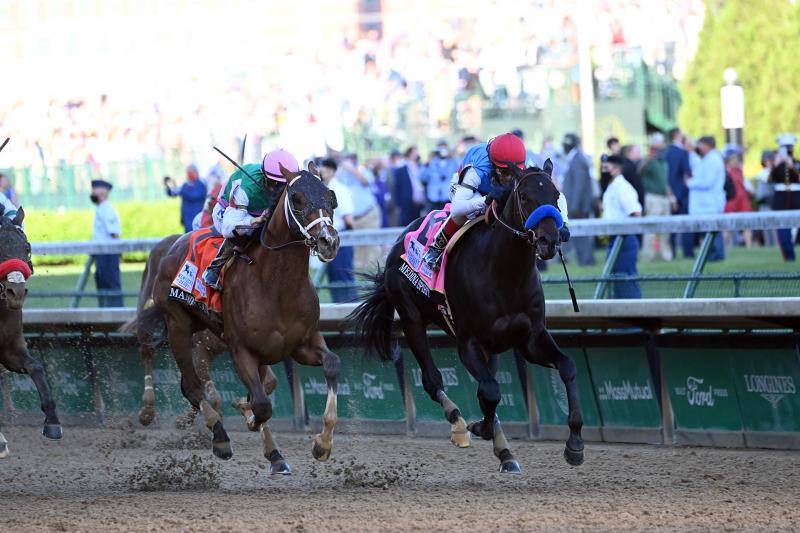 Frank Vespe

May 9, 2021
The news that Medina Spirit had tested positive for betamethasone after his Kentucky Derby win could lead to his disqualification from the top spot in the Run for the Roses — and might have more far-reaching ramfications.
Sunday afternoon the Maryland Jockey Club, which owns Pimlico and the Preakness, issued a statement in which the company said it would not make decision on whether to permit Medina Spirit to enter the May 15 Preakness until it had made a "review of the facts."
Bob Baffert, Medina Spirit's trainer, announced the positive in a hastily assembled Sunday press conference in which he called the finding a "gut punch" and denied that the horse had ever received the corticosteroid. He also said he would appeal the decision.
If the horse is found to have carried an amount of the drug in excess of Kentucky's 10-picogram limit — the finding was 21 picograms, Baffert said — disqualification and loss of purse money is one of the penalties.
Churchill Downs Inc. quickly issued a statement that it would "immediately suspend Bob Baffert… from entering any horses at Churchill Downs racetrack." That's a relaitively consequence-free decision for the company, since Baffert is based in Southern California and does not typically run at Churchill outside of major stakes races.
It did, however, ratchet up social-media pressure on the Maryland Jockey Club to follow suit. It's a far more complicated decision for the local company, because a decision to bar Baffert's entries would have immediate financial consequence; two of the 11 expected Preakness starters are Baffert trainees, and loss or gain of a runner is worth hundreds of thousands of dollars of wagering handle.
It could also have legal dimensions. And there's the question of whether a track's suspending a trainer while the trainer is in the midst of exercising his right to appeal findings is proper. In Maryland, trainers typically are permitted to continue to enter and run horses while appealing Commission findings and only suspended once the process has played out.
To that point, the MJC statement said the company was "consulting with the Maryland Racing Commission" as it sought to plot a way forward.
Baffert has had other high-profile brushes with regulators, and just last year, his filly Gamine, who ended up the champion filly sprinter, tested positive for betamethasone after finishing third in the Kentucky Oaks. Many bettors and racing fans are suspicious of the inordinate success he's had, including winning two Triple Crowns.
MARYLAND JOCKEY CLUB STATEMENT
"Integrity in the sport of Thoroughbred horse racing is the ultimate priority for 1/ST RACING and the Maryland Jockey Club (MJC). 1/ST RACING has been an industry leader instituting processes and protocols that have led to nationwide medication reform and increased accountability. We are committed to achieving the highest level of horse care and safety standards, and we have a proven track record of pushing those standards forward. 

"1/ST RACING and MJC intend to review the relevant facts and information relating to the reported medication positive as a result of the post-race blood sample testing completed by Churchill Downs following the 147th Kentucky Derby involving Medina Spirit trained by Bob Baffert. We are consulting with the Maryland Racing Commission and any decision regarding the entry of Medina Spirit in the 146thPreakness Stakes will be made after review of the facts."
LATEST NEWS