Pimlico picks and ponderings May 1, 2021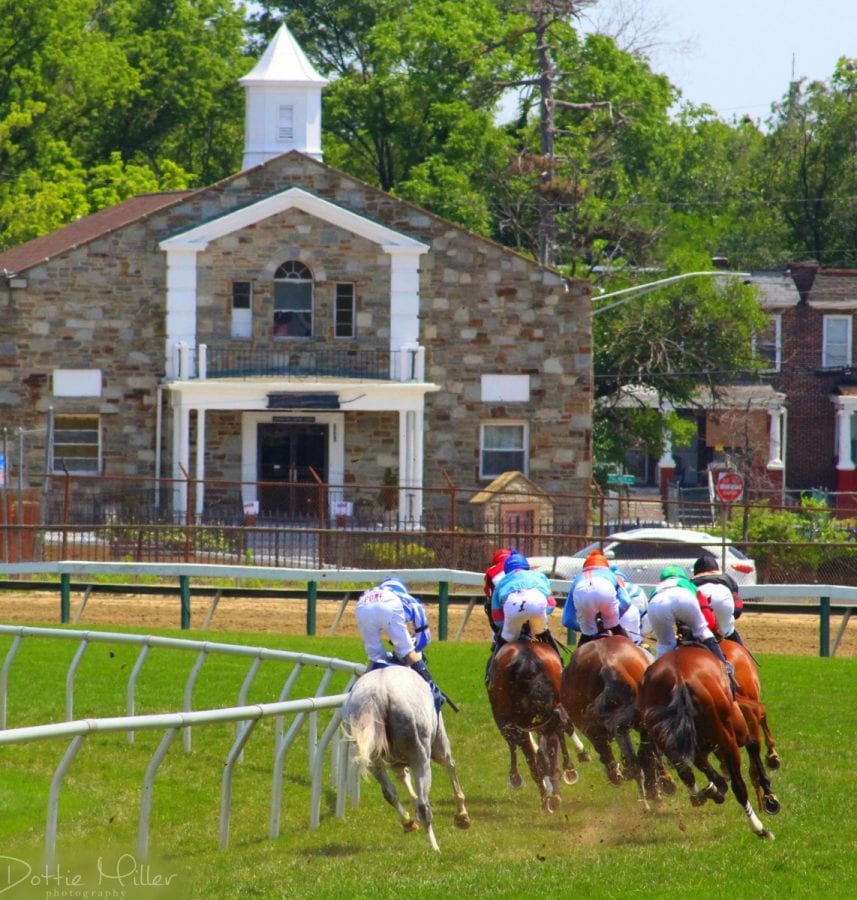 Horses round the first turn at Pimlico. Photo: Dottie Miller
In which we pick the races from Pimlico each day…
Post time: 12:15 p.m.
Carryovers: Rainbow Jackpot Pick 6 — $4,875 Super High 5 — $0 Late Pick 5 — $0
ANALYSIS
RACE 1: CLAIMING $16,000 (N/W2L), 3-YEAR-OLDS AND UP, FILLIES AND MARES, 6 FURLONGS
4-3-1-2
#4 Fearless Lassie (2/1) is Maryland through and through, having been bred at the University of Maryland. She ran a big race first off the claim for Claudio Gonzalez, grinding down the stretch and getting up for the maiden victory with a career-best brisnet figure of 71. She's one of two in here who has never lost against winners; a good angle for races like this. #3 Rockstar Girl (5/2) has run back-to-back figures of 75 and 77, easily the best two recent figures in the field. The 1-for-29 mark is scary, but she raced well first off the long layoff last out and is taking a drop in class. #1 Great Cause (4/1) is another recent maiden-breaker, having gone gate-to-wire in victory last out. Has early speed from the inside. 
RACE 2: MAIDEN CLAIMING $25,000, 3-YEAR-OLDS, 6 FURLONGS
5-2-4-1
 #5 Little Bold Bandit (7/2) has shown speed every time out, and opened up a clear lead last out before fading in the last eighth. It represents some improvement from his prior starts, as usually he had stopped a lot sooner than that. Jerry Robb and Xavier Perez horses are always tough. #2 Ink (7/2) got bet on debut against better, then get roughed around. Drops in class for his second start and is eligible to improve. #4 Ladneedsahandler (5/2) jumped in class and got a jockey upgrade last out, and finished third with a solid figure of 72. Keeps Charlie Marquez in the saddle and drops back down to his preferred level. The 0-for-10 record is the main cause for concern.
RACE 3: STARTER ALLOWANCE $5,000, 3-YEAR-OLDS AND UP, FILLIES AND MARES, 6 FURLONGS
5-7-2-1
#5 Dat Deres Gold (9/2) wired a similar field last out. There's some speed drawn to her inside, so there's no guarantee she'll be able to get to the front again, but she's raced well while rating before, so that wouldn't be too big an impediment. #7 Sammie Sunshine (2/1) did it the hard way last out, battling on the outside for the lead for the first half of the race, then getting clear late and cruising to her second straight win. Might have to work out a similar trip here. Cuts back from a one-turn mile. #2 Calypso Ghost (7/2) is the aforementioned speed horse on the inside, who couldn't get to the lead last out and backed up as a result. Has every chance to get the trip she wants here. Goes out for Carlos Mancilla for the first time.
ANALYSIS
RACE 4: CLAIMING $5,000 (CONDITIONED), 3-YEAR-OLDS AND UP, 1 1/16 MILES
8-3-5-1
#8 Communicator (8/5) comes from Penn National, where he made two solid starts after racing in Kentucky. He cleared his n/w2L condition easily last out, setting an honest pace while wide and drawing away in the stretch. The outside post shouldn't be much of a deterrent. The best horse to single in the early pick 5. #3 Political (5/2) goes out for Miguel Vera, who is off to a fast start to the meet. He went 4-for-7 on opening weekend. This one grinded his way to victory in a n/w2L race two back, then ran on to a solid third in his first try against similar. A good candidate to round out the exacta if Communicator gets away. #5 Itsknownasthebern (7/2) makes his first start since January 13 and goes first off the claim for Hugh McMahon. He has plenty of speed and should give Communicator all he can handle from the inside. He had to battle last time and still held on for second.
RACE 5 – MAIDEN CLAIMING $25,000, 3, 4, AND 5-YEAR-OLDS, FILLIES AND MARES, 5 1/2 FURLONGS
1-7-10-11
#1 Prettyhappy (4/1) was claimed out of her last start by Lacey Gaudet. That was at Colonial Downs back on August 5. She earned a very sharp figure of 70 in that race while rallying wide for second. Should improve in her 3-year-old debut. #7 La Castiglione (12/1) adds lasix for the first time and races for Claudio Gonzalez for the second time. She got bet last out against similar at Parx, but broke awkwardly and lost all chance. I don't know if she'll go off near her morning line, but is intriguing nonetheless. #10 No Chance Given (3/1) is carrying as many as nine pounds fewer than some of her rivals, thanks to a combination of claiming and apprentice allowances. Raced very well against straight maidens two back, making up mild ground for third, but was a bit dull last out after showing speed. Adds Alex Crispin for the first time.
RACE 6: ALLOWANCE (N/W1X), 3-YEAR-OLDS AND UP, MD-BRED, 1 1/16 MILES (GRASS)
5-4-2-3
#5 Market Mover (5/1) showed plenty of early speed on grass last year, including a gate-to-wire win over the surface at Delaware Park on September 9. He tailed off towards the end of the year, but he's had a few months off and returns to his preferred surface. #4 Broker's Reward (5/2) raced just twice last year, but didn't show many signs of rust in either of his races. Last out, back on October 5, he sat a great trip and drew off to win at Presque Isle Downs. Mike Trombetta should have him ready to run here. #2 Benandjoe (9/5) has a win on grass back in his lines, and has been racing much more recently than most of his rivals. Battled gamely after rating off the pace last out, just missing by a neck. If he can switch his form to grass, he'll be tough.
ANALYSIS
RACE 7 – CLAIMING $5,000, 3-YEAR-OLDS AND UP, 6 FURLONGS
3-1-4-5
#3 Higher Purpose (8/5) tried to press the pace from the outside last out, and stopped badly. Here, he's fast enough to get to the lead on the inside and control the tempo. #1 Extra Medium (7/2) got the job done against conditioned claimers last out, saving ground throughout and closing up the inside. He's in the perfect spot to get that kind of trip again. #4 Lucky Junior (6/1) has in-and-out form as of late, but appears to do his best running going shorter. Cuts back from a mile race last out, where he struggled after showing brief speed. Won against conditioned horses two back with a similar trip at seven furlongs.
RACE 8: CLAIMING $25,000, 3-YEAR-OLDS, 1 1/16 MILES
7-6-2-1
#7 U S Constitution (5/2) broke his maiden with a career-top figure last out, closing from off a slow pace to get off at Parx. If Toledo is aggressive enough, he could find himself on the lead. #6 Rrace Day Warrior (6/1) won against similar last out, but he got an honest pace to run into and got up by a neck. He also saved lots of ground in that race. Worth respecting, but will need the trip. #2 Ghost Stalker (4/1) goes first off the claim for Richard Sillaman. He went off at 2/5 last out, and came from way back to lose by a neck to Rrace Day Warrior. If you still believe, you'll get a much better price.
RACE 9 – STARTER OPTIONAL CLAIMING $25,000, 3-YEAR-OLDS AND UP, FILLIES AND MARES, 5 FURLONGS (GRASS)
7-5-1-3
#7 Unaquoi (2/1) ran some over the grass at Gulfstream Park this winter, and finished a solid second against better last out despite some traffic trouble. Those recent races give her the edge over most of these. #5 Bath and Tennis (9/2) finally gets to go back to the grass after getting rained off several times last summer and fall. She had a sharp bullet workout getting ready for this spot, and won her most recent start on this surface gate-to-wire back on July 10. #1 Foggy Dreams (3/1) made her most recent grass start in the same race as Bath and Tennis, closing strongly for a neck defeat. She's kept herself sharp with some strong dirt races, including a win at this level going a mile where she rated and held in the stretch. 
RACE 10 – CLAIMING $10,000 (CONDITIONED), 3-YEAR-OLDS AND UP, 6 FURLONGS
3-4-7-5
We've got a layup in the finale. #3 Bernie's On Fire (1/2) has earned at least an 84 in three of his last four races, and has finished against against much better twice this year. No one else in the field has run an 84 at any point in their last four starts. Looms as much the best. #4 Commanding General (3/1) has come close, running in the low 80s in two of his last three starts while showing speed. Acosta gets the mount for the first time. #7 Golazo (15/1) ran some strong figures last fall but has tailed off in his last few. Goes first off the claim for Jamie Ness.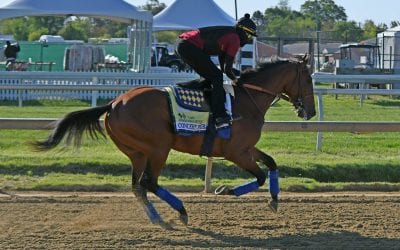 The fourth Kentucky Derby future wagering pool will kick off Friday, and 2yo champ Forte is the top individual choice on the morning line.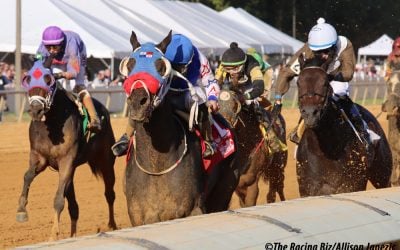 We provide full-card picks and analysis for this afternoon's races at Laurel Park.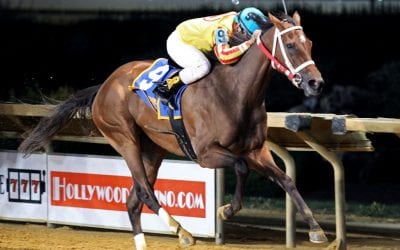 We provide picks and analysis for this evening's card at Charles Town Races.