REIGH COUNT, VIRGINIA'S FORGOTTEN KENTUCKY DERBY WINNER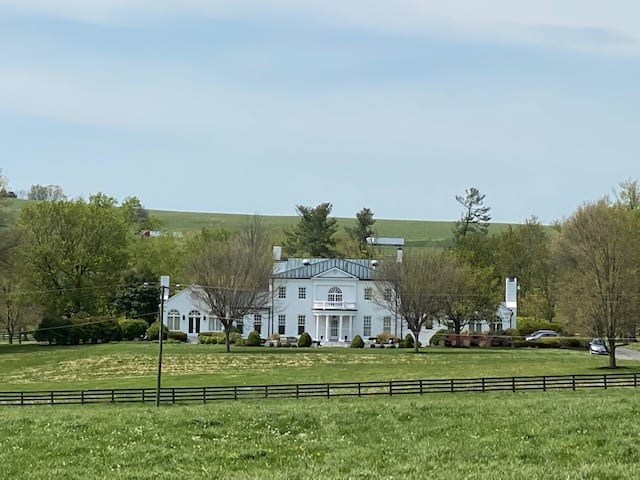 Nick Hahn

May 1, 2021
Though there have been numerous Virginia connections to Kentucky Derby winners, only four have been foaled in Virginia.
Those four: record-setting Triple Crown winner Secretariat (1973); near-Triple Crown winner Pleasant Colony (1981); Paul Mellon's (literally) statuesque Sea Hero (1993), memorialized in the Saratoga paddock; and…. and… wait for it… Reigh Count, winner of the 1928 edition of the Run for the Roses.
In northeastern Rockingham County, in a subtle canyon cove in the Shenandoah Valley not far from Harrisonburg, are the dormant stables of Court Manor. It's located within a well-struck driver of I-81, a busy Interstate known for its truck traffic as a link from the northeast to the southwest.
Thousands of vehicles motor by the stables daily, but there's no physical recognition of who was foaled on the grounds of the now-vacant thoroughbred stables.
Dave and Jewel Yutzy purchased Court Manor in the fall of 2020 at auction.  The new owners, with a background in dairy farming, intend to restore the picturesque property for event uses. The estate near New Market, VA, includes a Greek Revival plantation house built around 1800 that was once the centerpiece of a 1,700-acre property.
It's easy to imagine grand events there, but the new owners may be challenged to match the imagination of one of the property's previous owners, Willis Kilmer, the breeder of Reigh Count.
"We're in the midst of getting the event permits," said Jewel Yutzy, who explained that with the purchase coming at auction, their historical knowledge of the property was acquired only through Wikipedia. "We're excited about learning more about the property's history."
It is, indeed, quite a history. Originally granted to the Moore family by King George III in 1765, the estate remained with that family until 1879. The mansion, first known as Mooreland Hall, became known as Court Manor by the early 20th century, and Kilmer, a New Yorker, purchased the property in 1923.
Kilmer was perhaps best known as an entrepreneur who advertised and promoted his uncle's Swamp Root, a health tonic sold during a largely unregulated era. He would also develop and operate "Zoomara" on his Court Manor property, a zoological garden with giraffes, camels, kangaroos and zebras. Further north, up Route 11, which bisects the property, were Kilmer's thoroughbred stables. There, on April 13, 1925, Reigh Count was foaled.
A son of Kilmer's stallion Sunreigh, Reigh Count was out of the Count Schomberg mare Contessina.
Reigh Count's name is mostly lost to history, but don't mistake the chestnut for an also-ran among Virginia thoroughbreds that have worn the blanket of roses. He was dominant in a colorful era of racing.
In 1928, Reigh Count joined a club with a membership of 54, Kentucky Derby winners past or present. This Saturday the membership expands to 147 in an industry that generates 20,000 or so foals each year. It's an exceptional club.
In 1928, the Kentucky Derby had 22 starters but not Victorian, who had won the Preakness just eight days earlier. Reigh Count would later prevail over Victorian in their only head-to-head matchup.
Four inches of rain fell in the three days before the May 19 Run for the Roses, until the clouds dispersed into drizzle and then an immaculate bath of sun rays (get it?!?).  Vernon Van Ness of The New York Times referred to the track condition as "hock deep."  The 80,000 fans "cheered with a volume that went rebounding through the valley that shelters the historic course."  Even in 1928, Churchill Downs was historic. 
The official race chart describes Reigh Count as racing in forward position early, steadily passing rivals, the last one having been the contest's only leader, as he "drew away to win with speed in reserve." Jockey Chick Lang, whose son would later manage racetracks in Maryland for decades, delivered the win for trainer Bert Mitchell.
Reigh Count lost his first six starts as a two-year-old and Kilmer sold him for $12,500 to John D. Hertz, who had just sold his car rental business to General Motors a few years earlier.
That proved a terrible decision. Reigh Count would win four of next six two-year old starts, gaining momentum for a three-year old campaign in which he won six more times. Among his other three-year-old wins were the Jockey Club Gold Cup, the Saratoga Cup and the Lawrence Realization.
Yet the Derby wasn't his biggest contribution to racing. Neither was the only win of his 4-year-old campaign, when he shipped – literally — to England by boat to win the 1 ½-mile Coronation Cup at Epsom and run second in the 20-furlong – 2 ½ miles – Ascot Gold Cup.
No, ultimately his biggest contribution to the sport was siring Hertz's homebred Count Fleet, the 1943 winner of the Triple Crown. It would be Hertz that enjoyed the first and last laugh.
As his stud career was to begin, Time magazine reported that Hertz had turned down an offer of $1 million for the horse, which would have easily been the highest price for a racehorse to that time.  Hertz was quoted as saying, "I think a fellow who would pay $1,000,000 for a horse ought to have his head examined, and the fellow who turned it down must be absolutely unbalanced".
Yet it was the Kentucky Derby that put Reigh Count on the map, away from where he started among the canyons and caverns of Virginia's Shenandoah Valley.
Fast forward to today. In northeastern Rockingham County, the new owners want to find out more about him. Did his Virginia residency occur in one of the stalls in the stables that still stand between Interstate 81 and Route 11? Or was he in the stables that are believed to have been demolished? The Yutzys hope to find answers and gain an understanding of the equestrian significance of the property. They look forward to hosting future events and enhancing the heritage of their new acquisition.
Just as Court Manor will live on in a new way, linking past to present and future, so, too, does Reigh Count's legacy continue. His son Count Fleet sired the mare Sequence, who in turn gave birth to Mr. Prospector, whose influence on the breed continues to this day. And so, as the horses assemble for the Run to Roses, realize how different the breed might look were it not for Virginia's forgotten Kentucky Derby winner.
[FAG id=71878]
LATEST NEWS