BRIGINTINE ISLAND SAILS TO ORIGINAL GOLD SCORE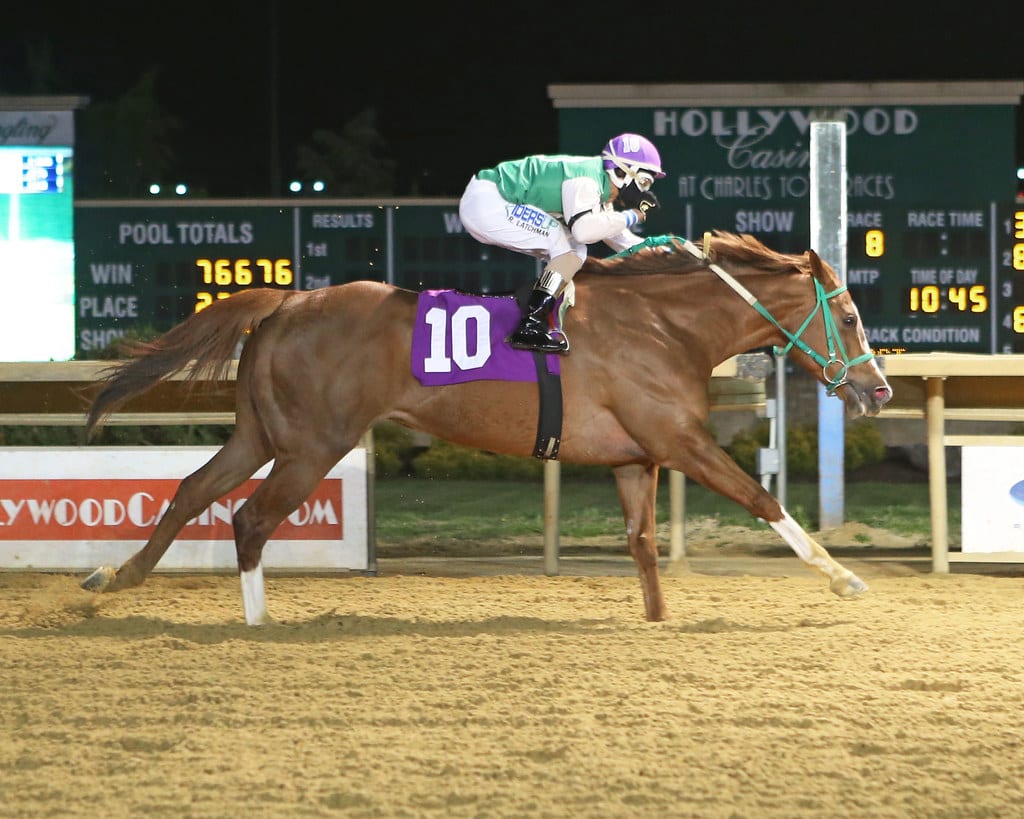 When the gates opened in the Original Gold Stakes, named for a past two-time heroine of the Cavada Breeders Classic, Amelia Bedelia and Sherwood Lady both broke well to duel for command passing the finish line the first time, with Brigintine Island perched three wide and just off the lead pair. Power Forward and See Ya Manana were also in good striking position early, as Runco trainees were all in the first flight of five distaffers through the opening quarter-mile.
Nearing the far turn, Brigintine Island joined the top pair, and she then quickly gained the advantage, while See Ya Manana launched her bid. As often happens at Charles Town, with the short stretch and tight turns, the winning move occurred well before the runners reached the top of the lane.
Jockey Rashawn Latchman turned Brigintine Island loose leaving the quarter pole and she opened a clear lead on the far turn and drew away to a seven-length score as the 3-1 third choice while stopping the timer in 1:26.55 for the seven furlongs over a fast main track.
Brigintine Island paid $8.60 to win and topped an exacta, with See Ya Manana in second, that returned $20.90 for a buck. Malibu Splash, trained by Tim Grams, rallied into third, a half-length behind See Ya Manana.
"I really could not have asked for a better trip," Latchman said. "I was sitting third right off the two speed horses. Then I let her roll leaving the quarter pole. I wanted to get the jump on See Ya Manana. When she opened up turning for home, I knew she was home. She's a nice filly. I think she's going to keep getting better."
A five-year-old Jersey Town mare trained by John McKee for owner-breeder Cyndy McKee, Brigintine Island notched her first stakes win, now sports a 2-3-0 slate from five starts this year and boasts a 6-6-2 slate and over $160,000 banked from 22 career outings. Brigintine Island is the lone product out of the late Langfuhr mare Deli Lama, who died not long after giving birth to the McKee homebred.
"I've raised her from day one," Cyndy McKee said. "She was the first and only foal that mare had. This mare [Brigintine Island] has been a handful at times. I call her 'redhead' because she has a little bit of a temper. She got sick with the colic last year and I to scratch her once on a race night and then I had to treat her for ulcers. But she's been healthy for a while now, and she's really turned out to be very good. When she took the lead turning for home, I started screaming my lungs out. I didn't realize that she was that far in front."
Saturday night's first stakes race of the year was named in honor of Original Gold, a talented state-bred mare who won 7 of 17 starts and earned over $372,000 for owner-trainer Ronney Brown, including two victories in the coveted Cavada for state-bred distaffers in 2004 and 2005. Brown and wife, Nicole, were both on hand for the trophy presentation on Saturday night, and they reported that Original Gold is still alive and well at age 21 on their farm in Rippon.
"She's still doing good," Brown said. "Having this race each year means a lot to me. She was a special mare. She's right at the top of my list of the horses that I trained. It's an honor to be here each year for this race for the trophy presentation."
LATEST NEWS