LAUREL PARK PICKS AND PONDERINGS MAR. 5, 2021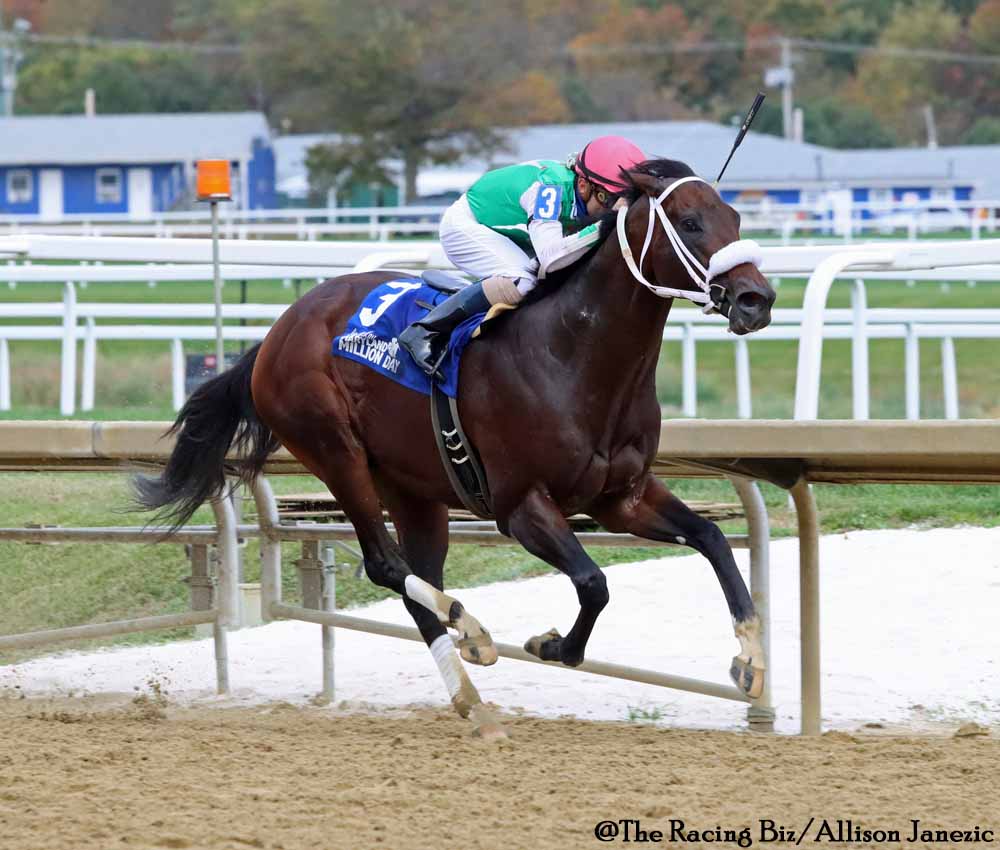 RACE 1: MAIDEN CLAIMING $25,000, 3-YEAR-OLDS, 6 1/2 FURLONGS
3-6-1-4
We'll kick off the racing week with a field of seven 3-year-olds doing battle. I'm willing to give #3 Carolina Chrome (3/1) a mulligan for his last start, as he broke slowly, but made up ground nicely to finish fourth. Since that race, Lacey Gaudet has given him a workout from the gate, always a good thing to see after a horse breaks slowly. Interested to see which running style Charlie Marquez employs for this gelding's second career start. Jamie Ness has a pair of first-time starters here, in #1 One Two Kid (7/2) and #6 One Slick Start (9/2). Both look very similar on paper, although One Two Kid has a few more workouts under his belt and, interestingly, is a Triple Crown nominee. However, One Slick Start has been working sharply lately and gets Sheldon Russell in the saddle. Flip a coin.
RACE 2: CLAIMING $10,000 (N/W2L), 4-YEAR-OLDS AND UP, 6 FURLONGS
2-1-3-4
#2 Pay the Kid (5/2) is lightly raced, making his sixth start in this spot. He broke his maiden impressively going seven furlongs in his second start, but has flattened out going a mile twice since then. He had one start at seven furlongs against winners, and he closed well while earning a career-high brisnet figure of 72. Cutting back to six furlongs should be a big help. #1 Booyakasha (7/5) comes up here from Tampa Bay Downs, where he's been facing slightly better. He broke his maiden here back in November, running a big race. He held on to the lead after setting a very fast early pace. Should once again be the controlling speed from the inside. A lot of his Florida figures would win this one. #3 Kissedthegirls (9/2) finished second in a chaotic field last out. He got a jockey upgrade to Charlie Marquez in that race, who retains the mount here. The 1-for-28 career mark is unsightly, but he's running good figures lately and has decent closing speed.
RACE 3: MAIDEN CLAIMING $10,000, 4-YEAR-OLDS AND 5-YEAR-OLDS, 1 MILE
5-2-7-4
#5 Tale of Dixie (5/2) has shown little going shorter, but has run his best figures, both in the mid-60s, when going a mile. Makes his fifth start this afternoon, and gets a rider upgrade to Tais Lyapustina. He's a closer who takes advantage of the long stretch in mile races. Should pack some more punch here. #2 I Want More (9/2) got bet on debut at this level, but showed little. It wasn't as bad as it looks on paper, as he was seven lengths behind the third-place finisher, but he will have to step forward to this one. Will the longer distance help? #7 Royalian (10/1) raced well in his first start of the year, closing ground despite a rough trip. He also earned a career-best figure of 53 in that spot. He's lightly raced, should enjoy more distance, and will likely go off at a very bettable price. Worth a shot in a race like this.
RACE 4: CLAIMING $5,000 (CONDITIONED), 4-YEAR-OLDS AND UP, 7 FURLONGS
5-4-1-6
The rainbow pick 6 begins here, with the carryover pool above $15,000. #5 Big Hambone (7/2) ran a gutsy race on the lead two back, then ran well for second last out despite a wide trip. Usually, he's on the lead, but wasn't able to get there last time. Looks like one of the faster horses in the field early on. #4 Keeping the Peace (3/1) returned from a brief freshening last out to close for a strong second. He earned an 84 in that race, which is around the level where he had been running last summer before tailing off. Could be in for a big one second off the break. #1 Fast Master (9/2) goes first off the claim for Kieron Magee, after a dull effort last time where he showed speed and faded. That race is a big outlier from his prior efforts, where he stalked better horses and ran big figures. If he can be rated, this should be a perfect kind of spot for him.
RACE 5: MAIDEN CLAIMING $25,000, 3-YEAR-OLDS, FILLIES, 6 1/2 FURLONGS
3-7-4-1
A young field begins the late pick 5. #3 Galofmydreams (7/2) showed promise on debut, finishing second after showing speed. She got bet against maiden special weight foes last out, but was very dull. Would've liked to see a workout since that race, but she has shown some glimmers of form and drops back in class, so I'll try to trust her. #7 Nine Mast (5/1) has shown rapid improvement in each of her three starts, most recently earning a 62 while showing speed. She's held on a lot better in each race; last out, she was beaten by less than five lengths, after two straight double-digit defeats. Wouldn't be surprised if she turned in a big one here. #4 Baby Melissa (5/2) races first off the claim for Dale Capuano and adds blinkers. She's never run less than a 65 in her three starts, and has two good workouts since her last race.
RACE 6: CLAIMING $5,000, 4-YEAR-OLDS AND UP, 7 FURLONGS
7-9-6-5
#7 Lucky Junior (6/1) made his first start off the layoff last out, and recovered well from a bad start to lose by 5 1/2 lengths. Two back, he won impressively at Mountaineer while coming from off the pace. Has similar figures as the other major contender, and is definitely worth a bet if he goes off near his morning line. For some reason, #9 Extra Medium (7/2) tried to stretch out in his last start, after a string of success in sprints. That effort went about as well as you'd expect. Won against a slightly weaker field three races back, after being closer to the pace than usual. Another interesting value play in here is the #6 Mystic Times (8/1). He's had wide trips in each of his last three, but has still run on well in the end, earning figures in the 70s. He won against similar last fall, closing from behind for a one-length win. Can he save more ground here?
RACE 7: MAIDEN SPECIAL WEIGHT, 3-YEAR-OLDS, FILLIES, 6 FURLONGS
5-7-4-1
#5 Tritone Gal (5/1) looks to build off a strong debut, where she recovered from a bad start for a third-place finish. She showed good closing speed off a fast pace, a pace set by #7 Above the Limit (9/5). That rival opened up a six-length lead early on, but he pace proved too ambitious and she hit the wall in the stretch. In a field with four first-time starters, it's very tough to figure who'll be on the lead here, but even the speed displayed by Above the Limit last out, someone else will have to be very fast to outrun her early. #4 Stir Crazy (7/2) is a strong-working firster for the Ben Perkins barn, with three bullet workouts within her last five. She was purchased for $35,000 at the OBS Sale last year. Interested to see the wagering action she gets here.
RACE 8: ALLOWANCE OPTIONAL CLAIMING (N/W1X), 3-YEAR-OLDS, FILLIES, 6 FURLONGS
3-2-1-6
Lots of interesting 3-year-old fillies in here. This race begins the Stronach 5, with a carryover of more than $150,000. #3 Pretty Lori (7/2) made waves when she broke her maiden by 7 1/2 lengths last September, in a dominant front-running score. She went to the sidelines not long after that race, but returned to the worktab in late January, and has been throwing bullets in the morning since then. Adds lasix for her 3-year-old debut. I'm expecting a big race from her here. Brittany Russell tried #2 Little Huntress (3/1) in the Wide Country Stakes last out, but the filly stopped badly after showing speed. She was extremely impressive in the race prior race, winning a maiden special weight event by 14 lengths while geared down. She will encounter some pace pressure from Pretty Lori. Can she withstand it? #1 Breeze Off the Bay (10/1) has hit the board in six of eight lifetime, and recovered well from a bad break to lose by a head last out. Could fall through the cracks in the wagering.
RACE 9: MAIDEN CLAIMING $10,000, 4-YEAR-OLDS AND 5-YEAR-OLDS, FILLEIS AND MARES, 5 1/2 FURLONGS
2-5-10-4
A field of thirteen, with twelve betting interests, wraps the up the show. This is the third leg of the Stronach 5. #2 Tapdancing Girl (5/1) makes her first start since last August, but has consistently run figures in the 50s and drops to this level for the first time. Might need a race off the bench, but also might not even have to be at 100% to win this one. #5 Warrior's Blade (8/1) has been slowly rounding into form since returning from the layoff three starts back. Can show speed or rate. #10 Thundrinthevalley (9/5) has hit the board in nine straight races, without a win to show for it. She's had many, many tries against similar fields, but hasn't been able to complete winning moves. Tread lightly at low odds.
LATEST NEWS