MEMORABLE MOMENTS: LURE VS. STAR OF COZZENE
The rivalry between Lure and Star of Cozzene developed a year earlier, in the 1993 Early Times turf series, a three-race sequence that offered a $1 million bonus to any horse that could win them all. Lure, a bright bay son of Danzig, won the first two legs – the Early Times Turf Classic at Churchill Downs April 30 and the Early Times Dixie Handicap at Pimlico May 14. Star of Cozzene, however, spoiled the party by defeating Lure by three-quarters of a length in the third leg, the Early Times Manhattan Stakes June 6 at Belmont Park.
"It's a great rivalry," said Hennig in The New York Times. "This is what our business needs."
After the Early Times series concluded, three weeks later it was on to Atlantic City for the Caesars, and Star of Cozzene kept rolling, coming from off the pace to defeat favored Lure by a length under Jose Santos.
A trip to the 1993 Breeders' Cup seemed in order for both horses, but Star of Cozzene's connections decided to bypass the Breeders' Cup at Santa Anita and instead send him to Tokyo for the $3.6 million Japan Cup, while Lure stayed home and won the Gr. 1 Breeders' Cup Mile for the second consecutive year.
The journey to Japan and back may have proved too taxing for Star of Cozzene; he did not return to the races until six months later, finishing third in an allowance race at Hollywood Park in May, 1994. The dark bay son of Cozzene then was pointed to the Caesars International a month later, where he would square off against his old opponent, Lure.
The late June day dawned hot and humid, with a temperature of nearly 90 by post time for the Caesars. In conjunction with the Caesars casino in nearby Atlantic City, the title sponsor of the race, a boxing ring was set up on the track apron for some pugilistic action that was broadcast on television.
The race itself drew a small field, with just three rivals showing up to challenge the top pair – the popular New York-bred grass ace Fourstars Allstar, plus the Jonathan Sheppard-trained Marco Bay, and longshot Astudillo (IRE). But what the race lacked in number of competitors it more than made up for in excitement, as Lure, with regular rider Mike Smith aboard, gave one of the best performances of his career.
Toting highweight of 123 pounds, two more than Star of Cozzene, favored Lure broke from the rail and sprinted out to the early lead as they passed the stands for the first time, with second-choice Star of Cozzene and Jose Santos dropping back to last. Smith slowed the pace down and Lure led around the first turn and onto the backstretch, with Marco Bay in closest pursuit.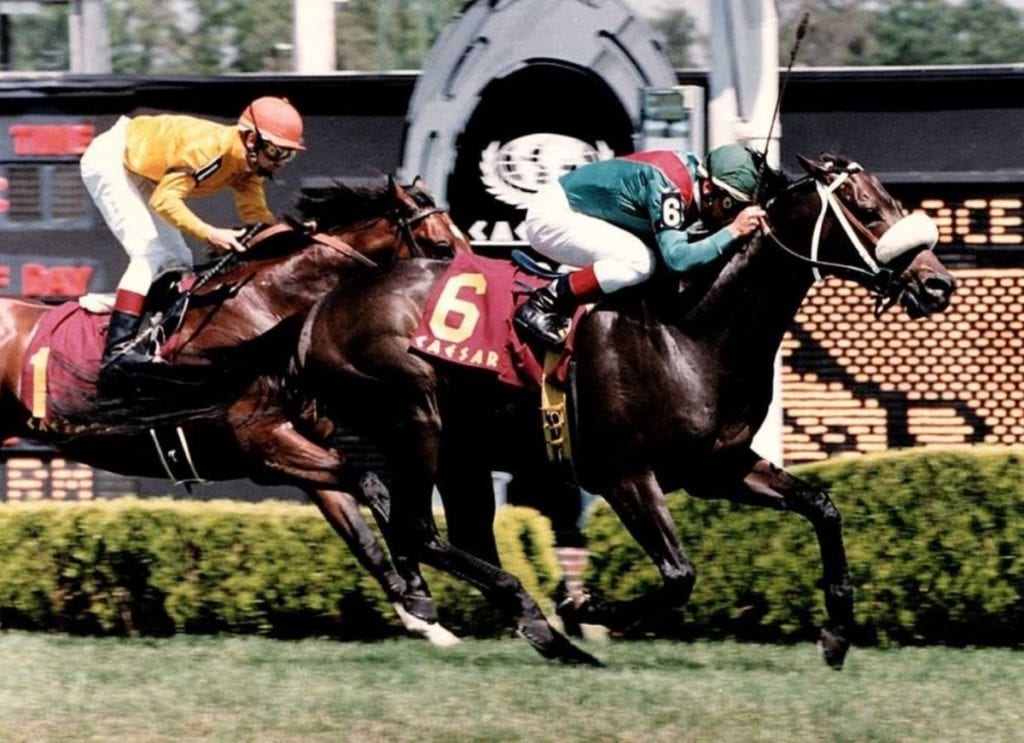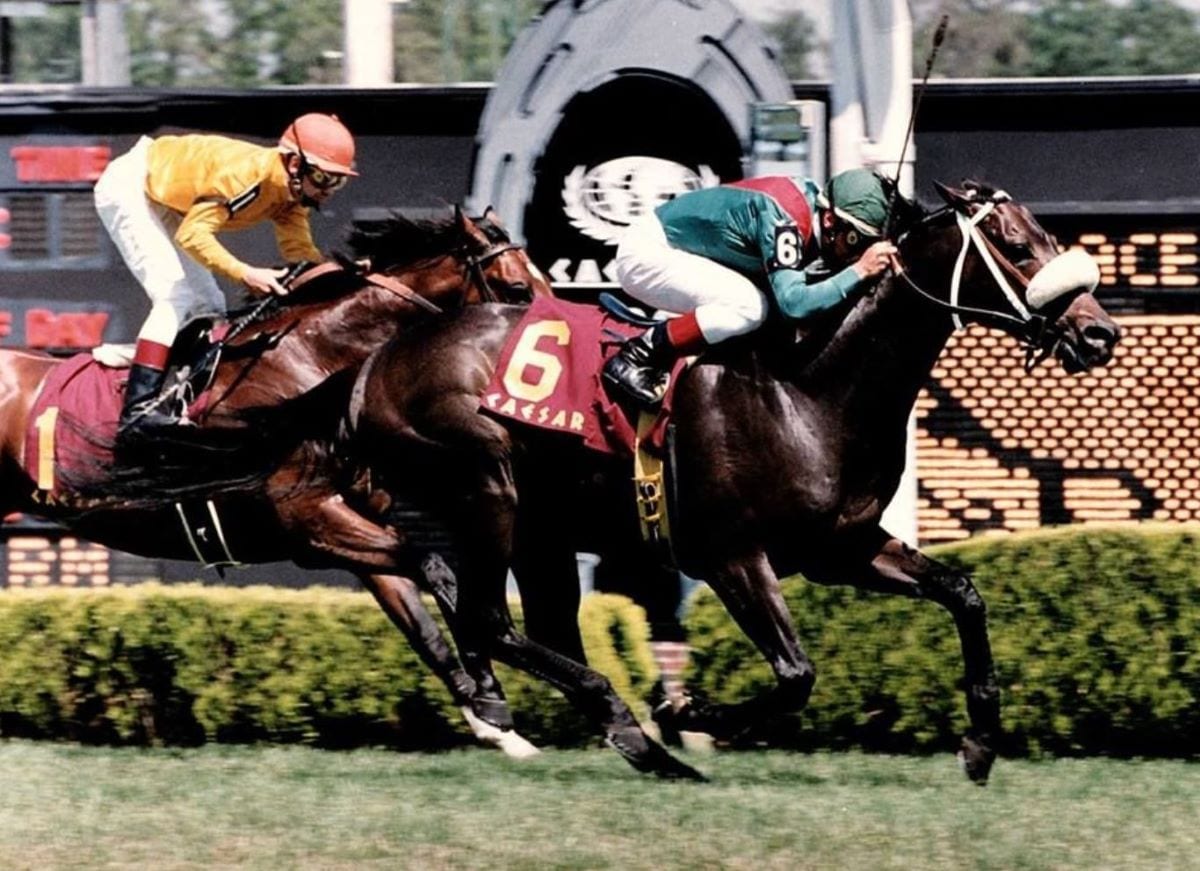 Midway on the backstretch Lure jumped shadows on the course and Smith eased him off the hedge, leaving room for Marco Bay to scoot through. He drew on equal terms with Lure and then grabbed a half-length lead. Lure, now three-wide, fought back and regained that lead, but at the head of the stretch he had a fresh challenger in Fourstars Allstar, ridden by "Jersey" Joe Bravo.
Fourstars Allstar rolled to the front while Lure, to his outside, mounted a rally; both Bravo and Smith went to work with furious left-handed whips on their charges. As the crowd went wild, Lure bravely cut into Fourstars Allstar's advantage and nailed him in the last jump, completing the distance in 1:52 3/5.
"One's defiant, and one's relentless!" shouted track announcer Larry Lederman. "And it looks like Lure has gotten there in the last couple of strides!"
Star of Cozzene finished third, 1-½ lengths behind the top pair, and was never really involved.
Of Lure's eventful trip, Smith said, "We started on the hedge, and he jumped a couple of shadows on the backstretch, and I could see four or five more shadows up ahead. So I took him outside, and he had a clear path."
"I could see Lure jumping around, but didn't know why," said McGaughey. "I figured Mike wanted him to relax on the outside, and then he took aim on Fourstars Allstar and came on strong."
"We've been behind the eight-ball since February, and I thought he had enough to run them down, but it just didn't happen," said Hennig of Star of Cozzene's result.
While those in attendance that steamy afternoon at Atlantic City didn't get to see Lure and Star of Cozzene duke it out for top honors, they were treated to a tremendous effort by Lure to overcome trouble and then show heart, grit, and determination in defeating a gallant Fourstars Allstar. It was the type of performance that helped propel Lure into the Hall of Fame in 2013.
Star of Cozzene would race only twice more, in the Gr. 2 Arlington Handicap and the Gr. 1 Arlington Million, and fail to win both. Sold by his initial owner, Team Valor, to a Japanese businessman for $3 million towards the end of his racing career, the son of Cozzene entered stud in Japan with a record of 14 wins from 38 starts, and $2,308,923.
Lure finished his stellar career with a victory in the Gr. 2 Bernard Baruch Handicap at Saratoga after the Caesars, and a second-place finish in the Gr. 3 Kelso Handicap at Belmont Park. He was unsuccessful, however, in winning the Breeders' Cup Mile for the third consecutive year, and entered stud at Claiborne in 1995 with a record of 14 wins from 25 starts, and $2,515,289.
Lure proved to have fertility problems, siring only 119 foals, and later stood in Ireland for several years before returning to Claiborne, where he died in 2017.
SOURCES
"Lure and Virginia Rapids Surge to Victory," The New York Times, June 27, 1994, Section C, p. 11.
"Atlantic City to Close," The Press of Atlantic City, January 9, 2015.
"Star of Cozzene Beats (Ties) Lure," The New York Times, June 28, 1993, Section C, p. 3.
LATEST NEWS