MEMORABLE MOMENTS: CARRY BACK'S FAREWELL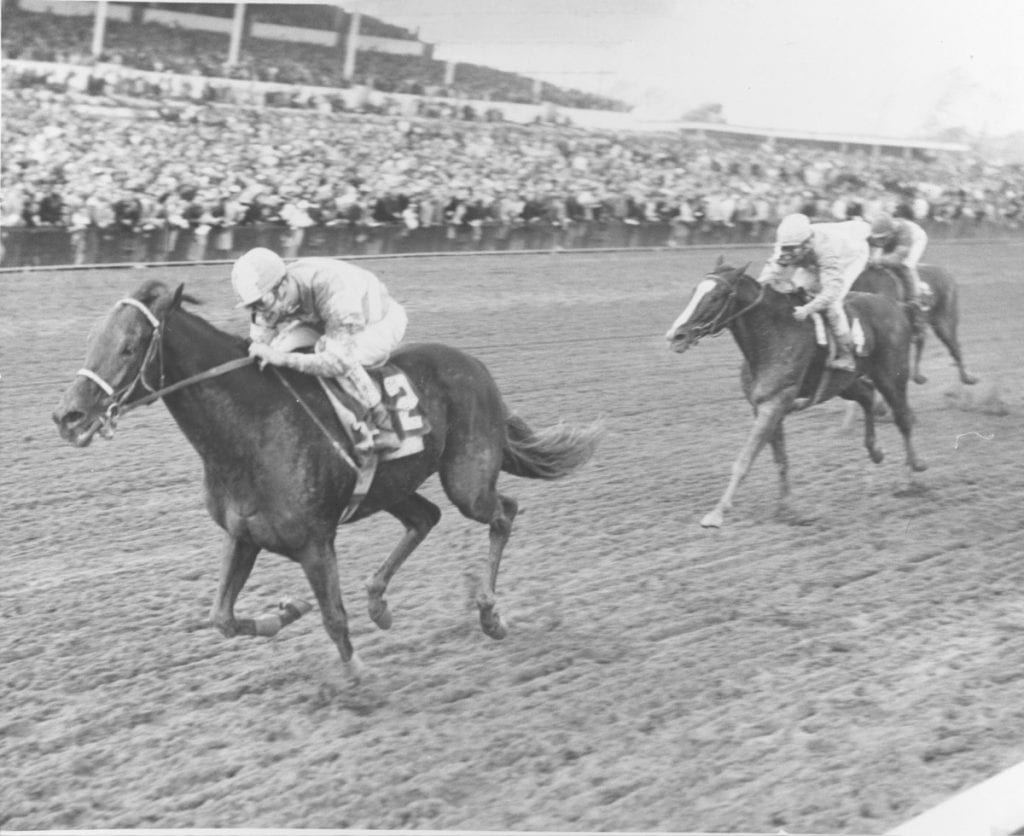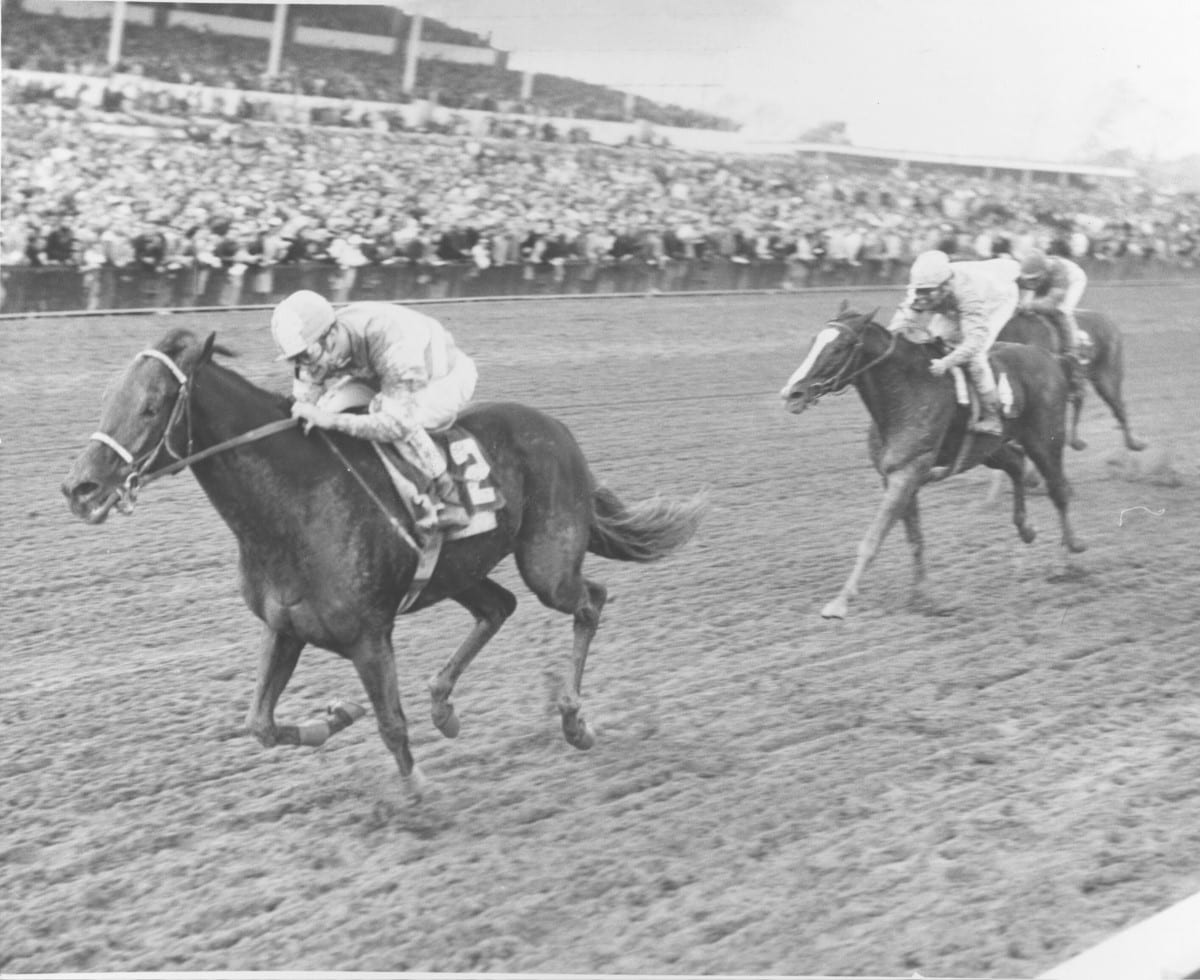 "When that breeder made the remark, I made up my mind to prove him wrong," said Price. "And CB (Carry Back) was very cooperative."
Price had retired Carry Back for the first time at the end of 1962, after a few middling turf tries, including a 10th-place finish in the Prix de l'Arc de Triomphe. But Price did indeed put 5-year-old Carry Back, a son of Country Life Farm stallion Saggy, back into training in 1963. Many believed that money was the driving force behind the decision.
"Price misses the limelight," wrote one turf scribe. "He'll kill that horse yet."
Jack Mann of the New York Herald-Tribune, wrote: "Price, who moonlighted as a financier while training his one horse, had a venal purpose in returning Carry Back to the races. His $6,500 stud service did not sell like hot cakes last season."
Price later admitted that devising Carry Back's comeback was a way in which to publicize him as a sire, as he had seen only 26 mares in his first book, getting 18 in foal.
To Sports Illustrated's Whitney Tower he explained, "I'm not doing this to get my name in the paper. I don't need any personal publicity. As for publicity for the horse, of course I want to keep his name before the public. He's a stallion, and I want breeders aware that he's around. That's my business."
To his credit, Carry Back picked up where he left off, able to sustain his form against stakes competition. He placed in the Buckeye Handicap at Randall Park in August, but then chipped his left front sesamoid bone while training for the Washington Handicap at Arlington Park. When X-rays showed that the chip was minor – and one veterinarian, Dr. William O. Reed, stating that the condition would "clear up in time" – Price announced the horse would not be retired, but instead be pointed for stakes later in the fall.
Fans of Carry Back were outraged that Price was taking a chance with the horse's well-being, and started a letter-writing campaign to retire him once and for all. But dollar signs danced in Price's head, and Carry Back was sent to the post for an allowance race on turf at Atlantic City Race Course September 7, which he won by six lengths.
The United Nations Handicap at 1 3/16 miles on turf at Atlantic City was next on September 14. Carry Back finished third there behind Mongo and Never Bend. Carry Back met the great Kelso next, in the Woodward Stakes at Aqueduct, but was trounced, finishing 11 lengths behind that rival in fourth.
Despite his star's seeming to be lame after the Woodward, Price ran him 11 days later in the Manhattan Handicap, also at Aqueduct, where he turned in a very poor performance. Even Price admitted it was finally time that he made his final exit from the racing scene – after, he hoped, one last high note.
Price told the press that Laurel Race Course made overtures to have Carry Back run his final race at that Maryland oval, but he settled instead on the $59,420 Trenton Handicap at old Garden State Park in Cherry Hill, NJ on November 2, 1963.
"If he won, I wanted him to beat good horses," said Price. "If he lost, I didn't want it to be by any second raters."
Johnny Sellers, who rode Carry Back to victory in the Kentucky Derby and Preakness, was tabbed by Price to ride in the 1 ¼-mile Trenton, which the brown horse had already won in '61 before finishing behind Mongo in '62. In the '63 renewal, Carry Back would meet Mongo once again.
A crowd of 26,935 had their doubts as to whether Carry Back was capable of leaving the stage a winner, and sent him off at 7-1 odds.
Despite the longish odds, he was a sentimental favorite, and this time, heart won out over head. Carry Back took the lead after they'd gone a mile over the muddy track, leaving Mongo in his wake. He crossed the wire 2 1/2 lengths in front of that rival, with Smart, who'd won the Manhattan, third, Yorky fourth, and Crimson Satan fifth, in a peppy 2:01 ⅘.
And that was the end. Carry Back completed his stellar career with a lifetime record of 61 stars, 21 wins, 11 seconds, 11 thirds, and earnings of $1,241,165.
Ten days after the Trenton, he was back at the Cherry Hill course to say goodbye to his fans, a final farewell before an overflow crowd.
"There was many a wet eye as Carry Back bucked and pranced his way past packed stands at Garden State Park in his farewell appearance," wrote Orlo Robertson for the Associated Press. "Fashionably dressed women dabbed at their eyes … grown men blew their noses to hide their feelings over the final appearance of one of the most popular race horses ever to grace the American turf. You would have thought, to listen to the conversation at Garden State Park … that everybody owned him – not just Katherine and Jack Price."
"Jack himself admitted tears filled his eyes as he watched the son of the once little known sire, Saggy, parade in front of the stands," continued Robertson. "'I sure am going to miss him,' said Jack, who, as trainer, watched over CB from the time he was foaled. 'I actually got so I loved him. But I wouldn't say he ever returned the love.'"
A dozen years later, in 1975, Carry Back was inducted into racing's Hall of Fame. He died in 1983.
SOURCES
Carry Back's lifetime past performances. Daily Racing Form.
"Jack's Back and so is Carry." Sports Illustrated, Whitney Tower. August 12, 1963.
Carry Back, National Museum of Racing and Hall of Fame entry.
"Carry Back Wins Jersey Feature." The New York Times, November 3, 1963, Section S, p. 1. 
"Don't Carry Out Carry Back Yet." New York: Associated Press, August 27, 1963.
"What Price Glory? A Winning Exit for Jack's Carry Back." Jack Mann, New York Herald-Tribune, November 8, 1963.
"Many Wet Eyes See Carry Back Farewell." New York: Associated Press. Orlo Robertson. November 12, 1963.
LATEST NEWS