"REALLY NICE" SUPER GARNER ON A ROLL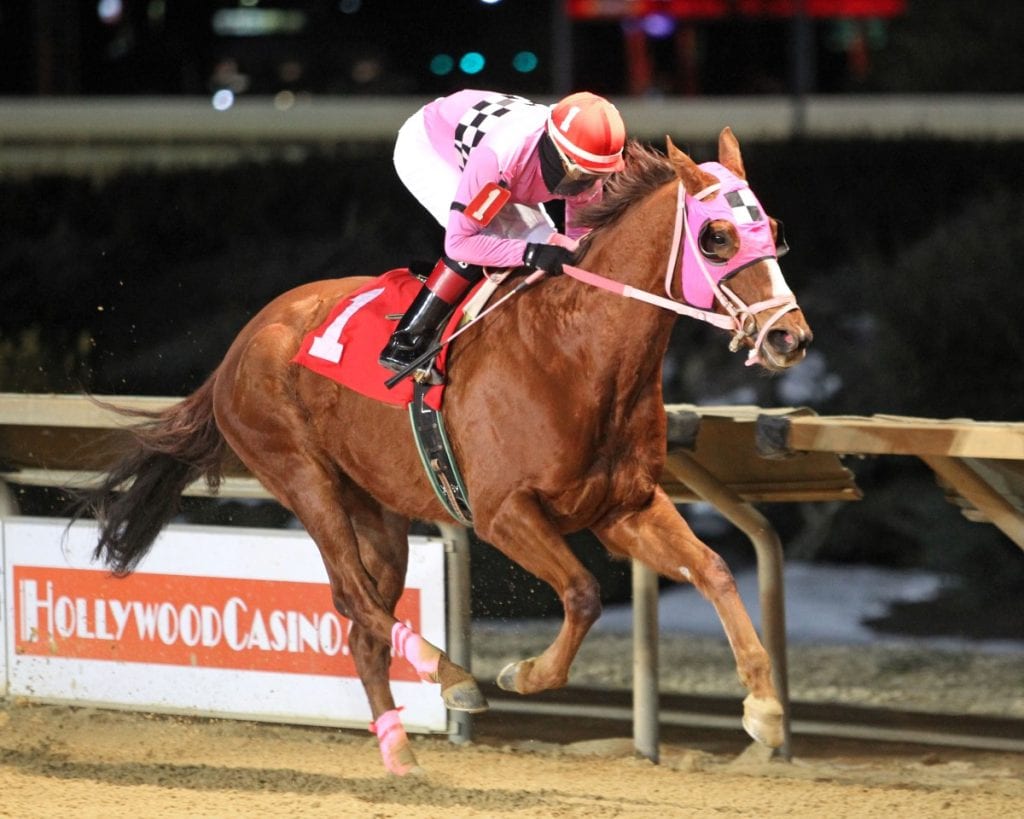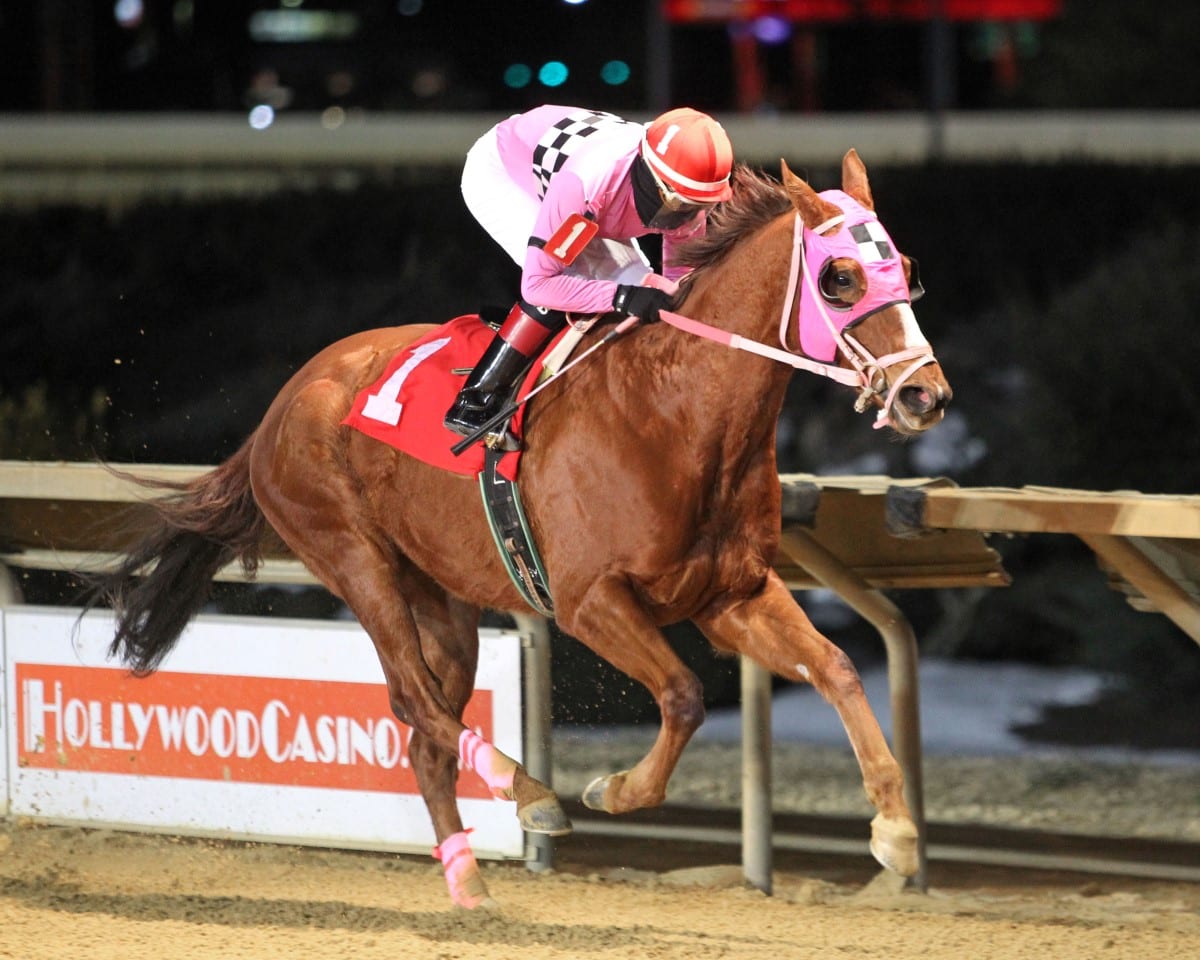 Super Garner began his career in the barn of trainer Crystal Pickett for original owner Nellie Hanagan before being shifted to trainer Lela Hanagan. Super Garner enjoyed ample success and notched nine wins for the Hanagans before Dunham reached in and claimed him for $5,000 on May 23, 2020. In eight starts since being claimed, Super Garner has recorded a pair of victories and now owns an 11-5-5 slate and over $157,000 banked from 36 lifetime tries.
"One thing that stands out with him is that he's such a really nice horse," Dunham said. "I really think that once his career ends, he is going to make a great pet or riding horse for someone. He is clearly the friendliest horse in our barn. He loves it up here."
Super Garner may have once been a $5,000 claimer – he's been ascending the ladder a bit lately – but Dunham says the gelding keeps the right kind of company at the northern Maryland training center.
"It's amazing watching the other horses that train up here with him," Dunham said. "On some days you feel like you're at the Breeders Cup with trainers like Graham Motion and Mike Trombetta watching their horses train."
Super Garner may not be destined for a trip to the Breeders Cup, but Dunham has not been bashful about shipping him to compete. After finishing fourth at Charles Town in his first start for Dunham, Super Garner then tried claimers at Monmouth Park twice and went to Mountaineer Park.
Super Garner kicked off his 2021 campaign with a trip to the Big Apple to Aqueduct for another start against claimers.
"That was probably the toughest $8,000 claiming race that I have ever seen," Dunham said. "Most of the horses in there were dropping out of $20,000 claimers. I knew when I looked at the field on paper it was going to be tough to get a piece of it. But I went up there and tried it and he ran okay. He was just a little overmatched. But he always ships well and he tries, and that's really all you can ask."
After finishing eighth in the Aqueduct contest, Super Garner returned to Charles Town and promptly prevailed by four lengths as the 8-5 favorite in a two-turn starter allowance for older runners January 20, stopping the timer in 1:21.30 for the 6 1/2-furlongs.
In his most recent outing on February 17, Super Garner was even better when he romped home seven lengths the best as the 3-5 favorite in an allowance/optional $15,000 claiming event by stopping the timer in 1:28.17 for the seven panels.
"I could not have been happier with his last start," Dunham said. "He broke well and he made the front easily, and he just drew off in the lane."
Since the start of 2020, Super Garner has won four of his six local starts. All of those wins have come in front-running fashion.
"One thing about him he's got natural speed and he loves being on the lead," Dunham said. "He does it so easily. He really knows how to take care of himself. I've never been around a horse that is so genuinely nice to be around."
Super Garner is slated to seek his third straight score this Friday in a two-turn allowance/optional $15,000 claiming race at Charles Town where he, like six of his seven rivals, is entered for the tag. Super Garner is the 6-5 morning line favorite in the contest.
Ideally, Dunham says that he would like to point Super Garner for open state-bred allowance events or starter allowance races where he would not have to risk losing him via the claiming box. But Dunham understands the risks involved in playing the claiming game at any track.
"I would like to keep him in the starter fives [$5,000]," Dunham said. "But those races don't fill very often. I don't mind trying him in the allowance/optional $15,000 claiming events. If he doesn't fit the condition then I'll put him in for the tag. If he gets claimed, that's part of the game. I don't get too attached to the horses. It's a business. I've claimed dozens of horses and lost horses to the claiming box. It's all part of the game."
LATEST NEWS