REMEMBRANCE: PAJEEN DELP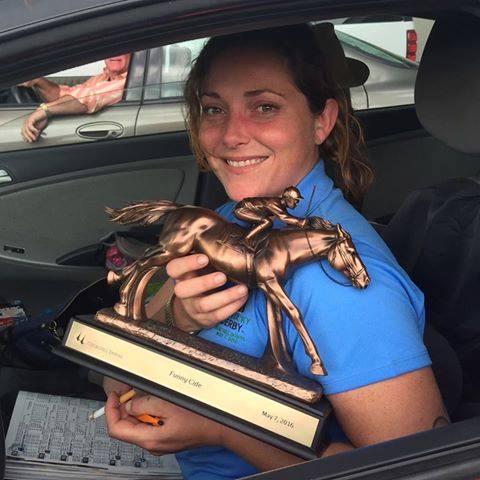 Frank Vespe

March 3, 2021
It's not choosing the right words or constructing sentences that makes writing well difficult.
No, the heart – and hardest part – of good writing is emotional honesty: the willingness to be vulnerable, and to share that vulnerability with others.
I was reminded of that truth when word came via social media the other day that Pajeen Delp had passed away. Delp, just 36, was the daughter of the late Hall of Fame trainer Bud Delp, who died in 2006, and the niece of former trainer Richard Delp, who'd died just days prior to Pajeen.
Pajeen was born into the industry, and she loved the good parts of it fiercely. But increasingly, she found herself out of step with it: an old-school horsewoman in a new-school world.
In 2017, Delp made the decision to leave racing, saying she was "frustrated and disheartened" by what she was seeing in the industry.
She penned for The Racing Biz a column detailing her decision to leave the industry. In "Delp: Why I'm leaving racing," Pajeen recounted a conversation she'd had with her father, Bud.
"A while before my Daddy passed away he said, with tears in his eyes, 'I would hate to be coming into this industry today,'" she wrote of a man she described as "a Hall of Fame trainer that ALWAYS put the horse first."
That, she wrote, was not what she was seeing today. "In the 21 years I have been working in the racing industry, I have noticed a steady decline [in horsemanship], one becoming exponentially worse the past few years," she wrote.
The results: too many people with too little knowledge, experience, or training; too many horses asked to perform when they should have been on stall rest. Too much focus on the quick buck, rather than on the long term.
Her column struck a chord with many thousands of readers. That, I think, was not just because she was an insider telling a racing tale many suspect to be true, but also because of her plainspoken, heartfelt honesty.
In Blue Highways, a book perhaps unexpectedly full of emotional honesty, William Least Heat-Moon writes, "A man who couldn't make things go right could at least go… It was a question of dignity."
And so, when she couldn't make things go right in racing, Pajeen went. In her column, she outlined a four-year plan to open a restaurant. As it happened, four years was all she had left.
Her Facebook page is filled with the shared sadness and memories of scores of family and friends, tributes from those she helped and those she loved and those who knew her best.
I knew her primarily through this sliver of her life. But it's enough that I'll remember a woman who had the courage to turn away from her birthright, the honesty to explain why, and the generosity to share that perspective with others: a gift to the Thoroughbred industry if only it would listen.
LATEST NEWS