Delp: Why I'm leaving racing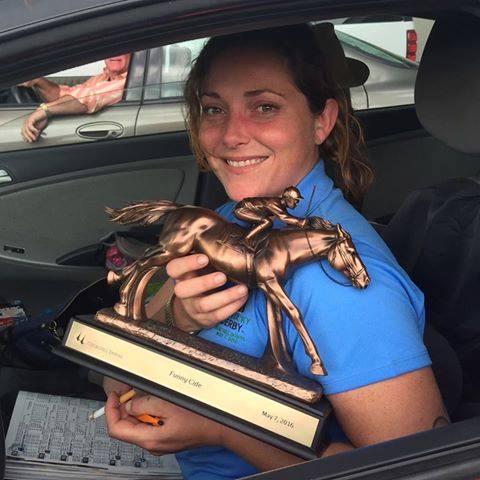 Thirty-seven years after Spectacular Bid won the Kentucky Derby for Bud Delp, a horse for which Pajeen Delp was the assistant trainer won on Kentucky Derby day. Funny Cide's Derby-winning connections shared their trophy with Pajeen.  Photo courtesy of Pajeen Delp.
Pajeen Delp comes by her love of horses and horse racing honestly.  Her father, Grover "Bud" Delp, trained Spectacular Bid, the runner he called "the greatest horse ever to look through a bridle."  Spectacular Bid entered the National Museum of Racing and Hall of Fame in 1982, and Bud Delp followed 20 years later.
Pajeen started in the business at the tender age of 12, walking hots on the Laurel Park backside for her father, who passed away in 2006.  She continued in the business thereafter, training horses with her brother Cleve for a couple of years and also working in numerous other barns.
Now 33, she's reached what she calls "a pivotal decision."  Dispirited by what she sees happening in racing, she has decided to leave the industry.  She explains.
by Pajeen Delp
A while before my Daddy passed away he said, with tears in his eyes, "I would hate to be coming into this industry today." He was born in 1932, served in the Korean War, and was around for the heyday of racing. He trained the greatest race horse to ever look through a bridle and won well over 3,000 races, many of which were graded stakes.
He built a stable of solid claiming, allowance and stake horses. It was ingrained in me as a youth that you treat a nickel claimer with the same care as a graded winner; just like you treat a hotwalker or groom with the same respect you would an owner.
I had the privilege to come up under a Hall of Fame trainer that ALWAYS put the horse first. I was taught to listen to the horses rather than relying on a vet to diagnose. To adjust the training chart if a horse just didn't seem right. That this nervous filly went out first set or she would run her stall and that gelding went out first after the break because he didn't like a cuppy track.
I have had the privilege to work with horsemen that I learned much from, Al Stall and Pam, Wayne Catalano, Tim Hamm. I had my own stable for two years at Delaware and Philly Park, winning at a 24 percent clip with lower level claimers.
I became involved with thoroughbred aftercare and worked with Turning for Home because I was raised that these animals aren't livestock, they are our livelihood.
But after speaking with many close friends who have known me my entire life, understand my passion for horses, and who have been in the business longer than I, I have come to a pivotal decision.
For the past few years I have worked for people whose standard of horsemanship wasn't what I was accustomed to, and I became frustrated and disheartened. It became a pattern, and recently I began studying that pattern. In the 21 years I have been working in the racing industry, I have noticed a steady decline, one becoming exponentially worse the past few years.
My forte is soundness, and diagnosing what's wrong with a horse and how to treat it. I was taught that to train, you have to know how to diagnose. But in recent years, I've seen horses run that weren't sound, that had lung infections – that should not have been in a race but were.
When I started out, when you learned to gallop horses, you had to spend at least a year breaking babies before they let you work a racehorse. Now we see a lot of riders who haven't properly learned their craft; it's not about training horses, it's just about getting the horse around the racetrack.
I'm not singling anyone in particular out. It's throughout the industry; I'm going up from the hired help all the way to the trainers and owners themselves, even the racing office.  People don't listen to the horses anymore. It's, "How much can I get out of this horse before he's done?" instead of taking care of the horse.
As a result I have decided to leave the racing industry and focus instead on a different career path: bartending for now with a four-year plan to open a small restaurant in the future. It is bittersweet; I am sad to leave behind the life I knew but excited for what the future holds. Deep down I hope that if the right client comes along, down the road I can start training again.  But I'm not banking on it, and I plan to make the most of every day and aggressively pursue my new career.
Note: A shorter version of this appeared on Facebook.