FORMER TRAINER RICHARD DELP PASSES
Frank Vespe

February 19, 2021
Richard Wills Delp, a trainer who won more than 1,000 races between 1978 and the end of his career in 2000, passed away February 15. He was 90.
Delp was the older brother of Grover "Bud" Delp, a member of racing's Hall of Fame who most famously saddled the great Spectacular Bid.
Bud Delp entered the Hall of Fame in 2002, and while Richard Delp did not achieve that level of renown, he was a highly successful trainer in his own right. During the years for which Equibase statistics are available, Richard Delp won 1,030 of 6,570 races, his charges amassing more than $12.2 million in career earnings.
He trained a half-dozen graded stakes winners during those years. The best of those runners included multiple graded winner Smart 'N Noble, who won the 1995 Barbara Fritchie, then a Grade 2; Weather Vane, a 17-time winner who earned $724,532 in her career; Smart Alec, a Grade 3 winner who earned over $629,000 in his career; and Willard Scott, who made 105 starts between 1983 and 1989, winning multiple stakes along the way.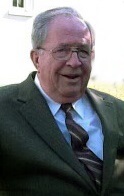 Mr. Delp's top five money earners during that period came for five different owners.
Delp sent out his last starter, Merrily Ryder, to an eighth-place finish December 15, 2000. He had posted the final victory of his career December 2 with Lovesmelovesmenot.
Mr. Delp is survived by his wife, Katherine Gallagher Delp, and was predeceased by first wife Serena Jane Mende Delp. Mr. Delp had five children, four of whom – Edward "Brian" Delp, Mary Jane Ashe, William "Billy" Delp, and Melanie Goss – survive him. A third son, Richard "Gary" Delp, predeceased him.
Mr. Delp was born in Churchville, MD, and lived at the time of his death in Fork, MD. A viewing will be held February 20 at Zellman Funeral Home in Havre de Grace, MD, with funeral services immediately following. The funeral service will be livestreamed.
For more information and to leave condolences, visit the obituary at the Zellman Funeral Home website.
LATEST NEWS