PIMLICO "FIELD TRIP" AIDS RUSSELL RUNNERS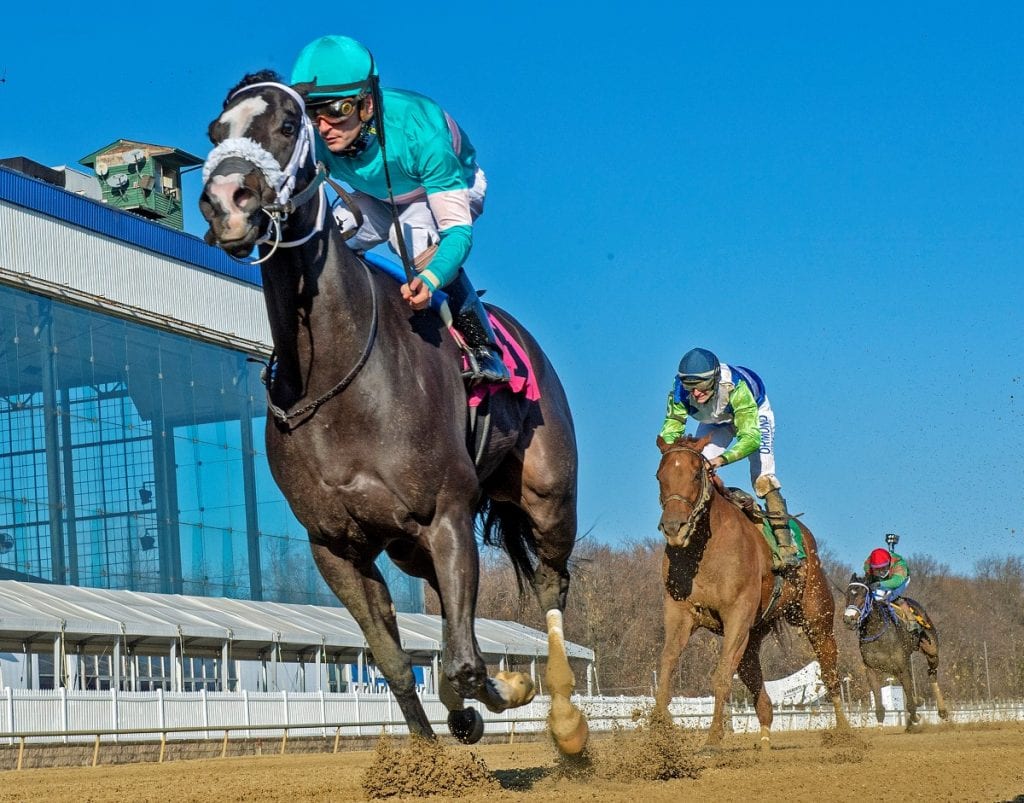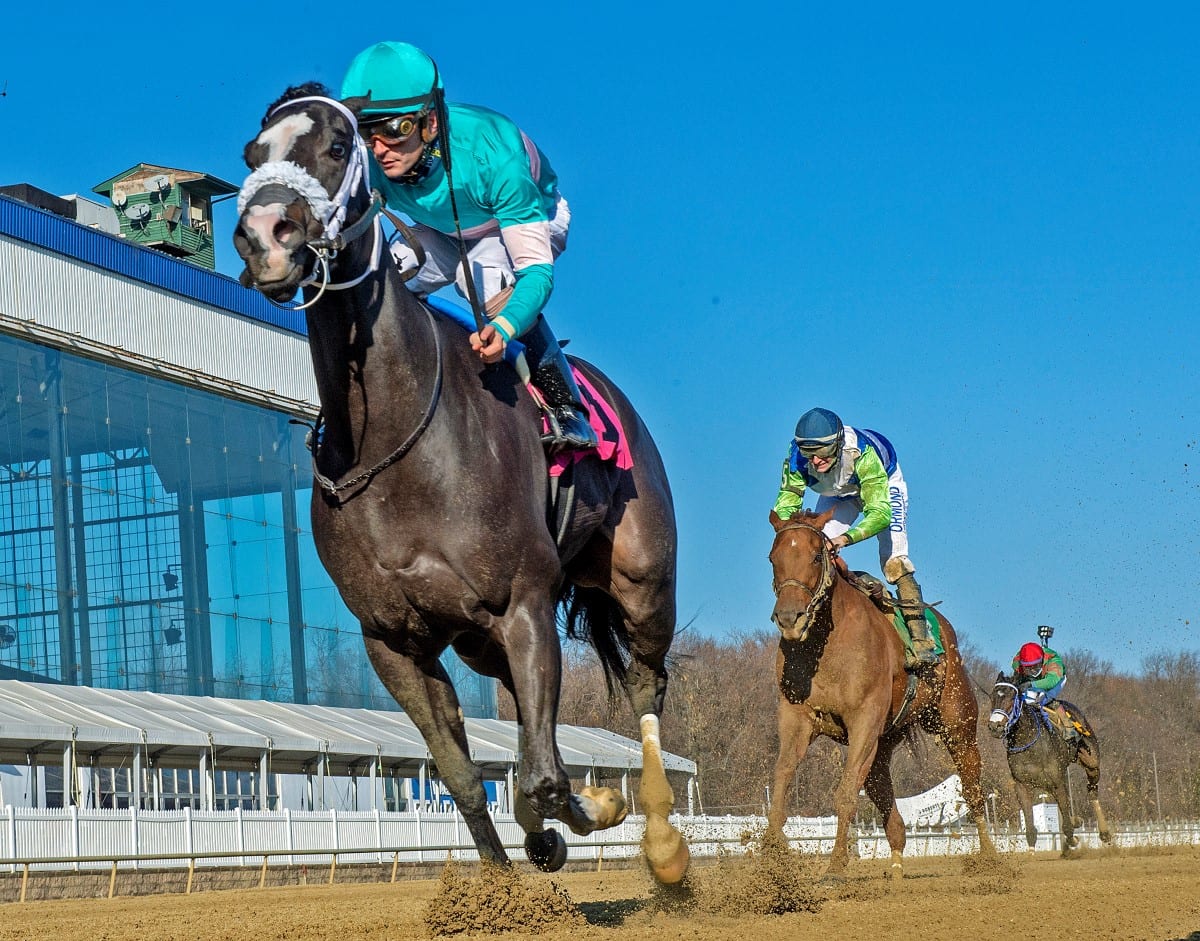 Press Release

February 17, 2021
With two program favorites for Laurel Park's rescheduled Winter Sprintfest program and another horse listed as second choice on the morning line, trainer Brittany Russell took her stakes trio on a mini road trip to keep them sharp for the big day.
Winter Sprintfest, featuring six stakes, two graded, worth $900,000 in purses, was postponed to Feb. 20 due to a winter storm that hit Laurel leading up to the original Feb. 13 date. The weather also caused training over the main track to be suspended over the weekend.
Areas north of Laurel didn't see as much ice and mixed precipitation, so Russell was able to ship Hello Beautiful, Maythehorsebwithu and Little Huntress the 45 minutes to historic Pimlico Race Course Monday, which remained open for training.
"They really enjoyed themselves, actually. It's quiet and it was an easy enough little deal," Russell said. "My assistant went with them. It was good. They all seemed like they were pleased with themselves when they came home, so that was good.
"Hopefully we can just give them a few spirited gallops during the week and just keep them happy and doing enough," she added. "Shoot, if I have to put them on a truck to go to Pimlico again I'm not going to hesitate to do that. It's just a little field trip."
Russell's main stable is at Laurel with additional horses at Pimlico and, for the first time, at Palm Meadows, Gulfstream Park's satellite training facility in Palm Beach County, Florida. Hello Beautiful is a five-time stakes winner, the last three of them in succession heading into the $250,000 Runhappy Barbara Fritchie (G3), where she is tops at 8-5 in a field of eight.
A "satisfying" ride with Hello Beautiful
Street Lute looking to keep good roll going
Maythehorsebwithu is the 2-1 narrow choice over multiple stakes winner Kenny Had a Notion (5-2) in the $100,000 Miracle Wood for 3-year-olds. Little Huntress, a 14-length maiden winner in her second start Dec. 27 at Laurel, is listed at 3-1 for her sophomore and stakes debut in the $100,000 Wide Country for 3-year-old fillies. Five-time stakes winner Street Lute is favored at 2-1.
"They're all actually really good. Hello Beautiful [was] coming back in four weeks so, to be fair, I didn't mind an extra week. She likes a little bit of time. They're all pretty good-training horses and as long as they're galloping they get enough out of it," Russell said. "I always feel a little bit of pressure because I want all my horses to run well but especially horses like that.
"We want them to be good. You want to win stakes. You want them to step up and be better horses. It's exciting. To be honest, when the day comes I'm just kind of ready for it to be over and know the result," she added. "It can be mentally draining but it's nice that those are the kinds of horses that we're worrying about. That's what it comes down to."
Russell would have had another major Winter Sprintfest contender in Whereshetoldmetogo, back-to-back winner of the Frank Whiteley and Dave's Friend to cap 2020 who was nominated to the $250,000 General George (G3). Instead, he is being pointed to make his 6-year-old debut in the $75,000 Not For Love for Maryland-bred/sired horses March 13 at Laurel.
"He just needed a little bit more time. He's fine, but I think we can have him a little better for the Maryland-bred race," Russell said. "We decided to make that the goal. I missed a little bit of time with him, no big deal, but it was just one of those things where it looked like the better way to go with him."
Russell has five wins and has finished in the top three with 13 of 18 starters (72 percent) at Laurel's winter meet, which runs Jan. 1 through March 28. She reached a career high with 46 wins and $1.6 million in purse earnings in 2020, challenging for leading trainer honors at the calendar year-ending fall stand.
"I think we stay so busy and we're so humble about it. I still worry about the $5,000 horses," Russell said. "[Stakes horses] aren't the only ones you're worrying about, so it kind of keeps you grounded."
The Laurel area is bracing for another hit from Mother Nature. A winter storm warning has been issued from 3 a.m. Thursday to 6 a.m. Friday with heavy snow, sleet and freezing rain in the forecast, which is calling for 3 to 6 inches of snow.
"It is what it is," Russell said. "Everybody's kind of in the same boat. You just keep them happy until they get to run."
It's been a more hectic month than usual for Russell, who balances work with being a wife to Laurel rider Sheldon Russell and mother of 18-month-old daughter, Edy. On Feb. 9, Russell had 3-year-old Hello Hot Rod sell for $335,000 at Fasig-Tipton's winter auction in Kentucky, just 10 days after the colt's victory in the Jimmy Winkfield at Aqueduct.
Russell and Dark Horse Racing purchased Hello Hot Rod for $10,000 as a yearling in October 2019. A son of leading Mid-Atlantic freshman sire Mosler, he won his last three starts including maiden and allowance victories at Laurel to cap his juvenile season. New owner George Sharp has many of his horses with trainer Shawn Davis, based at Turf Paradise, which hosts the Turf Paradise Derby March 12.
Hello Hot Rod is the younger half-brother to Hello Beautiful, herself a $6,500 purchase by Russell at Fasig-Tipton's Midlantic December 2018 mixed sale now owned by Madaket Stables, Albert Frassetto, Mark Parkinson, K-Mac Stables and Magic City Stables.
"It's pretty exciting. Bittersweet, though," Russell said of Hello Hot Rod's sale. "But, we just have to be happy that he sold well and maybe we can pick another one up. Maybe the third time's the charm. Maybe the third one will be the best."
LATEST NEWS