LAUREL PARK PICKS AND PONDERINGS FEB. 15, 2021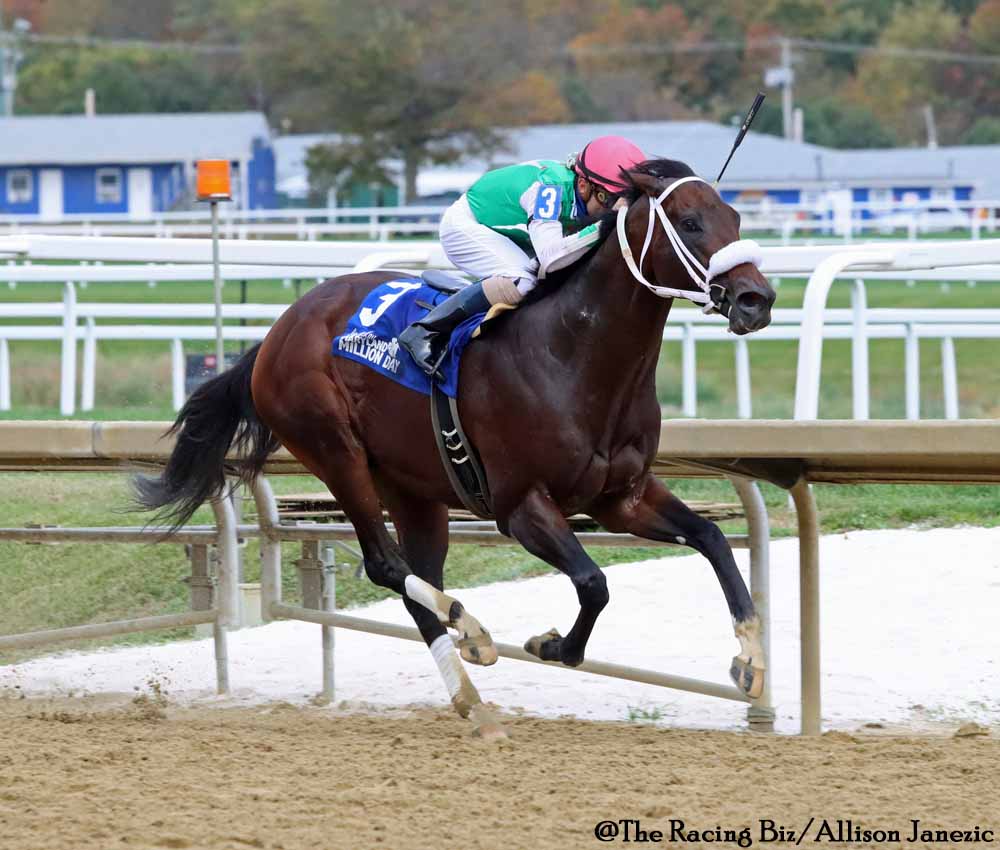 RACE 1: CLAIMING $25,000, 3-YEAR-OLDS, 5 1/2 FURLONGS
5-1-2-3
#5 Stretch the Truth (8/5): After a few near-misses, he broke his maiden last out after going gate-to-wire. The far outside post isn't ideal for a horse with his running style, but he still has great early pace figures, and looks fast enough early to outrun the others.
#1 Passage of Lines (5/2): The only one in the race to have won against winners. He came from off a fast pace to win going away last out. There's a chance he'll get caught behind a loose leader, but if the race falls apart in front of him, he'll be right there to pick up the pieces.
#2 Cohodes (6/1): The main threat to the front-running supremacy of Stretch the Truth. He set the pace last out, and got caught by Passage of Lines in the stretch. This one's best hope is to gun it right from the gate, and try to keep Stretch the Truth wide.
RACE 2: MAIDEN CLAIMING $10,000, 4-YEAR-OLDS AND 5-YEAR-OLDS, FILLIES AND MARES, 1 1/16 MILES
1-3-4-5
#1 Moonlight Miss (8/5): Stretched out to a mile last out, and ran on well to finish second. In fact, her two best brisnet dirt figures have come when going a mile. Will look to rally from mid-pack if the rest of these can't handle a longer distance.
#3 Scarlet's Song (7/5): She's an unknown quantity at this distance, making her first start beyond six furlongs here. She raced well first off the layoff last out, running evenly in the stretch for third. Gets a big weight break compared to some of her rivals, and is pretty lightly-raced.
#4 English Charmer (12/1): Showed some speed last out going two turns at Parx, but got caught in a pace battle and backed up. Here, she'll try to sneak away by herself. Could be tough to catch if she pulls it off.
RACE 3: CLAIMING $40,000, 3-YEAR-OLDS, 1 MILE
5-3-2-1
#5 Nobody Knew (1/2): Not much fun in picking a 1/2 shot on top, but this one looks five lengths faster than his rivals. Chased a solid n/w1x field last out and ended up third. This is a much softer group.
#3 Wicked Finn (8/1): Runs for the first time since his maiden-breaking score at Presque Isle Downs in late October. It was an impressive win, as he rated in mid-pack and drew off, to earn a career-high figure of 75. That's still ten points below the average of Nobody Knew, but it's an impressive number compared to the rest. Might need a race first off the layoff, but one to keep an eye on.
#2 Jack Got Back (6/1): Recovered very well after a bad start last out, rallying frantically and missing by less than a length. He improved sharply in that race, to a lifetime-top figure of 78. He's proven at this distance, as he broke his maiden going a mile in November before briefly going on the shelf.
RACE 4: MAIDEN CLAIMING $16,000, 3-YEAR-OLDS, 7 FURLONGS
4-5-1-3
#4 Gosh (3/1): His figure more than doubled in his last start, as he finished third while narrowly missing second with a sharp rally. Should keep moving forward in his third career start.
#5 Lucian (7/2): Comes out of the same race as Gosh. While this one also earned a lifetime top figure in that race, he wasn't quite as impressive, as he made what looked like a strong middle move, only to flatten out. Still, it was the best race he's ever run; he was very dull in his other three races.
#1 Artillery (5/1): Another one who improved a lot last out. He picked up the pieces in a 1 1/8 mile race to finish third, after struggling in sprints. Cutting back in distance here, it remains to be seen if he can be as effective going one turn.
RACE 5: CLAIMING $5,000, 4-YEAR-OLDS AND UP, FILLIES AND MARES, 6 FURLONGS
8-2-6-9
#8 Swirrlie Shirlie (3/1): She's once again found her best stride, with easy wins in her last two races at this level. She went gate-to-wire two back, then stalked the pace last out, showing that she's multi-dimensional. Goes first off the claim for Michael Gorham, who hits at 22% with that angle. Should be prominent on the pace.
#2 I'm So Munny (7/2): Another one coming off a win. She was gutsy in victory last out, battling on the pace and drawing off for a four-length victory. This time, she has a good inside draw and lots of early speed. She's going to be able to protect position and get the kind of trip she wants.
#6 Dat Deres Gold (8/1): Broke awkwardly last out, rushed up, and faded after setting a loose pace. Two back, when she broke normally, she fought gamely and held off I'm So Munny in the stretch. The start will be the key.
RACE 6: MAIDEN CLAIMING $25,000, 3-YEAR-OLDS, FILLIES, 1 MILE
3-4-2-5
#3 Long Distance Love (7/2): Sat the trip off the pace last out, and although she faded, she still earned a great figure of 71. The horse she was second to, Keepyourskateson, came back to handily beat a field at this level last Saturday.
#4 Nicolar (7/2): Her figure has improved in her last four races, peaking at a 67 last out. Drops back to the $25,000 level, after sitting the trip in a $40,000 race and failing to capitalize.
#5 Fearless Lassie (3/1): Battled on the pace, and held in well before tiring in the last eighth. That was the first time she's really shown early speed; it would serve her well to do it again.
RACE 7: ALLOWANCE (N/W1X), 4-YEAR-OLDS AND UP, FILLIES AND MARES, MD-BRED, 5 1/2 FURLONGS
2-1-4-6
#2 Always Talking (9/2): Parx invader has blazing speed from the inside. That speed has earned her two wins in her last six races, including a big figure of 89 last out. Should be very tough to catch if she's allowed her usual trip.
#1 Friend Me Charlie (6/1): She'll try her best to run with Always Talking early on. She ran well in her first start off a long layoff last out, battling on the pace and fading late. With a race under her belt, she should improve this time.
#4 Combat Queen (7/2): Improved in her second start off the layoff, making a strong move into a fast pace and getting up for third. The aforementioned two both have early speed; if they burn each other out, this one will be there to pounce.
RACE 8: ALLOWANCE OPTIONAL CLAIMING (N/W3X), 4-YEAR-OLDS AND UP, 6 FURLONGS
1-3-4-5
#1 Stroll Smokin (5/2): Cleared his n/w2x condition in impressive style two starts aback, then lost a game battle with Always Sunshine last out. He'll show speed from the inside once again, but will have to encounter that rival once again.
#3 Always Sunshine (2/1): Speaking of Always Sunshine, his last start was his first in more than a year. He rated off Stroll Smokin last out, then wore him down in the stretch. Should improve second off the layoff, and if he gets a similar trip, he may prove very tough.
#4 Nomo Ron (7/2): Gets a class test here. He's been very good against starter optional claiming types recently. Won a race against n/w2x horses last fall, but he got the job done there while earning an 88. He'll have to run a few points faster in this spot to win. Worth a look for curiosity's sake.
RACE 9: CLAIMING $16,000 (N/W2L), 4-YEAR-OLDS AND UP, 5 1/2 FURLONGS
6-4-5-3
#6 More Twirl (7/2): Earned a big figure of 77 when breaking his maiden two races back. Last out, he earned another strong number of 76, but ran on only evenly. Can he step up second time against winners?
#4 Commanding General (3/1): Anthony Farrior claimed him out of his last race, where he just missed after a wide rally. Gets a major upgrade in the saddle to Jevian Toledo for his second start off the layoff.
#5 Garrison's Charge (7/5): He's lightly-raced, has run some big figures in the 80s, and has never lost at this level. The downside? he hasn't raced in almost a year. Treading lightly at low odds here.
LATEST NEWS