LAUREL PARK PICKS AND PONDERINGS FEB. 14, 2021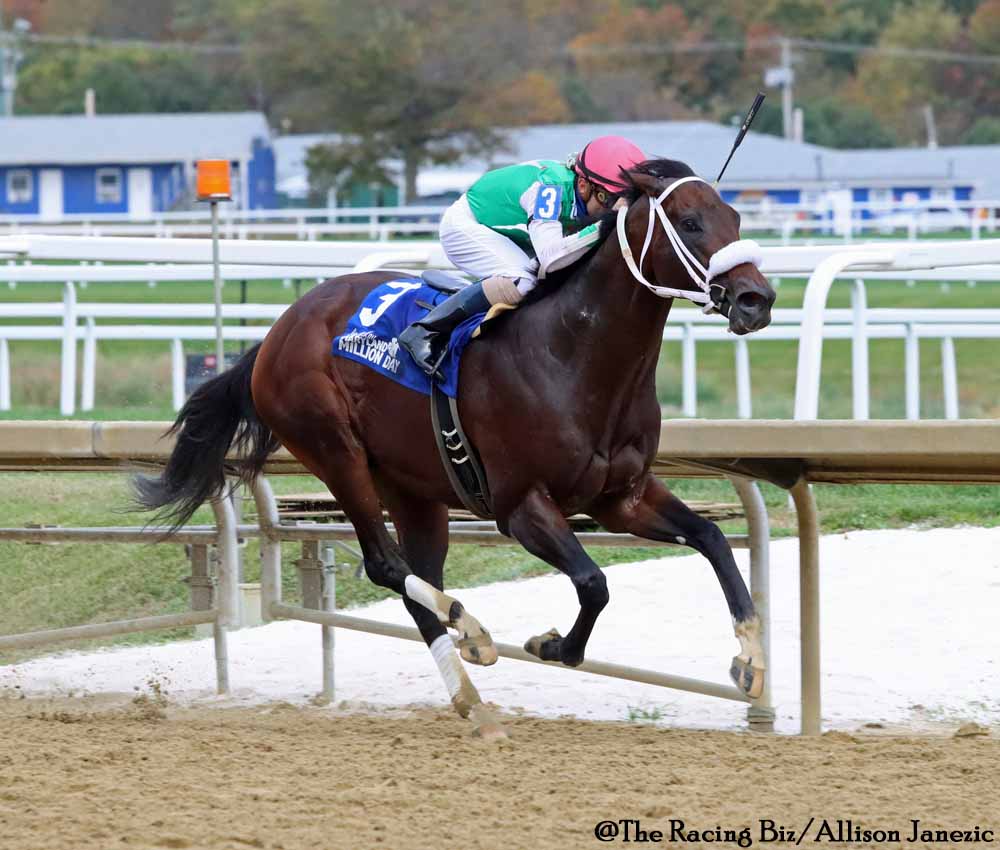 RACE 1: MAIDEN CLAIMING $16,000, 4-YEAR-OLDS AND 5-YEAR-OLDS, 7 FURLONGS
5-7-6-3
#5 Start the Parade (4/5): Claudio Gonzalez claimed him for $25,000 last out, now he drops him in for $16,000. He's lightly-raced, and holds a gigantic brisnet figure edge over these. Looms very large.
#7 Distant Thunder (9/2): Opened up a long lead last out, and almost pulled off the wire job before getting fatigued in the last eighth. Gets a big weight break in here, and has the most early speed of anyone in the field. Charlie Marquez will likely employ the same strategy as last time.
#6 Despite Odds (5/1): He's run at least a 67 in three of his last four races, right about the range he'll need to get to in order to be a contender. He was claimed for $10,000 by Saul Ramirez back in the fall, who hasn't had him in this low since. He's improved quite a bit since then. Looking for a solid effort from him here.
RACE 2: STARTER OPTIONAL CLAIMING $25,000, 4-YEAR-OLDS AND UP, 1 MILE
4-1A-3-5
#4 Beyond the Victory (8/5): He has speed for days, and the one-turn mile is ideal for a horse like that. He won against better three back in gate-to-wire style, and almost did it last out, before getting caught by Confessor. Hugh McMahon claimed him out of that race, and gave him a brief freshening.
#1A Weather Wiz (7/2): One of a pair of Pennsylvania shippers for Jamie Ness. He got the trip last out, but couldn't outkick the winner, and ended up second. He's been knocking on the door against similar, but his stalking moves tend to fall short. A good exotics candidate.
#3 Cerulean Springs (3/1): Drops back to the starter optional claiming level, after a few tries against significantly better. This closer has enjoyed success against these types at the one-turn mile.
RACE 3: CLAIMING $10,000 (N/W3L), 4-YEAR-OLDS AND UP, 1 MILE
6-1-5-8
#6 Blue Sky Painter (3/1): He's quickly moving up his conditions, having crushed a n/w2L field last out. He's improved his figure in each of his last five races, and John Robb is sharp second off the claim. The long stretch does favors to his mid-pack running style.
#1 Korczak (4/1): With the exception of a poor effort three back, he's been running figures in the 70s and low 80s in his last few races. Two back was probably his best effort, as he showed bountiful early speed and held on to third. If he's used aggressively again, he might be tough.
#8 Ghost on a Mission (5/1): Had a similar profile going into his last race as Blue Sky Painter, with wins in two of his last three starts. However, he was very dull after racing wide. Henry Walters claimed him out of that last race, and has given him a brief freshening. Looks for a rebound.
RACE 4: ALLOWANCE (N/W1X), 4-YEAR-OLDS AND UP, 6 FURLONGS
7-4-3-1
#7 Kingston Pike (3/1): Earned a career-best figure of 92 last out, sitting a great trip and drawing off. That was the first time in recent races he's shown a serious closing punch. He'll look to employ it again.
#4 Bourbon Street (9/2): Goes first off the claim for Anthony Farrior, who, while usually sharp, has been struggling at the meet. Still, this guy is going third off the layoff and has lots of early speed.
#3 Abuelo Paps (5/2): Keeps coming close at the level, but can't finish the job. He's been rating in mid-pack and hitting the board, but doesn't have a win in any of his recent lines. Profiles as a strong underneath contender.
RACE 5: MAIDEN CLAIMING $10,000, 4-YEAR-OLDS AND 5-YEAR-OLDS, 7 FURLONGS
11-9-1-7
#11 To the Front (9/2): Races third off the layoff for Ferris Allen, after closing well in his first two starts off an almost five-month break. He's lightly-raced, and his breeding suggests that he might want to go longer. This is his first start as far as seven furlongs.
#9 Boston Billy (10/1): Another one going third off the layoff. He's run figures as high as 70 earlier in his career, but has made only mild ground in his last few. Still, he's stretching out, and he's raced somewhat better while going longer.
#1 Tale of Dixie (5/1): Hey, guess what? He's also going third off a break! This one's steadily improved in each of his three starts, including a strong-closing third last out. However, he's ridden by Jonathan Joyce, who is ice-cold this year. If he was ridden by someone else, I might make him the top pick.
RACE 6: CLAIMING $10,000 (N/W2L), 4-YEAR-OLDS AND UP, FILLIES AND MARES, 6 FURLONGS
2-1-3-7
#2 Wings of Fire (3/1): New York invader looks for a rebound after a dull try in her first start against winners. In her first start, she broke her maiden for $20,000, earning a very impressive figure of 76. A repeat of that race wins this one.
#1 Scarlet Tanager (6/1): The perfect kind of horse to play underneath someone like Wings of Fire in an exacta. She's hit the board in her last three races, without a win, all against similar horses. Should show speed from the inside.
#3 Scamper Along (4/1): She's closed well in each of her two starts against winners, with strong figures each time. Saul Ramirez claimed her out of her last race; we'll see how she responds in her first start for the new barn.
RACE 7: ALLOWANCE OPTIONAL CLAIMING (N/W2X), 4-YEAR-OLDS AND UP, 1 1/16 MILES
1-6-5-4
#1 McElmore Avenue (5/2): Goes for his fifth win in a row here. He encountered some trouble in his last start, but still beat a solid n/w1x field going away. Has early speed and the inside post; that could be a tough combination.
#6 Dudley Square (3/1): Cleared his n/w1x condition last out, with a career-best figure of 94. He rated off a strong tempo, then won a stretch battle with Gentleman Joe for the win. He'll have to chase down McElmore Avenue here, no easy task, but he should at least get clear of the rest.
#5 Plot the Dots (9/2): Looked very tough on paper last out, but Dixie Drawl, who we'll see in the rescheduled John B. Campbell Stakes, blew him away. There's no one here as tough as him, and Plot the Dots was four lengths clear of the others. He hasn't shown much early speed in his last few; being more forwardly placed would help the cause.
RACE 8: ALLOWANCE (N/W1X), 4-YEAR-OLDS AND UP, MD-BRED, 5 1/2 FURLONGS
5-1-6-2
#5 Mice and Men (9/2): Goes third off a long break for Dale Capuano. He was a fast-closing fourth after encountering some traffic trouble last out. He improved his figure six points in that race, up to an 85.
#1 Whiskey and You (5/1): Got outkicked by Mice and Men in his last race, but was in good form prior to that disappointing try. He's been a stone-cold closer in his last few, and would like a fast pace in front of him.
#6 Stone Courageous (7/2): He steadily ran figures in the low 90s in the fall, but has declined a bit in his last few starts. Faces a softer field than he did last time; an ideal place for a rebound.
RACE 9: CLAIMING $16,000, 3-YEAR-OLDS, 6 FURLONGS
4-7-5-6
#4 Warm Sunny Breeze (3/1): Almost wired the field last out, but got caught in the last few strides. John Robb took him out of that race, and puts Charlie Marquez aboard for the first time. Expect Marquez to be aggressive once again.
#7 Sam and Sy (8/5): Raced for Brad Cox in New York as a 2-year-old, now switches to the Brittany Russell barn to begin his 3-year-old campaign. His first two races were impressive, but he took a bit of a decline last out after a wide trip. The blinkers come off here.
#5 Gaming Jack (7/2): A winner of two of his last three, including a score at this level last out. He'll sit in mid-pack and try to chase down his stablemate.
LATEST NEWS