CHARLES TOWN PICKS AND ANALYSIS: FEBRUARY 13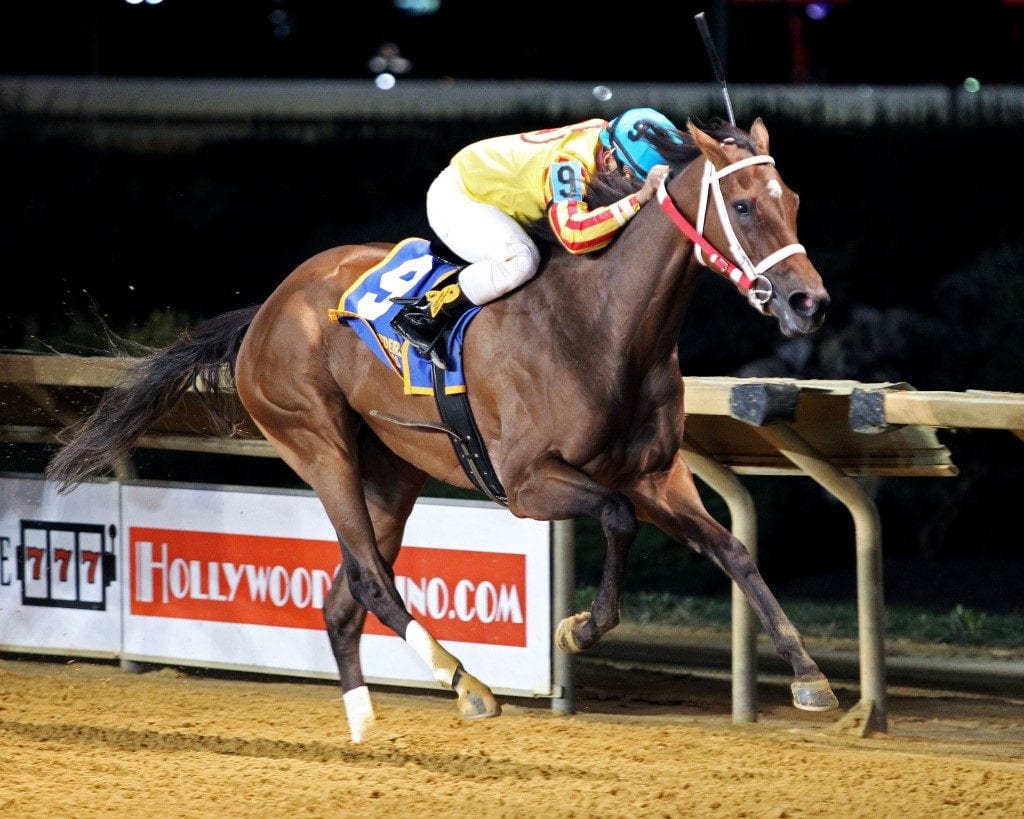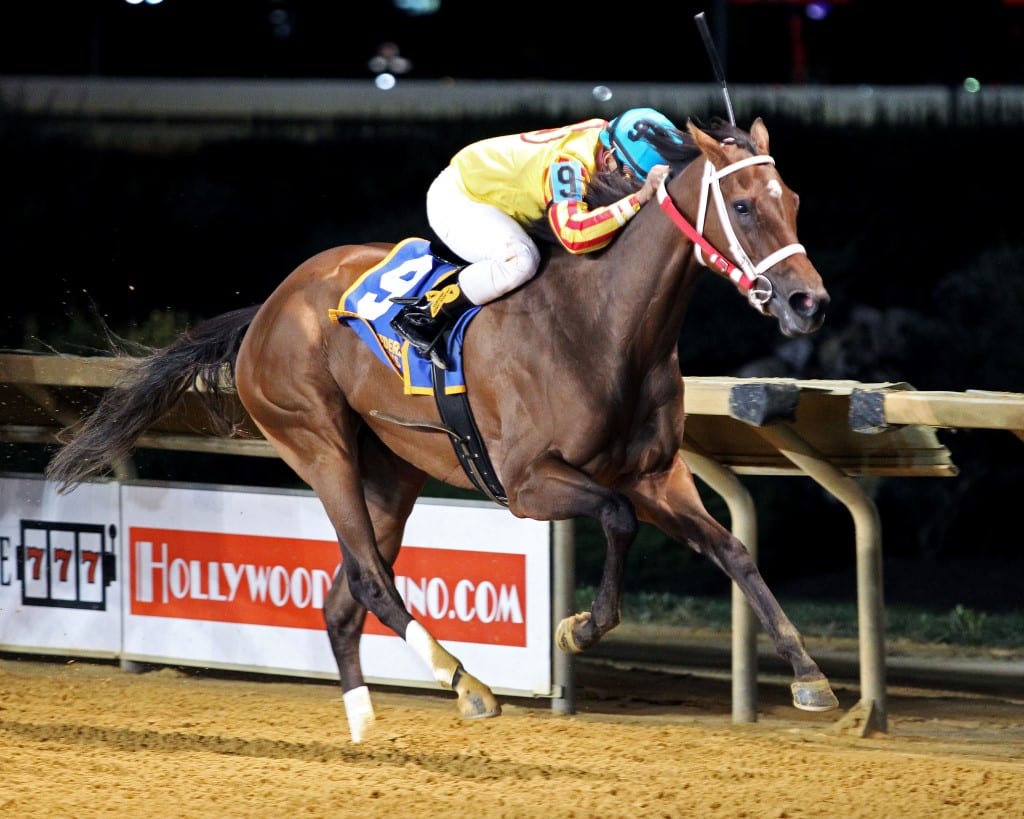 RACE 1
5-7-3-2
In this one-turn event for $5,000 claimers, #5 B.J's Big Boy (7-2) makes seasonal debut but sports two wins and three second-place finishes from five starts for trainer Tim Grams. #7 Be Be Bop (6-5) already tallied in his seasonal debut and looms the odds-on choice in a repeat bid with favorable outside draw for trainer Anthony Farrior. #3 Chestnut Lime (8-1) was nondescript sixth last out but won three starts back for trainer Ronney Brown and merits an upset chance here. #2 Derek's Boy (9-2) gives Farrior an outside chance to run one-two here.
RACE 2
5-7-6-1
In a rare, three-turn maiden $5,000 claiming event, #5 Flicker's Princess (5-2) has been second twice and third twice in seven previous starts and may have finally found winning spot for trainer Ronney Brown. #7 Rich Image (3-1) has been second once and third twice in seven outings and looms a threat here for trainer Jeff Runco. #6 Molly Bolts (9-5) has finished second once and third once in seven tries for trainer Ed Schottroffe and looms the tepid choice in this spot. #1 Katie Faloona (10-1) has been second three times and third on four occasions in 28 career tries but seeks long overdue diploma for trainer Donovan Raymond.
RACE 3
1-6-2-5
In this intriguing two-turn allowance for older runners, #1 Annamated Moon (6-5) posted impressive score in local debut last out for trainer Flint Stites and looms the solid choice in this repeat bid. #6 Final Say (3-1) has won three straight and four of five local tries for Farrior and arrives in peak form here. #2 Hypothesis (4-1) won allowance event in season finale last November and seeks to regain stakes-winning form for trainer Crystal Pickett. #5 Fiber And Emily (7-2) sports solid 5-4-8 slate from 25 career tries for trainer William Earl Atkins and seeks first score in third seasonal try.
RACE 4
5-1-4-7
In this two-turn event for $4,000 claimers, #5 Rocket Road (3-1) seeks second straight to start the year and 11th career score for trainer Kristy Gazzier. #1 Wasjuanowpaul (5-2) finished solid third in local debut and looms a threat in this spot for trainer Kevin Joy. #4 Stormy Leo (2-1) was second last out and appears the likely choice here for trainer Joan Reynolds. #7 Expect Drama (10-1) makes third seasonal start for trainer and former jockey Kelly Lynn Deiter and merits upset chance.
RACE 5
6-3-10-7
In this two-turn event for $4,000 claiming fillies and mares, #6 Brian's Avenue (9-2) finished fourth in his seasonal debut off three-month respite and should benefit from that outing for trainer David Walters. #3 Astro Rider (6-1) was also fourth in last outing for trainer John Carlisle and merits upset chance in this spot. #10 Bold Valor (7-2) saw two-race win streak come to a halt when seventh last out but could atone here for trainer Ronney Brown. #7 Viper (8-1) was also fourth in latest outing and could improve off that effort here for Farrior.
RACE 6
2-8-9-4
In another three-turn event for claimers, #2 Goofy Boy (5-2) graduated against maiden claimers last out and seeks repeat score for owner-trainer Michael Sandoval. #8 Chesapeake Charlie (3-1) was solid second last out for Schottroffe and looms the main threat to the choice here. #9 Auts Revolution (6-1) was fourth last out and makes fourth start since graduating against maiden claimers one year ago for trainer James Dean Locklear. #4 Jacky's Man (4-1) was good fourth last out for owner-trainer Lenworth Sewell and could improve here.
RACE 7
2-4-8-7
In another two-turn allowance for older runners, #2 Golden Appeal (5-2) rallied from well off the pace to finish solid third in Jan. 14 allowance and gets the nod in this spot for owner-trainer Manolo Mangual. #4 Morgan County was sharp second in same Jan. 14 allowance and will be the one to catch turning for home here for trainer Vernon Greaves. #8 Doctor McCoy has been fifth and sixth in two starts since graduating against maiden special weight foes and will have to improve for trainer James W. Casey. #7 Bop Marley (6-1) has been second twice in last three tries versus claimers and steps back into allowance company for trainer Javier Contreras.
RACE 8
11-10-6-8
In the Saturday night finale, a one-turn maiden $5,000 claiming event, #11 Confusion (5-1) could finally graduate in 26th attempt if he draws in off the also eligible list for owner-trainer Maria Romero. #10 Button Box (12-1) makes local debut and seeks to end 0-for-27 drought for trainer Crystal Richison. #6 Mister Carson (7-5) was second two starts back for trainer David Walters and looms the odds-on choice in this spot. #8 Brother Skye (12-1) is one of only two three-year-olds in this field and looks to garner diploma in seventh start for owner Glenn Harrison of Mean Bean fame.
LATEST NEWS