LAUREL PARK PICKS AND PONDERINGS JAN. 16, 2021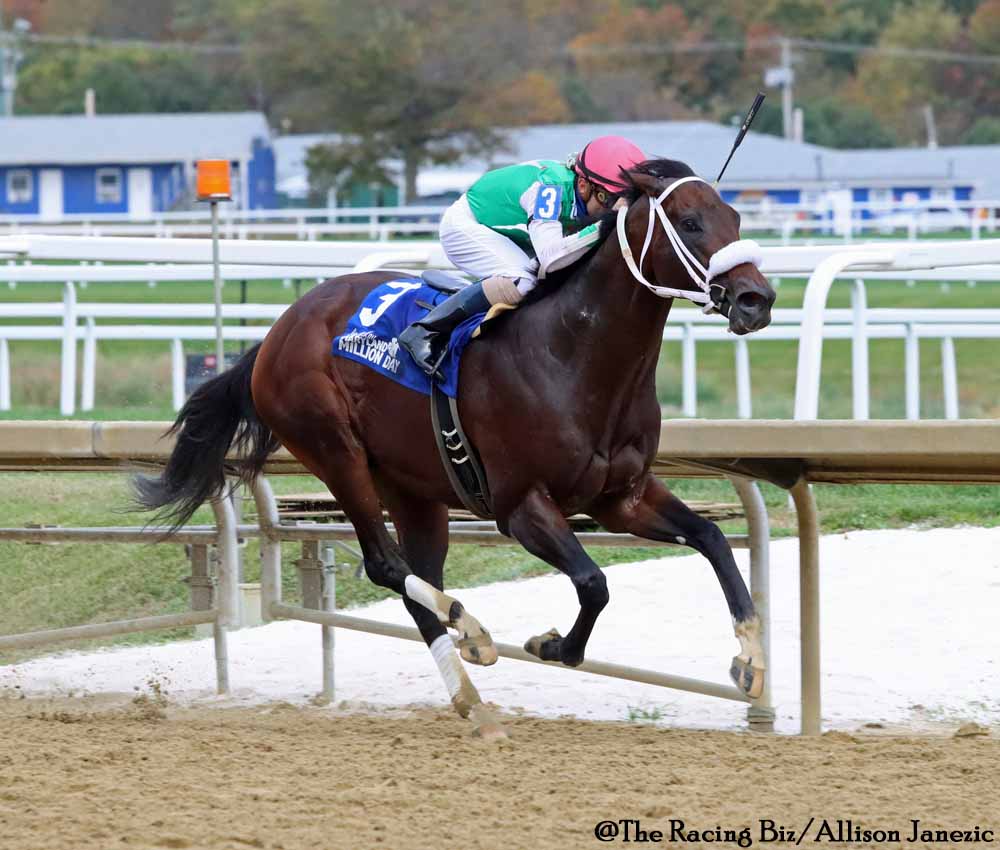 RACE 1: MAIDEN CLAIMING $40,000, 4-YEAR-OLDS AND 5-YEAR-OLDS, 1 1/16 MILES
6-5-1-3
#6 Galilean Moon (3/1): Didn't stand much of a chance last out, when he fell behind a loose leader who drew off to an easy win. He rallied over the others to lose a photo for second. This race doesn't have much speed in it, so I don't think it's as likely someone will escape like last time. As long as he gets even a moderate pace to run at, his closing kick should be enough.
#5 Ratify (8/5): Taking a short price on a horse who has finished second in each of their last four is fraught with peril. He edged Galilean Moon in that photo two back, but had a four-length jump start on him. Shipped up to Aqueduct last out and ran a similar race, now comes back here. He has the brisnet figures to be competitive, but can he finally get over the hump?
#1 Johng (4/1): He's run three figures in the 70s in his career; all of them have come in his last three. If he takes another step forward, he could surprise. 
RACE 2: CLAIMING $5,000, 4-YEAR-OLDS AND UP, FILLIES AND MARES, 1 ⅛ MILES
6-1-4-8
#6 Misdriven (7/2): After a strong run at Parx, Jamie Ness brought this one over here for her last start. She was fanned wide in the stretch, and fell flat. Even though it was a visually unimpressive race, her brisnet figure of 75 is the best last-out figure in the field. It looks as if she does her best running at two turns, and that's what she's getting here.
#1 Calypso Ghost (4/1): Got caught in a speed duel last out, and backed up badly. She runs her best races when allowed to relax and rate off the pace; it looks as if she got a tad excited last time. Alex Crispin gets the mount for the first time, and he should give her a good trip on the rail.
#4 Wowwhatabrat (7/5): A stablemate of Misdriven, and the more prominent Ness trainee in the race. She always goes out and sets the pace, but has backpedaled in most of her recent races. Those who want her at low odds are betting that everyone else will leave her alone, and not be able to outkick her late. That's not an unreasonable proposition, but I don't know if I'd want low odds on it.
RACE 3: GEISHA STAKES, 4-YEAR-OLDS AND UP, FILLES AND MARES, MD-BRED, 1 MILE
2-6-4-3
#2 Gale (6/5): She went off as the favorite in the grade 3 Comely Stakes at Aqueduct in her last start, off a dominant win against Maryland-breds. However, she had a terrible break, lost early position, had to be rushed up, and didn't stand a chance. With a clean start here, she'll leave these reeling.
#6 Coconut Cake (7/2): It's felt like she's been on the brink of a breakthrough win for a while. She cleared a key condition in her last start, drawing off to beat a n/w2x field last out. That was the first time she's won a dirt race going away; most of the time, she has to fight for her victories. She can't beat Gale if that one runs her race, but she can close for second.
#4 Kiss the Girl (9/2): Took another big step forward in her third start off the layoff, improving to an 85 in a n/w2x allowance last out. The sharp Fille d'Esprit outkicked her, leaving this one a non-threatening third. Still, it was a good figure, and it looks like she's on the improve. Worth respecting.
RACE 4: FIRE PLUG STAKES, 4-YEAR-OLDS AND UP, 6 FURLONGS
5-2-1-7
#5 Share the Ride (9/5): Perhaps the classiest member of this tough field. He smashed a tough allowance field at Parx two races back, then went up to Aqueduct and won the Fall Highweight Handicap. In both of those wins, he's shown the ability to rate, which will come in handy in a field loaded with speed. He also has far and away the best late pace figures, so if the race falls apart, he's going to roll.
#2 Laki (2/1): Rated off the pace like he was supposed to in his last start, but lacked a place to go, and wasn't able to keep up with the strong rally of Whereshetoldmetogo. It's no secret that he likes this track, and like Share the Ride, he'll get a fast pace to close into. Will look to avoid trouble here.
#1 Wendell Fong (6/1): If you toss out his poor race at Belmont Park two back, when he was eased up in the mud. Outside of that start, he's held his own against some salty rivals this year, and ran on well when finishing second behind Taco Supream last out. He's another one who should be heard from late.
RACE 5: JENNINGS STAKES, 4-YEAR-OLDS AND UP, MD-BRED, 1 MILE
2-9-6-3
#2 My Friends Beer (15/1): I've been picking favorites in the stakes so far; let's try a longshot. He got stuck behind a dawdling pace in his last start, his first in almost two months, but he still closed well and got third. Prior to that, he won two in a row, with improving figures each time. Looking for him to once again move forward and put in a strong closing kick. It's a wide-open field; he's worth a shot at a price.
#9 Galerio (6/1): This is the litmus test. He tore his way through the allowance ranks both here and at Parx, winning eight times from twelve starts of the year. Dale Bennett claimed him from Claudio Gonzalez out of his last race, an impressive win against n/w2x allowance company. He's run lifetime top figures in each of his last two races, peaking at a 98 last out. I'm very interested to see how he does against stakes company, and for a new barn.
#6 Air Token (5/1): There isn't a lot of speed in here, but this guy has some. He won the Concern Stakes in a 16/1 upset three races back, then dropped in class and won a starter optional claiming race gate-to-wire. His only serious threats on the lead are Galerio, who's breaking from his outside, and Alwaysmining, who hasn't raced since July. If Horacio Karamanos uses him early, he could work out a very favorable trip.
RACE 6: WHAT A SUMMER STAKES, 4-YEAR-OLDS AND UP, FILLIES AND MARES, 6 FURLONGS
3-9-1-2
#3 Hello Beautiful (1/1): Not only is she a perfect 6-for-6 on the Laurel main track, she never looked like a loser for any moment during those six races. Handily defeated the field in the Safely Kept Stakes last out, for her first stakes win in a non-Maryland-bred race. If she wins like she's supposed to, she'll probably be the favorite in the Barbara Fritchie Stakes.
#9 Bridlewood Cat (12/1): She's shown a tendency to melt late in the race, and her last start, in the Garland of Roses Stakes at Aqueduct, was no exception. Still, she earned a strong figure of 88 in that race, in what was her first start off the bench. When she ran in a stakes with some races under her belt, in the Regret Stakes over the summer, she battled well. Perhaps running second off the layoff here will produce a maximum effort.
#1 Club Car (9/2): Made a nice middle move last out, but couldn't keep it going, and finished third. She got hung wide in that race; here, she'll be able to stay towards the rail. I don't think she can outkick Hello Beautiful, but she's a serious threat to round out the exacta.
RACE 7: XTRA HEAT STAKES, 3-YEAR-OLDS, FILLIES, 6 FURLONGS
1-6-4-7
#2 Miss Leslie (3/1): Her two starts for Claudio Gonzalez have been impressive. She drew off to win against allowance company going short two back, then got up to win the Anne Arundel County Stakes at 1 1/16 miles last out. She's a quickly improving filly, and shouldn't have any trouble with this distance.
#3 Street Lute (1/1): Believe it or not, she's won the most stakes of any member of her foal crop. She's won four stakes already, and was a neck away from a fifth. Last out, she held on after drawing clear in the stretch and fading. While she's won two in a row at seven furlongs, there are some distance questions, and those may preclude her from joining the Kentucky Oaks trail. With a horse like Miss Leslie in here, who is proven at longer distances, this will be the litmus test.
#1 Trip to Freedom (8/1): Just when it looked like she found a field she could beat last time, she tossed the jockey right out of the gate. She's shown flashes of brilliance before, including a nine-length win in her debut. You'll get the right price if you think she can finally put it all together here.
RACE 8: SPECTACULAR BID STAKES, 3-YEAR-OLDS, 7 FURLONGS
8-7-3-6
#8 Maythehorsebwithu (3/1): Gets a distance test here; this'll be his first start beyond six furlongs. He's been impressive at that distance, including a strong win against n/w1x company last out. While it's true that he had to be worked on in that race, he also endured through a fast speed duel, and left his dueling partner reeling. If anyone tries to engage him, he's fast enough to outduel them and hang on. 
#7 Shackqueenking (7/2): There's no distance questions with him, as he won the Howard County Stakes in a game stretch battle. He broke his maiden going long as well. He's improved sharply in each of his three races so far, and has good tactical speed. 
#3 Nobody Knew (4/1): Couldn't outkick Maythehorsebwithu last out, but still ran on well and finished second, with a career-best figure of 90. He'll look to build on that race here.
RACE 9: CLAIMING $25,000, 3-YEAR-OLDS, 7 FURLONGS
4-2-1-7
#4 Natty Beau (9/2): Two back, he got involved on the pace and stopped badly. Last out, he was rated, and he got up for the win. He's now won two of his last three, with figures in the upper 70s/low 80s both times. Will be tough if he shows up again.
#2 So Dialed In (7/2): Hugh McMahon took him out of his last race. That looks like a good move, as he crushed a cheap field, with a solid figure of 74. He's earned figures in the 70s in three of his last four races. Should be prominent on the early pace.
#1Alpha Queue (4/1): Drops in class after two dull efforts against better, adds blinkers, and gets Crispin in the saddle. All those factors point towards possible improvement.
LATEST NEWS