Laurel Park picks and ponderings January 10, 2021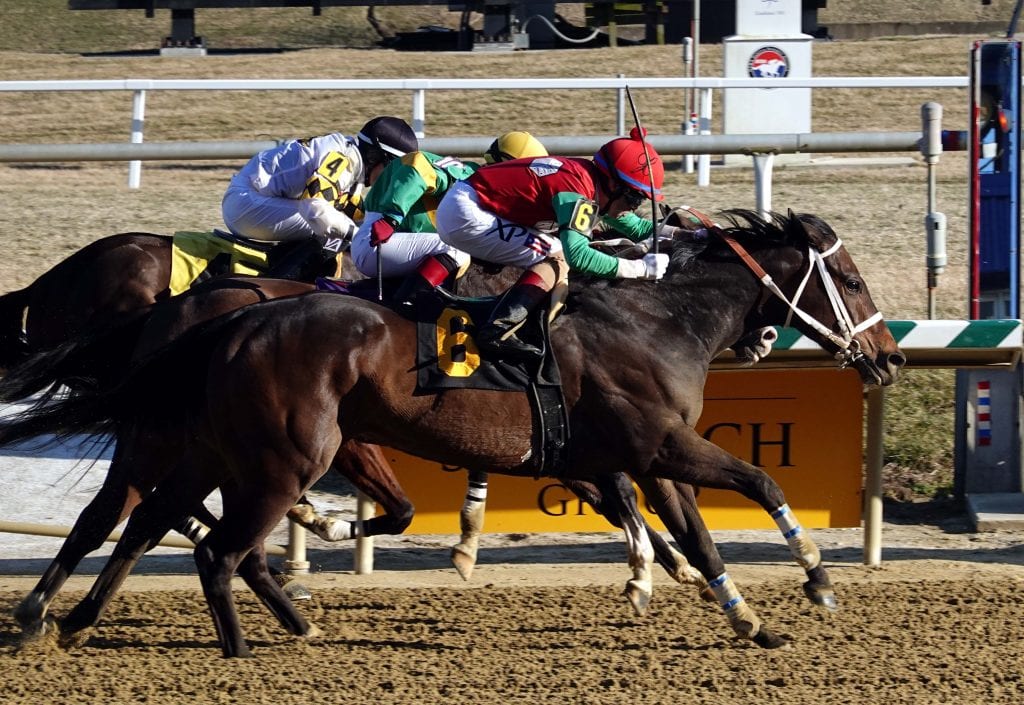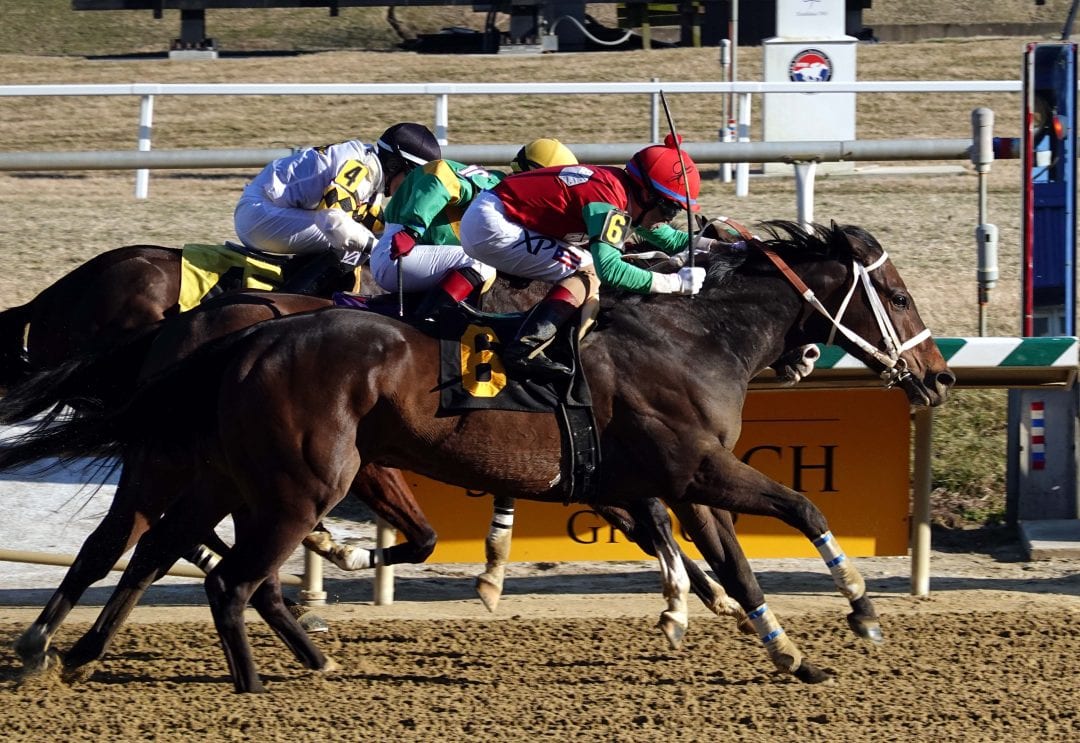 Anna's Bandit. Photo: Laurie Asseo
In which we pick the races from Laurel Park each day…
Post time: 12:25 p.m.
Carryovers: Rainbow Jackpot Pick 6 — $1,306 Super High 5 –$0 Late Pick 5 — $0
 ANALYSIS
RACE 1: CLAIMING $10,000 (N/W3L), 4-YEAR-OLDS AND UP, 1 1/16 MILES
1-3-5-4
#1 Team Effort (9/5): His last race, his first off a long break, is better than it looks. He was in the hunt most of the way, before Johan Rosado lost his footing and was unseated. Won against better two races back, with a big brisnet figure of 87, after lasting through a tough early pace. Drops in class and has at least a partial effort under his belt.
#3 Amen Corner (7/2): Another one dropping down the class ladder. He raced very wide throughout last out, and didn't have much to give at the end. Earned two figures in the 80s in the races prior. If he has anything left in his tank, he should at least put it a good account of himself.
#5 Runner Runner Indy (4/1): Broke through at the n/w2L level last out after knocking on the door at the level a few times. Consistently runs in the high 60s/low 70s, certainly sharp enough to contend. John Robb and Xavier Perez always a tough trainer/jockey combination.
RACE 2: MAIDEN CLAIMING $25,000, 3-YEAR-OLDS, 1 MILE
1-7-5-4
#1 Carolina Chrome (4/1): It's never easy to be the only first-time starter in a field. However, no one in this field has set the world on fire in their career so far, Alex Crispin has been winning with everyone in sight, and this one has a strong recent bullet workout.
#7 Sir Lenny (4/1): Got some action in his debut, going off at 7/1 at this level. While he was well-beaten for the win spot, he finished a clear-cut second, well clear of the others. Looks to build off that promising debut. 
#5 Da Chrome (7/2): Made a five-wide bid in the stretch and ended up third in his last race. The horse who finished second in that race, Bananas on Fire, came back to handily beat Sir Lenny next out. This one ran his career-best figure at this distance, and adds blinkers for the first time.
RACE 3: CLAIMING $5,000 (CONDITIONED), 3-YEAR-OLDS AND UP, 1 MILE
5-3-4-8
#5 Instigated (8/5): Won three in a row earlier this year. Although he got caught late last out, he ran his highest figure of the year, an 85. No one can run with him early, so this one could be over pretty quickly. 
#3 The Quantico Kid (4/1): After a disappointing performance two back, he bounced back with a solid third-place finish last out, earning a 76. He couldn't catch up to Instigated in that race, and he probably won't be able to do it here, either, but he can rally on and complete the exacta.
#4 Start With Yes (9/2): Stretches back out to a mile, the distance where he's run his best races. Closed well to lose by less than a length at 5 1/2 furlongs last out, a race almost certainly designed to serve as a prep for a spot like this.
ANALYSIS
RACE 4: MAIDEN CLAIMING $40,000, 4-YEAR-OLDS AND 5-YEAR-OLDS, FILLIES AND MARES, 6 FURLONGS
2-8-1-3
#2 Sundog (6/1): Got completely ignored in the betting on debut, going off at 75/1. However, she made solid ground in the stretch to get third, earning a figure of 69. She's going to need to show more early speed to seriously contend, but she's a good alternative to the favorite if she keeps moving forward.
#8 Be Good (7/5): It looked like she had her first win in the bag last out, against straight maidens, but got caught late. She continued to improve in that race, with a figure of 75, easily the best last-out number in the race. I'm usually a bit leery of horses who improve three times in a row, but even if she drops a few points, that should still be enough to win. 
#1 Discreet Dominique (4/1): One of two firsters in here, she goes out for the Damon Dilodovico barn, which hits at 24% with first-timers. Turned in a solid four-furlong drill in 48 3/5 seconds on New Year's Eve.
RACE 5 – CLAIMING $5,000 (CONDITIONED), 4-YEAR-OLDS AND UP, 1 MILE
1-8-4-7
#1 Southside Warrior (2/1): He's been just missing against slightly better at Penn National. In his last five starts, he's loomed boldly in the stretch, and despite a good stretch kick, he can't quite get by. Looks to rebound off a dull last race where he may not have liked the track; if you take that race out, he's a speed figure standout.
#8 Bozzini (5/2): Won against conditioned types two back at Aqueduct, a race at least equivalent in quality to this group. Jeremiah Englehart ships him down here, perhaps in search of an easier win. He tangled on the pace and won in that spot; will Victor Carrasco be instructed to send here?
#4 It's Fate (4/1): Chased a pair of good horses in his last start: Itgot Grandma, who came back to win his next start at Charles Town, and the classy Whirlin Curlin. He ran a career-high dirt figure of 79 in that spot. Looks to sit just off the pace and pounce once again.
RACE 6: MAIDEN CLAIMING $10,000, 4-YEAR-OLDS AND 5-YEAR-OLDS, 6 1/2 FURLONGS
4-10-6-11
#4 Drink More Bourbon (5/1): Showed the most life he's ever displayed in his last race, when he zoomed to the front early and set firm control. Unfortunately for him, he backed up in the last eighth, but just missed his career-top figure, earning a 61. Should once again be a factor on the pace.
#10 Tiz Auction Time (4/1): Made a premature move in his last start, when trying to run down Drink More Bourbon. It ended up costing him, as he faded in the last eighth. He's still fairly lightly-raced, having run just four times, and he should time the move a bit better here.
#6 Tale of Dixie (8/1): Broke terribly in his debut, but closed strongly. Drops from the $25,000 level and adds blinkers. If he can break, he's got a big shot, and might slip through the cracks in the wagering.
ANALYSIS
RACE 7 – CLAIMING $5,000, 4-YEAR-OLDS AND UP, FILLIES AND MARES, 6 FURLONGS
2-5-7-6
#2 Swirrlie Shirlie (2/1): A ten-time winner over this track, she went gate-to-wire against a similar field last out. She had struggled in her races prior when she couldn't get to the lead, so a good break and an aggressive ride from Crispin are musts.
#5 Susikin (7/2): She also has plenty of early speed, and flaunted it in her last race at Penn National. She resisted a challenge in the stretch for a head victory, in her first start off the claim for Hugh McMahon. May have to show the same kind of guts here.
#7 Blue Sky Venezuela (9/2): Makes her third start off the layoff, and has the best late pace figures in the field. There's a chance that this race falls apart. If it does, she'll be right there to pick up the pieces.
RACE 8: STARTER OPTIONAL CLAIMING $16,000, 4-YEAR-OLDS AND UP, 6 FURLONGS
1-5-4-6
#1 Girls Love Me (7/2): Got up after a good stalking trip to beat several of these last out. He drew the inside post, and should be able to stalk and pounce once again.
#5 Nomo Ron (9/5): Usually a closer, he showed a new dimension in his last start, when he decided to sit on the pace. It ended up backfiring, as he didn't have much response for Girls Love Me's rally. He won two in a row, including a win at the n/w2x level, by coming from off the pace. Sheldon Russell gets back aboard; it'll be interesting to see what strategy he employs here.
#4 Baptize the Boy (3/1): He's been stalking and coming close lately, including a runner-up finish at 22/1 in the Maryland Million Sprint three races back. Just missed against Girls Love Me last out after enjoying a trip rating just off the pace.
RACE 9: MAIDEN CLAIMING $10,000, 3-YEAR-OLDS, FILLIES, 7 FURLONGS
1-7-6-4
#1 Used to be Fun (6/1): Took a giant step forward second time out. In contrast to her debut, when she lumbered along the entire way, she made a mild move on the turn, and finished a respectable fifth. Crispin keeps the mount.
#7 Mikey's Jewel (3/1): Seeks a rebound after a disastrous try last out. Her races two and three back were strong; she earned figures in the 60s both times. The career-best mark of 65 was earned around two turns, so I'm not sure that the distance did her in last time. Either way, I'm counting on a comeback effort.
#6 Twice Served (4/1): Drops for a $10,000 tag for the first time, after a strong second for $16,000 two races ago. One of three in here who has never lost at the level.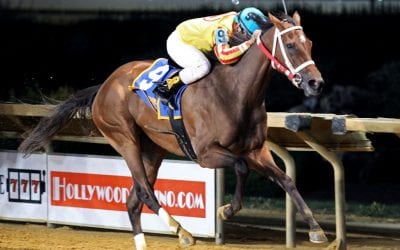 We provide picks and analysis for this evening's card at Charles Town Races.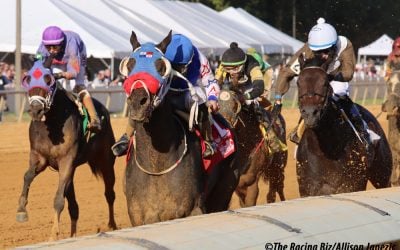 We provide full-card picks and analysis for this afternoon's races at Laurel Park.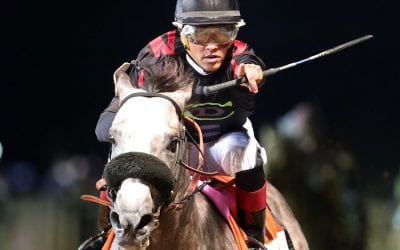 We've got Charles Town picks and preview today as the track presents its Friday card!