Laurel Park picks and ponderings January 9, 2021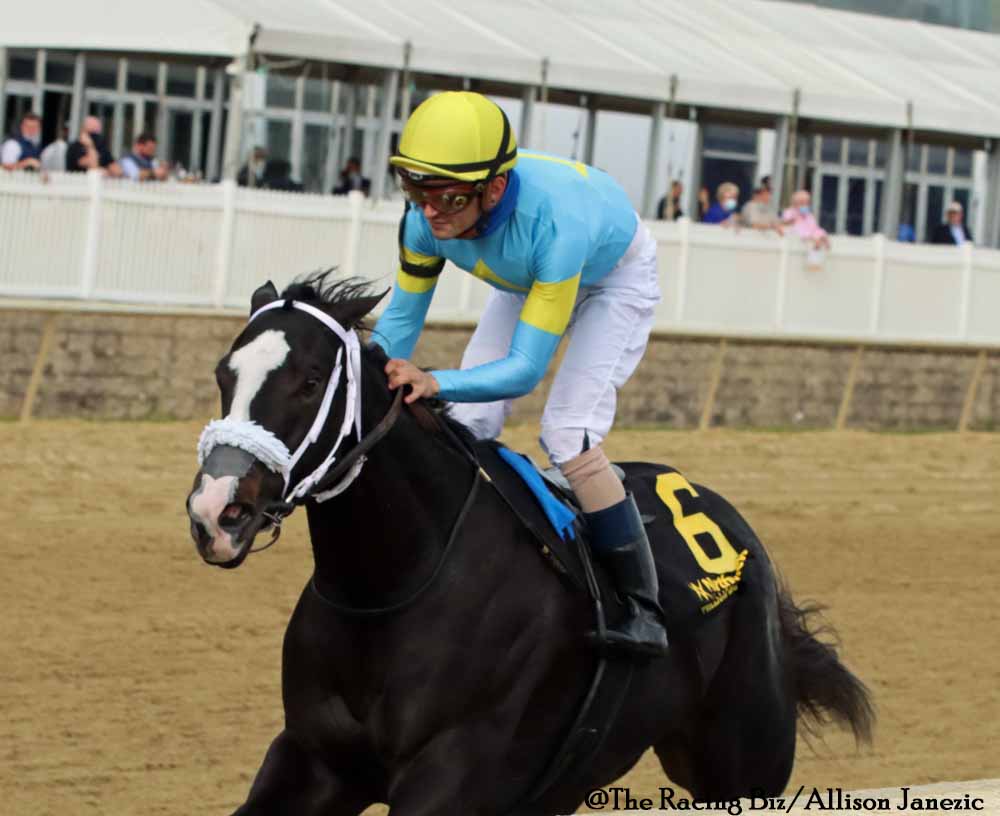 Hello Beautiful. Photo: Allison Janezic
In which we pick the races from Laurel Park each day…
Post time: 12:25 p.m.
Carryovers: Rainbow Jackpot Pick 6 — $412 Super High 5 — $486 Late Pick 5 — $0
ANALYSIS
RACE 1: MAIDEN CLAIMING $25,000, 3-YEAR-OLDS, FILLIES, 1 MILE
4-6-7-1
#4 Sheriff's Kid (9/2): She got trapped behind a slow pace last out, but closed well to finish fourth, losing second by less than three lengths, after a wide trip. The winner of that race, Wonderwall, came back to smash a n/w1x allowance field yesterday. Earned a solid figure of 59 in that race, liable to improve here.
#6 Song of Honor (3/1): She's been knocking on the door, and is the most experienced member of the field. Last out was her best start to date, as she charged hard in the stretch to finish second at Parx. She was outkicked by other rivals who made a middle move into a very slow second quarter, but she was gaining on a tiring leader in the stretch. That's encouraging. Adds blinkers for the first time.
#7 Fearless Lassie (2/1): Drops to this level for the first time, after running into a buzzsaw in her debut and breaking awkwardly second time out. The distance is the big question. She's never been beyond six furlongs.
RACE 2: CLAIMING $16,000 (N/W3L), 4-YEAR-OLDS AND UP, FILLIES AND MARES, 6 1/2 FURLONGS
1-4-5-2
#1 Tequila Fog (7/5): Cuts back in distance and drops in class. Her one-turn races were sharp, running back-to-back brisnet figures of 78, while making her first and second starts off long breaks. Will be very tough in here.
#4 Stay Out (7/2): On the brisnet scale, she took a sharp decline last out, but I would take that race with a grain of salt. She got her doors blown off by Halfinthewrapper, a speedy filly who zoomed to a clear lead and gave no one a chance to catch up. When compared to the others, this one ran a strong race, as she raced wide and closed on for third. Her figures prior to that race were consistently in the 70s, good enough to win this one.
#5 Gallinella (8/5): Another one dropping in class, she finished three lengths behind Tequila Fog in her last race, against starter optional claiming rivals. Her figure drops significantly in that race, but she had been running in the 80s steadily before that race. Hot-riding Alex Crispin gets the mount for the first time.
RACE 3: CLAIMING $5,000 (CONDITIONED), 4-YEAR-OLDS AND UP, FILLIES AND MARES, 5 1/2 FURLONGS
3-5-6-7
#3 I'm So Munny (2/1): She had abundant early speed, and the two horses drawn to her inside are a closer and a cheap speed horse. Shouldn't have much trouble pressing her rival, then kicking on and drawing clear from the rest. Has run well in each of her two starts off the bench, battling gamely in the stretch after being on the pace.
#5 Splendor Gal (5/2): Last out, she was right on the fast pace set by I'm So Munny, and held for third. She has a stalking style that has earned her plenty of checks lately, with in-the-money finishes in her last six. If I'm So Munny can't clear from her longshot rival, and gets burned up on the pace, Splendor Gal will be right there to pick up the pieces.
#6 Proud Mandate (5/2): Her recent form has been terrible, with two double-digit defeats after wide trips. However, she was in good form all fall, running some figures in the 80s. Will the drop in class wake her up?
ANALYSIS
RACE 4: ALLOWANCE OPTIONAL CLAIMING (N/W1X), 3-YEAR-OLDS, 1 1/16 MILES
6-5-2-4
#6 No One to Blame (3/1): He was well-bet in his last start, against a tougher field than this one, but he was wide the whole way and stopped. In more honest circumstances two back, he was a strong second behind Lugamo. That one came back to finish third in the James Lewis Stakes. Although No One to Blame is drawn to the outside once again, he won't be as many paths out, and should have ample time to get over towards the inside.
#5 Royal Number (5/2): I'm not sure if I believe the big figure from two races back, considering it's such an outlier for everyone in the field. It was a gutsy performance all the same, as he battled in the stretch to lose to Ain't Da Beer Cold and Market Cap. They returned to finish second and fourth, respectively, in the Howard County Stakes. Finished third behind two more good horses, Hello Hot Rod and Shackqueenking, last out. This is much easier. 
#2 Full Dinner Jacket (6/1): Broke his maiden going 1 1/16 miles two back, making him one of only two in the field with a victory around two turns. Exits the same tough race as Royal Number. This one has no early speed, so he'll hope to power on late and not get pace-compromised. 
RACE 5 – CLAIMING $5,000, 4-YEAR-OLDS AND UP, 6 FURLONGS
11-1A-9-10
#11 Easy River (8/1): Looks for a rebound after a disappointing first start off the layoff. He ran figures in the 80s on a consistent basis over the summer, including a win against tougher three races back with a strong 81. The far outside post isn't ideal, but he's a closer, so he can take back and drop over to the rail.
#1A Wolfinbarger (8/1): In contrast, this one raced well first off the layoff. He battled in the stretch with Maryland Million Starter Handicap winner Glengar, losing to him by a neck. In that race, he earned an 84, just one point off from this one's lifetime top. Sat just off the pace in that effort, will look to do the same thing here.
#9 Zitarrosa (4/1): He almost lasted after setting a grueling pace last out, but faded in the last sixteenth. He's run three huge figures in a row, but how will he do first time out of the Anthony Farrior barn?
RACE 6: CLAIMING $10,000 (N/W2L), 4-YEAR-OLDS AND UP, FILLIES AND MARES, 7 FURLONGS
2-5-6-1
#2 Bean Indiscreet (4/1): Not only is she the only one in the race who has never lost against winners, everyone else in the field has been defeated against winners at least three times. She drew off handily in that maiden win, and slowed down late, which depressed her figure. However, she had three numbers at or around a 70 prior to that, which would handily beat these.
#5 Embrace a New Day (5/2): She has similar figures at Bean Indiscreet, but she keeps looming large, only to hang in the stretch against similar. I'm not sure if she's the type who likes to win. A must-use for the exotics, however.
#6 Worstbestideaever (2/1): Closed from well behind while wide last out to finish third. Lacey Gaudet is 28% first off the claim, Crispin hops aboard.
ANALYSIS
RACE 7 – MAIDEN CLAIMING $40,000, 4-YEAR-OLDS AND 5-YEAR-OLDS, 6 FURLONGS
5-6-3-1
#5 Trustyourinstinct (9/5): Chased a loose leader last out, but was well-clear of the others, finishing second by 4 1/2 lengths. Claudio Gonzalez claimed him out of his last race, and puts Crispin in the saddle. That combo will be tough to beat.
#6 Mr Shades of Gray (9/2): Exits the same race as Trustyourinstinct; that was this one's first start off the layoff. He was even further back than Trustyourinstinct, but he still closed well for third. That one might outkick him again, but this guy can run on for an underneath spot.
#3 New Frontier (5/2): He's had plenty of chances to break his maiden, but most of those tries were against much better. Couldn't get to the lead last time, which probably doomed him. He's got a shot if he can lead early here.
RACE 8: ALLOWANCE OPTIONAL CLAIMING (N/W2X), 4-YEAR-OLDS AND UP, FILLIES AND MARES, 5 1/2 FURLONGS
6-3-4-5
#6 Trunk of Money (2/1): Her three-race winning streak got snapped last out, as Fille d'Esprit blew her away. Even so, Trunk of Money held on to finish second in a strong field. She had made the lead in her three wins prior, and if she can do that again, she might be the one they have to chase.
#3 Deep Red (4/1): She's hit the board five times in a row at this level, without a victory to show for it. Returned to a regular race schedule in mid-September, and has slowly been rounding her way back into peak form. She's not fast enough to go with these early, so she'll hope to rally on and get a piece.
#4 Fifteen Royals (5/1): It's possible that she'll be faster than Trunk of Money early on. She didn't get a chance to show it when the two met up last out, as she was roughed around at the break and had no shot to get to the lead. When allowed to set the pace, she can go very, very fast. Worth using on the chance that she'll sneak away from the others.
RACE 9 – MAIDEN CLAIMING $16,000, 4-YEAR-OLDS AND 5-YEAR-OLDS, FILLIES AND MARES, 5 1/2 FURLONGS
6-5-4-1
#6 Miss Philly Dilly (8/5): Drops back to this level, a class where she missed by a nose two back after a stalking trip. Last out, against better, she was wide and didn't have much of a shot. Her late pace figures are easily the best in this batch.
#5 Top Hat Boss (4/1): Makes her second start here after shipping down from Woodbine. While it's true that she lost by 22 lengths, the winner crushed the rest by seventeen lengths, so it isn't *quite* as bad as it looks. Ran figures as high as 72 up at Woodbine, while showing ample early speed.
#4 Caprichosa (10/1): Took a big step forward last out, with a strong-closing second at Penn National. Her figure of 63 from that race is a lifetime top by fifteen points. Worth considering if you're looking for a price.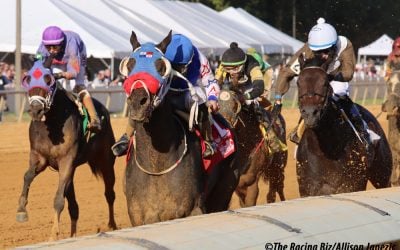 We provide full-card picks and analysis for this afternoon's races at Laurel Park.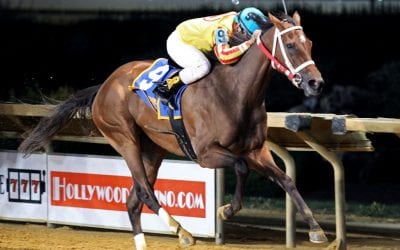 We provide picks and analysis for this evening's card at Charles Town Races.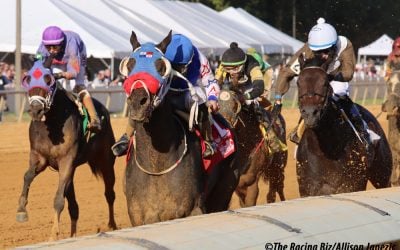 We provide full-card picks and analysis for this afternoon's races at Laurel Park.