Laurel Park picks and ponderings January 8, 2021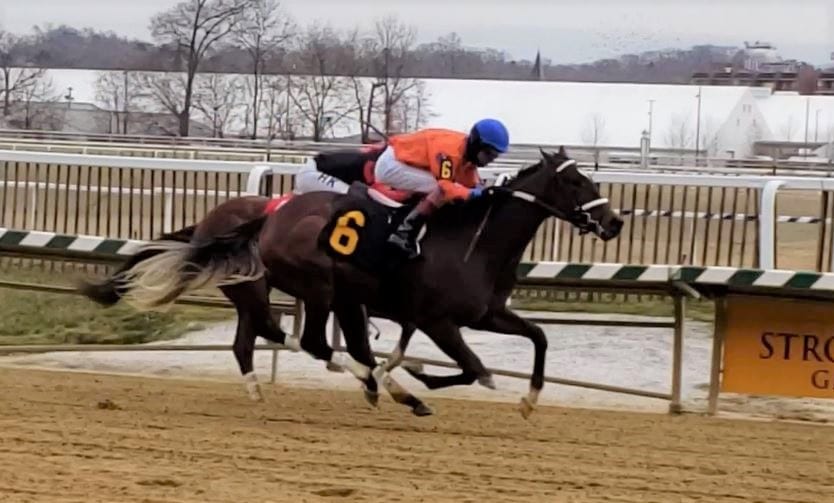 Virginia Beach. Photo: the Racing Biz
In which we pick the races from Laurel Park each day…
Post time: 12:25 p.m.
Carryovers: Rainbow Jackpot Pick 6 — $0 Super High 5 –$0 Late Pick 5 — $0
 ANALYSIS
RACE 1: MAIDEN CLAIMING $16,000, 4-YEAR-OLDS AND 5-YEAR-OLDS, 5 1/2 FURLONGS
6-4-5-3
#6 Distant Thunder (7/5): Ran a big race on debut, which came at this level. He began slowly, was rushed up to the lead, and battled on in the stretch before fading in the last eighth. His brisnet figure of 72 from that race is far and away the best last-out number in the race. If he breaks cleanly, he could run the rest of them off their feet.
#4 Tyreek (2/1): Gets a much-needed cutback in distance, after a rough time last out going a mile. That poor race disguises what had been sharp form. The last time he raced at this level, which was in his debut, he closed strongly to lose in a blanket finish. He should find this group to be right in his wheelhouse.
#5 Make Us Smile (3/1): Makes the all-important third start off the layoff here. His figure declined a bit last out, but it was a visually decent race, as he closed mildly to get third. He'll look to pick up a minor piece here.
RACE 2: CLAIMING $5,000 (N/W2L), 4-YEAR-OLDS AND UP, 1 MILE
4-6-2-8
#4 Watchthebourbon (5/2): Tries winners for the second time, after a wide trip against better last out. One of three in the field who has never lost at this level, and he's got the best recent form of any of them. 
#6 Find Your Boaz (12/1): He had been in improving form, including a very respectable figure of 68 when winning for the first time two back. However, his last race is concerning. He never lifted a hoof, losing by thirty lengths when trailing throughout. He's had some time off and a good workout since then, so I have some cautious optimism that he'll get back to his old self.
#2 Political (3/1): Finger Lakes invader steadily ran figures in the 70s over the summer and fall, before a dull performance concluded his campaign. He's had time off since that late October effort, and has some local works to gear up for this affair. Trainer Miguel Vera is 21% first off the layoff.
RACE 3: CLAIMING $25,000, 3-YEAR-OLDS, 5 1/2 FURLONGS
1-3-2-5
#1 Heart Rhythm (5/2): Broke his maiden in impressive style at Keeneland two races back, drawing off to win with a very strong figure of 89. In his local debut, he got caught up in a pace duel and faded. He'll look to slow the tempo down early on this time.
#3 Cohodes (3/1): This guy will make things interesting up front early, and could throw a monkey wrench into Heart Rhythm's plans. He blew the doors off the field when breaking his maiden at Penn National, zooming to the front and never looking back. Expect the same strategy here.
#2 Tiz Golden (4/1): Gets a much-needed drop in class after some disappointments against much better. He had been showing early speed, then decided to stalk the pace in his last start. That strategy wasn't very effective against allowance-quality rivals, but way serve him well against this bunch.
ANALYSIS
RACE 4: CLAIMING $16,000 (N/W2L), 4-YEAR-OLDS AND UP, FILLIES AND MARES, 6 FURLONGS
6-1A-2-5
#6 Villamoura (2/1): Speedy filly lost her chance at the start last out, when she broke slowly and couldn't get to the front. The outside post isn't ideal for her running style, but she still looks fast enough to clear the others and get the kind of trip she needs. 
#1A Promenade Princess (4/1): Mario Serey plucked her out of her last start for $10,000, and now hikes her up in class. She ran on well in the stretch last out, closing wide to get third. Has the best closing kick in the field, and would take full advantage of Villamoura can't last on the lead.
#2 Ran Char (9/2): She's also a recent claimant, having been taken for $16,000 last out by Emanuel Geralis. This filly has been uber-consistent recently, running a figure between 68 and 71 in each of her last five dirt races. That's right around the number required to win this race. She also gets a big jockey upgrade, to Sheldon Russell.
RACE 5 – MAIDEN CLAIMING $40,000, 3-YEAR-OLDS, 6 1/2 FURLONGS
2-1-3-7
#2 All Threes (5/2): Got bet at this level last out, after a strong runner-up performance in his debut. He got hung wide and flattened out. Now, he's drawn towards the inside, and has two bullet works in preparation for this spot. Looms very large against these.
#1 Fole's Notion (8/1): Took a huge step forward last out, after two dull performances. He closed well up the inside to just miss at the $10,000 level. The 74 he earned in that race represents a 19-point improvement from his previous career high. That race was at a mile; now he cuts back to 6 1/2 furlongs. It's not clear if he wants to go this short, but at the price you'll get, it's worth taking a shot that he'll keep moving forward. 
#3 Sue Loves Barbados (4/1): He's one of four firsters in here, going out for trainer Dale Capuano, who hits at 23% with first-time starters. Alex Crispin gets the mount; he's been the hottest rider here as of late.
RACE 6: ALLOWANCE (N/W1X), 4-YEAR-OLDS AND UP, 6 FURLONGS
2-1-5-3
#2 In the Loop (7/5): He's been in excellent form as of late, with figures in the 90s in each of his last four starts. In contrast, none of his rivals have run in the 90s even once at any point in their last four. He's had some trouble breaking through at this level, but this is the easiest field he's seen since stepping up to these waters.
#1 Absolved (5/2): The perfect kind to play underneath in exactas. He's only won once in his career, but he's been second or third fourteen times. He doesn't have much early speed, and he's a pure sprinter, which leaves him in awkward spots.
#5 Abuelo Paps (4/1): Had a tough trip last out, getting fanned wide against a tougher n/w1x field. Before that, he ran a figure of at least 88 in three 
ANALYSIS
RACE 7 – MAIDEN CLAIMING $10,000, 4-YEAR-OLDS AND 5-YEAR-OLDS, FILLIES AND MARES, 6 1/2 FURLONGS
9-8-2-1
#9 Solea (4/1): Took that big step forward in his third start off the layoff. He was well behind early, then made an extremely wide and furious rally for the victory. His figure of 69 is a lifetime top by five points. Crispin keeps the mount.
#8 Cornetta's Choice (9/2): She has a similar profile as Solea, in that she's a closer who raced well third off the layoff last out. She ran figures in the low 70s earlier in the year, but hasn't quite found that form since returning from a three-month vacation in November. It's definitely possible that she'll keep moving forward, but her recent mid-60s numbers might be good enough to win this one anyway.
#2 All About Audrey (4/1): Got pace-compromised in her last race, as the top two early on zoomed away from the others, and left the closers in trouble. In spite of that, she rallied to get up for second, in a photo over Solea. She's shown early speed in the past, and catches a field where no one has much foot early on.
RACE 8: ALLOWANCE OPTIONAL CLAIMING (N/W1X), 3-YEAR-OLDS, FILLIES, 1 1/16 MILES
3-5-2-4
#3 Journeytothemoon (5/2): Wore down Brittany Russell trainee Little Huntress in the stretch to win her debut. Little Huntress came back to crush the field in her next race. This one is stretching out from six furlongs, but it looked like she could handle more distance in her debut, and she's had a bunch of longer workouts since that race. Mike Trombetta should have her well-prepared for this two-turn affair.
#5 Guns Blazing (4/1): Broke her maiden going away two starts back at a mile. Her try in the Anne Arundel County Stakes wasn't visually impressive, but it still resulted in her highest career figure, a 78. That's just a hair below the 80 Journeytothemoon earned first out.
#2 Love in Her Eyes (10/1): Showed a lot of heart to break her maiden at fifth asking last out at Parx. She consistently runs in the low-70s, which is below the figures of the best in here, but is still consistently solid. A good candidate for the underneath spots.
RACE 9: CLAIMING $12,500, 4-YEAR-OLDS AND UP, 7 FURLONGS
3-6-5-2
#3 Drill's Lil Man (4/1): Improved in his first start for Kieron Magee. While usually he set the pace and backed up, he held in gamely and lost by just a head. This is going to be a bit of a challenge for him, as he's stretching out from 5 1/2 furlongs to 7 furlongs. He looks fast enough early on that he can at least outrun them early and set fractions more to his liking. 
#6 Blow the Whistle (5/1): In contrast, this one is cutting back in distance, from a mile and seventy yards. He's run figures in the upper 80s on a regular basis, including a crushing win last out at Penn National. It's not clear if he likes sprinting, but if he does, he'll be tough to beat. 
#5 Nova Boy (3/1): A winner in this class last start, he made a frantic rally from behind to nail Drill's Lil Man on the wire. If he wins again, it'll be with another heroic rush. He's been taking big steps forward in his last few; very encouraging.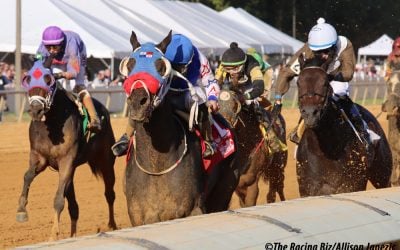 We provide full-card picks and analysis for this afternoon's races at Laurel Park.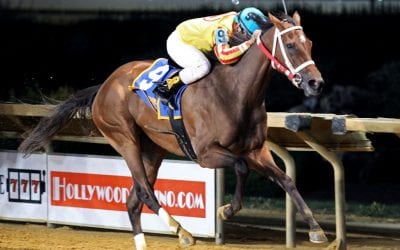 We provide picks and analysis for this evening's card at Charles Town Races.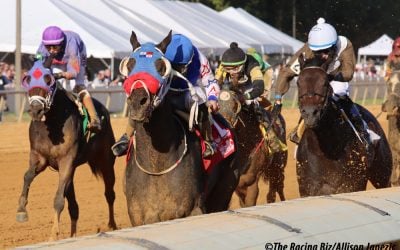 We provide full-card picks and analysis for this afternoon's races at Laurel Park.