ON BREEDING: MIDLANTIC SIRE STATS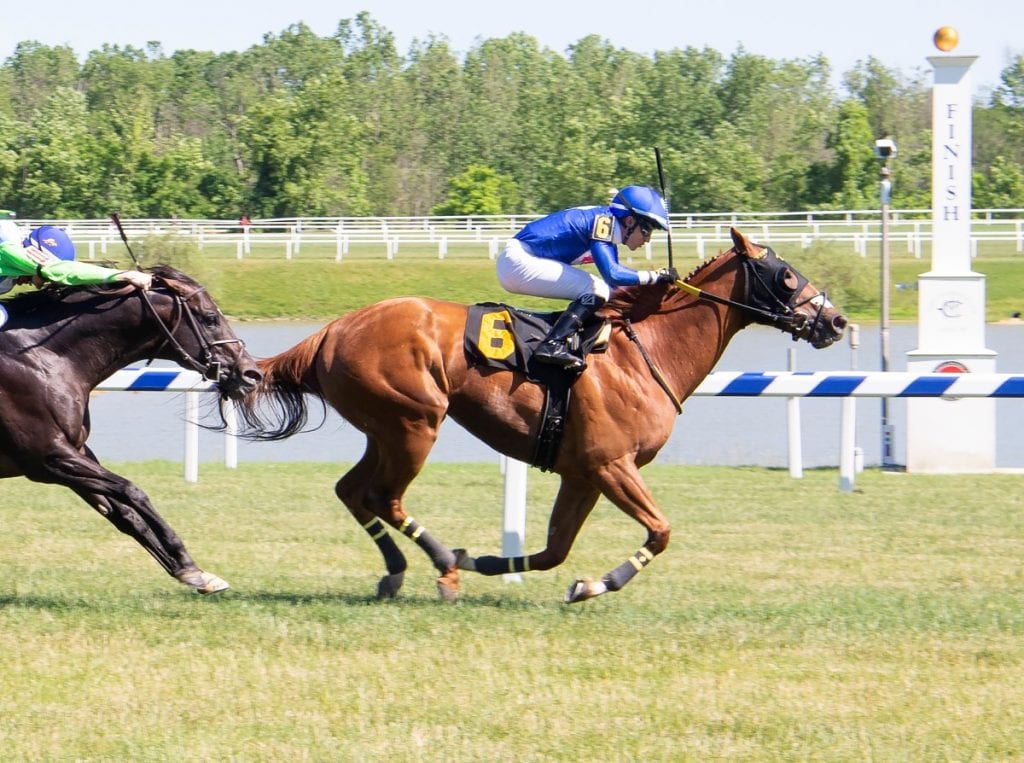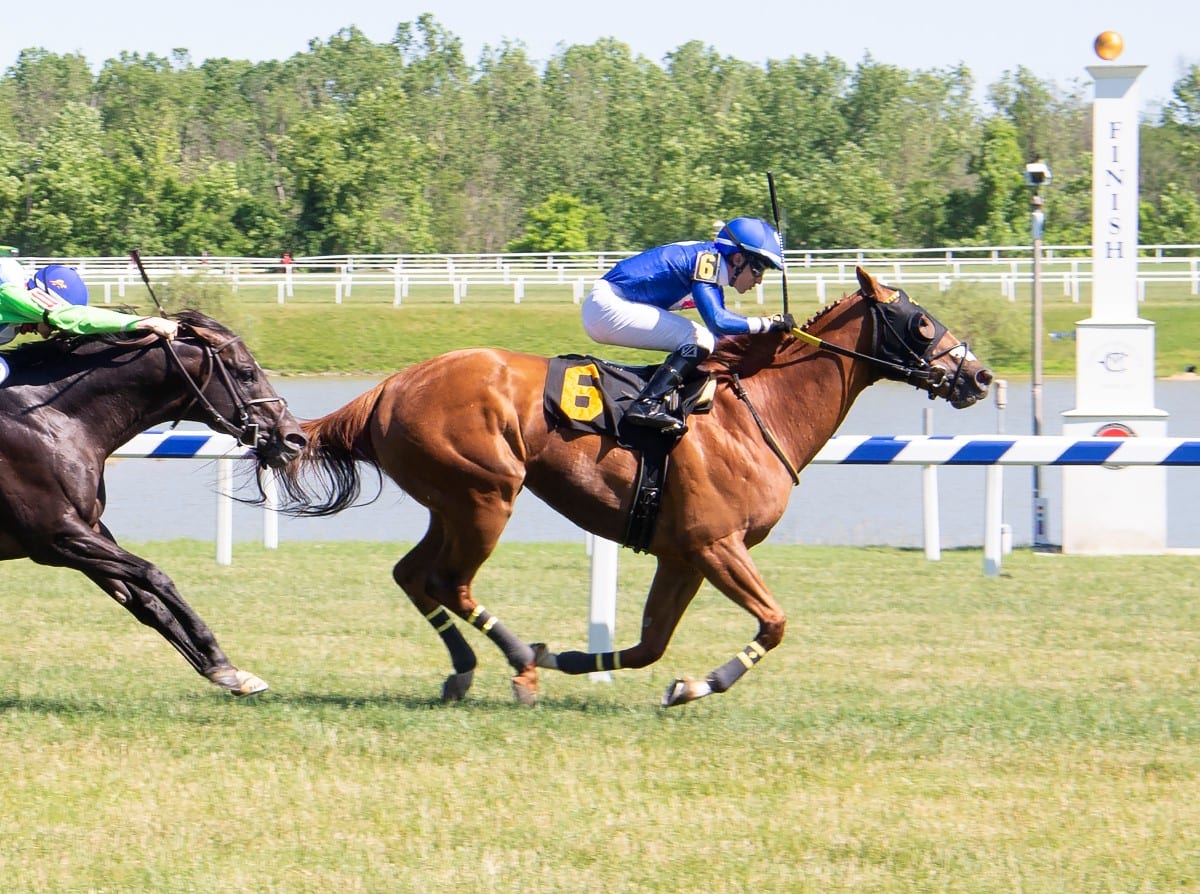 Linda Dougherty

January 7, 2021
He may be gone, but he's certainly not forgotten. Jump Start, who died in 2019, was once again the leading sire in the Mid-Atlantic, with his progeny earning $3,295,004 in 2020.
It was the fifth time in the last six years that Jump Start reigned supreme, which makes his loss ever so painful for regional breeders.
But breeders still have a plethora of value-laden stallions from which to choose for their 2021 mating decisions. For instance, they need look no further than the stallions who finished second and third behind Jump Start in 2020 – Pennsylvania's Warrior's Reward, and West Virginia's Fiber Sonde, both of which offer plenty of bang for their live-foal fees.
Warrior's Reward, who stands at WynOaks Farm in Delta, Pa. for $5,000, stands and nurses, collected $2,967,957 in 2020 progeny earnings, while Fiber Sonde, who stands at Beau Ridge Farm in West Virginia for $1,000, live foal, was third with $2,457,512.
As an aside, each stallion's progeny earnings decreased in 2020 versus 2019 because of the COVID-19 pandemic that rippled across the Mid-Atlantic landscape and forced the cancellation of live racing for many weeks, depending upon the state.
That negatively impacted purses, as reflected in these 2019 totals: Jump Start's runners won $5,355,014; Warrior's Reward sired the earners of $4,280,139, and Fiber Sonde's sons and daughters won $3,859,836. As a group, the trio's 2020 progeny earnings were off by over 35% versus the prior year.
Each stallion, however, made the most of what was offered when racing resumed after the pandemic shutdown.
A closer look at the 2020 numbers shows that both Jump Start and Warrior's Reward led the way among all Mid-Atlantic sires with 155 runners each. However, Warrior's Reward had 81 winners versus 71 winners for Jump Start, a Mid-Atlantic best, and he sired one graded stakes winner: Night Ops, who prevailed in the Prairie Meadows Cornhusker Handicap (Gr. 3).
Warrior's Reward has enjoyed strong support since being brought to Pennsylvania by managing partner Donny Brown in 2018. The son of Medaglia d'Oro has lifetime average earnings per starter of $55,243, according to equineline.com.
"He bred 115 mares in 2019 and 96 mares in 2020," said Brown. "We will really wheel and deal on the stud fee if we know the mare will foal in Pennsylvania."
Brown said that Warrior's Reward sires horses that go long or short, and handle turf, dirt and synthetic. Described as a rock-solid, 17.1-hand stallion, he himself was a versatile, Grade 1-winning performer, capturing the Gr. 1 Carter Handicap in 1:21.62 for seven furlongs.
"Mares by Unbridled's Song, Empire Maker and Pioneerof the Nile are consistently 'A+' nicks," said Brown, "but we're always seeing mares with regional bloodlines that nick really well with him, too."
Of Fiber Sonde's 53 winners, from 96 starters, eight (8.3 percent) were blacktype winners, best in the Mid-Atlantic. His chief earner was Chief Randel, who captured two stakes in 2020, including the $100,000 Best of Ohio Sprint Stakes at Mahoning Valley.       
Fiber Sonde, an unraced son of Unbridled's Song, was purchased by owner John McKee for $8,000 in 2007. He has proven to be an invaluable asset to the regional stallion corps, siring 53 winners from 96 runners, a solid 55 percent strike rate.
And for his $1,000 stud fee, the gray stallion's average earnings per runner in 2020 of $25,599 represents quite a nice return on investment.
While Warrior's Reward appears poised to be the heir apparent to Jump Start, a stallion standing at Northview Stallion Station in Chesapeake City, Md. has seen his stock rise substantially from 2019 to 2020.
Read more of Linda Dougherty's On Breeding columns here.
Golden Lad, another son of Medaglia d'Oro who stands for $5,000, live foal, had his first 2-year-olds race in 2019, resulting in two blacktype winners and progeny earnings of $666,471.
In 2020, Golden Lad's progeny earnings more than doubled to $1,618,170, with his average earnings per runner at $29,966.
"He's got an exciting future," said Paul O'Loughlin, bloodstock manager of Northview. "He had a good year and his progeny have been well received at the sales. He bred over 100 mares the last two years, and we considered raising his stud fee, but decided to keep it at $5,000."
Golden Lad had two blacktype winners last year: Hello Beautiful ($317,110) and Air Token ($169,647), while recently Cinnabunny ($137,950) was third in the Gr. 3 Sugar Swirl Stakes at Gulfstream Park for trainer Brad Cox.
Prior to Wicked Strong's arrival from Kentucky to stand at Dr. William Solomon's Pin Oak Lane Farm in Pennsylvania late in the year, Golden Lad was the top second-crop sire in the region.
Wicked Strong, a son of Hard Spun, will stand for $3,500 this year. His three 2020 stakes winners include Grade 2 Remsen winner Brooklyn Strong and Hilltop Stakes winner Evil Lyn, his top earner during the year.
Another Northview stallion, Bandbox, has thus far been a good value for mare owners. The gray son of Tapit, from a $2,500 stud fee, had average progeny earnings of $30,949 in 2020.
"He hasn't had big crops," said O'Loughlin, "but he's definitely on the rise. He could be another Great Notion (a Northview stallion who has consistently sired talented runners from a stud fee of $7,500)."
Great Notion was the fifth-leading sire in the Mid-Atlantic in 2020 with progeny earnings of $2,383,819 and the most blacktype horses (10) from runners.
LATEST NEWS