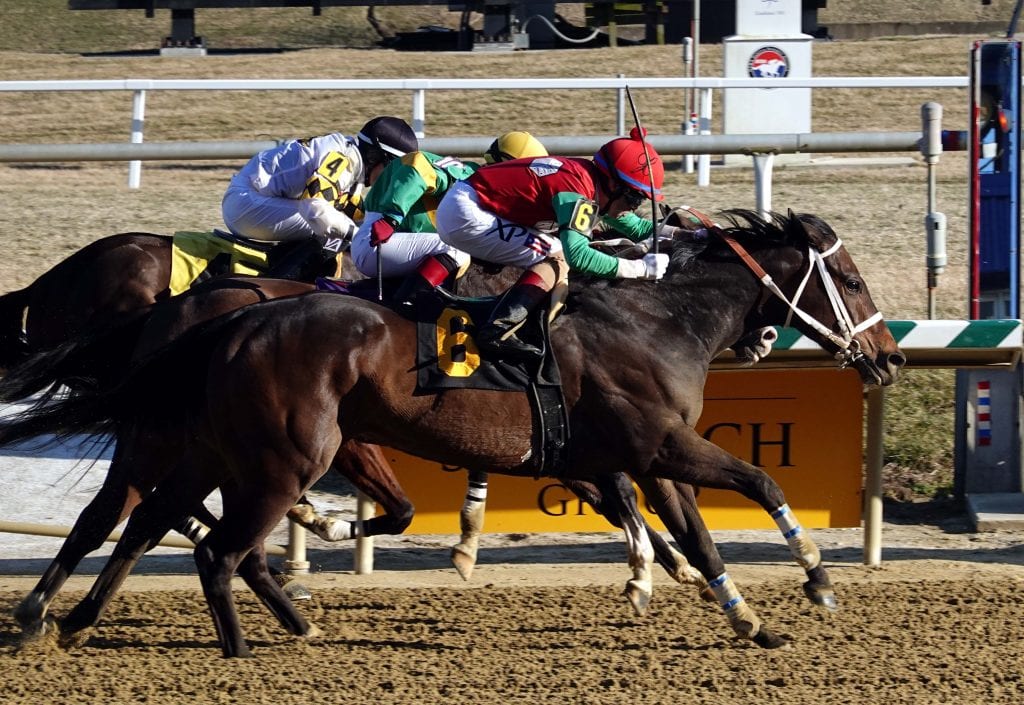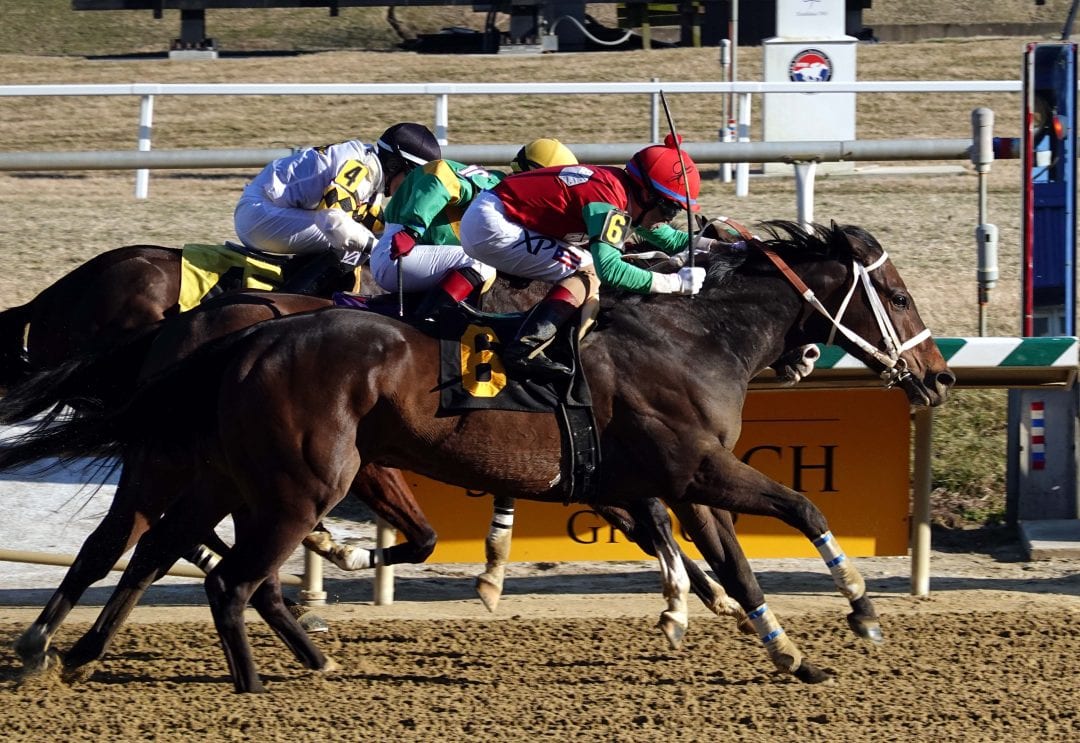 Anna's Bandit. Photo by Laurie Asseo.
In which we pick the races from Laurel Park each day…
Post time: 12:25 p.m.
Carryovers: Rainbow Jackpot Pick 6 — $1,777 Super High 5 — $0 Late Pick 5 — $0
,ANALYSIS
RACE 1: CLAIMING $10,000 (CONDITIONED), 3-YEAR-OLDS AND UP, 5 1/2 FURLONGS
4-2-5-7
#4 Extra Medium (3/1): Bounced back nicely after a dull try at Parx two races back. He recovered after a slow break to finish a fast-closing second, making up lots of ground in the last eighth. He's had some trouble putting it all together since moving to the east coast, but it looks like he's finally found ideal conditions. 
#2 Candygramfrommongo (7/2): Jamie Ness claimed this one back in his last race, an angle that hits at 26%. He showed more early speed when under Ness's care earlier this year. That could be a big asset in this spot. I'm not sure if he can outrun DC Fireman, drawn to his direct inside, in the early stages, but he can certainly keep the pressure on. 
#5 Backwoods Boogie (7/2): He'll have to hope for a fast pace to run into, but he just might get it. In addition to Candygramfrommongo and DC Fireman, Federale and To the Front also have an abundance of early speed. Last out, this one rated behind a slow pace, and couldn't get it done. If the tempo is fast up top, he can stalk and pounce.
RACE 2: CLAIMING $16,000 (N/W2L), 3-YEAR-OLDS AND UP, 6 FURLONGS
1-5-3-4
#1 Fugitive (2/1): He was bet like a slam dunk in a maiden special weight at Charles Town last out, and ran like it. He crushed the field 9 1/4 lengths, earning a brisnet figure of at least 75 for the third straight race. He's the only horse in here who has started fewer than ten times and has never lost against winners. It's also encouraging that Anthony Farrior sent him to Maryland, rather than keeping him at Charles Town.
#5 Championship Alley (5/1): Got outkicked by a rival who sat a perfect trip last out, but still closed well to lose second by just a length. That was his second race off a brief break, and he improved his figure fourteen points, to a lifetime top of 76.
#3 Whats the Chances (6/1): Another one who has never lost against winners, he comes in here off a dominant win against maiden claimers, where he sat a perfect trip and drew off. He has the best last-out figure, but I'm not sure if he'll be able to get that good of a setup again. Nevertheless, he's in career-best form right now, and merits respect.
RACE 3: STARTER OPTIONAL CLAIMING $8,000, 3-YEAR-OLDS AND UP, 6 1/2 FURLONGS
1-7-4-5
#1 Phantom Ro (6/5): He's got blazing speed from the inside post, as he's demonstrated in his last few races. There's lots of pace signed on in here, but he's dealt with pressure before, and handled it well. He's also got the best middle pace figures in the field, so he can power away from the rest on the turn and leave them reeling. 
#7 Crush It (5/1): If it does end up being a skirmish on the lead, this guy's got the best chance to take advantage of it. Made a bit of a premature move into a very fast pace last out at Penn National, and subsequently flattened out. Beat a n/w1x field three back, with a big figure of 89, when he timed his move better.
#4 Victory Element (9/2): Recent midwestern invader goes second off the claim for Hugh McMahon. He was thrown out of his element last out when he began terribly, and wasn't able to assume his usual spot on the pace. In spite of that, he rallied well to finish second, with a figure of 88. That matches his season's best mark. The closing speed he showed in that race might come in handy here. 
ANALYSIS
RACE 4: STARTER OPTIONAL CLAIMING $16,000, 3-YEAR-OLDS AND UP, 1 1/16 MILES
6-5-8-3
#6 Air Token (2/1): If he stretches out, this race is over. He's won four of his last six races on this track, with speed figures that tower over those of the rest. He won going away at a mile last out, so there's some reason to believe.
#5 Lucky Ramsey (4/1): Ships back to Maryland, after some disappointing efforts in New York for Claudio Gonzalez. He ran figures in the 90s while racing on the Laurel dirt over the summer, while facing tough horses like Colonel Juan and Toughest 'Ombre. His best races this year were at a mile, but he's shown ability in the past going 1 1/16 miles, so the extra yards shouldn't bother him too much.
#8 Bobby G (5/2): Represented Team Maryland well in the Claiming Crown, finishing second in the Iron Horse Stakes to the ultra-game Frost or Frippery. This one fell a little further back than he may have liked, but he made a heroic eight-wide bid and just missed. Usually, he's more forwardly placed, which will be good in a race without much quality speed. His only serious obstacle is the far outside post.
RACE 5 – MAIDEN CLAIMING $40,000, 2-YEAR-OLDS, FILLIES, 6 FURLONGS
2-7-5-3
#2 In Vain (6/1): Ships from New York for Mike Trombetta, and drops for a tag for the first time. She was fairly well-backed in her debut, going off at 9/1, but had a bad break and didn't show much. Looking for improvement second time out, although her debut figure of 71 might be good enough in here anyway.
#7 Keepyourskateson (4/1): Another one who recovered well after a bad break last out, she was a strong-closing second against similar. She's the only one in the field who has previously crossed the wire first; she was disqualified in her debut at Delaware Park.
#5 Not On My Watch (6/1): Improved sharply in her second start, showing speed before backpedaling. It was a sharp contrast from her debut, when she plodded along against straight maidens. Her figure also went up seventeen points second time out.
RACE 6: CLAIMING $5,000 (CONDITIONED), 3-YEAR-OLDS AND UP, FILLIES AND MARES, 6 1/2 FURLONGS
4-1-8-7
#4 Introspection (3/1): Tries this level for the first time, after a strong n/w2L claiming win in her last start. She ran figures in the mid-70s steadily in the midwest, struggled in her first starts here, but looks to have bounced back well since the ship.
#1 Congress Hall (6/1): Goes third off the layoff for Hugh McMahon, and gets Jevian Toledo back in the saddle. Chased two dominant speeds last out, but still closed well and just missed second in a photo finish.
#8 Punk Rock Princess (7/2): Takes a drop from the $10,000 level, and cuts back in distance. She was in decent form against her fellow three-year-olds going shorter earlier this year, but hadn't been able to put it together going longer. The 6 1/2 furlongs here should help.
ANALYSIS
RACE 7 – ALLOWANCE OPTIONAL CLAIMING (N/W1X), 2-YEAR-OLDS, 1 MILE
6-3-5-1
#6 Hello Hot Rod (7/5): He handled the stretchout to seven furlongs with ease last out, getting to the lead and drawing off. On one hand, that was a very easy field, and the waters he's swimming in here are rougher. On the other hand, he showed lots of early speed, and should be able to get to the front without much trouble. Brittany Russell has been great at everything lately, but she's 26% stretching horses out for the first time.
#3 Royal Number (3/1): Just missed in a four-horse blanket photo last out, after trying to come from off the pace. I'm not sure I believe his figure of 89, which is a gigantic improvement from his prior two races, but I do think he took a big step forward in that race. It's also good that he showed that he can handle a longer distance; he's cutting back from 1 1/16 miles.
#5 Shackqueenking (5/2): Another one cutting back in distance, he beat a decent maiden field last out at 3/5 after setting the tempo. I don't think he can go with Hello Hot Rod early, but he should be able to stalk and possibly outkick the others.
RACE 8: CLAIMING $16,000 (CONDITIONED), 3-YEAR-OLDS AND UP, FILLIES AND MARES, 1 MILE
6-5-9-4
#6 Broad Storm (9/2): She's put in two heroic closing efforts in a row. One was successful, the other just missed. She's the only one in the race to run a 75 in each of her last two races, and the only one to run at least an 80 in her last two starts.
#5 Vibrancy (4/1): New York invader drops in class, has early speed, and makes her third start off the layoff. Interesting to see Steve Asmussen ship this one down; is he inspired by the success of Jaxon Traveler?
#9 Desbordes (8/1): Another New York shipper, this one goes out for the George Weaver barn. Ran a gutsy race on the front end to win here two back, then was dismal when shipping up to Aqueduct. Her chances boil down to if she can get the lead. Whenever she's allowed a clear lead, she runs very well. If she gets pace pressure, she folds.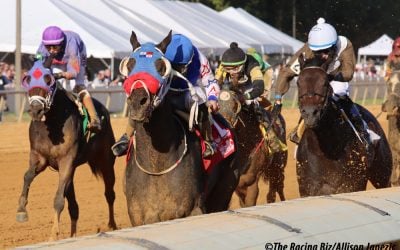 We provide full-card picks and analysis for this afternoon's races at Laurel Park.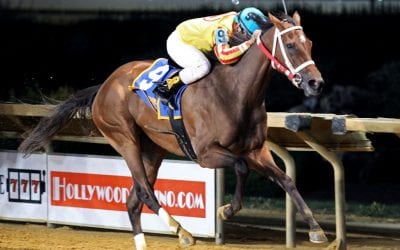 We provide picks and analysis for this evening's card at Charles Town Races.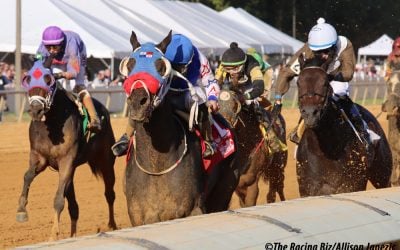 We provide full-card picks and analysis for this afternoon's races at Laurel Park.