Laurel Park picks and ponderings December 4, 2020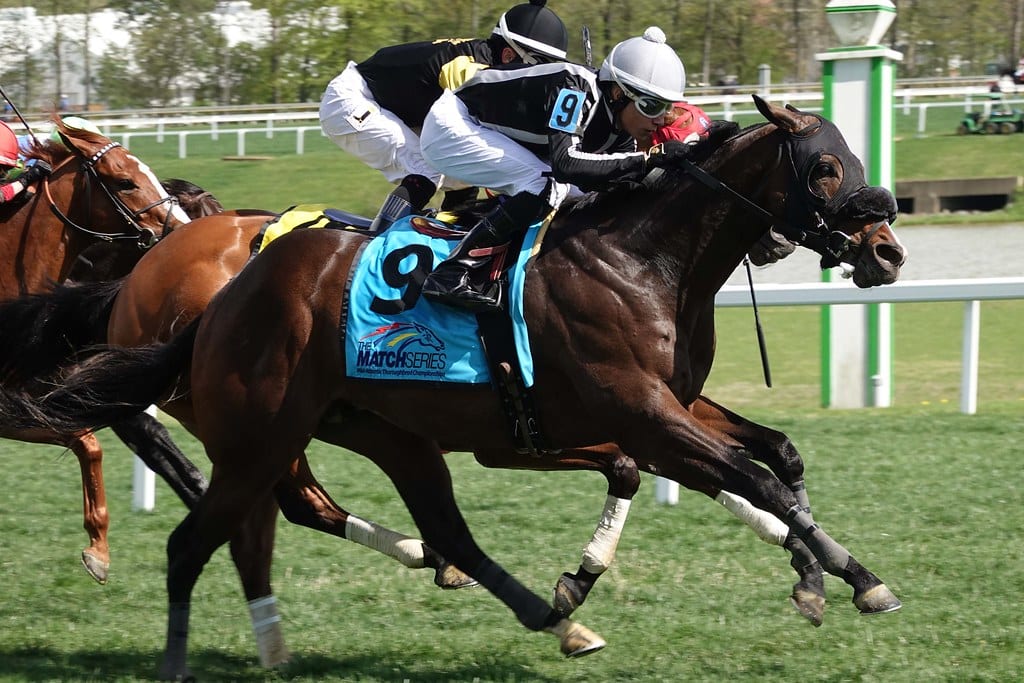 Dirty. Photo by Allison Janezic.
In which we pick the races from Laurel Park each day…
Post time: 12:25 p.m.
Carryovers: Rainbow Jackpot Pick 6 — $3,296 Super High 5 –$0 Late Pick 5 — $0
 ANALYSIS
RACE 1: CLAIMING $10,000 (CONDITIONED), 3-YEAR-OLDS AND UP, 1 MILE
2-7-6-4
#2 Instigated (9/2): A prime example of the "lightbulb" angle, he's won two in a row after starting off his career 0-for-14. Last out, he coasted on the lead to victory. While he probably won't get an easy lead here, he's going to be forwardly placed, and it doesn't look like most of the speed can hang around late. That bodes well for him. 
#7 Twixy Cat (5/2): Returns off a two-month break, having last been seen dealing with a tough trip at Pimlico. He's been running on well in shorter races at Pimlico, steadily earning brisnet figures in the upper 70s. Will a longer distance help?
#6 Prequalified (5/1): Another one who's run steadily good figures, but doesn't yet have the results to show for it. Probably his best race was two back at Presque Isle Downs, where he rated just off the pace and loomed large in the stretch, only to be second. I'm not sure if he's as good on the synthetic as on dirt, but he should still turn in a good effort.
RACE 2: CLAIMING $16,000, 2-YEAR-OLDS, FILLIES, 5 1/2 FURLONGS
3-5-6-1
#3 Sublimity (2/1): Russell 2-year-olds are always dangerous, and this one further proved that point last out. She closed from way downtown to win going away, winning her debut as the 4/5 choice. With lots of speed signed on, the pace should be perfect for her closing kick.
#5 Infinite Reward (5/2): Broke her maiden pretty impressively two back, then turned in a complete non-effort in her last start. She's had two good workouts since that race, so I trust that she'll be able to find her best self again. 
#6 One Smart Cookie (9/2): Mountaineer invader is in a similar boat as Infinite Reward. She broke her maiden in sharp fashion, then broke awkwardly in her last start and was rushed to the lead. Having already exerted lots of energy early, she promptly backed up. With a clean break here, things should go better. 
RACE 3: STARTER OPTIONAL CLAIMING $25,000, 3-YEAR-OLDS AND UP, 1 MILE
4-6-2-5
#4 Silent Malice (7/2): Goes second off the claim for Rodolfo Sanchez-Solomon, who is 37% with that angle. Made up lots of ground last out after falling well behind the pace, but had nothing left to give turning for home and flattened out. He's got the best late pace figures in the race, and is the only horse to run at least an 80 in each of their last four starts. If he can stay closer to the pace, he'll be tough.
#6 Royal Thunder (4/1): Set fast paces by himself in his last two starts, and flattened out in the last sixteenth. Cuts back around one turn for this spot, and faces only one serious early speed threat. If he can outrun that rival early, he can set his own terms and hold on.
#2 Jolly Swagman (8/1): Tries winners for the first time, after a sharp maiden-breaking score last out. He got a great stalking trip in that race, and ran on well once he was clear. If he gets a trip like that here, he'll be tough.
ANALYSIS
RACE 4: MAIDEN CLAIMING $25,000, 2-YEAR-OLDS, FILLIES, 1 1/16 MILES
3-2-4-5
#3 Triple Digit (5/2): Her only race going long to date was her best, as she just missed third with a decent stretch kick. Got tangled up in a speed duel last out, and hasn't been seen since that October 14 race. Workouts since then have been solid. 
#2 Magic Election (5/1): Took a step forward second out, improving her figure five points while making a bit of a move to finish third. Mary Eppler claimed her out of that race; she's 14% first off the claim. Looks decently bred for longer distances; the late pace figures in six-furlong races are also encouraging. 
#4 Flyin It (3/1): She also improved second time out in her last race, improving her figure fourteen points while coming from way out of it. Makes her second start off the claim for Kieron Magee. 
RACE 5 – CLAIMING $5,000, 3-YEAR-OLDS AND UP, 6 FURLONGS
5-2-4-6
#5 Zitarrosa (2/1): Comes in here off two big front-running efforts. Last out was especially huge, as he zoomed away to set very fast fractions. He got caught in the last jumps by Maryland Million Starter winner Glengar, but it was still a pretty impressive race. Beat a conditioned field two back while setting more reasonable fractions. 
#2 Successful Zip (7/2): The biggest threat to the front-running power of Zitarrosa. This one's also got plenty of early speed, but the advantage of an inside draw. Ran a sharp figure when forced to come from off the pace against better two back, so even if he can't get to the lead, it wouldn't be completely over. 
#4 Jack Straight (5/2): Comes back from Penn National after a tough trip there against better. Won two in a row earlier in the year, with figures in the upper 80s both times. Either of those races would win here. He figures to get a good trip rating just off the leaders. If they burn each other out, he'll be right there to clean up their mess.
RACE 6: STARTER OPTIONAL CLAIMING $25,000, 3-YEAR-OLDS AND UP, FILLIES AND MARES, 7 FURLONGS
2-6-7-1
#2 Gallinella (7/2): Put in a sharp rally from well out of it to just miss in her last start. She should get a pace to run at here, but the one she closed into last time was downright electric. I'm counting on the leaders to set the table for her early. If they do that, she'll be licking her chops.
#6 Hydra (7/2): Speaking of speed horses, this one set the pace last out, only to get caught by Gallinella in the last few strides. She's equaled a set a new lifetime top figure in six straight races. 
#7 My Queen Michelle (5/1): Gets a much-needed cutback in distance after a disastrous try going a mile. Ran a solid race going six furlongs last out, finishing fourth against a better starter optional claiming field. 
ANALYSIS
RACE 7 -CLAIMING $5,000, 3-YEAR-OLDS AND UP, FILLIES AND MARES, 5 1/2 FURLONGS
4-2-3-5
#4 Blue Sky Venezuela (8/1): Kevin Dove claimed her in October, then gave her a brief freshening before bringing her back to the races. She won three of five against weaker earlier in the year, then showed little after a wide trip last out. Could surprise at a good price.
#2 Swirrlie Shirlie (5/2): She's tailed off a bit from her good form earlier in the year, when she rattled off three straight wins. She's only cracked a 72 once within her last three races, getting good trips each time and being unable to cash in. Looks for a rebound here.
#3 Greasedlightning (7/2): Finally got on the board for the year against conditioned horses last out. She had gotten good trips and fallen short in twelve previous tries, but her thirteenth outing of the year was the charm. Should get another stalking trip and, at the least, finish in the money.
RACE 8: STARTER OPTIONAL CLAIMING $16,000, 3-YEAR-OLDS AND UP, 6 FURLONGS
5-8-2-6
#5 Phantom Ro (5/2): Ran a similar field off their feet last out, zooming to a clear lead, setting his own fractions, and holding on. The 99 he earned in that race is a lifetime top, and he's run figures in the 90s several times in the past. Looks fast enough to outrun the rest of these here. 
#8 Tale of E Dubai (6/1): He's also got plenty of early speed, but the far outside post. If he can outrun Phantom Ro early on, he can get the kind of trip he wants. 
#2 Odds On (6/1): Recovered nicely from a bad start to win against $12,500 horses last out. Should get a nice stalking trip just off the leaders. Jonathan Joyce has been looking for the first win of his comeback trail; this may be the best chance he's had.
RACE 9: CLAIMING $10,000 (N/W2L), 3-YEAR-OLDS AND UP, FILLIES AND MARES, 1 MILE
3-8-7-9
#3 Lady Macho (5/2): She's only lost a n/w2L claimer once, and it came at Saratoga, obviously a much tougher spot. Just missed in her last two against allowance company at Finger Lakes, and ships down here for her first start for Jerry O'Dwyer. Will be very tough if she runs her race.
#8 The Boss of You (9/2): Ran huge on the lead last out, lasting on a pace battle to lose by just half a length. She's the most lightly-raced horse in the field, and both her tries against winners have been good ones.
#7 Happycrest (5/1): Comes out of the same race as The Boss of You. She sat the trip off the leaders in that race, and while she ran on well in the stretch, she couldn't get by her rival and finished third. Unlike The Boss of You, she's had plenty of tries against winners, without success. Profiles as more of an exotics contender.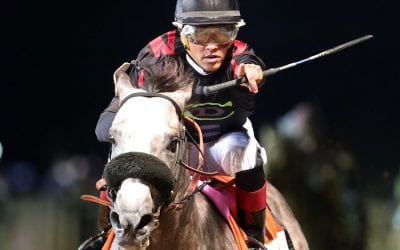 We've got Charles Town picks and preview today as the track presents its Friday card!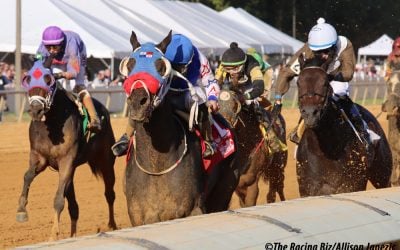 We provide full-card picks and analysis for this afternoon's races at Laurel Park.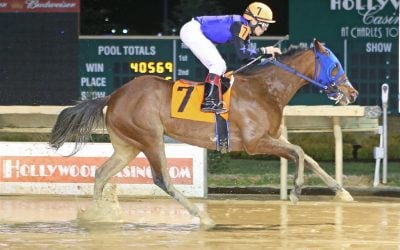 Which Charles Town jockeys are off to hot starts? Asking for a friend; no, wait, actually asking for the betting public. Answers within…