THE AUTUMN OF KING LEATHERBURY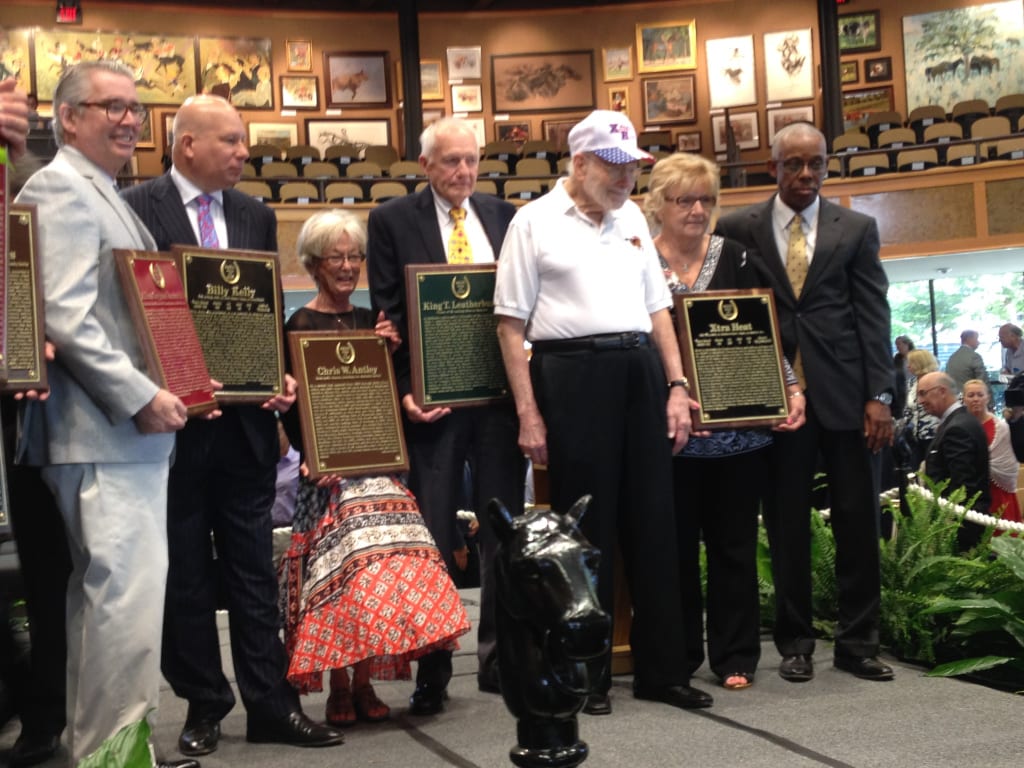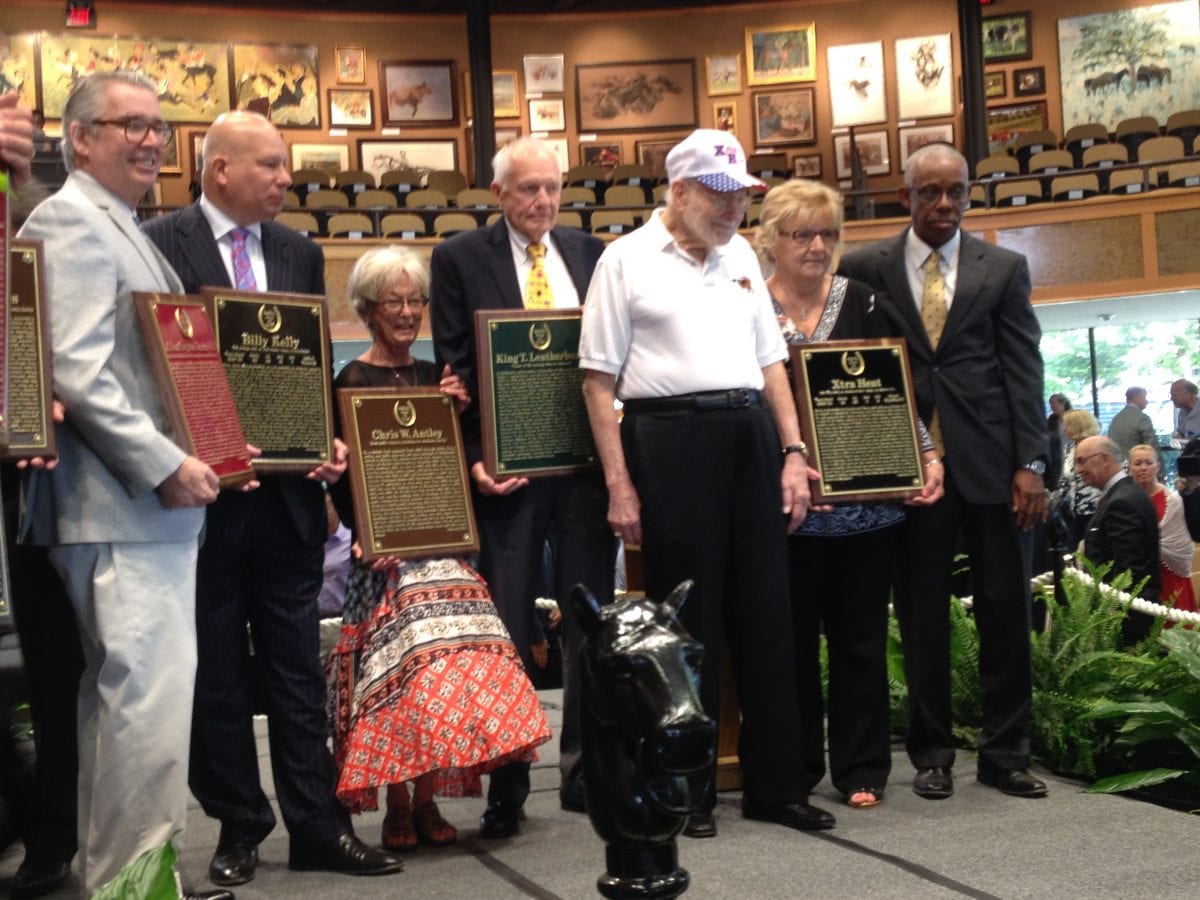 That meaty, nonconformist, jaunty epic of his Hall of Fame career, he says, nears a voice past tense. Even so, his candid assessment bears more lilt than dread: "We're getting to the end of the story. It's not coming to a screeching halt. It's more what we call hangin' on."
He pauses. Maybe he's fishing that overstocked pool for a joke, a barb, a one-liner. Instead, he pulls up a quote. "Remember the old general, [Douglas] MacArthur? Didn't he say, 'Old soldiers never die, they just fade away'? I'm in the process of fading."
This draws less from inner strength than outer force. At 87, Leatherbury spurns the callous hand of time in thought and movement, still works horse plays with a bent toward exotics, springs tales and knee-slappers with practiced flair, takes stairs before elevators, tackles yardwork, drives maybe a bit too fast.
Decades since he ditched the stopwatch, unapologetically defied the time-honored tenets of his profession by managing his stable from home, and ceded barn duties to loyal assistant Avon Thorpe, Leatherbury plays the role of horse-training iconoclast with enduring vigor. Trouble is, you can't train what you don't have.
His professional lifeline links to 71-year-old Norman Lewis, his last remaining horse-owning client. Given Leatherbury's dauntless tack toward the unconventional, the peculiar trainer-owner arrangement somehow seems apt: A research scientist, raconteur, survivor of cancer and quadruple-bypass surgery, and international sprint sensation (for his age group), Lewis immigrated from Scotland, lives in Washington state, breeds and raises Thoroughbreds in Pennsylvania and rarely visits Maryland.
Lewis's runners number four homebreds, but the three with experience (Auchincruive and full brothers Chateau de Vizille and Paratycachaca) prefer turf, and one without (Castilleja) might too. Leatherbury aimed to debut Castilleja in a $25,000 maiden claimer for females, but the Nov. 19 dirt race didn't go.
The upbeat Lewis gets "overly optimistic" that Laurel's turf season will span November, even as fate and circumstance regularly conspire against it. Again this fall, rainstorms ranging from hellish to biblical have rendered the turf course an emerald mirage. Ultimately, the track called a halt to turf season November 13.
The upshot portends a greater limbo for Leatherbury, who knows well the fickleness of plans as a guy who'd envisioned horse-training as a hobby some 61 years and 6,505 wins ago. Lewis said he'll probably winter his runners at Craftwell Farm, the West River, Md., ranch Leatherbury once owned, and return them to the track early next year.
That would be Barn 21 at Laurel. As the coronavirus took hold in March, track management relocated Thorpe and horses from Barn 1, the stable Leatherbury hand-picked in the 1990s. ("I was number-one trainer, so . . .") With ignominy came fear: Two Barn 21 employees had tested positive for Covid-19 just before the move.
Thorpe, Leatherbury's one-man band as barn manager, groom and hotwalker at 47, managed to sidestep the virus. Leatherbury, needing little prodding, stayed away.
They peddled some excess tack but found most of it unwanted. For Leatherbury, a deeper meaning shadowed his ouster from the cinder-block sureness of Barn 1: The thoroughbred fortress he'd built over six decades, a claiming horse at a time, mostly, was being dismantled brick by brick.
In 1976, a leap year, Leatherbury had proved nearly as reliable as dawn: He won 365 races and led the nation the next two seasons with 322 and 304. From 1972 through 1997, his horses averaged 197 victories a year and managed no fewer than 113 in any one.
In 2017, Leatherbury's 14 racing triumphs marked his fewest since 1960. The next year, he won nine. Last year, two. A phenomenon like beach erosion, he implies: imperceptible by day, indisputable over time.
A win-hungry Leatherbury? Even the metaphors go screwy. In better racing days, three buzzards routinely circled the Leatherbury house, settled on the back lawn, contented in the ambience. Leatherbury named them Moe, Larry, Curly, bought raw pork (the cheapest meat he could find) and, contrary to his public image, hand-fed them. As mysteriously as they arrived, they disappeared. The buzzards went a new direction; Leatherbury went south.
On Sept. 25, 2020, he sent Paratycachaca to Penn National for a $10,000 beaten claimer on the turf and winced at the setup.
"I'm watchin' it on television, and the announcer says, 'And Leatherbury's lookin' for his first win in 2020,' and that was, like, almost October," Leatherbury says. "And I about died. It sounded so bad."
Paratycachaca (Jazil–Flamme Rouge, by Blushing John) won by 2 1/2 lengths at 8-5. Leatherbury, the trainer who'd commanded a shooting frenzy by track photographers across the East, had effected his first winning snapshot 269 days into 2020.
Then, mid-November, he managed a second win without doing a thing. A postrace disqualification of another runner from a Laurel turf route this summer gave runner-up Paratycachaca a victory 3 1/2 months after trying. Leatherbury's scorecard, through Nov. 16: 22-2-2-3, $56,038.
Before word of the late gift, a single win by his name, Leatherbury said, "My God, I never thought that would be."
It shouldn't be, says assistant Thorpe, who marvels still at his boss's skill, wit and vitality.
"He's the best," Thorpe says. "I mean, hands down, he is the best. It's tough to believe — bein' 87, you wouldn't even realize he's that old. He's still spunky. And he really hasn't changed. I know he wishes we had more horses, but he don't dwell on it. He says, 'If we don't get owners, we ain't gonna have no work.' And he tells it just like that."
That effervescent brew of three parts honesty, one part schtick Leatherbury still serves willingly, free of charge. Sometimes for a single query.
For decades, Leatherbury owned horses that bore the orange-and-white badge of The Jim Stable. The Jim Stable bred and raced Ben's Cat, beloved 32-race winner of $2.6 million, and Ah Day ($921,574) before that. Might Leatherbury use some of that dough to replenish stock?
"What happened to the money?" Leatherbury asks with apparent sincerity. "Well, half of it I spent on wine, women and song, and the other half foolishly."
The seasoned cut-up lets the laughter subside, then turns straight man. Well, he lost money breeding and raising horses (endeavors since abandoned), lost taking clients on commission, spent a little more than he should have. Nonetheless . . .
"I can't explain where all that money went that Ben made. I did have horses that were takin' it as he was bringin' it in, but it's still an embarrassing thing to talk about. My wife [Linda] is real upset about it. She didn't realize Ben had earned that much. She was talkin' to a friend of hers one time . . . and my wife says, 'Ben's won a million dollars.' And the friend says, 'What are you talkin' about? He won two-and-a-half million.' And then I get home that day, and she's askin', 'Where's that money?' And I really don't know."
He's not through.
"Social security is basically what I'm livin' off of now. So I'm in no position to claim anything. And the last few claims were very disappointing. . . . So I've faced the facts that I've lost some ability."
Thorpe doesn't see it, saying, "He's still good with the horse work and everything. I mean, he does it all. He hasn't lost his touch."
Lewis too remains committed, even as Leatherbury, in vintage fashion, urges him to transfer his horses to a Parx or Penn National trainer to better reap Pennsylvania-bred bonuses.
But the Keystone State, Lewis says, lacks two essential ingredients: a turf course of Laurel's quality, and a trainer of Leatherbury's stature.
"King knows how to train a horse; he's learned that over his entire lifespan," Lewis says, Scotland ever present in his words. "So whether other owners drop off is not an issue for me. He appears to be in absurdly good health. And he's as sharp as a tack."
With one defiant exception: Leatherbury loathes the computer age and all its trappings, concedes that online condition books and wagering platforms might as well exist in the clouds.
"If he doesn't get the condition book in paper form," Lewis says, "it ain't happening."
So Lewis mines the internet for condition-book extras and other racing nuggets they might advantage. "That's the way I can be helpful to King," he says. "You've got to be electronically connected in this world, so we work together synergistically."
Synergy defines Lewis, an academic overachiever who dusted any Prestwick bloke who tried him at 100 to 400 meters. His penchant for horses, meantime, draws from the cosmos and his church-organist dad: Prohibited from witnessing Norman's birth in the Irvine Royal Infirmary, Sept. 16, 1949, Mr. Lewis attended another momentous event, the Ayr Gold Cup at Ayr Racecourse.
A whiz in ornithology and other sciences, young Norman Lewis earned the nickname Birdman of Alcatraz. "I think that was a compliment," he says, "but I'm not sure."
He broadened his math skills calculating racetrack odds at bookie shops, and learned early the financial benefits of objectivity. Scotland agog with native Freddie's prospects in the 1965 Grand National, 15-year-old Lewis reckoned inflated odds on Maryland-bred sensation Jay Trump, bet a winning six pence and ignored the postrace hubbub.
He got a PhD from the University of Vancouver and eventually took a teaching job at Virginia Tech. "Any time I picked up The Washington Post and read the racing results or articles," he says, "Leatherbury's name always seemed to show up."
When Lewis acquired Age Group Jogger in the early 1990s, he turned to Leatherbury and stayed the course. Nearly 30 years later, Lewis directs the biological chemistry department at Washington State University, researches biosynthesis for the ways plants make cancer-treating and other medicinal compounds, examines space-station studies of plant growth and development absent gravity, and preserves Leatherbury's horse-training orbit.
"I think it's sad, to be honest," Lewis says. "You would think, by him bein' in the Hall of Fame and everything, that new owners would come to him. But they don't even ask."
In 2015, two weeks before his Hall induction, Leatherbury explained the bittersweet significance.
"It won't get me any owners; I'm too old," he said then. "The average guy is gonna get some up-and-coming young trainer that he can grow with. No, I'm dead on that part."
FROM THE ARCHIVES
On racing days, Thursday through Sunday, Leatherbury tries to monetize such predictions in a little simulcast room in Laurel's clubhouse. During the two-month covid-driven shutdown, absent an online account, he'd drive to the Horseshoe Casino Baltimore to play through the race book.
"It's ruined my life," Leatherbury said of the virus then, not for illness but for inconvenience, the temporary lack of widespread parimutuels, the race-ready horses with nowhere to go.
For all the sport's changes since he saddled his first winner, 1959 at the Sunshine Park racetrack now Tampa Bay Downs, Leatherbury says it holds no less allure. If he were just beginning, he insists, he'd dive into horse-training with just as much gusto.
"This has been my life; it's somethin' that's more than just a job," Leatherbury says. "I never got into it to make any money; I got in it because I loved it so. As long as I had a nice car to drive and a couple hundred dollars in my pocket, that's all I needed.
"Now, I'm never gonna have another good horse like Ben or Ah Day. But I can't complain about anything. Everything I've done in my life, I've managed to have a good time doin'."
Twenty-seven Novembers ago, Leatherbury claimed Taking Risks for $20,000 and remodeled him into a Grade 1 stakes winner. A later claim — "Out of racing, I'm not King Leatherbury anymore" — proves less inspired.
Leatherbury does carpentry, writes poetry, collects and donates neckties and walking sticks, befriends animals. He ended a recent phone conversation by speaking plans to vacuum before Linda got home, then to strap the leaf-blower to his back to collect once-vivid remnants. Autumn deepens, and most all the leaves have fallen.
LATEST NEWS