FOR TRAINER DANIEL VELAZQUEZ, SOMETHING TO SAY WOW ABOUT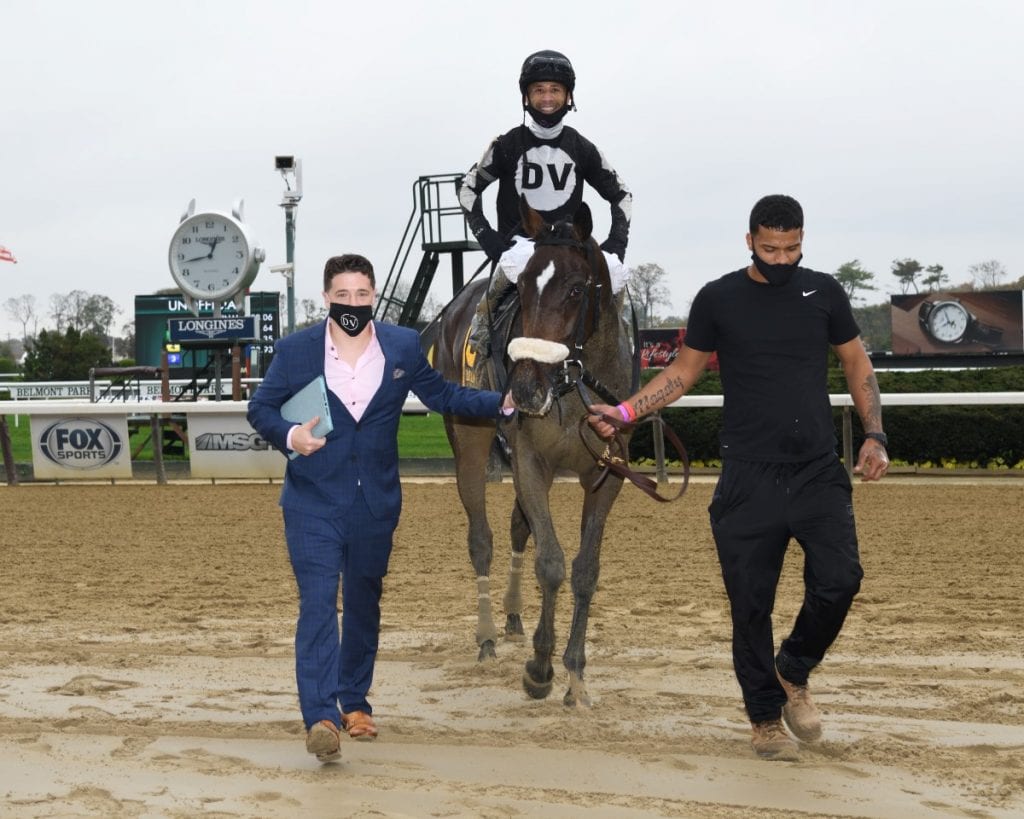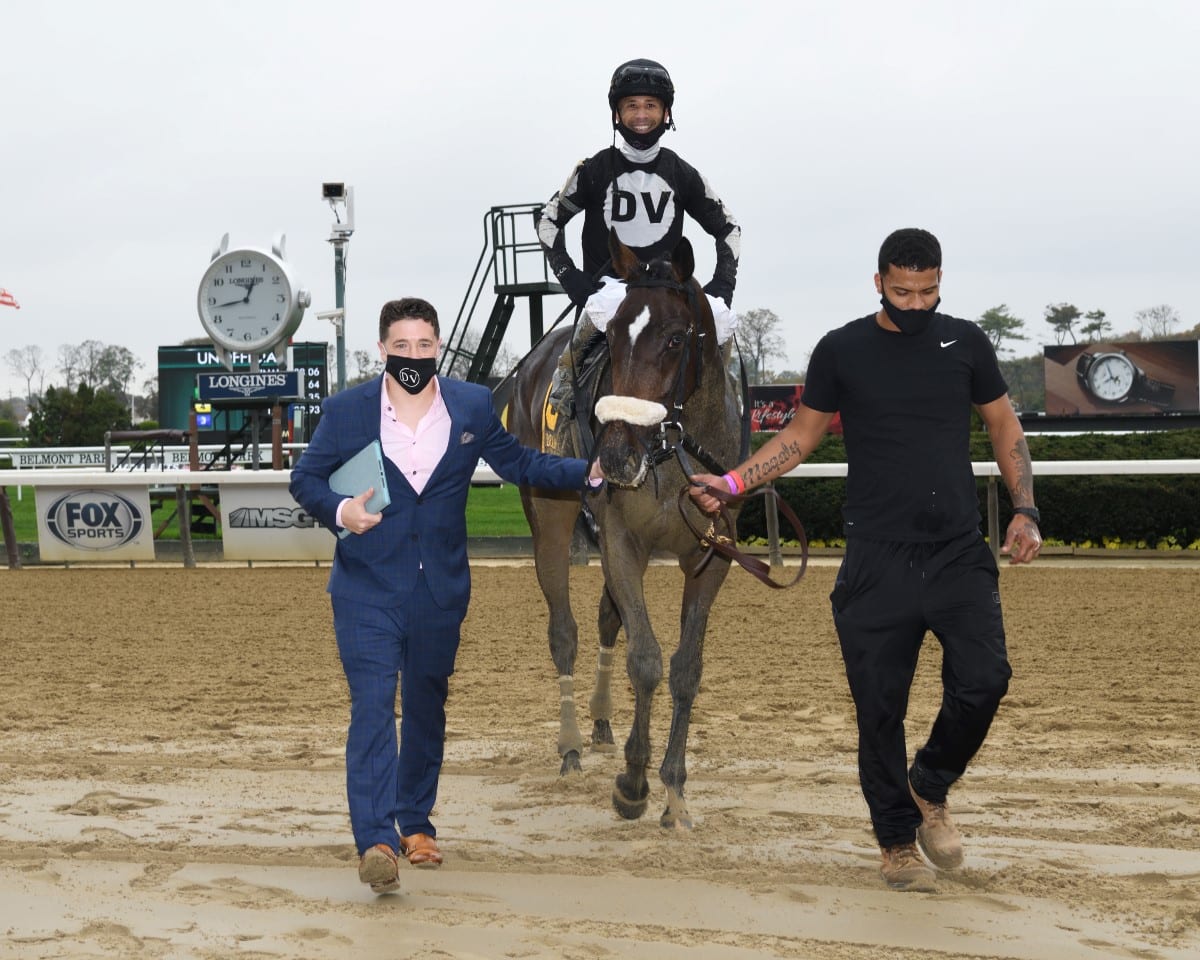 But instead of being at Laurel Park for Maryland Million day on October 24, Daniel Velazquez was at Belmont Park, hitting an early double with two New York-breds on Showcase Day, a card of stakes races for horses bred in the Empire State.
The first two stakes on the cards, races 2 and 3, were for juveniles at a mile on the dirt. Velazquez entered Laobanonaprayer, a maiden with two starts at Delaware Park in the Maid of the Mist Stakes, and Brooklyn Strong, a Delaware Park maiden winner, in the Sleepy Hollow.
Laobanonaprayer, who went off at 8.60-1 in the second race, graduated emphatically..
"We weren't shocked," said Velazquez of the filly's 5 1/2-length win. "We knew she was prepared and ready."
Velazquez purchased the daughter of Laoban, who had been standing in New York at Sequel Stallions, earlier this year at the Fasig-Tipton Midlantic sale of two-year-olds in training, paying $15,000 for her. Her sire's lone win came at nine furlongs, so he was confident that the bay filly would appreciate the distance.
"We put blinkers on her, and she took to them," said Velazquez. "At Delaware, she didn't switch leads when we routed her at two turns, and that's not like her. She was green going into that race."
As a result of restrictions because of COVID-19, Velazquez was unable to ride Abner Adorno, who had been in the saddle for the filly's first two starts, a second and third. Instead, she got Kendrick Carmouche.
"He rode a perfect race," said Velazquez.
As a New York-bred by a New York sire, Laobanonaprayer is eligible both for New York-bred races and New York Stallion Series races, both of which are fueled by significant incentive programs, which was part of the filly's appeal at the sale.
"She was just BIG," he emphasized. "I was very surprised that we got her for $15,000. Laobans are hot now."
So hot, in fact, that four days before the Maid of the Mist, WinStar Farm announced that the stallion was moving from New York to its farm in Kentucky. Early in October, his Simply Ravishing won the Grade 1 Alcibiades at Keeneland Racecourse.
His relocation will have no effect on the stallion awards for the progeny he conceived in New York, and with that in mind, Velazquez may cut the filly back to seven furlongs for the $250,000 New York Stallion Series Fifth Avenue Division at Aqueduct Racetrack on December 6, where he'll hope to add to the $95,000 she's earned.
Velazquez began training horses on his own in 2009 but mostly worked for his father for the first several years, It took him a decade of training to earn his first stakes win; it took only about a half-hour to earn his second.
Unlike his stablemate, Brooklyn Strong came to the Sleepy Hollow Stakes having already broken his maiden, that in a race at Delaware Park in September. He was third in the Bertram F. Bongard Stakes, also for New York-breds, in early October, and on the strength of those performances went off the third choice at 3.80-1, emerging the winner by 2 1/4 lengths.
"He's a really cool little guy," said Velazquez of the son of Wicked Strong. "For him, the longer the better."
In the saddle for the first time was José Ortiz, leading rider on the NYRA circuit.
"Danny said to just put him where he's comfortable and that made it easy for me," said the jockey. "My horse ran well. He never quit and kept going forward.
"Danny did a great job. He comes from a horseman's family. His dad was a great trainer. I'm very happy to win for him. They helped me a lot when I came to the United States."
By Grade 1 winner Wicked Strong, the gelding is owned by Mark Schwartz, who paid a whopping $5,000 for him in April at the OBS sale. He's earned $112,000.
"The bidding started at 50 [thousand] and went down," Schwartz told NYRA. "I bid $5,000 and got the horse and Danny said I got a good one."
Velazquez is in a good position to know a good one: he's been around horses pretty much his whole life. His father is trainer Alfredo "Freddie" Velazquez, and after a brief riding career that ended when Daniel got too big, Freddie told him, "You can be an agent or you can learn to train."
"So I learned to train."
He got his license in 2009 but remained with his father, waiting until 2016 to go out on his own. He only recently began training New York-breds.
"I've had one here and there, but nothing to say 'wow' about," he said. "The program is excellent, and it's great to have a chance to run in these races."
Velazquez will stay at Delaware Park until its backstretch closes in a few weeks, then set up his stable back at Parx. He hopes to have another big weekend in December, when he'll run Brooklyn Strong in the Remsen Stakes (G2) the day before Laobanonaprayer's race.
Whatever happens that weekend, he made a big splash in a big pond on a bit day.
"It was an experience," he said of winning back-to-back stakes races. "You kind of foresee it and wish it, and you don't know if it's going to happen, but it happened. There was a lot of hard work going into this."
LATEST NEWS