Authentic, Improbable lead NTRA Top Thoroughbred Poll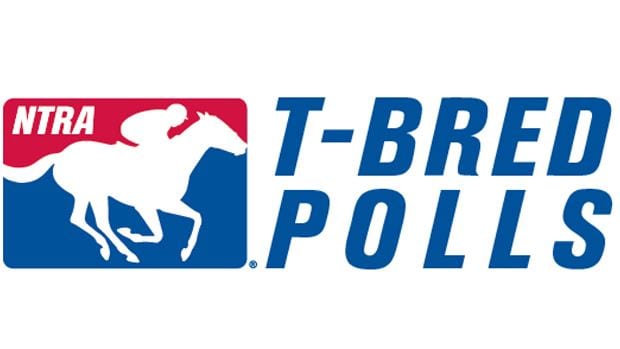 From a National Thoroughbred Racing Association release
Stablemates Authentic and Improbable will put their divisional advantages on the line when they face off in the $6 million Breeders' Cup Classic on November 7 as the two Bob Baffert-trainees lead the latest National Thoroughbred Racing Association (NTRA) Top Three-Year-Old Thoroughbred Poll and NTRA Top Thoroughbred Poll, respectively.
While Authentic finished second in the October 3 Preakness Stakes, his victory in the Kentucky Derby combined with his body of work has been enough to keep him on top of the Three-Year-Old Poll with 15 first-place votes and 339 points. The son of Into Mischief also captured the Grade 1 Haskell Stakes earlier this season and has not been worse than second in seven career starts.
Belmont and Travers Stakes winner Tiz the Law, who is also among top contenders for the Breeders' Cup Classic, remains in the No. 2 spot with 11 first-place votes and 333 points. The son of Constitution was second in the Kentucky Derby, his only defeat in five starts thus far in 2020.
Preakness Stakes heroine Swiss Skydiver holds down the third spot heading into her slated run in the Breeders' Cup Distaff with 11 first-place votes and 326 points. Grade 2 winner and Breeders' Cup Dirt Mile entrant Art Collector (198 points) ranks fourth with Grade 1 Jockey Club Gold Cup winner Happy Saver (188) in fifth.
Lane's End stallion Honor A. P. remains sixth with 128 points followed by multiple Grade 1 winner and leading Filly & Mare Sprint contender Gamine (97 points).
Kentucky Oaks winner Shedaresthedevil (74 points) ranks eighth while Max Player (71) and Mystic Guide (70) complete the top 10.
Improbable figures to go off as the favorite in the Breeders' Cup Classic and the son of City Zip maintains his lead in the NTRA Top Thoroughbred Poll with 31 first-place votes and 364 points. Improbable brings a three-race win streak into the Classic and most recently captured the Grade 1 Awesome Again Stakes on September 26.
Champion and fellow Breeders' Cup Classic contender Maximum Security remains second in the poll with 2 first-place votes and 272 points. Multiple Grade 1 winner Vekoma (1 first-place vote, 220 points) remains third with Grade 1 winner and Classic contender Tom's d'Etat (2 first-place votes, 219 points) in fourth.
Monomoy Girl, who will be attempting to win the Breeders' Cup Distaff for the second time in her career, holds in fifth with 204 points followed by multiple graded stakes winner By My Standards (146 points). Authentic (126 points) and Tiz the Law (121) rank seventh and eighth, respectively, with Swiss Skydiver (106) and multiple Grade 1 winner Rushing Fall (71) completing the top 10.
The NTRA Top Thoroughbred polls are the sport's most comprehensive surveys of experts. Every week eligible journalists and broadcasters cast votes for their top 10 horses, with points awarded on a 10-9-8-7-6-5-4-3-2-1 basis. All horses that have raced in the U.S., are in training in the U.S., or are known to be pointing to a major event in the U.S. are eligible for the NTRA Top Thoroughbred Poll. Voting in both the Top Three-Year-Old Thoroughbred Poll and the Top Thoroughbred Poll is scheduled to be conducted through the conclusion of the Breeders' Cup in November.
NTRA TOP THOROUGHBRED POLL
Improbable
Maximum Security
Vekoma
Tom's D'Etat
Monomoy Girl
By My Standards
Authentic
Tiz the Law
Swiss Skydiver
Rushing Fall
NTRA TOP THREE-YEAR-OLD POLL
Authentic
Tiz the Law
Swiss Skydiver
Art Collector
Happy Saver
Honor A. P.
Gamine
Shedaresthedevil
Max Player
Mystic Guide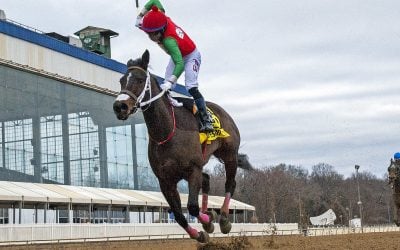 Wondering what the winning speed figures were for the six Laurel Park stakes this past weekend? Answers inside…