Little change in NTRA Top Thoroughbred Poll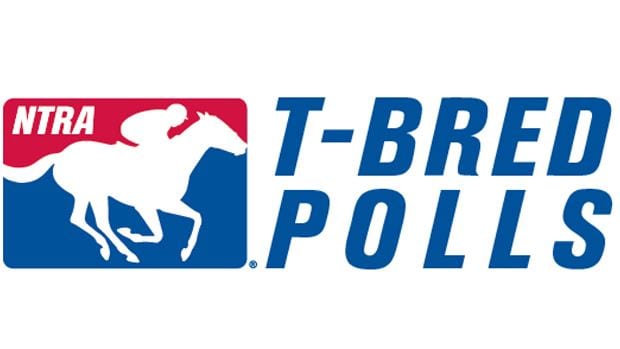 From a National Thoroughbred Racing Association release
Less than two weeks out from the Breeders' Cup World Championships at Keeneland on November 6-7, there was little change in both the latest National Thoroughbred Racing Association (NTRA) Top Three-Year-Old Thoroughbred Poll and NTRA Top Thoroughbred Poll.
Ahead of his expected start in the $6 million Breeders' Cup Classic, Kentucky Derby winner Authentic continues to hold down the top spot in the Three-Year-Old Poll with 15 first-place votes and 330 points. The son of Into Mischief tuned up for the Breeders' Cup with a seven-furlong breeze in 1:24.40 at Santa Anita Park on October 24, his second timed workout since finishing second in the October 3 Preakness Stakes.
Belmont and Travers Stakes winner Tiz the Law is also slated to be one of the top contenders for the Breeders' Cup Classic and moved back into the No. 2 spot on the poll this week with 10 first-place votes and 323 points. The son of Constitution arrived at Keeneland last week where he worked six furlongs in 1:13.20 on October 23.
Preakness Stakes heroine Swiss Skydiver, who remains under consideration for either the Breeders' Cup Distaff or Classic, dips one spot this week to third with 11 first-place votes and 318 points. Grade 2 winner Art Collector (193 points) ranks fourth, ahead of Grade 1 Jockey Club Gold Cup winner Happy Saver (178).
Grade 1 winner Honor A. P., who was retired last month to Lane's End Farm, remains sixth with 120 points followed by multiple Grade 1 winner Gamine (94 points), who is expected to contest the Breeders' Cup Filly & Mare Sprint.
Max Player takes over sole possession of the eighth spot this week with 77 points, one point ahead of Kentucky Oaks winner Shedaresthedevil (76). Mystic Guide, who was second in the Jockey Club Gold Cup, rounds out the top 10 with 67 points.
Multiple Grade 1 winner and likely Breeders' Cup Classic favorite Improbable maintains his lead in the NTRA Top Thoroughbred Poll with 31 first-place votes and 355 points. Trained by Bob Baffert, Improbable will bring a three-race win streak into the Classic and clocked a seven-furlong work in 1:25 on October 25.
Champion Maximum Security remains behind his stablemate in the poll with 2 first-place votes and 262 points. Multiple Grade 1 winner Vekoma (1 first-place vote, 217 points) remains third with expected Breeders' Cup Classic contender Tom's d'Etat (2 first-place votes, 213 points) in fourth.
Monomoy Girl, the champion 3-year-old filly of 2018, holds in fifth with 197 points followed by multiple graded stakes winner By My Standards (138 points). Authentic (119 points) and Tiz the Law (116) rank seventh and eighth, respectively, with Swiss Skydiver (101) and multiple Grade 1 winner Rushing Fall (67) completing the top 10.
The NTRA Top Thoroughbred polls are the sport's most comprehensive surveys of experts. Every week eligible journalists and broadcasters cast votes for their top 10 horses, with points awarded on a 10-9-8-7-6-5-4-3-2-1 basis. All horses that have raced in the U.S., are in training in the U.S., or are known to be pointing to a major event in the U.S. are eligible for the NTRA Top Thoroughbred Poll. Voting in both the Top Three-Year-Old Thoroughbred Poll and the Top Thoroughbred Poll is scheduled to be conducted through the conclusion of the Breeders' Cup in November.
NTRA TOP THOROUGHBRED POLL
Improbable
Maximum Security
Vekoma
Tom's D'Etat
Monomoy Girl
By My Standards
Authentic
Tiz the Law
Swiss Skydiver
Rushing Fall
NTRA TOP THREE-YEAR-OLD POLL
Authentic
Tiz the Law
Swiss Skydiver
Art Collector
Happy Saver
Honor A. P.
Gamine
Max Player
Shedaresthedevil
Mystic Guide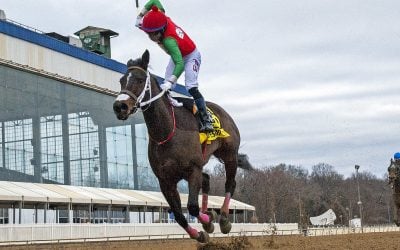 Wondering what the winning speed figures were for the six Laurel Park stakes this past weekend? Answers inside…